New Hampshire State House Civil War Mural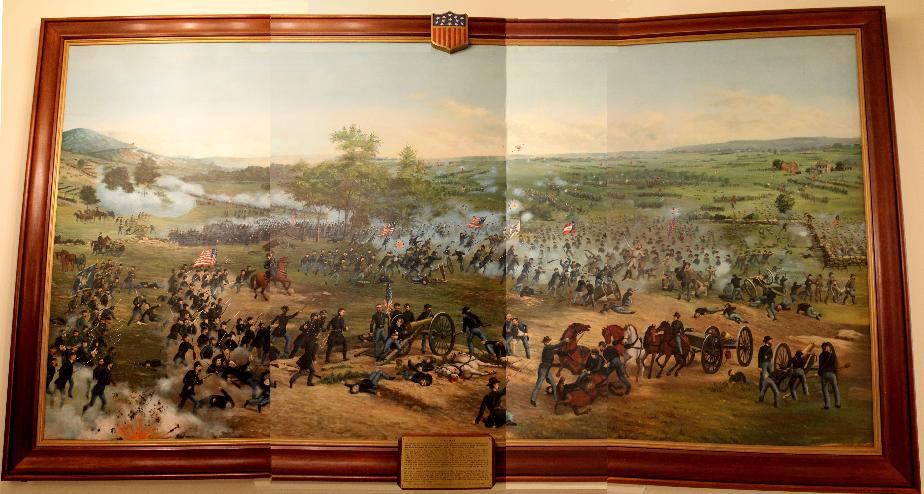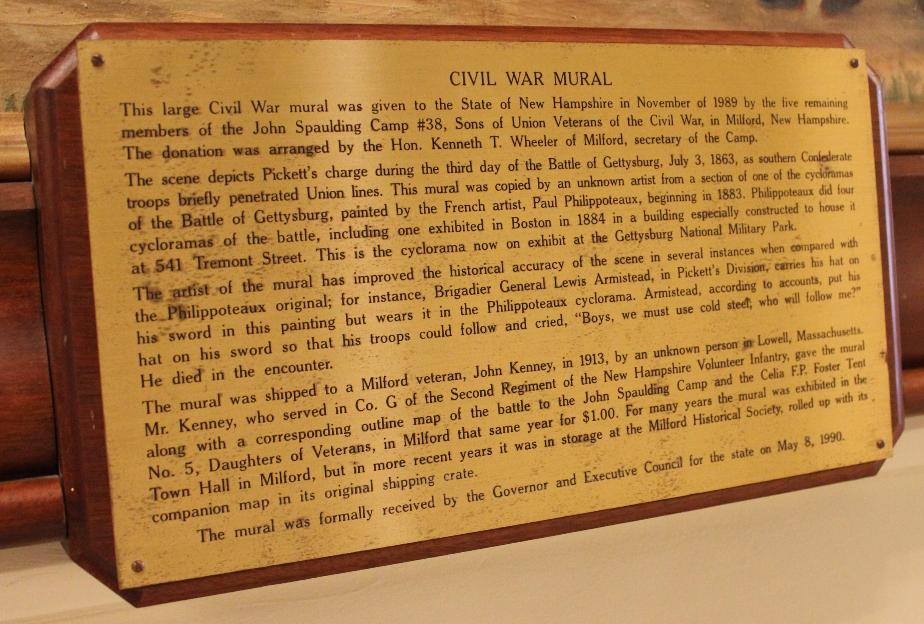 First Commencement at Dartmouth - State Senate Chamber Painting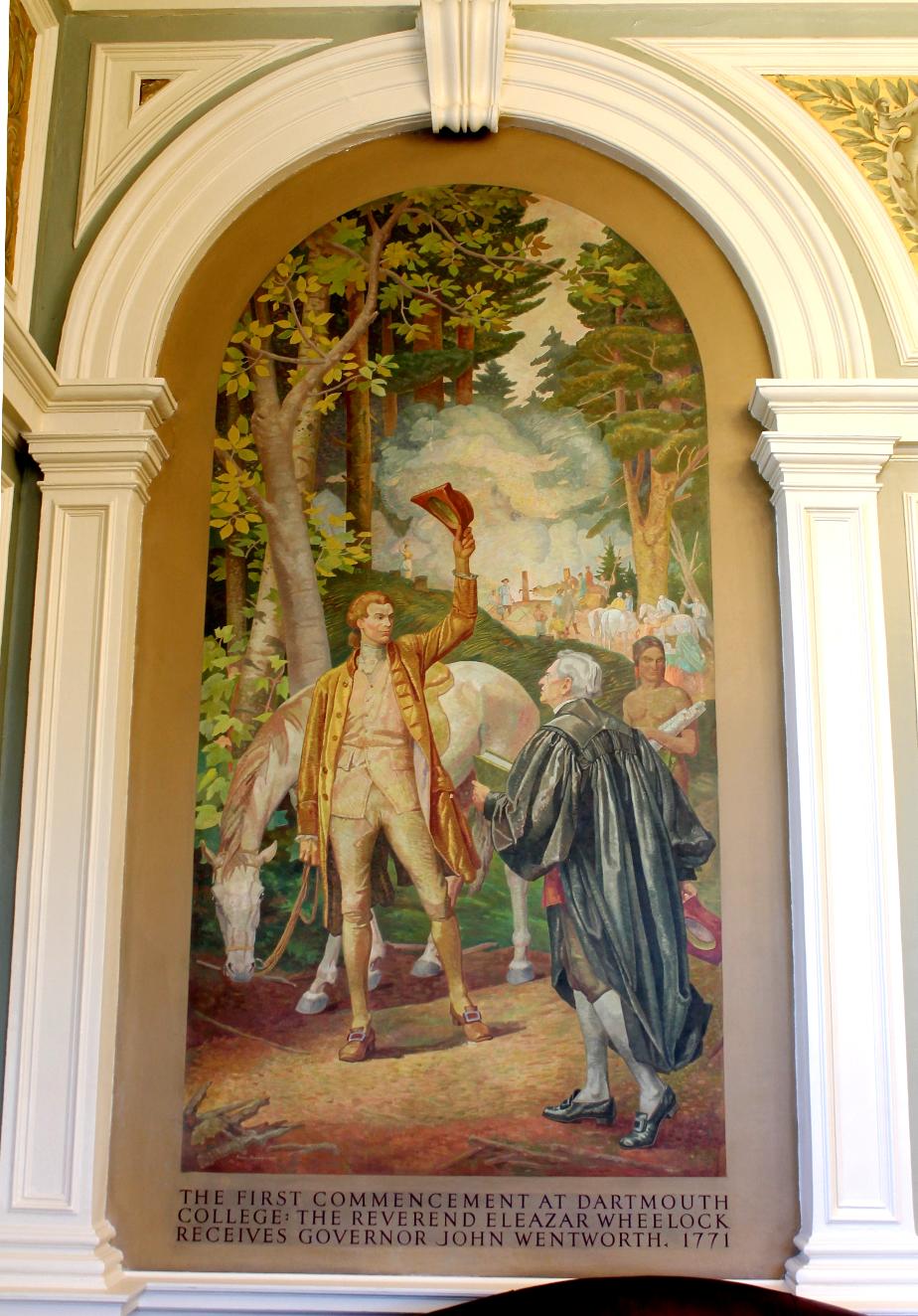 Childhood of Daniel Webster - State House Senate Chamber Painting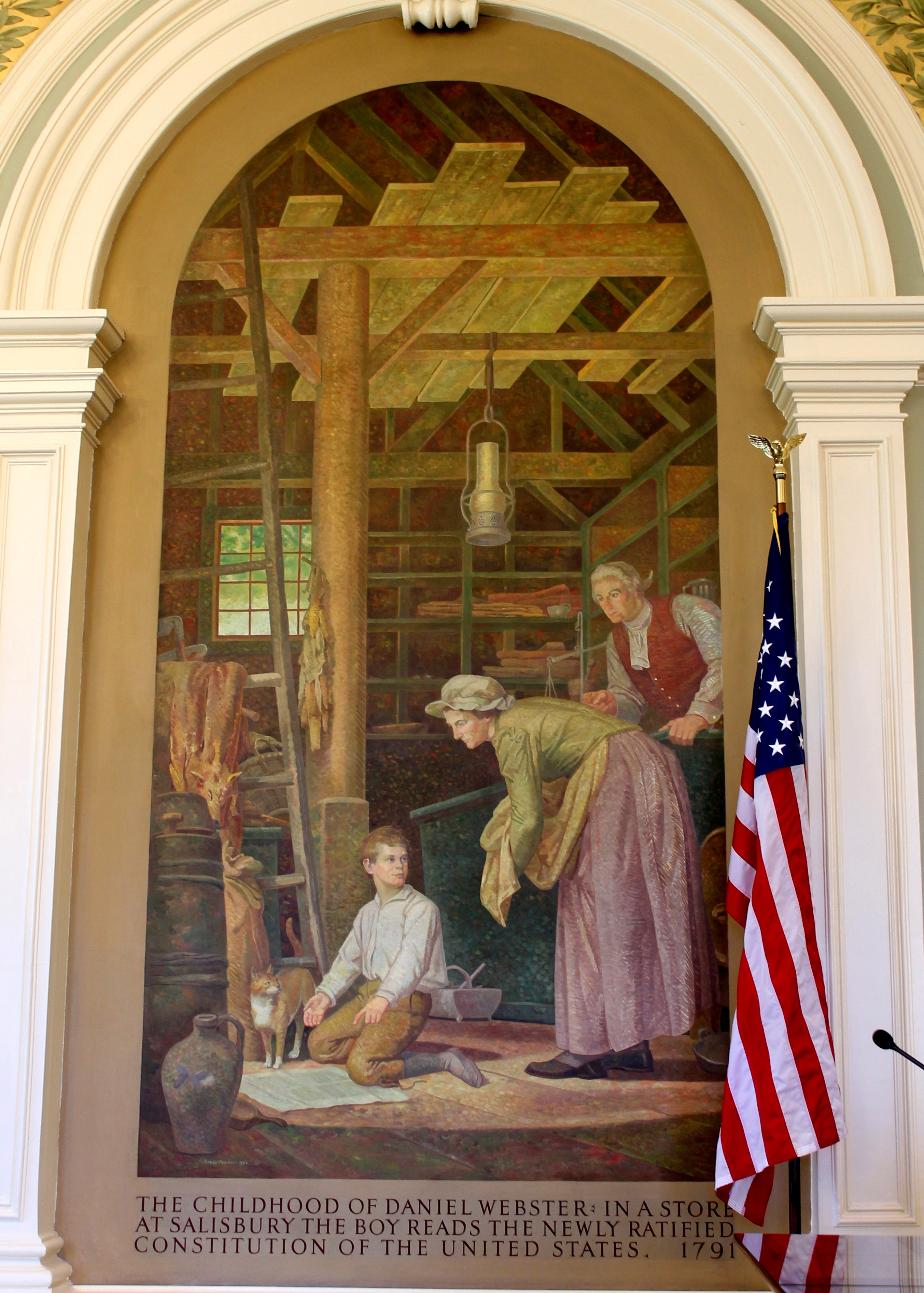 Abbott Thayer - Painter & Scientist, State House Senate Chamber Painting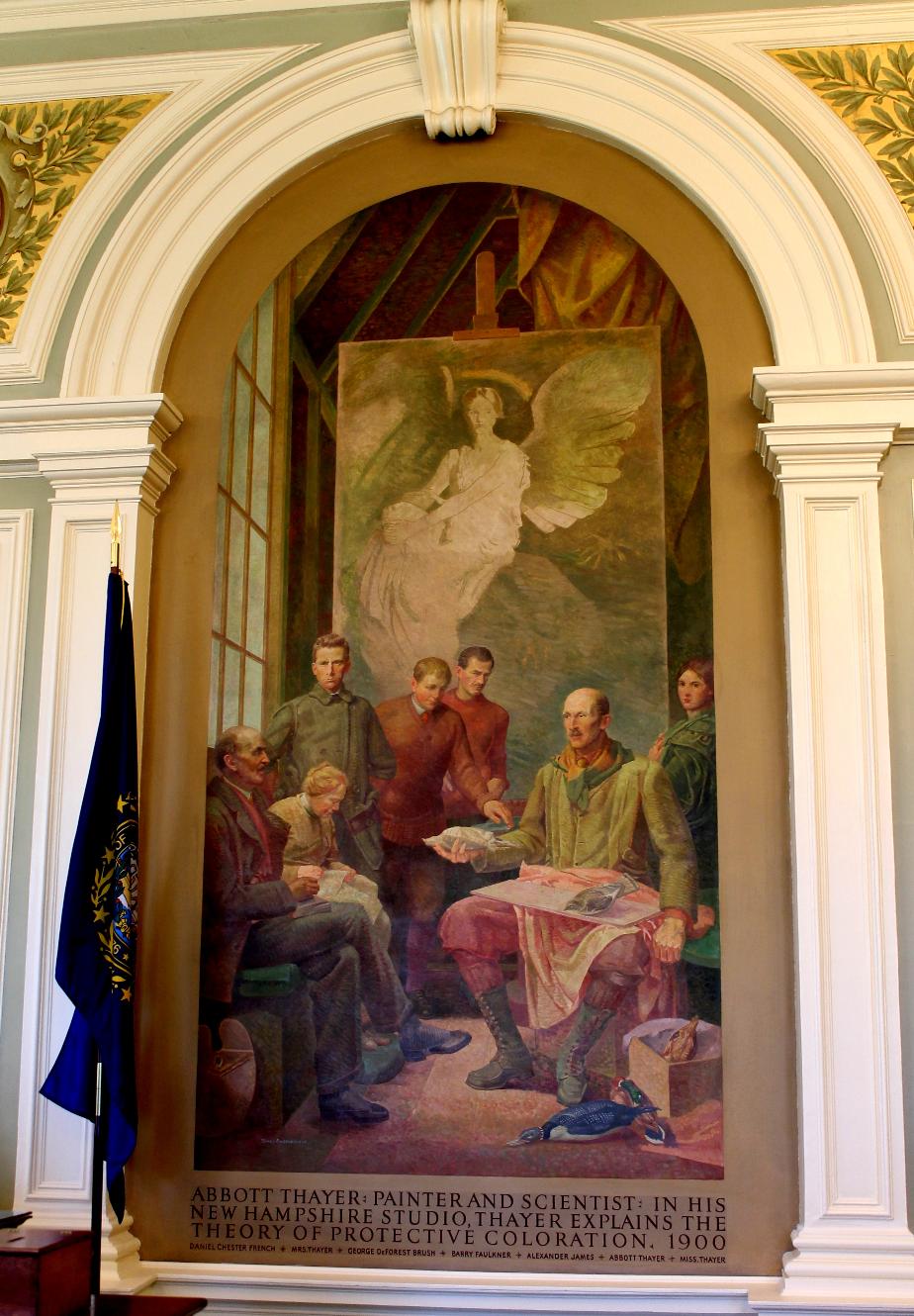 John Stark at Amoskeag Falls - State House Senate Chamber Painting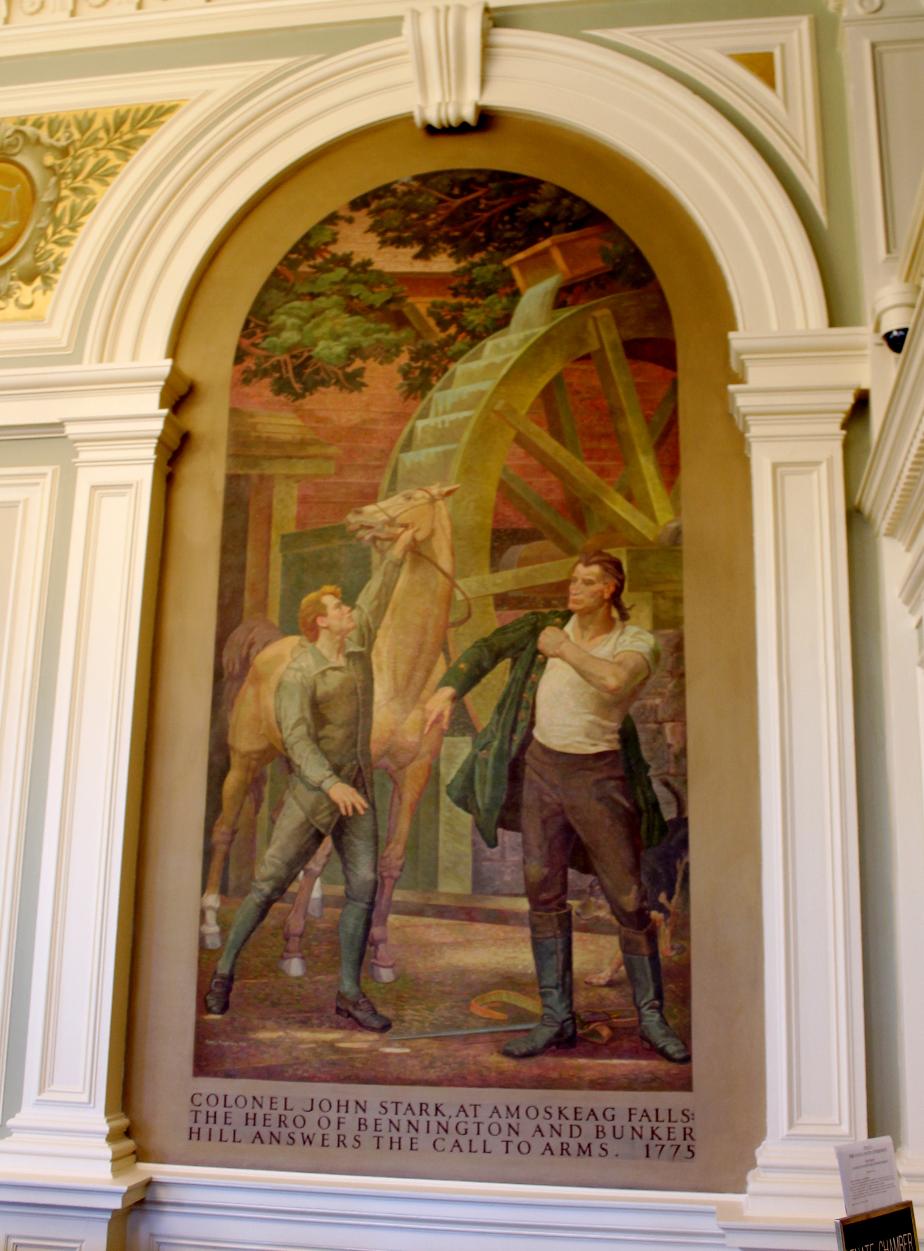 Mayflower Dedication Tablet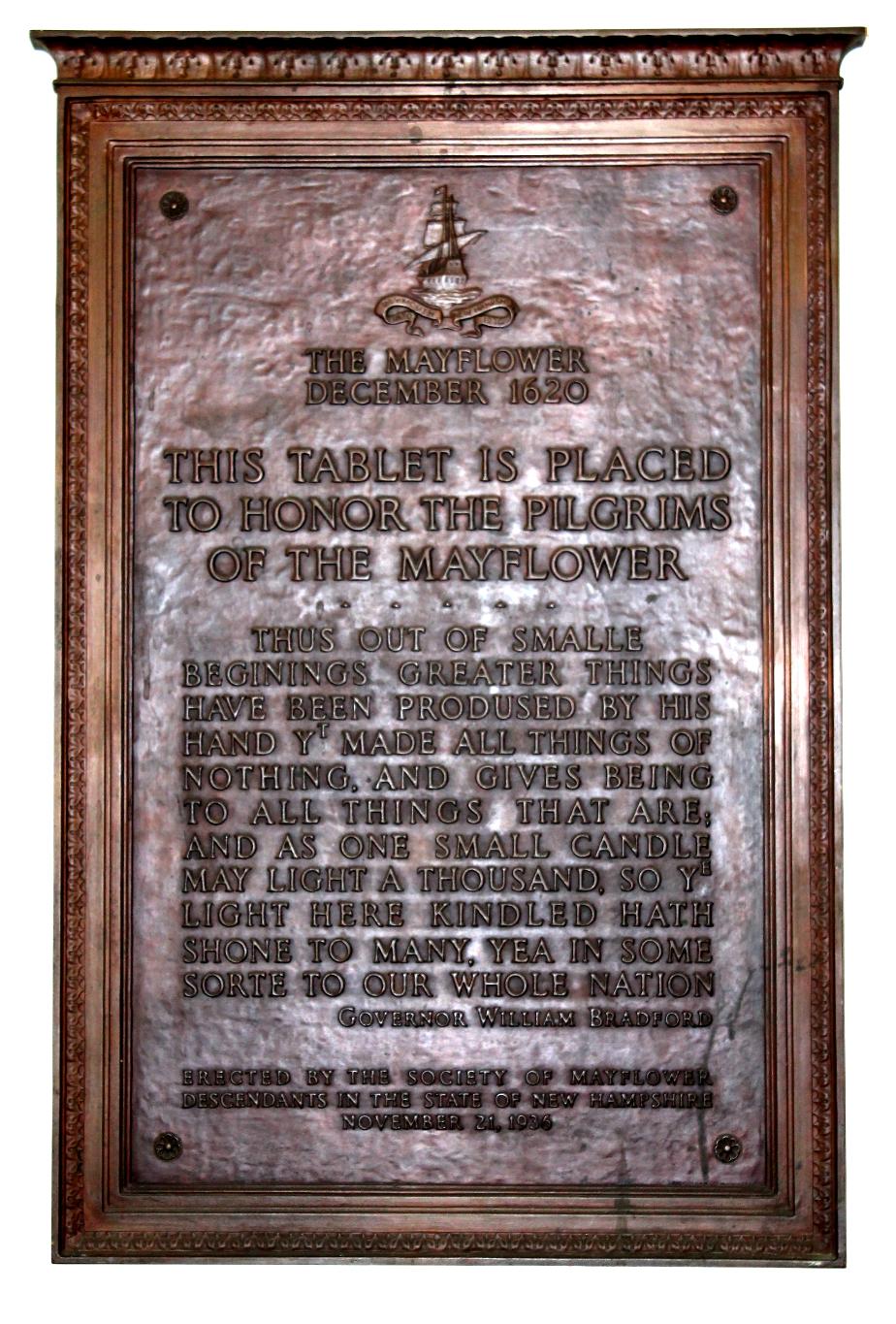 State House Remodeling Portrait - Gov. Henry Quimby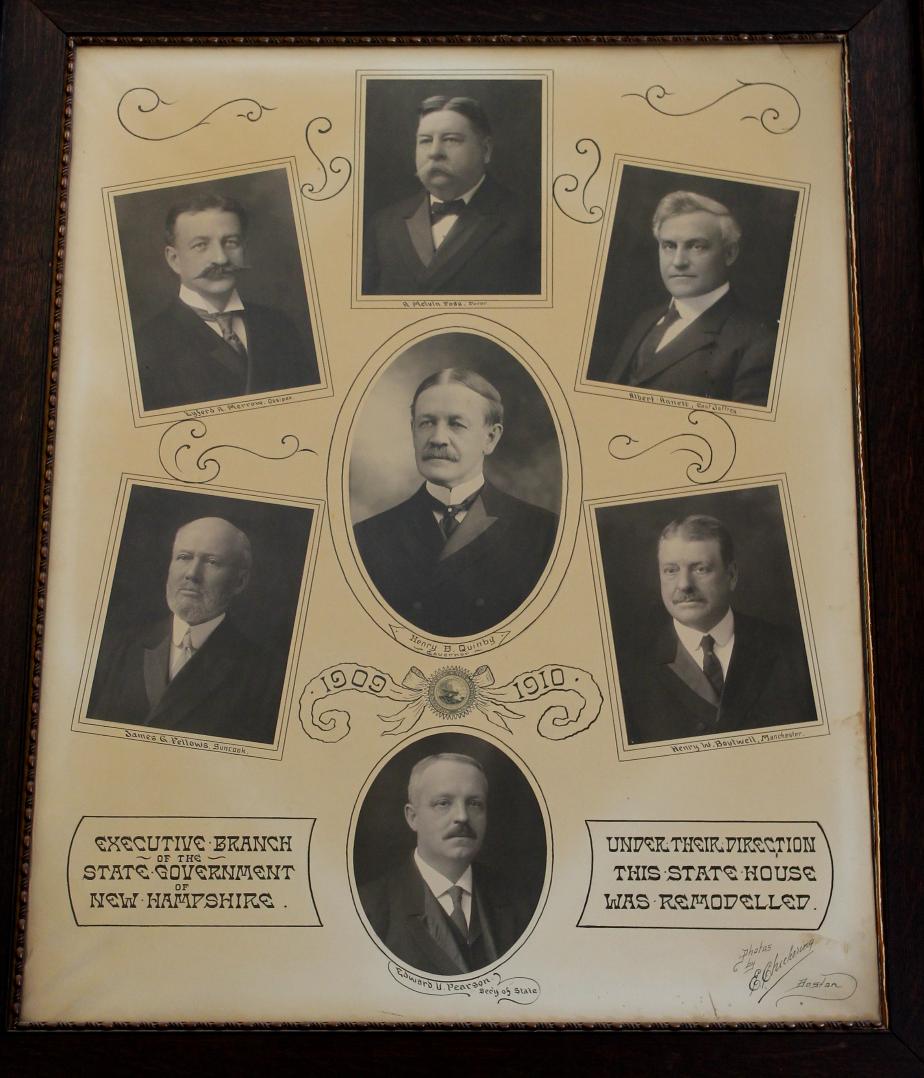 George H Adams - (Campton) - State Representative 1883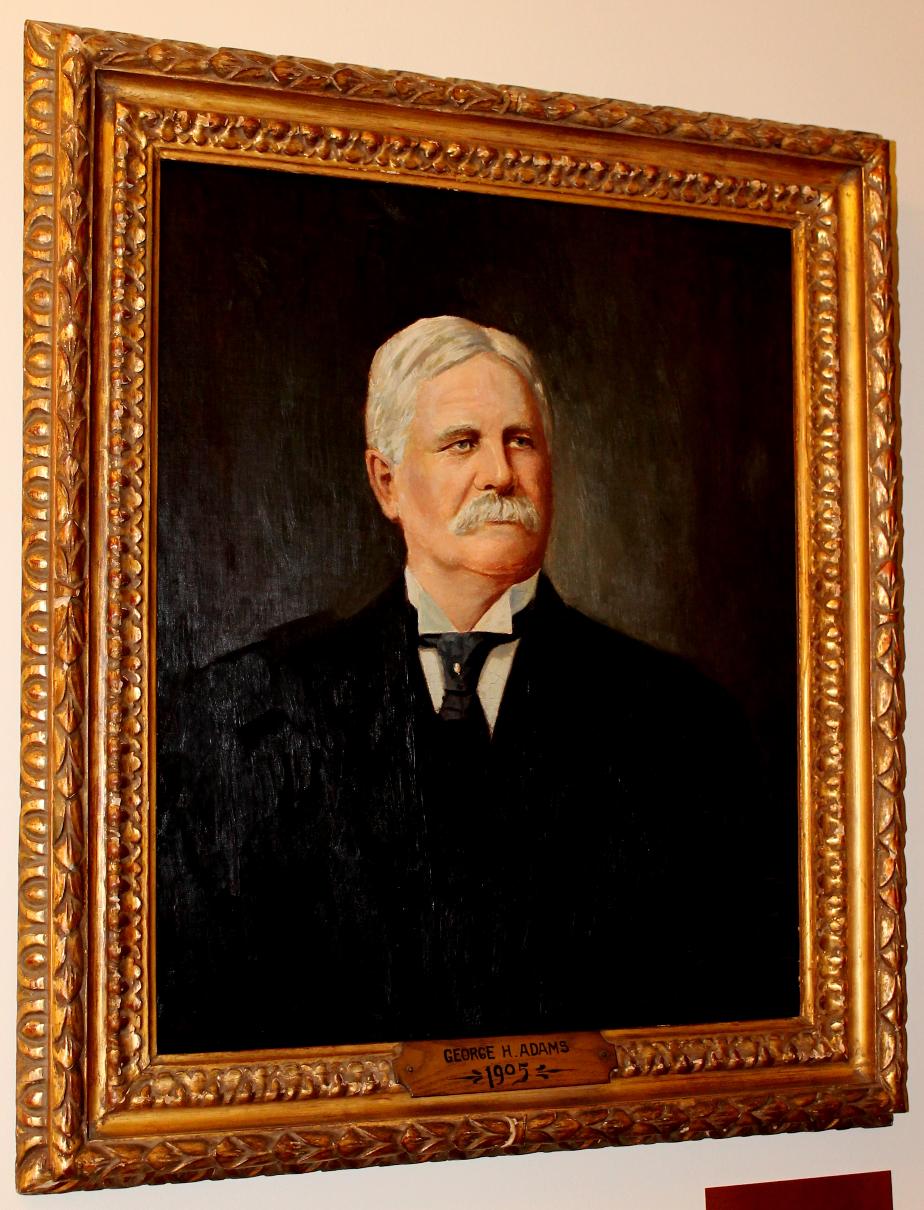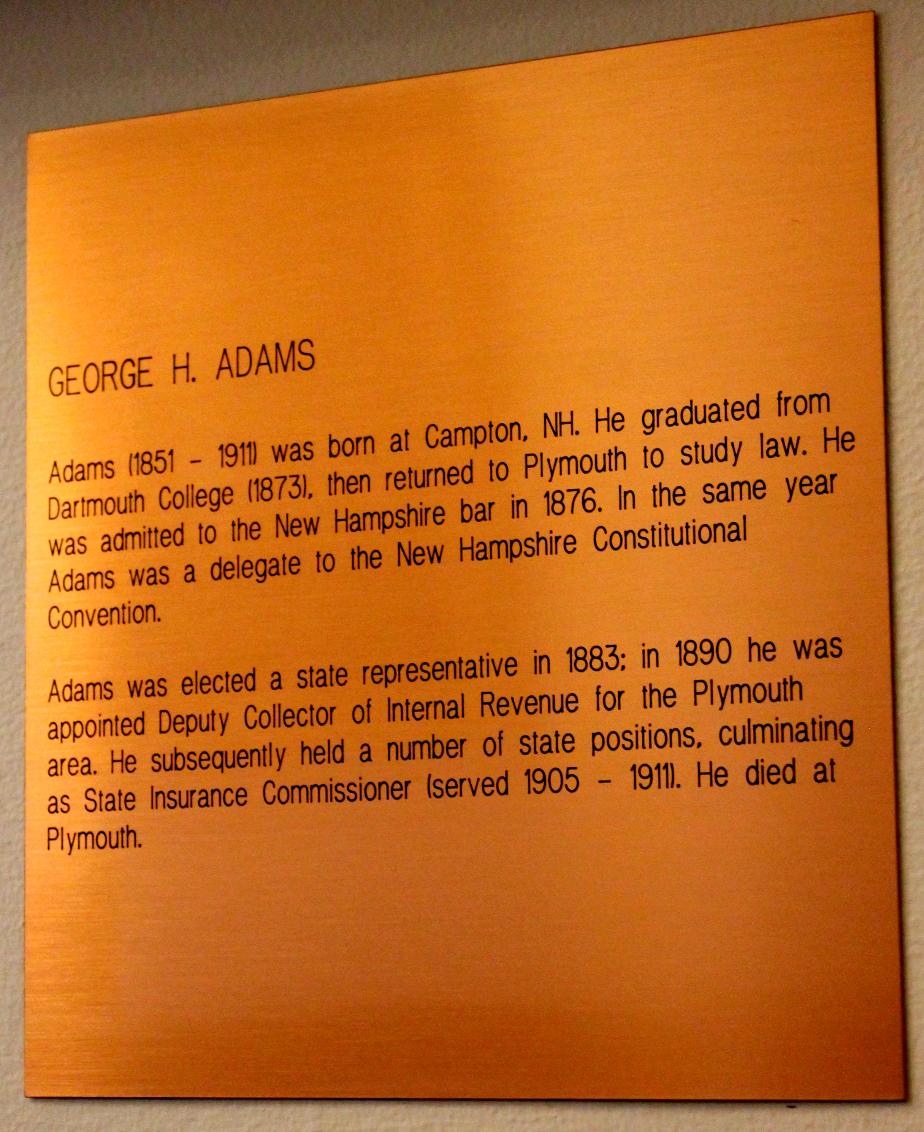 Gov Sherman Adams (1948-1952) Eisenhower Staff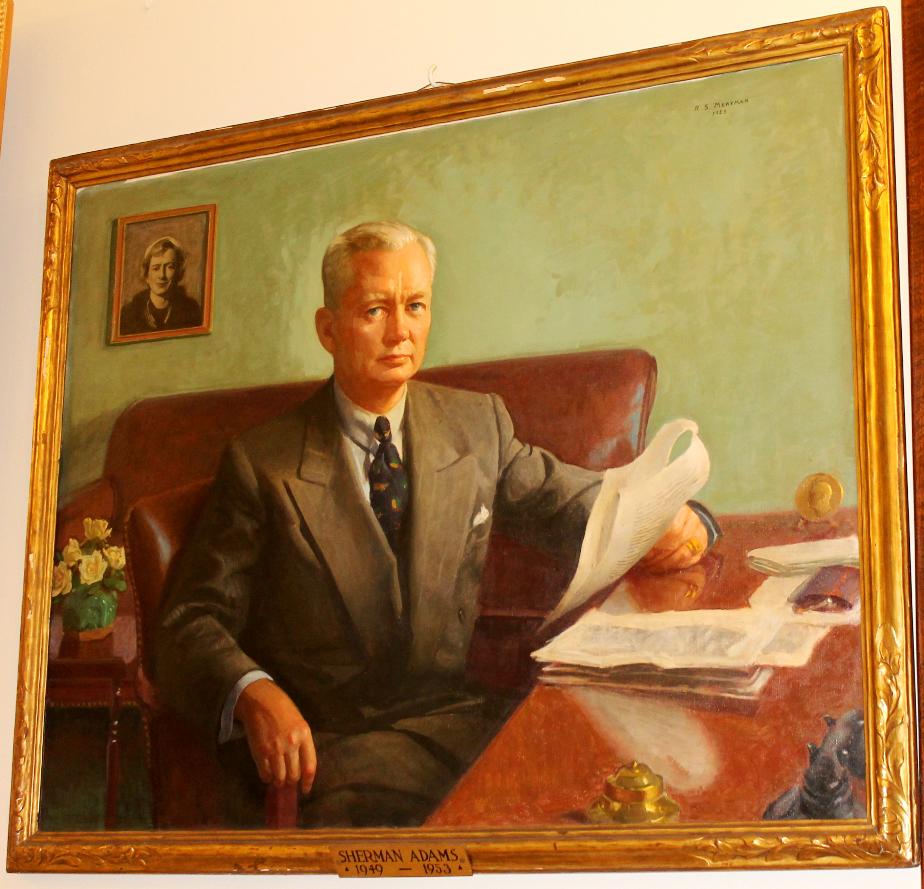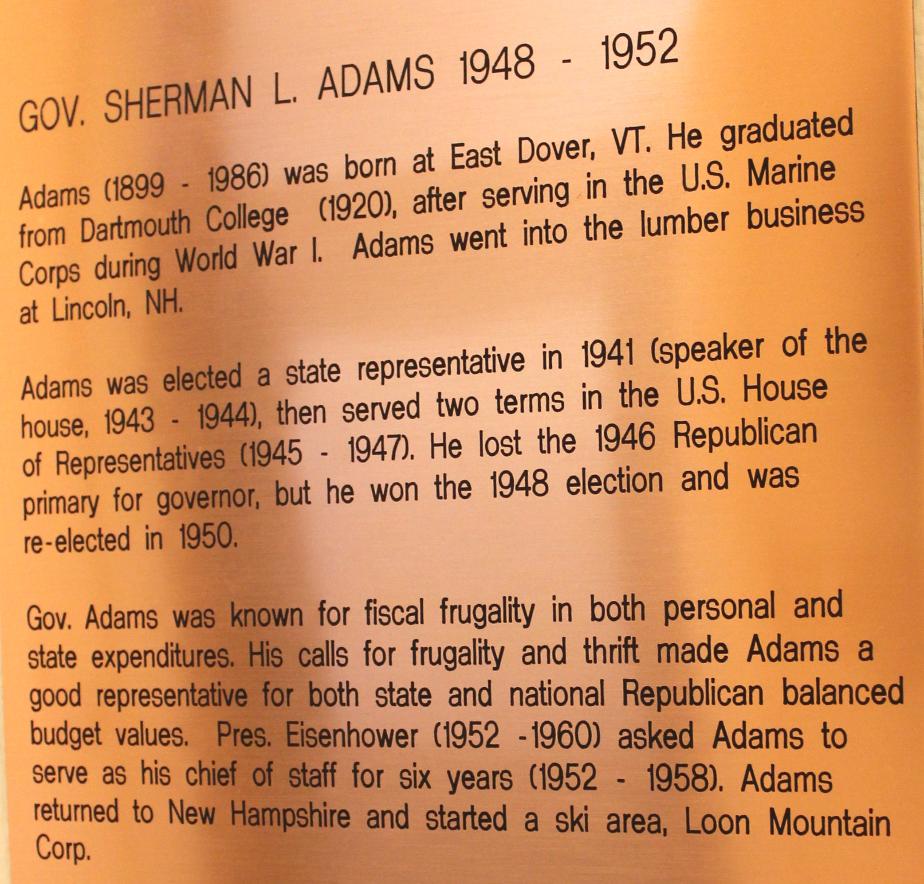 US Senator Charles Atherton 1843 - 1849 (Amhearst NH)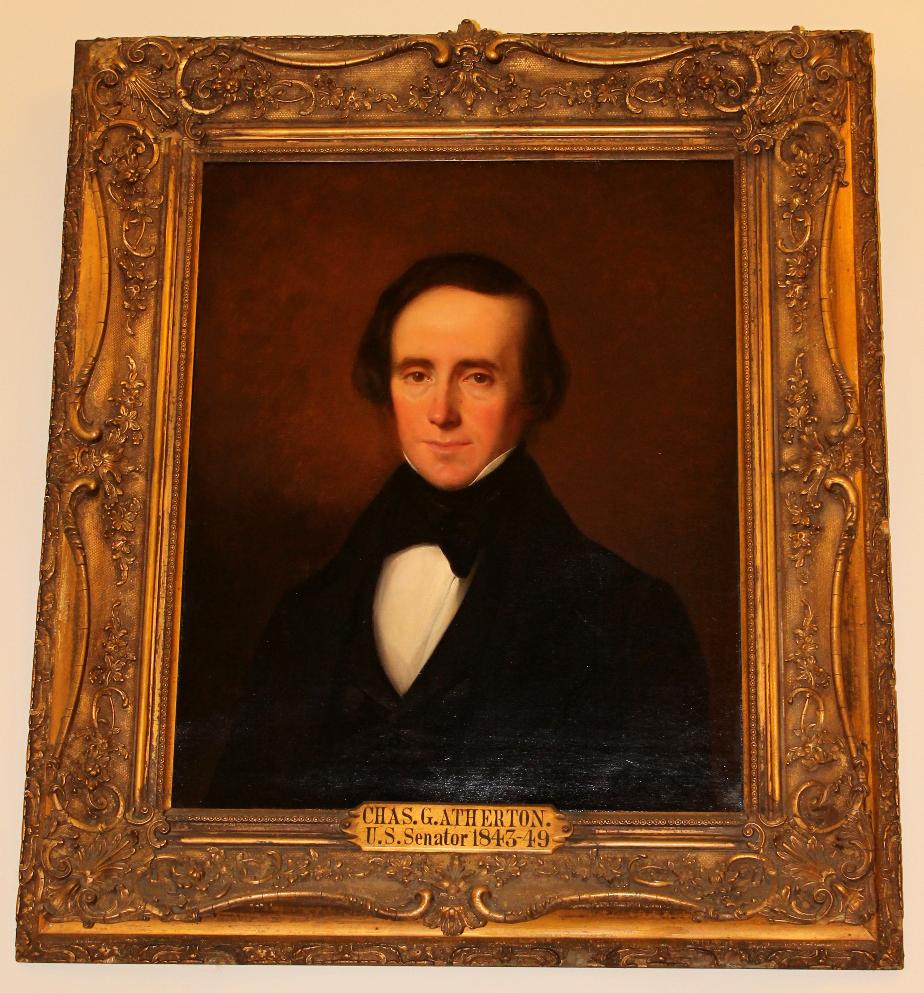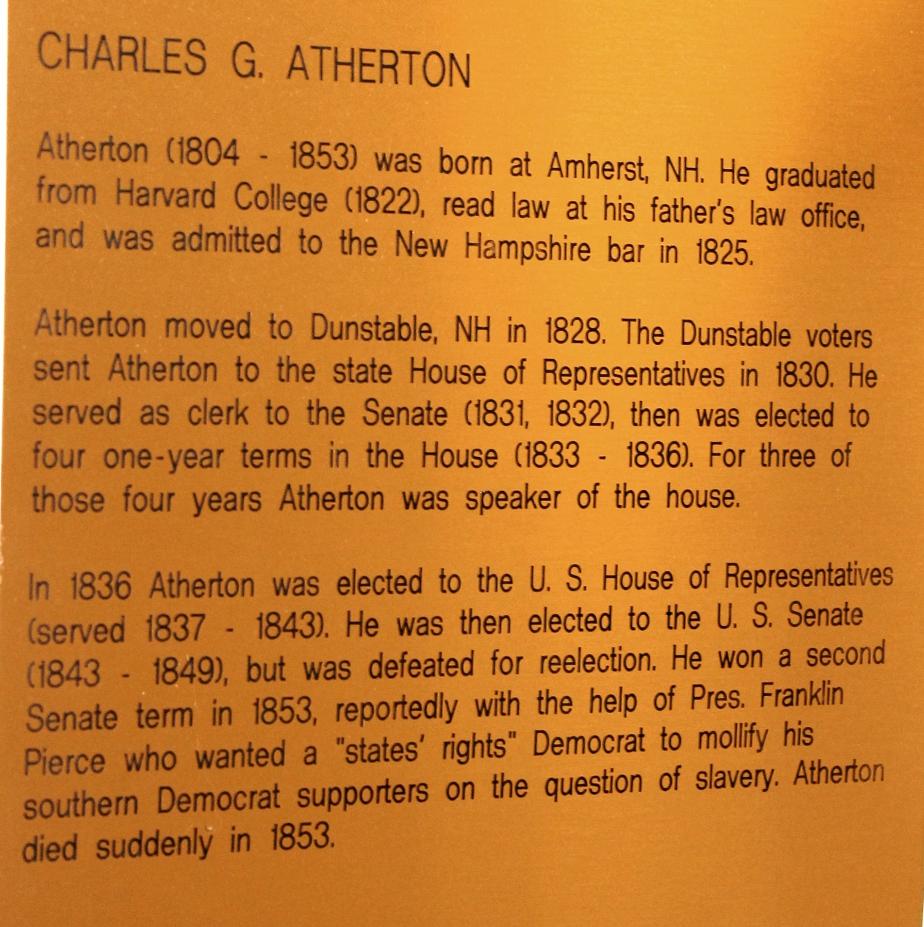 Governor Nahum Bachelder 1903 - 1904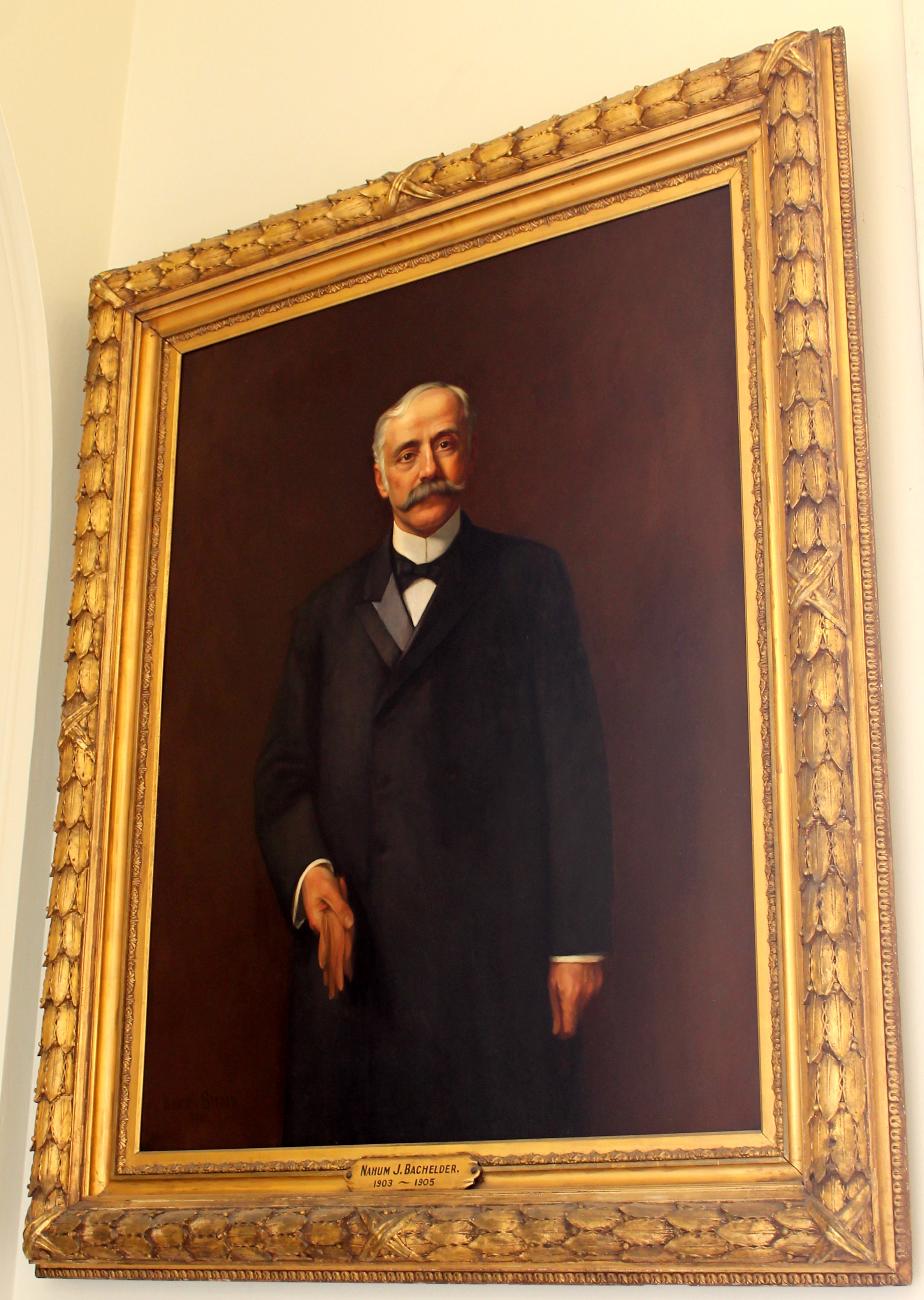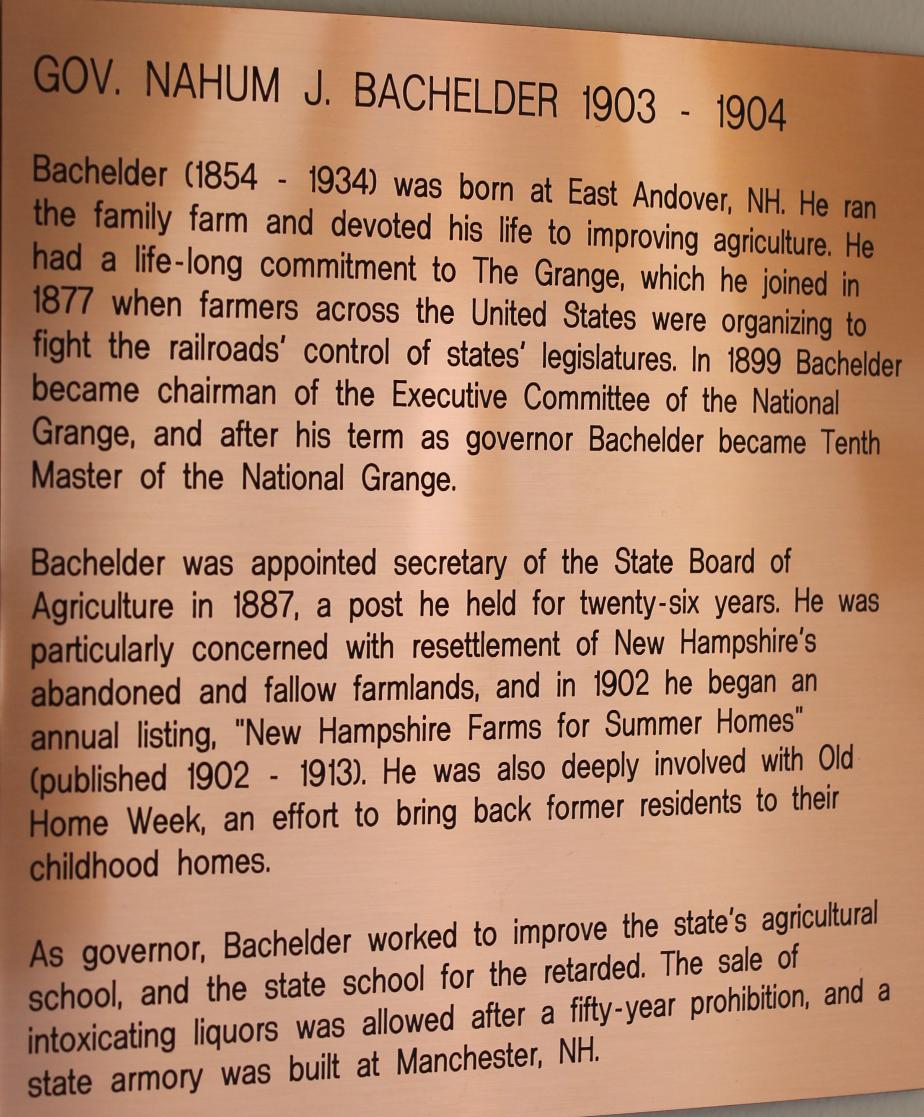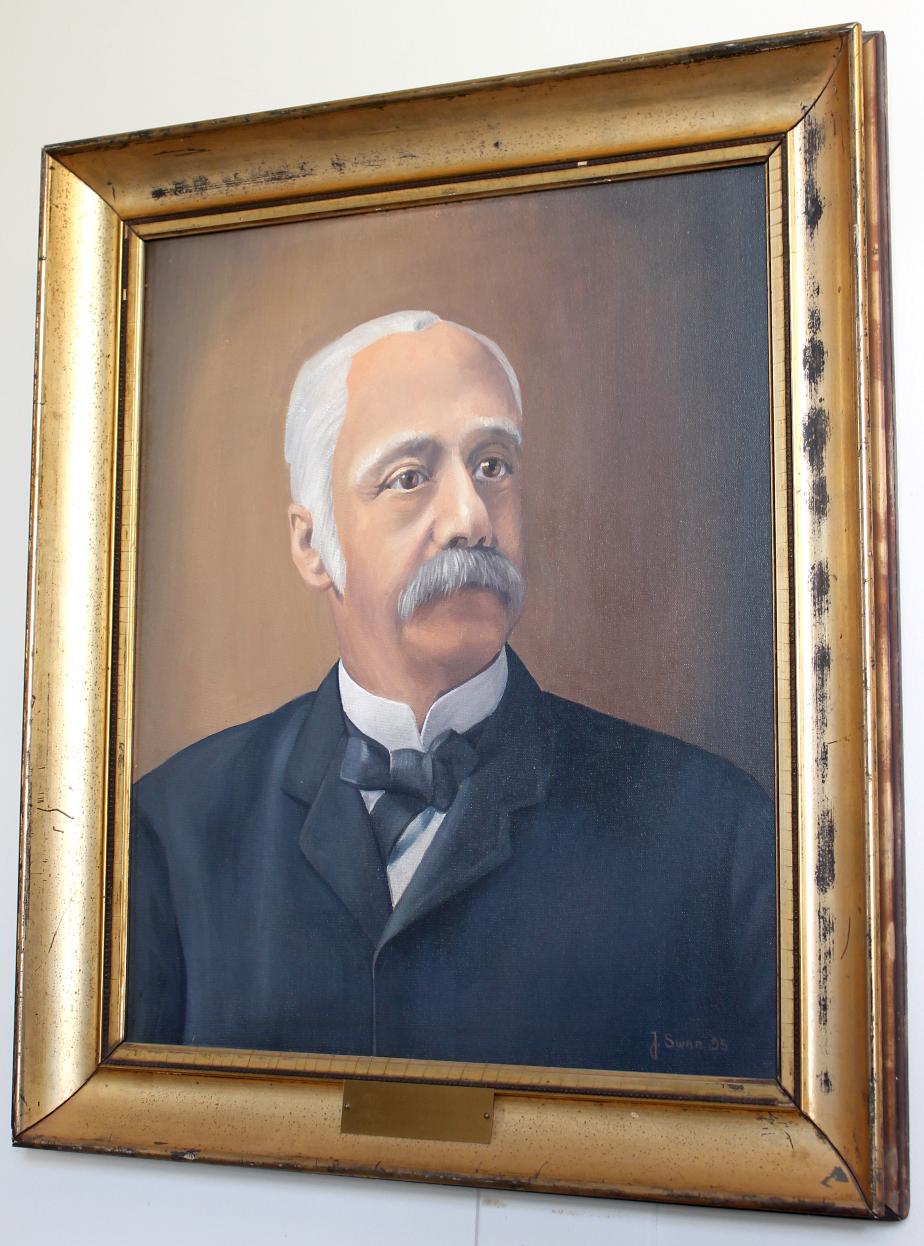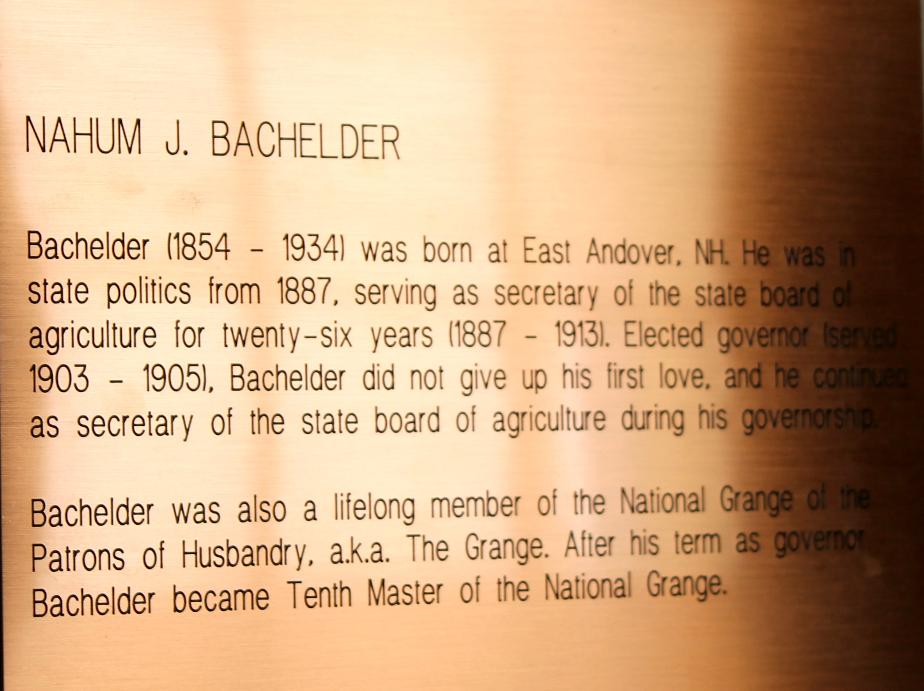 Jesse Barton - NH Senate President (1917 - 1919)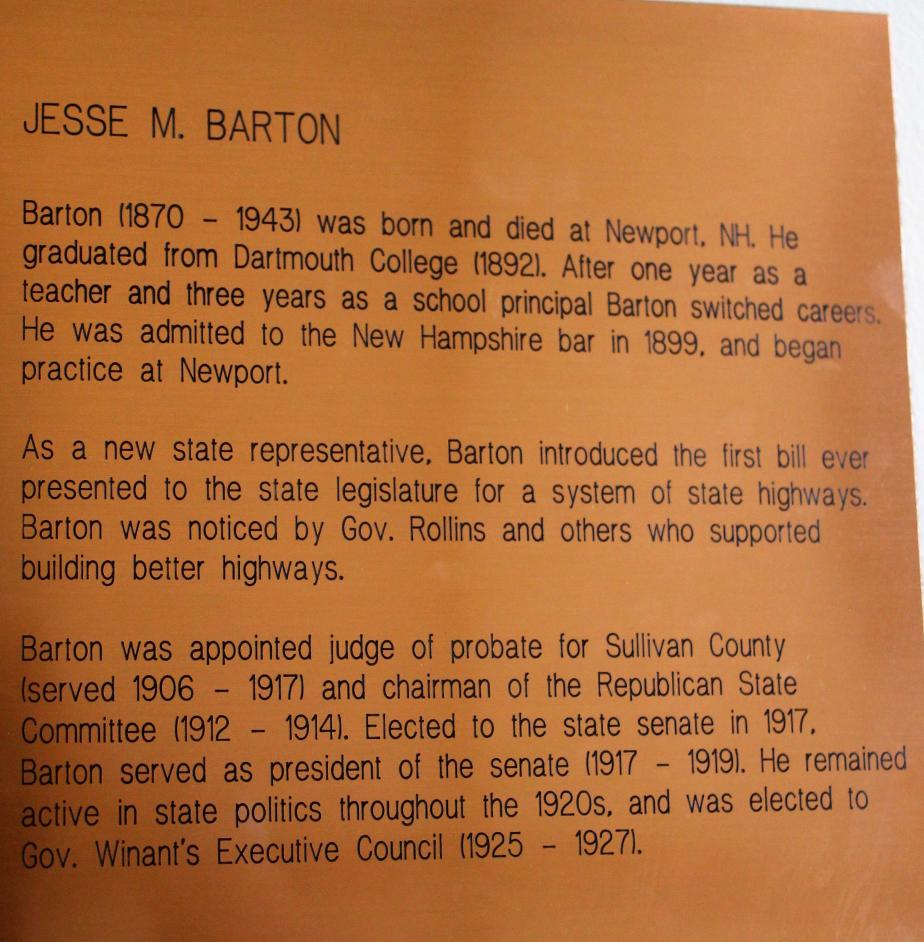 General Richard N Batchelder - Congressional Medal of Honor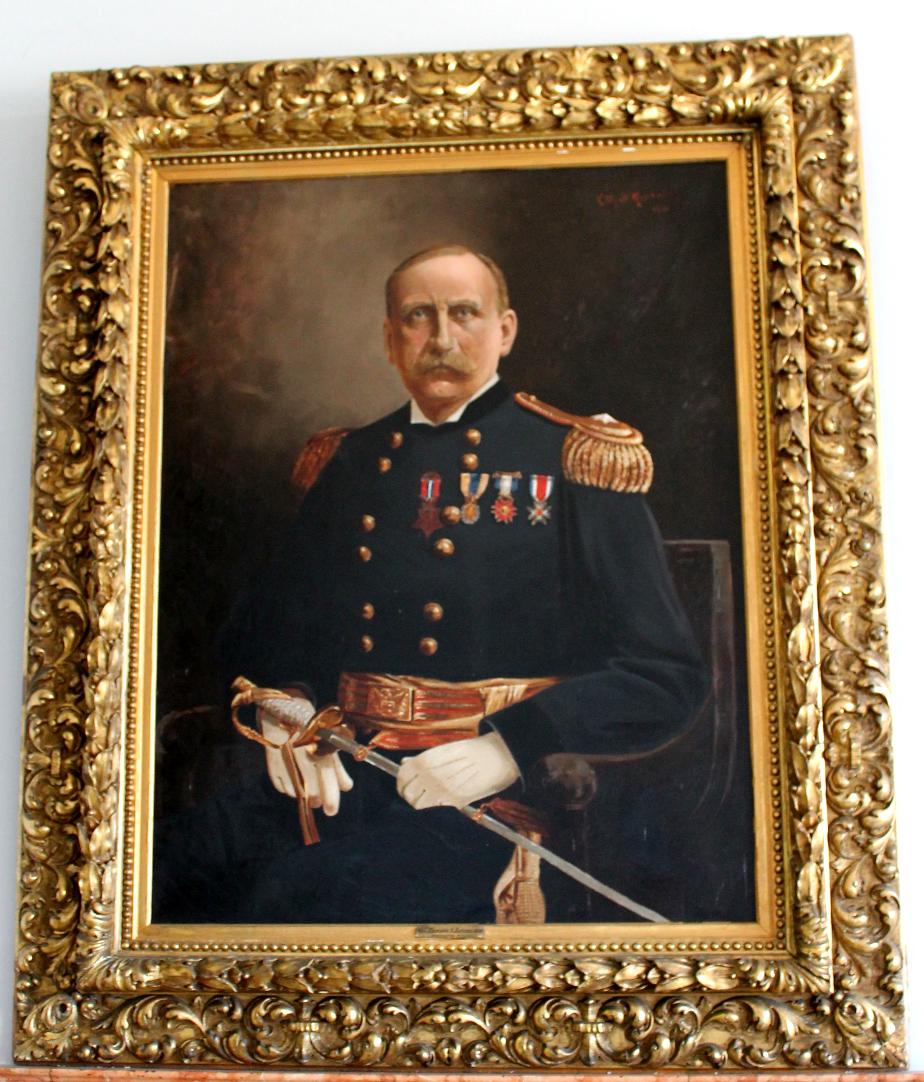 General Richard Napoleon Batchelder - Born at Lake Village, New Hampshire, July 27, 1832, he entered the Volunteer Service for the Civil War in 1861 and rose through the ranks to Brigadier General on March 13, 1865.
After the Civil War, he remained in the Regular Army and became Brigadier General, United States Army, and Quartermster General, June 26, 1890. He remained unmarried. First Lieutenant, 1st New Hampshire Volunteer Infantry, May2, 1861 and mustered out from that unit on August 9,,1861. Then was appointed Captain, Assistant Quartermaster of Volunteers, August 3, 1861 to June 8, 1865; Lieutenant Colonel, Quartermaster, August 1, 1864-September 5, 1865; Captain, Quartermaster Corps, United States Army, February 16, 1865 and was breveted Brigadier General for war service.
Awarded the Medal of Honor on May 20, 1895 for gallantry in action against Mosby's guerrillas between Catlett's and Fairfax Stations, Virginia, on October 13-15, 1863. He retired from the Army on July 27, 1896.
He died on January 4,1901 and was buried in Section 2 of Arlington National Cemetery.
Governor Nathaniel Baker - 1854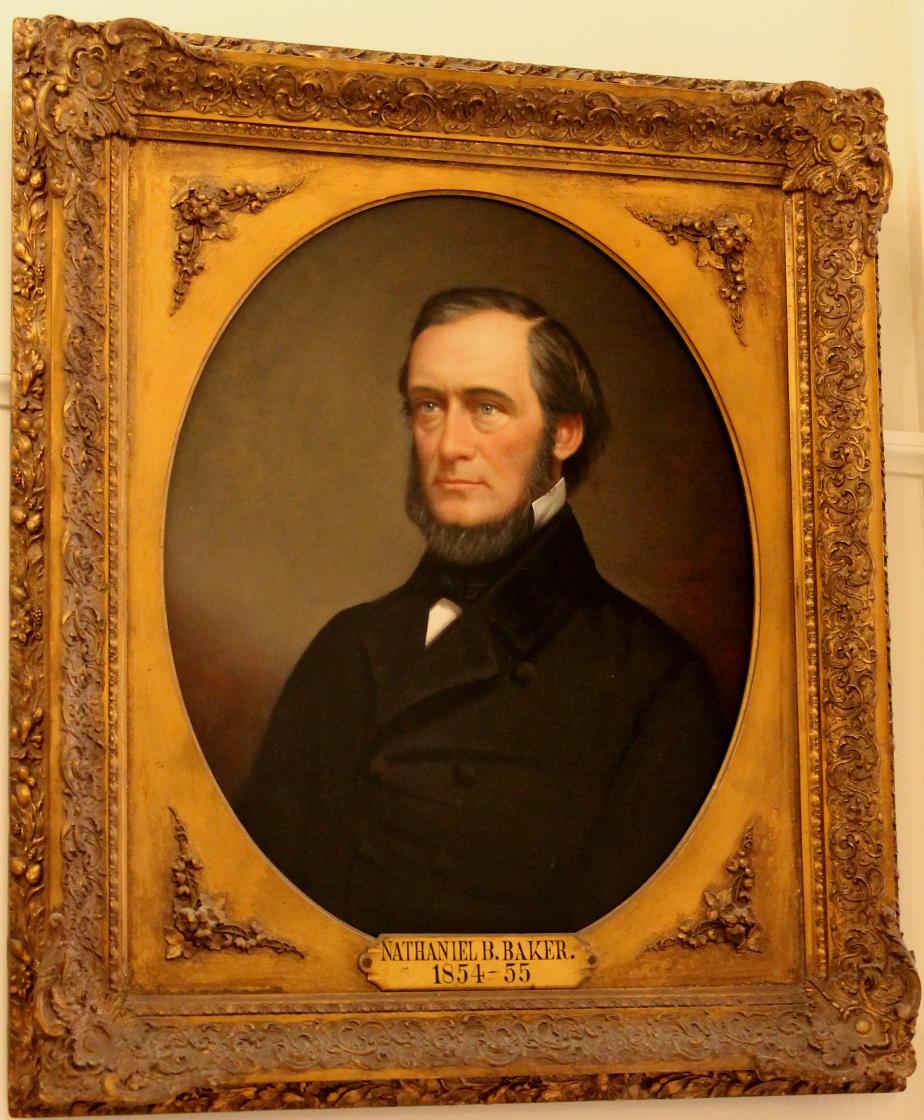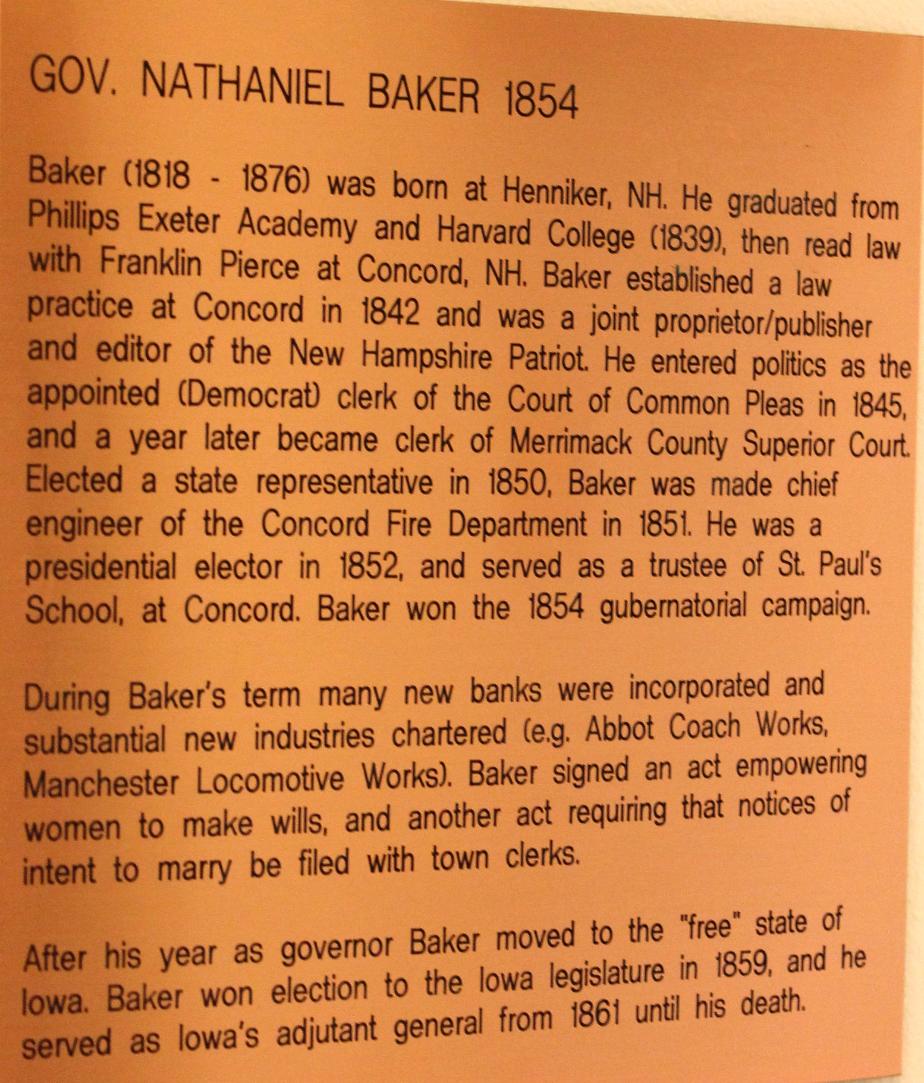 Governor John H Bartlett 1920 - 1921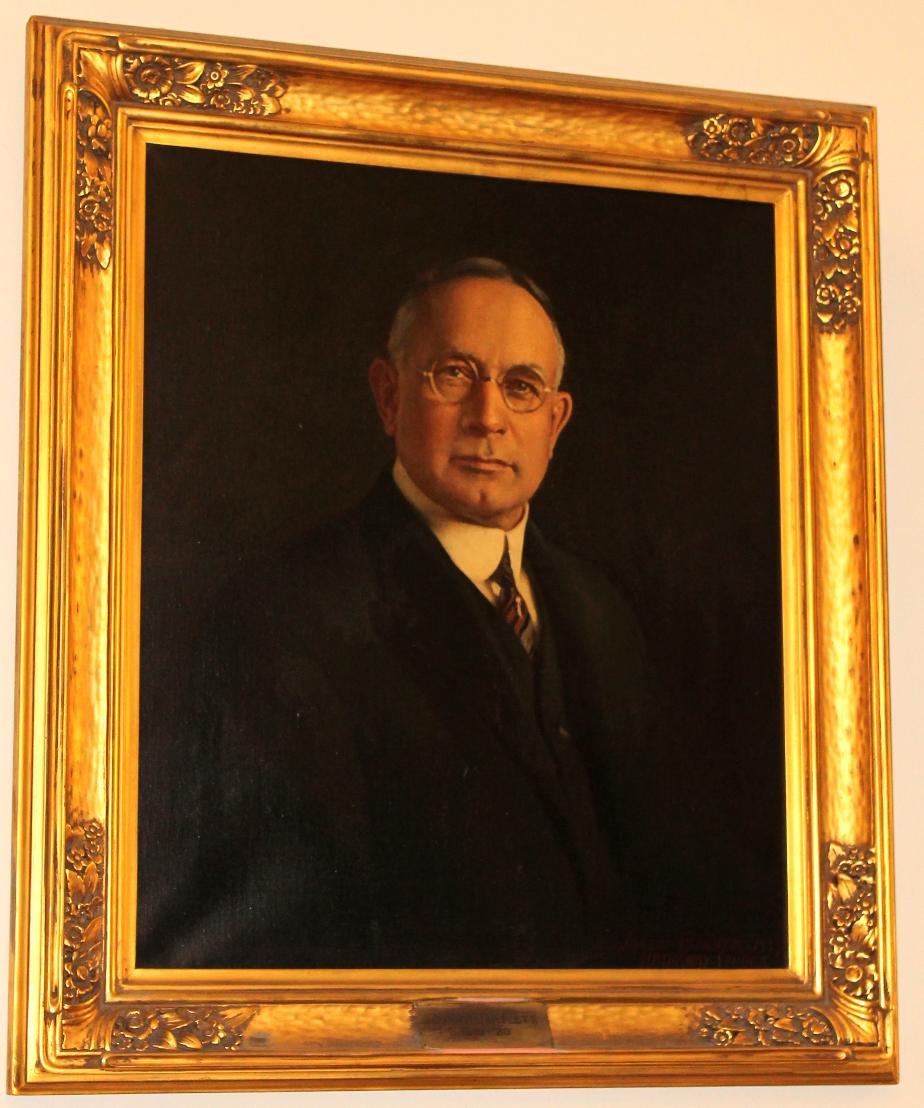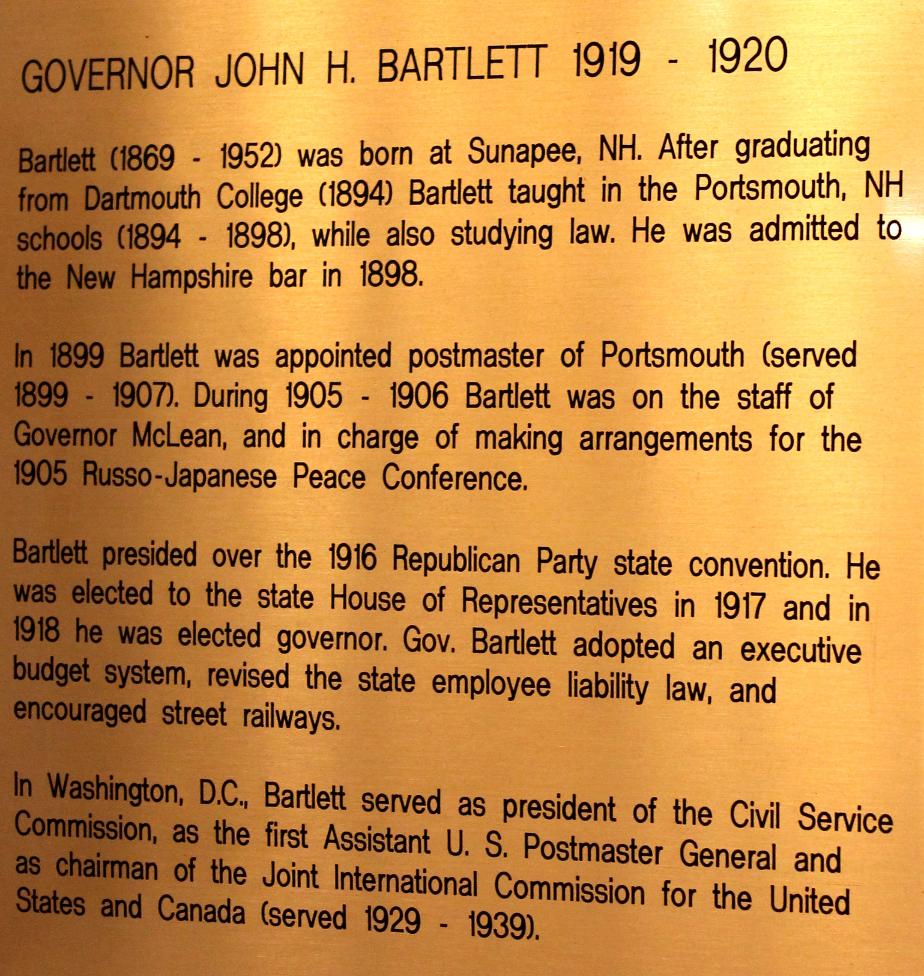 Robert P. Bass, Governor (1911-1912)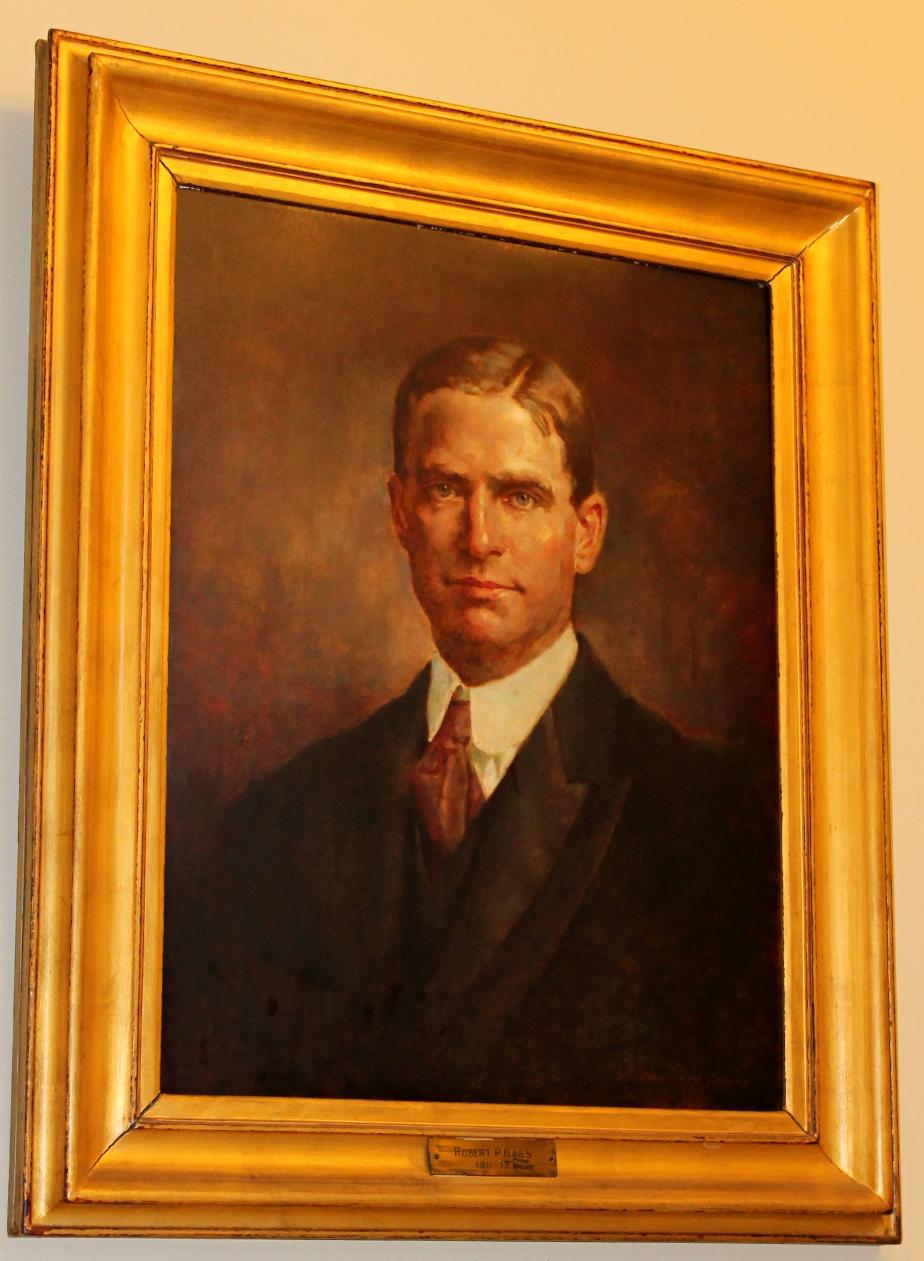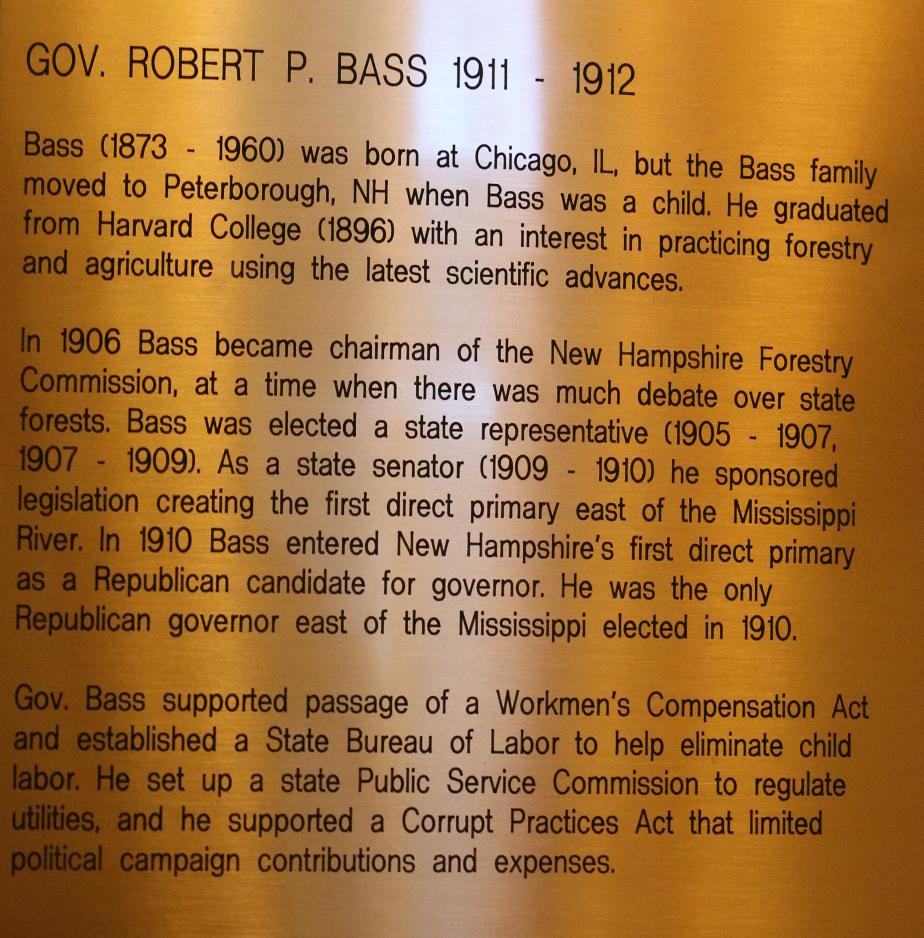 US Senator Benning Bean (1833 - 1835) (Moultonboro)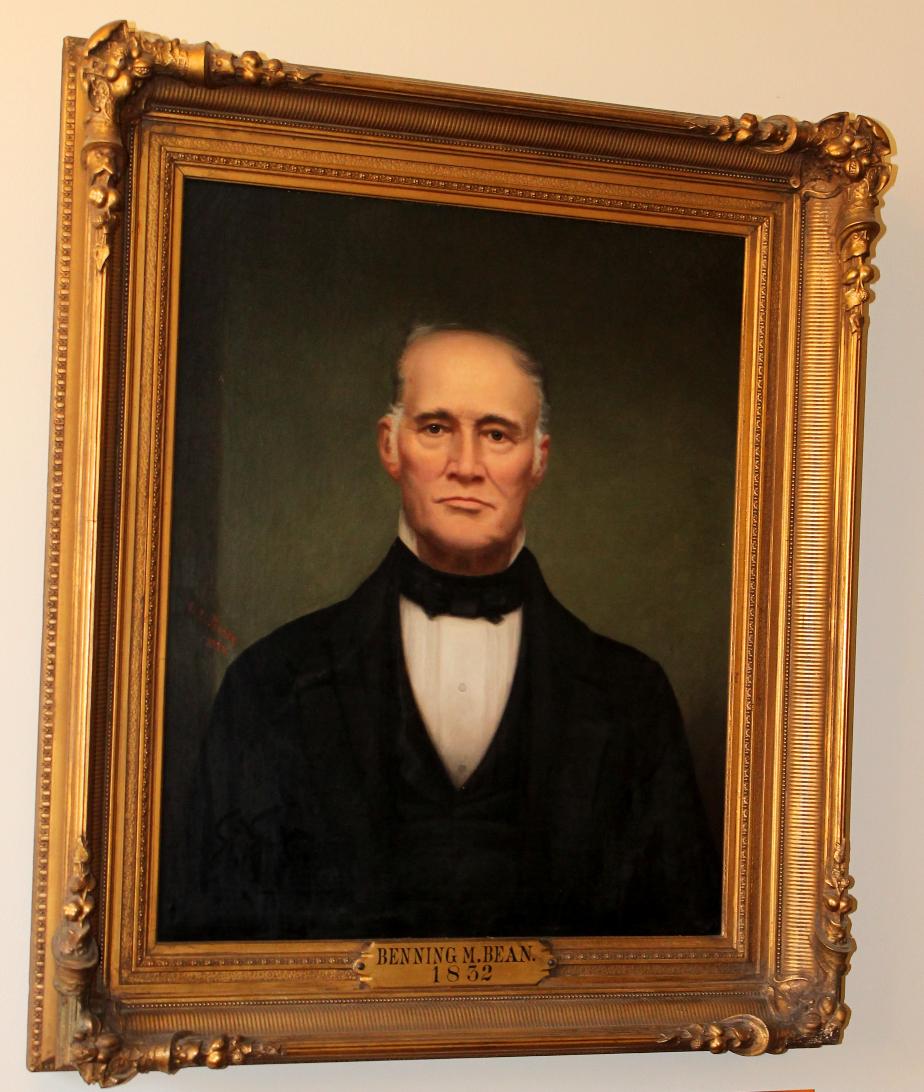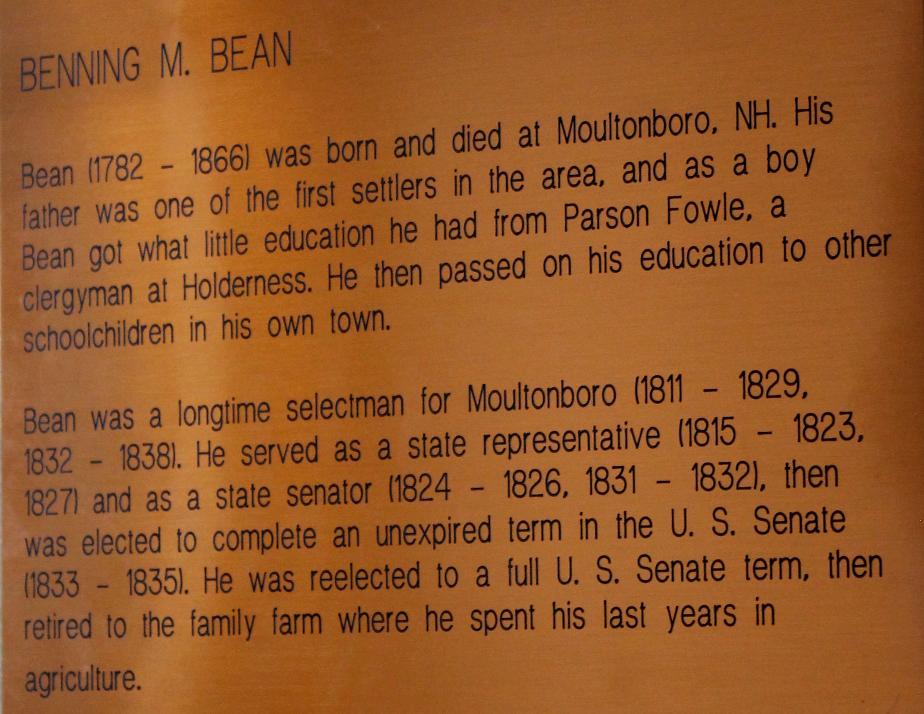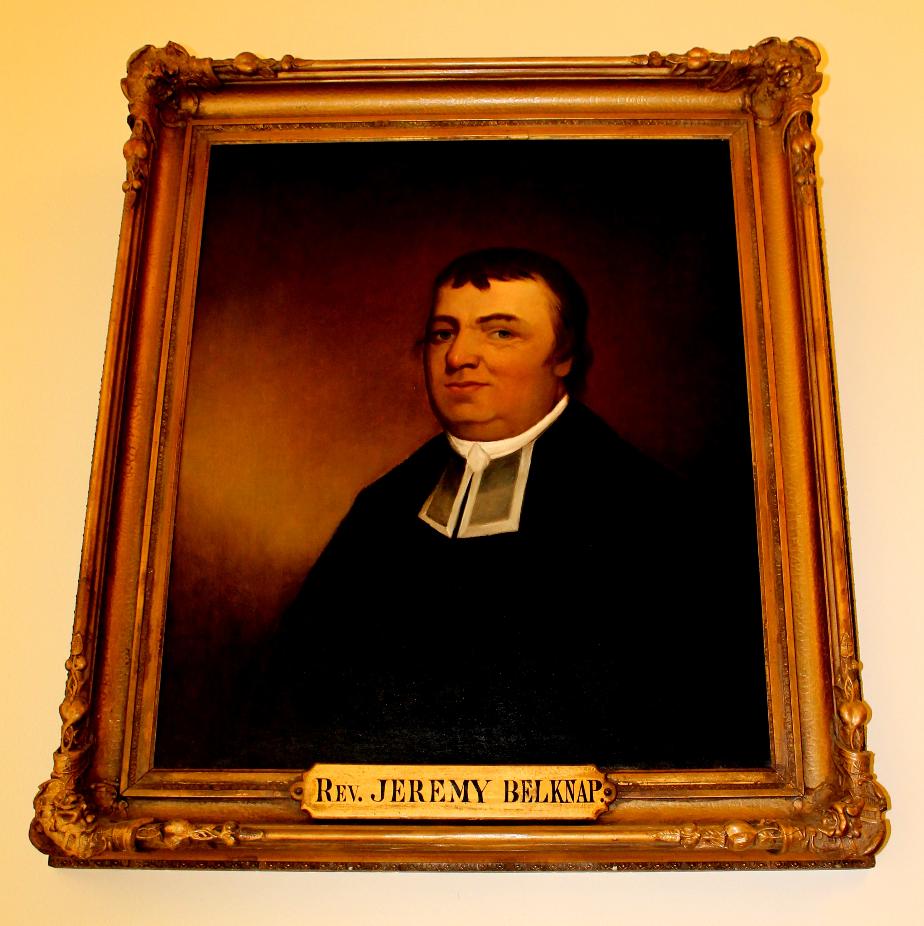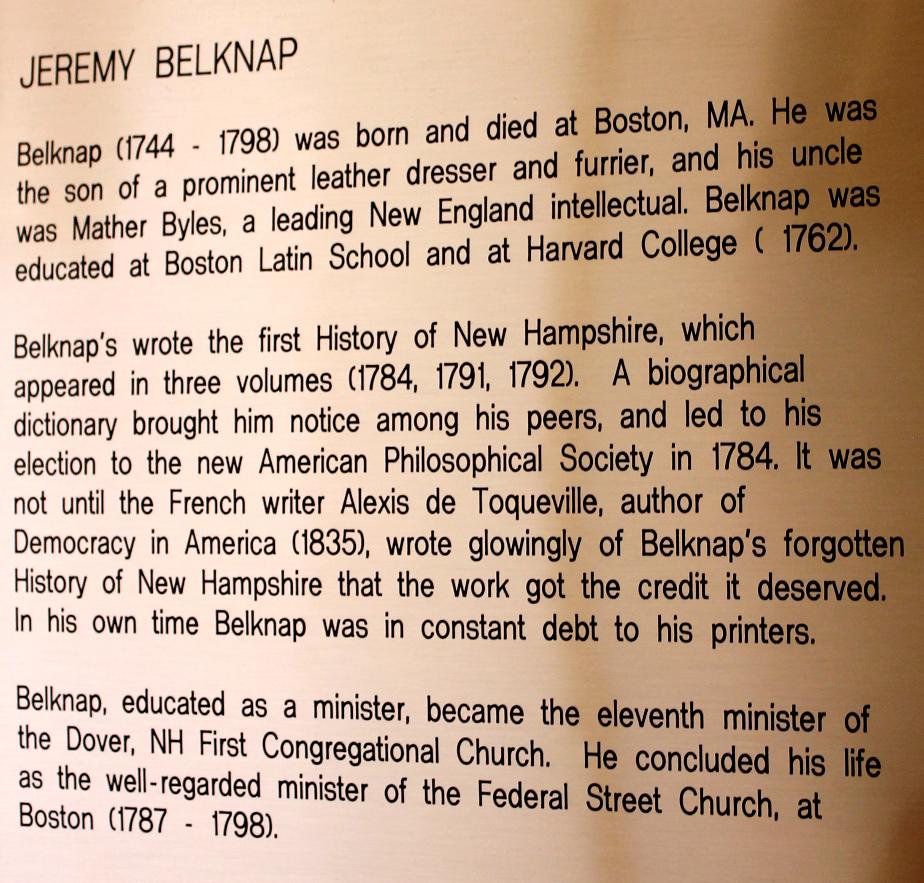 Governor Charles H. Bell (Chester NH) 1881 - 1882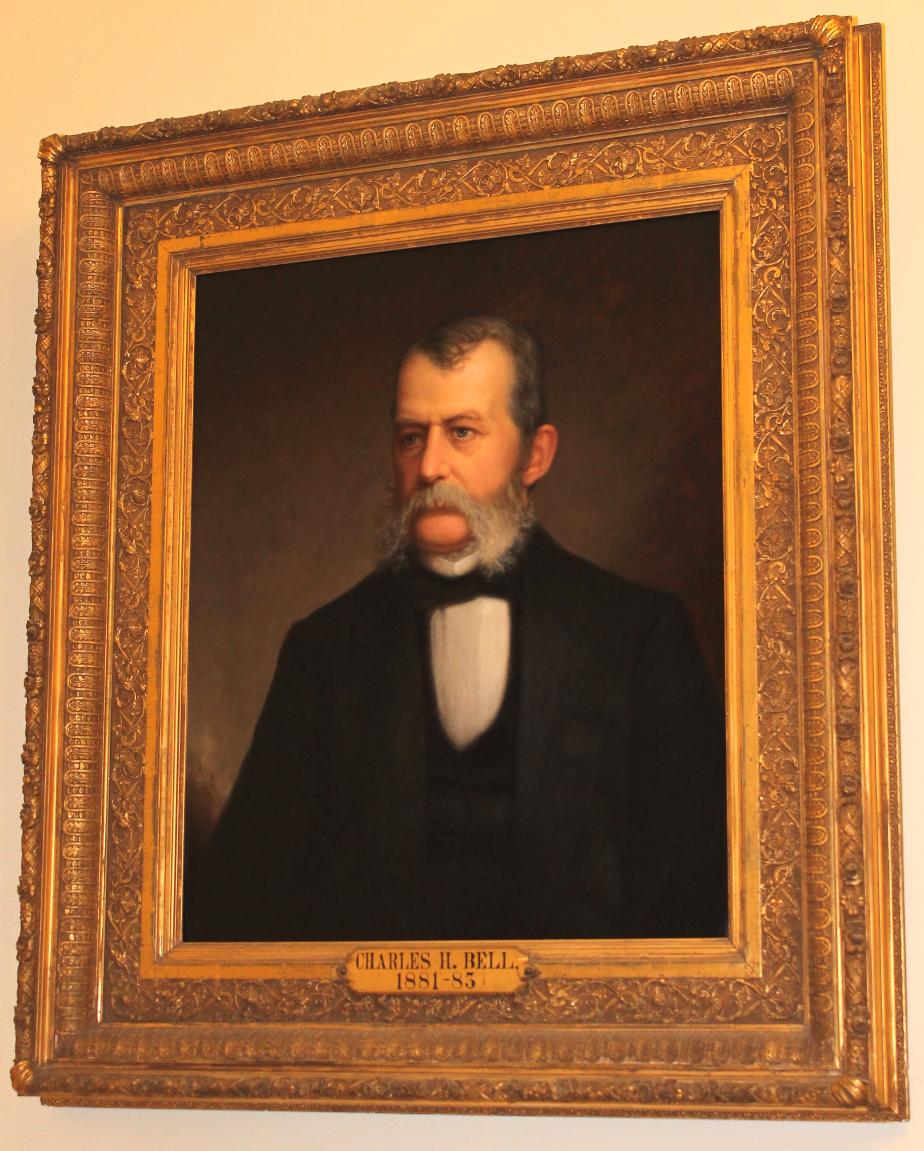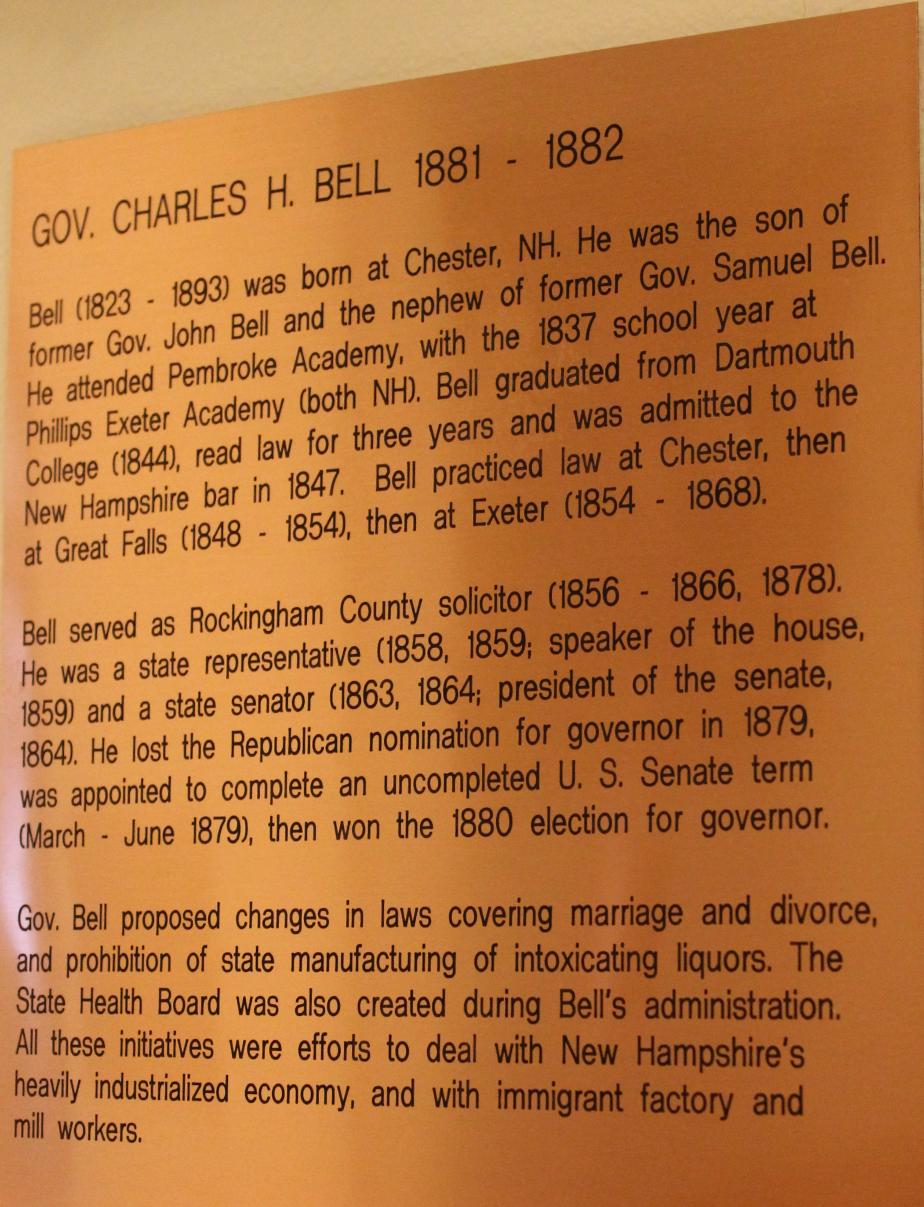 Governor John Bell (Londonderry) 1828 - 1829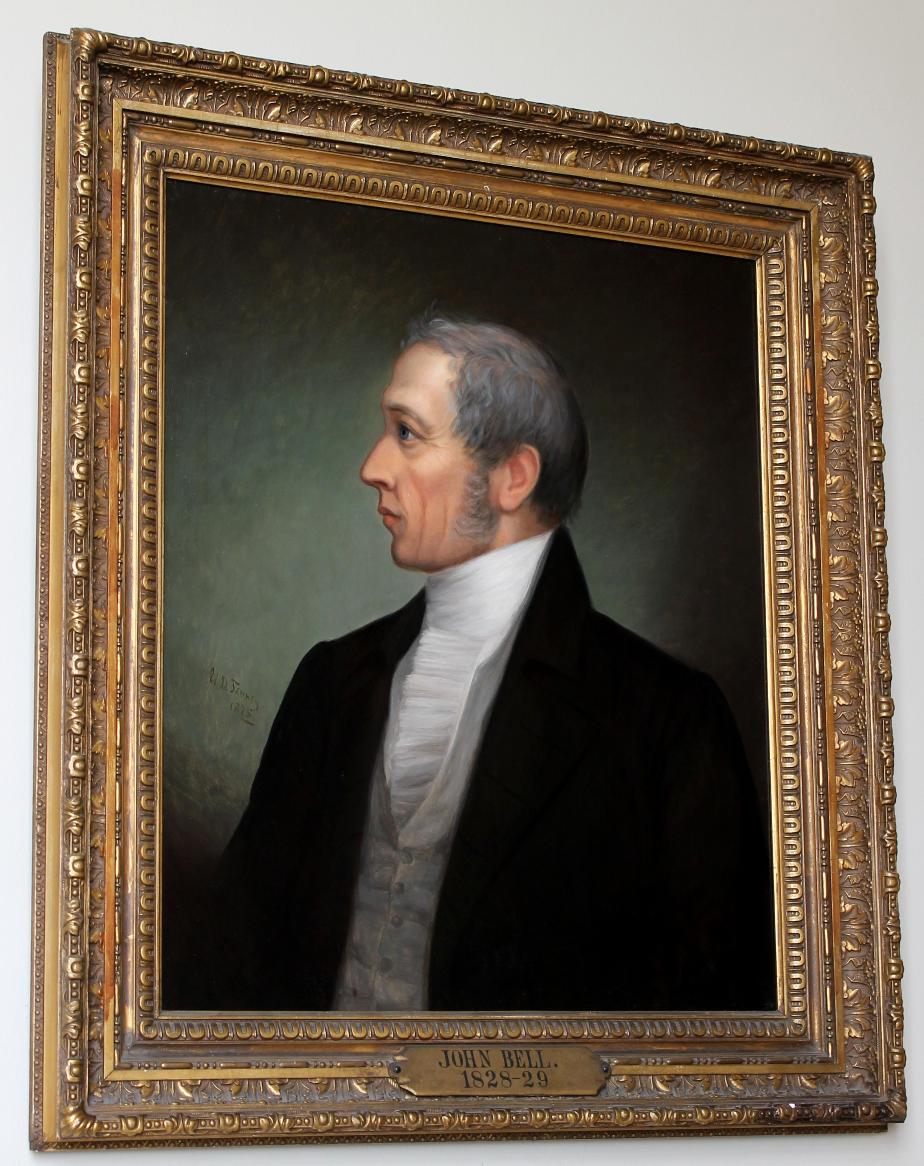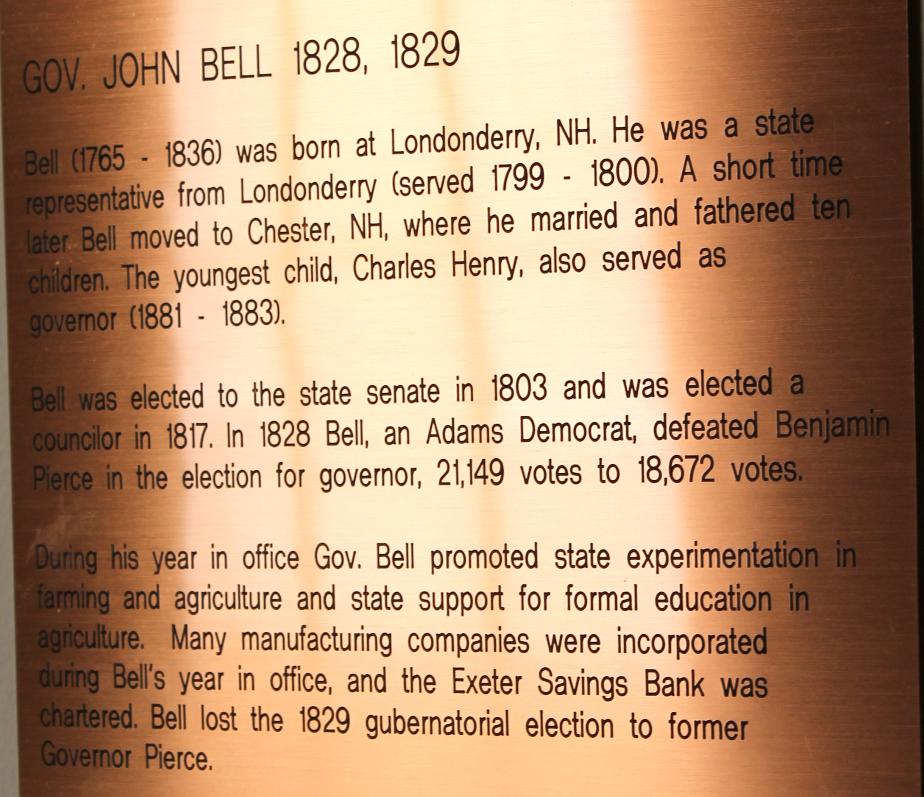 Governor Samuel Bell - 1819 - 1823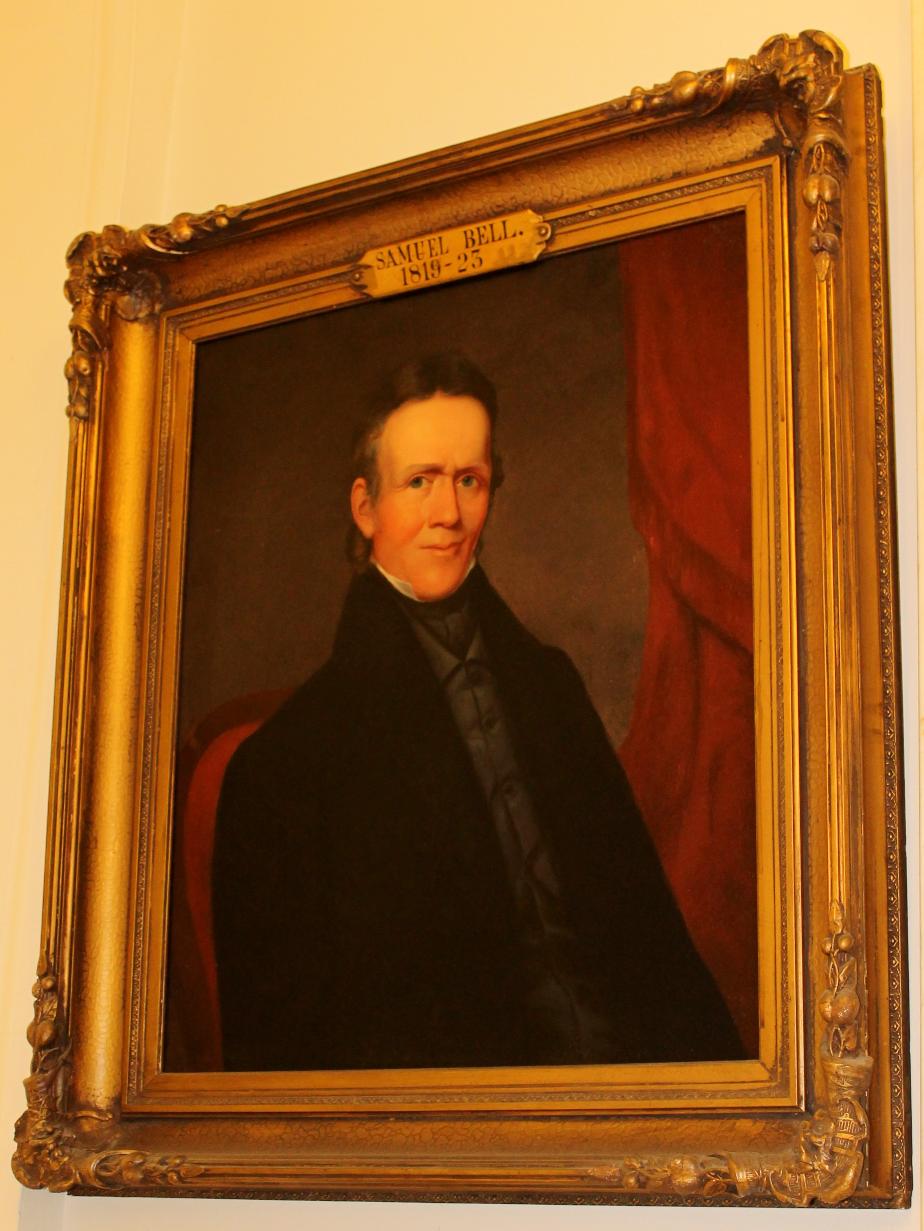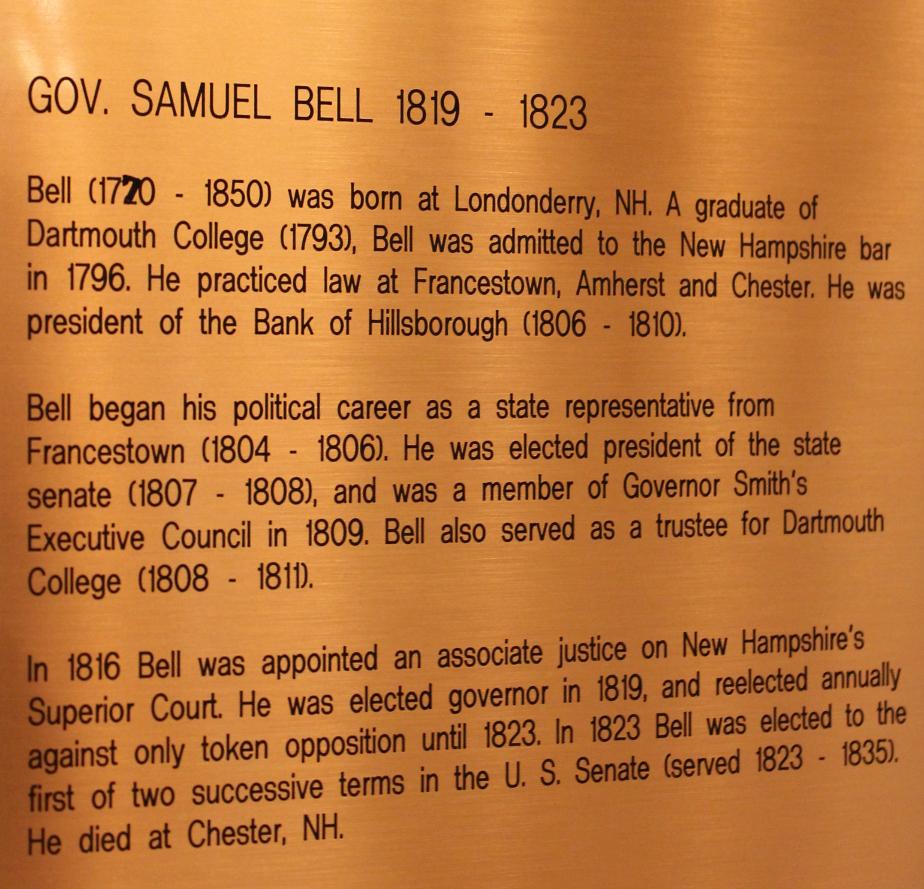 Governor Nathaniel Berry: 1861 - 1862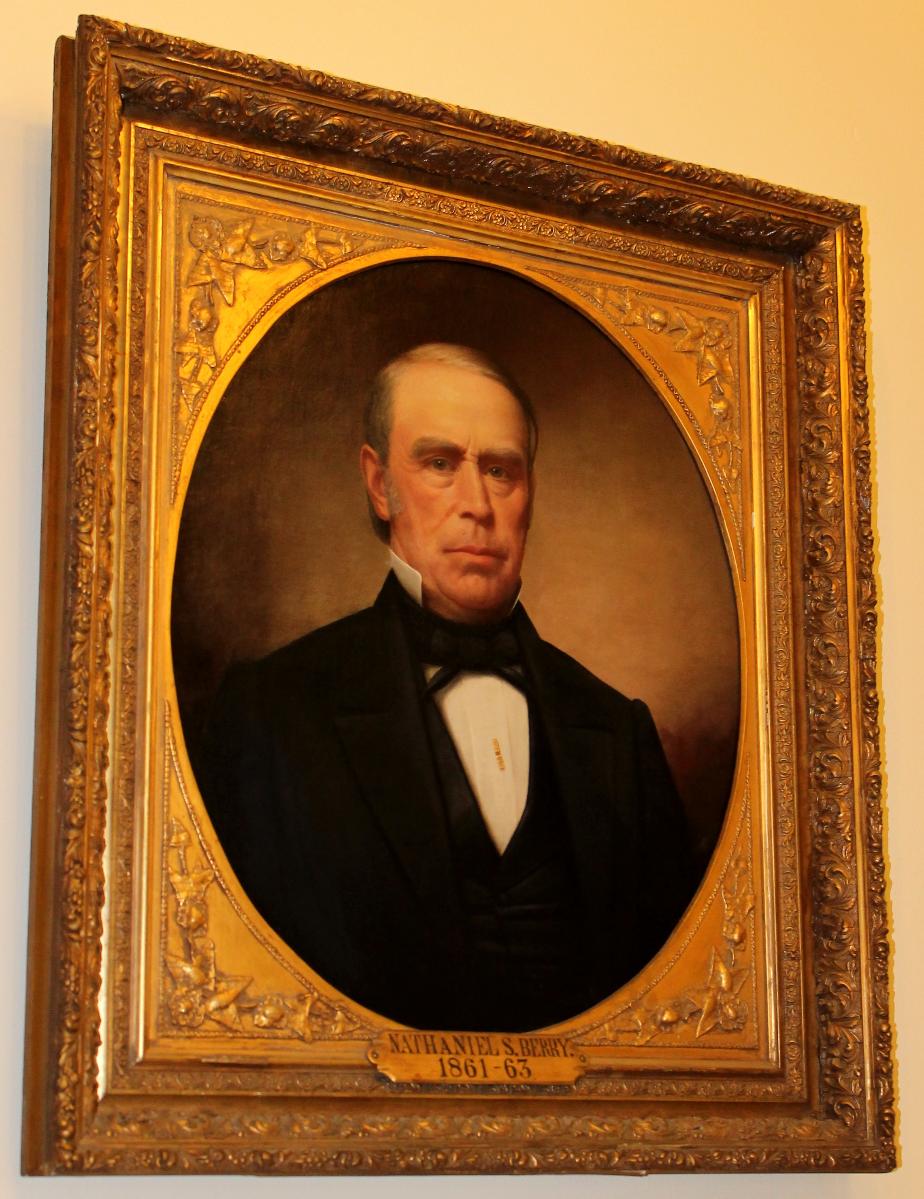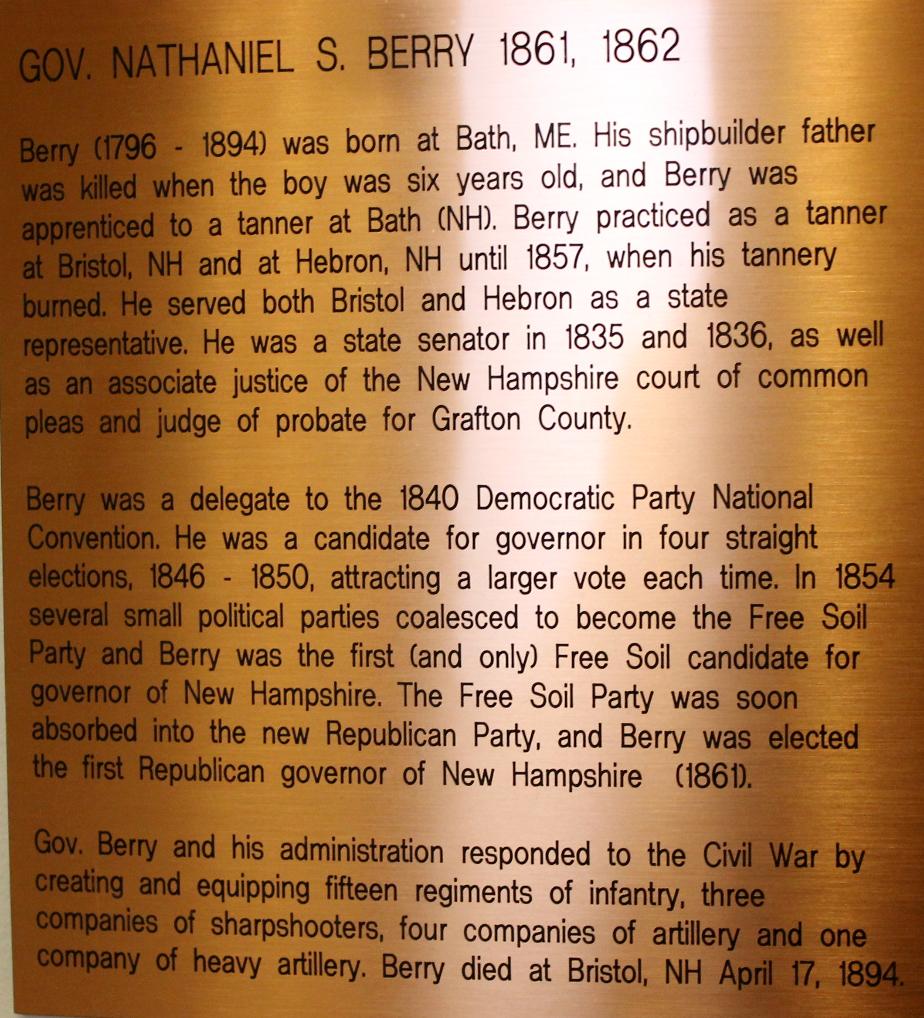 Colonel Phineas P Bixby - 6th NH Volunteers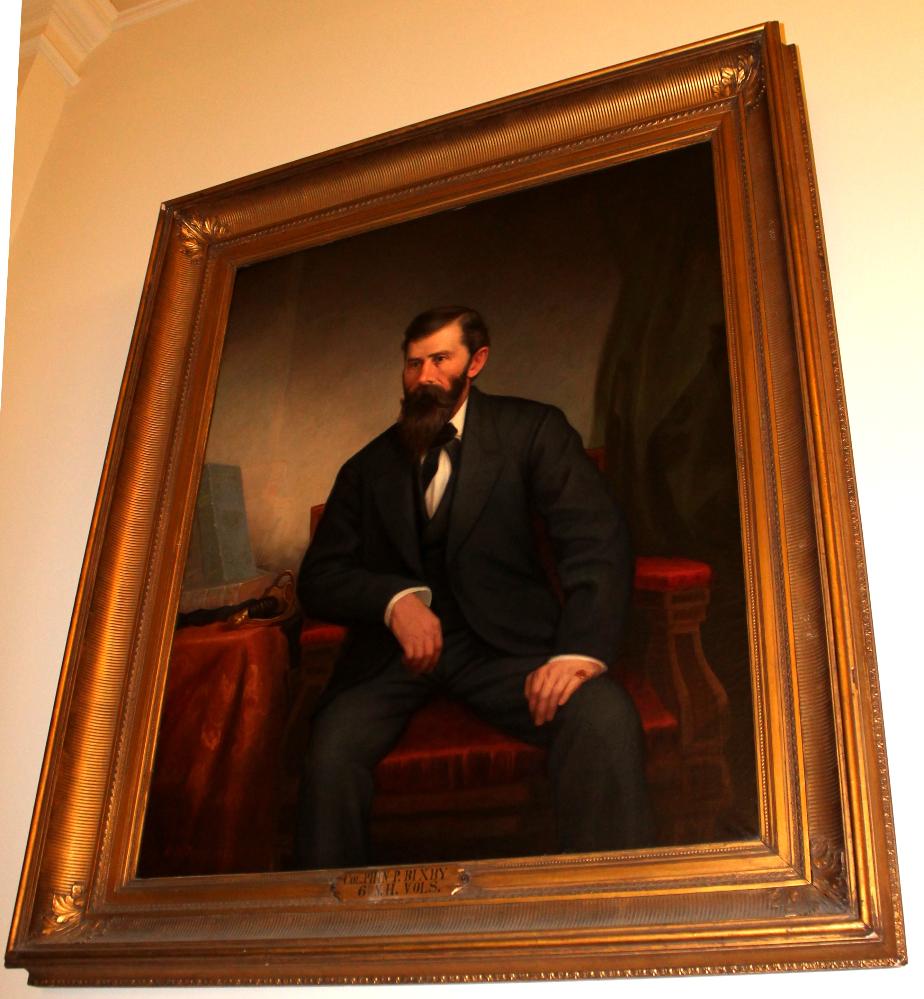 Colonel Phineas P Bixby - Born May 9, 1829 in Piermont New Hampshire.
A tradesman in Concord when the Civil War began. He was commissioned Adjutant of the 6th New Hampshire Infantry November 30, 1861. Wounded and taken prisoner at the Second Battle of Bull
Run,Virginia August 29, 1862, Bixby was for some weeks confined at Libby Prison before being exchanged, October 3, 1862. He rejoined the
Sixth, and on October 15, 1862 Bixby was commissioned major, to replace O.G. Dort who had resigned. After the death of Lieutenant Colonel Pearson at North Anna,Virginia on May 26,
1864, Bixby was in command of the regiment for some time. The Sixth was in the siege of Petersburg,Virginia and Bixby was wounded twice in events leading up to Petersburg. The second time he was wounded so severely that it was three months before he came back to the Sixth. In his absence he was promoted to Lieutenant Colonel, and after his return he was again in
charge of the regiment most of the time. He was appointed Colonel, February 21, 1865. On April 2, 1865 Bixby was formally put in charge of the brigade, and he remained in charge until Lee's surrender at Appomattox Court House. mustered out with his regiment on September 17, 1865.He also received the Brevet appointment of Colonel of United States Volunteers, for gallant and highly meritorious conduct in the assault before Petersburg, Virginia, to date from April 2, 1865
Governor Robert O Blood 1941 - 1944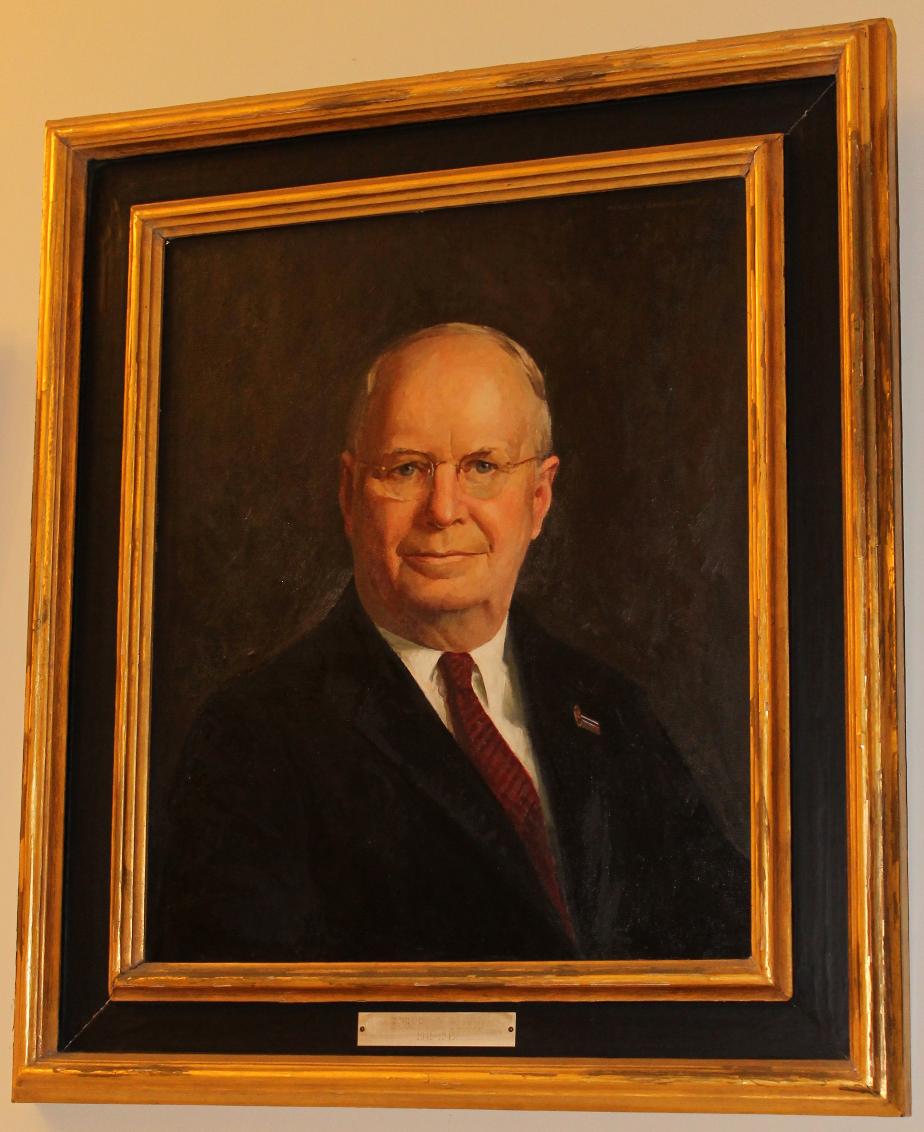 Governor H. Styles Bridges: 1935 - 1936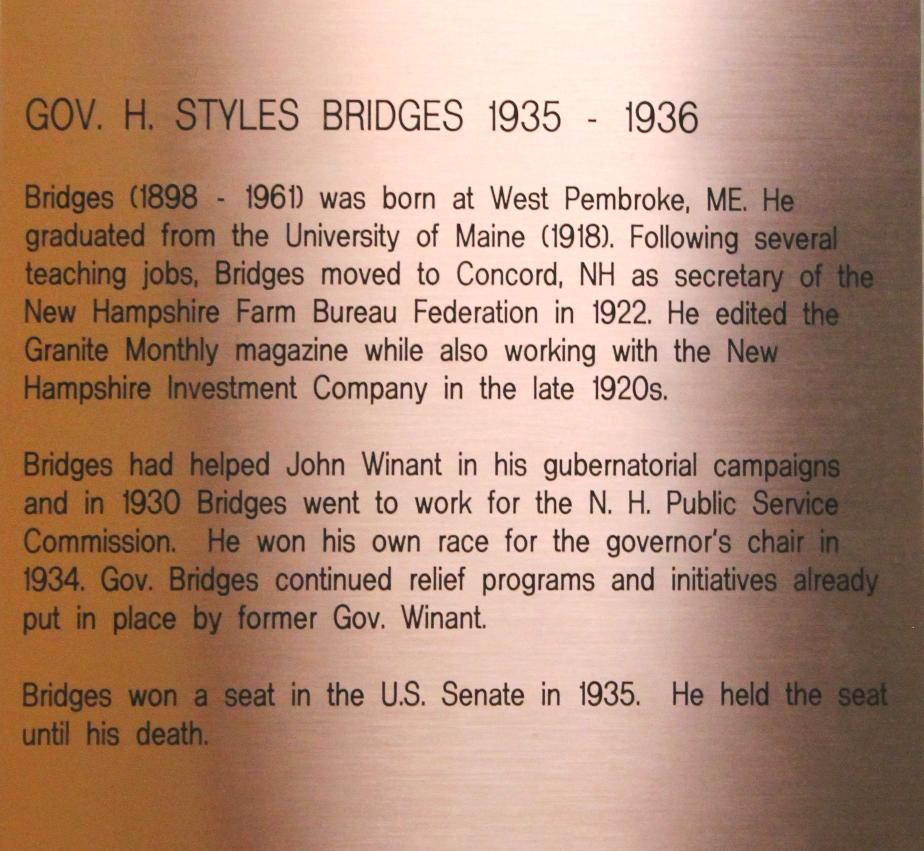 Governor Albert O Brown 1922-1923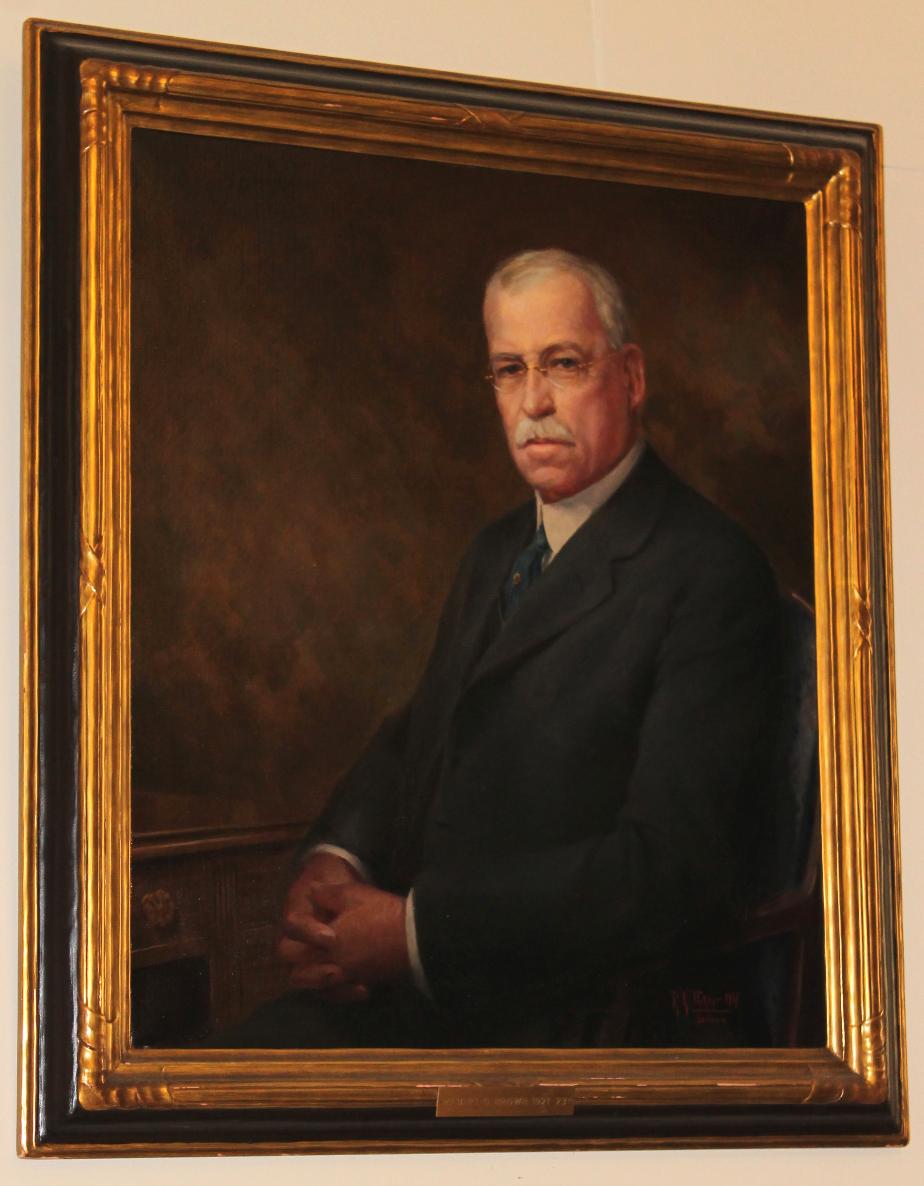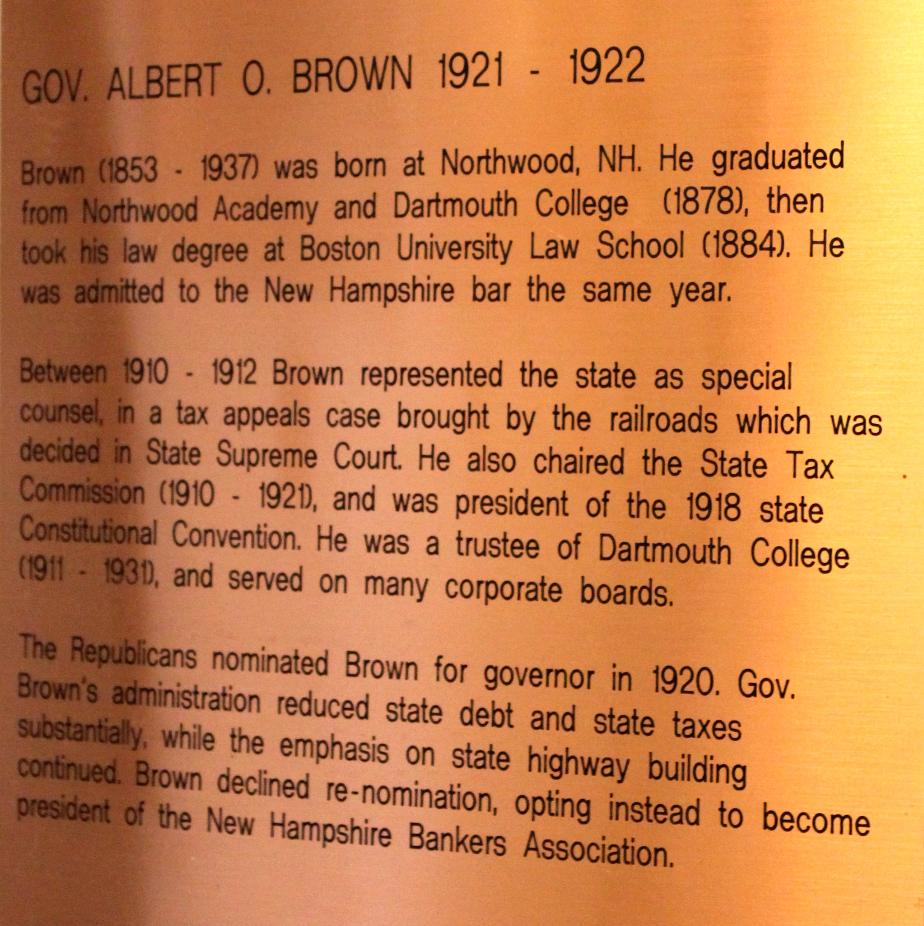 Governor Fred H. Brown 1923 - 1925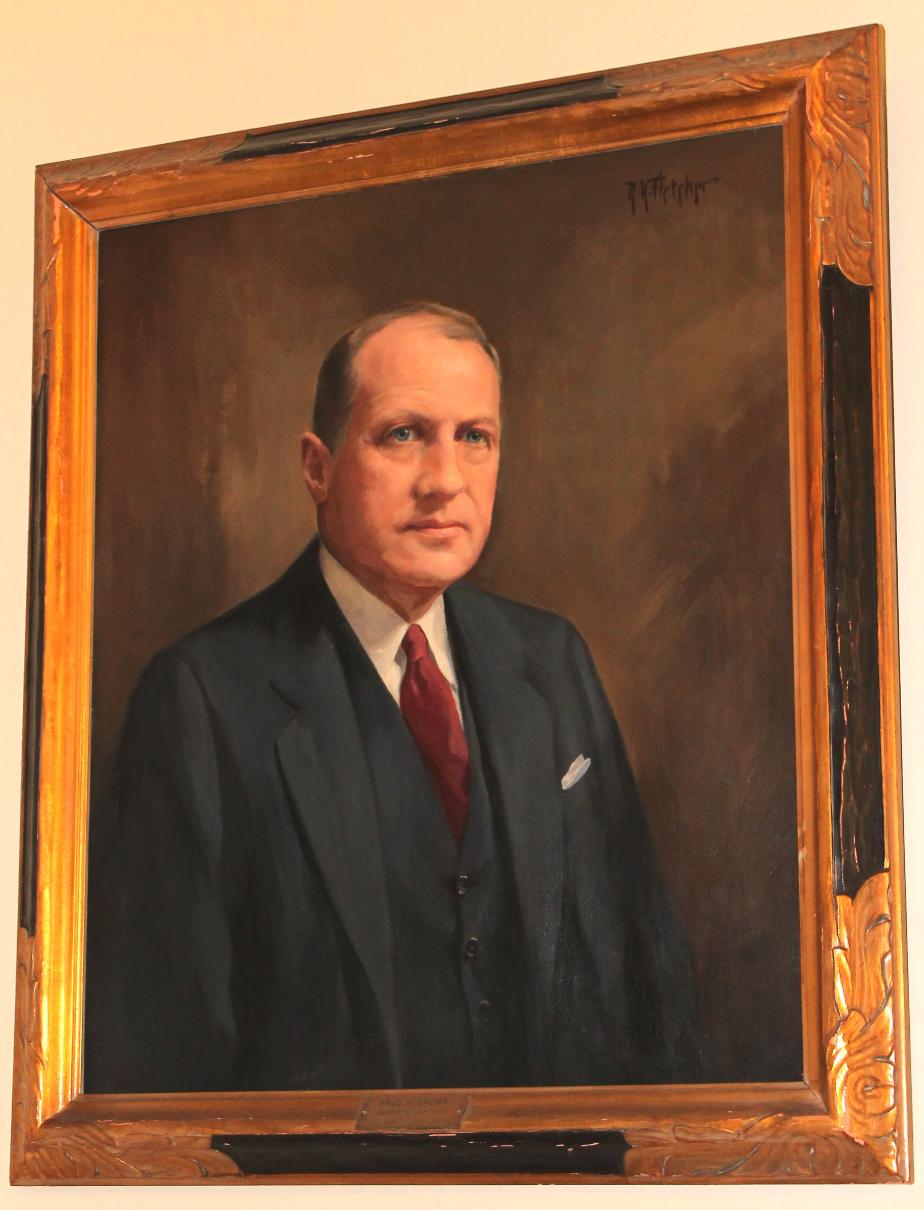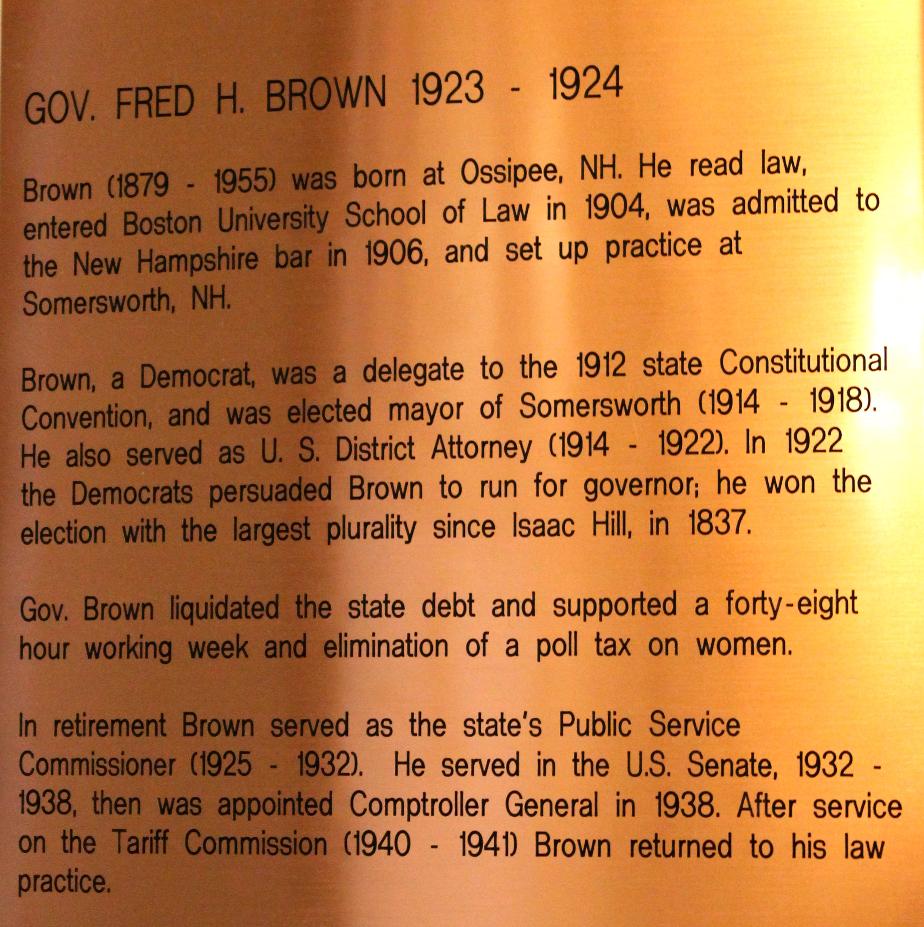 US Congressman Titus Brown (Alstead) 1823 - 1829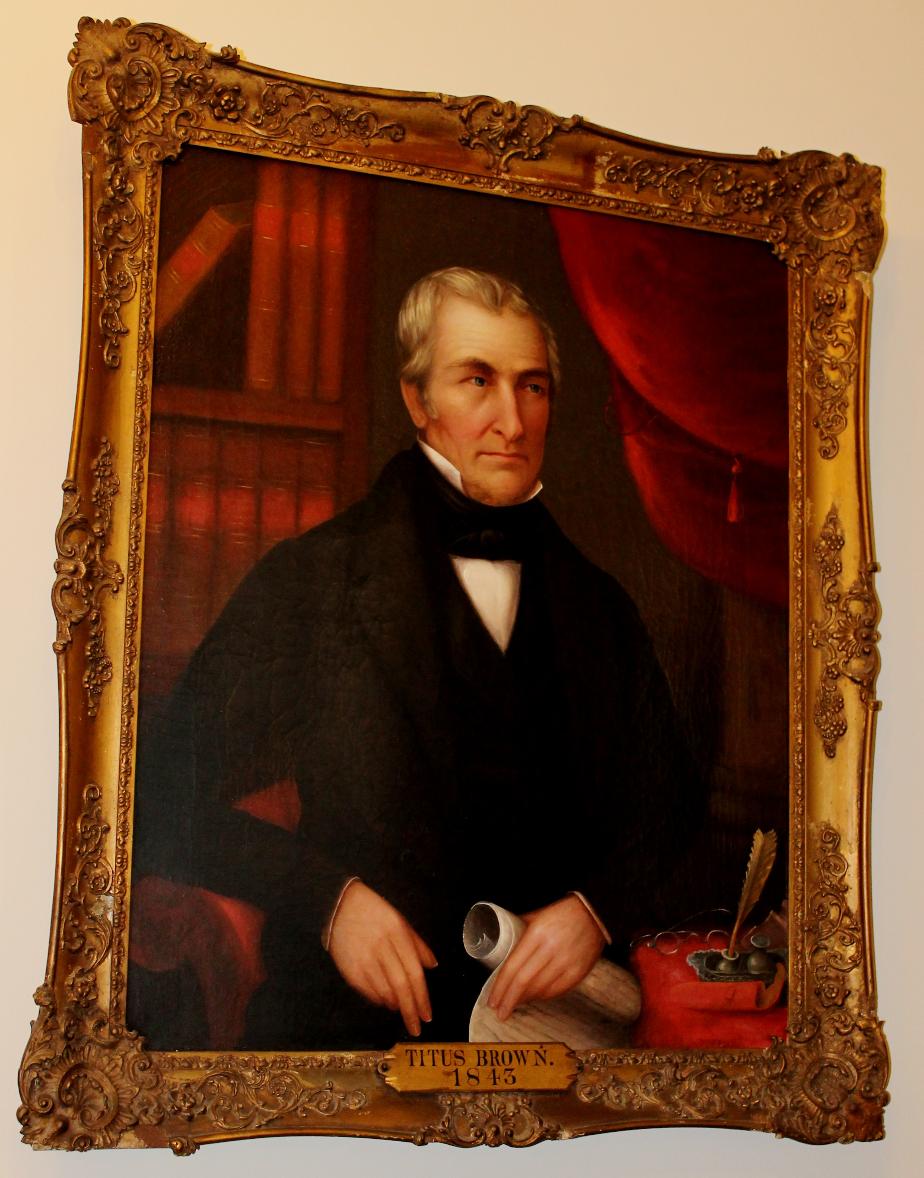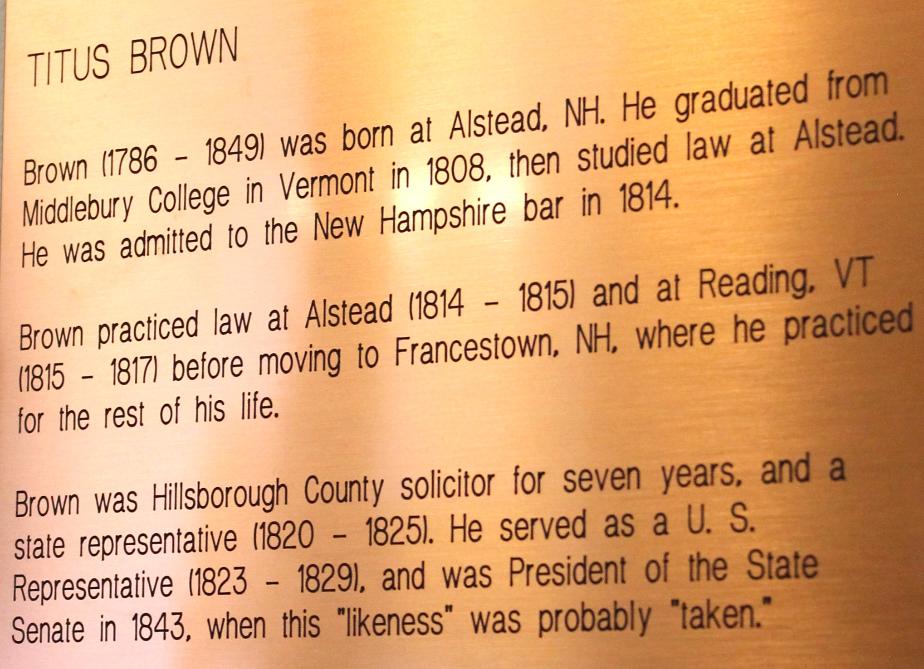 Congressman Edmund P. Burke(1839 - 1845)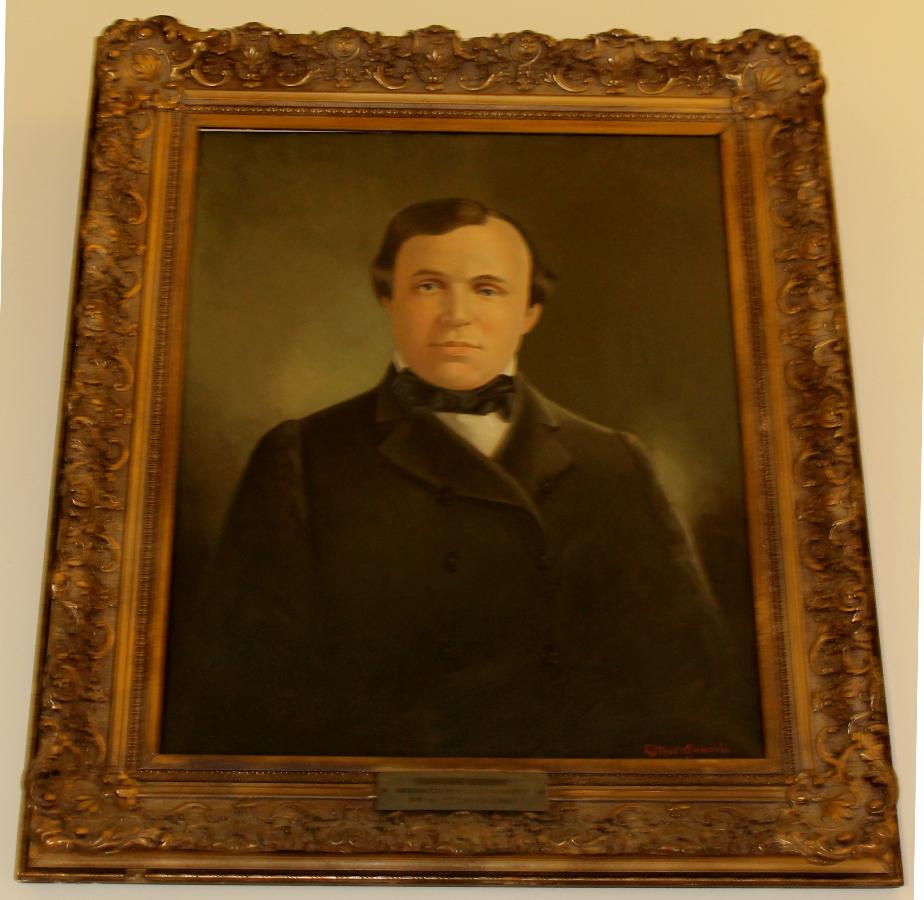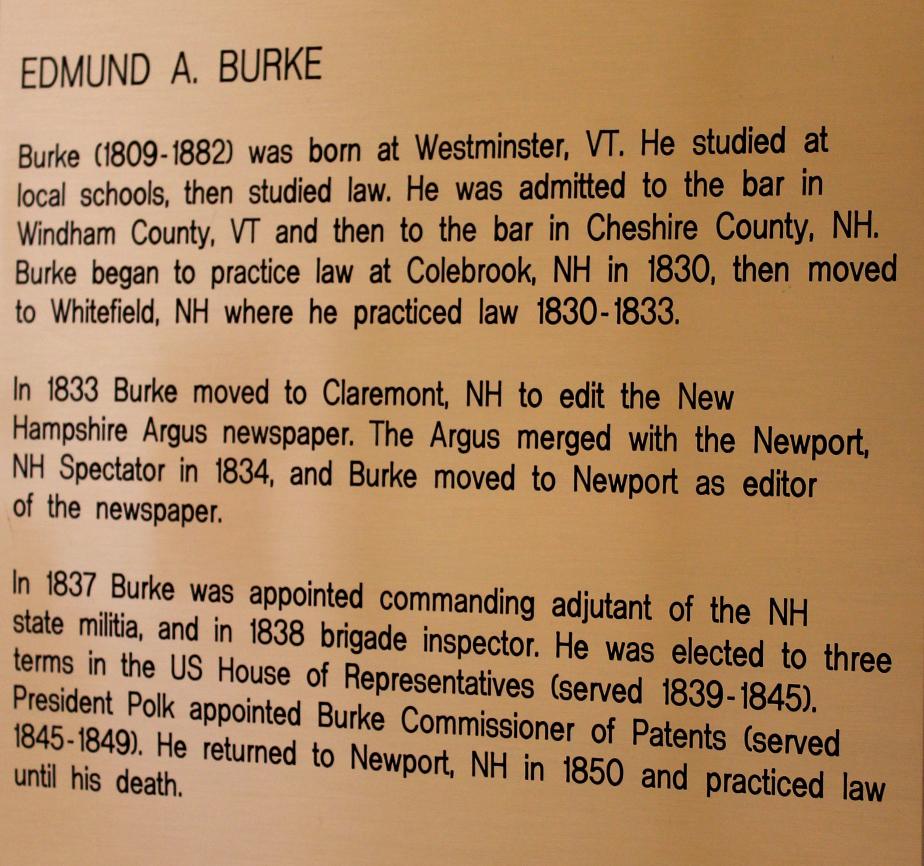 Governor Charles Busiel 1895 - 1897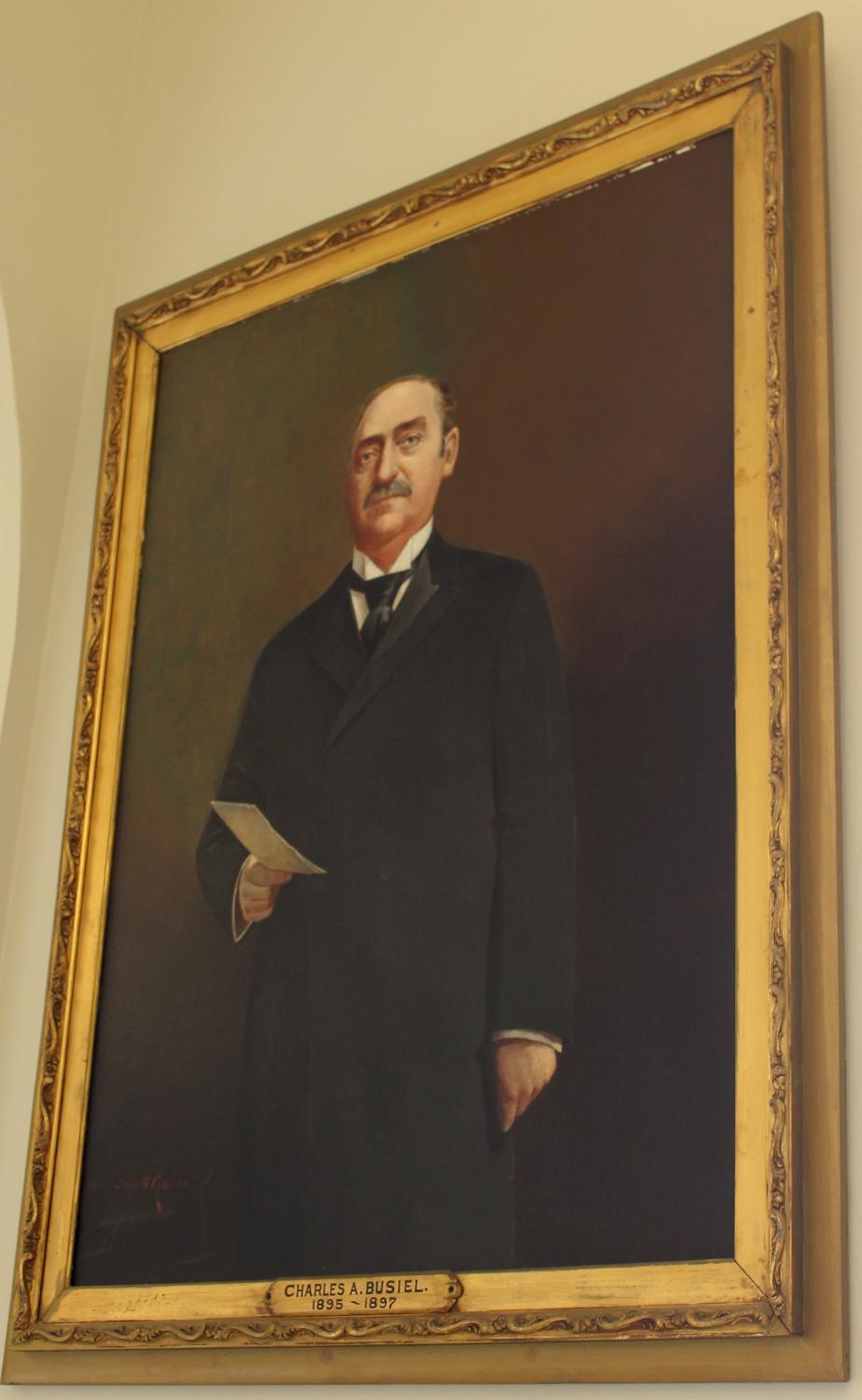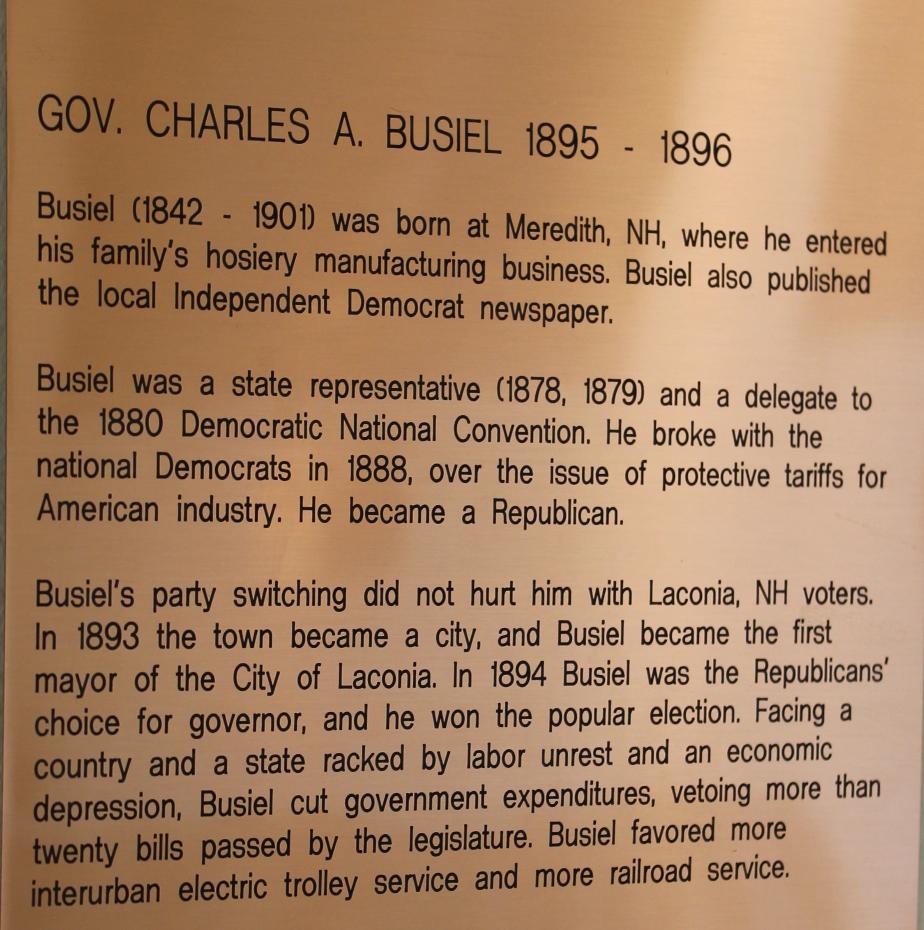 General Benjamin Butler (Deerfield) Civil War General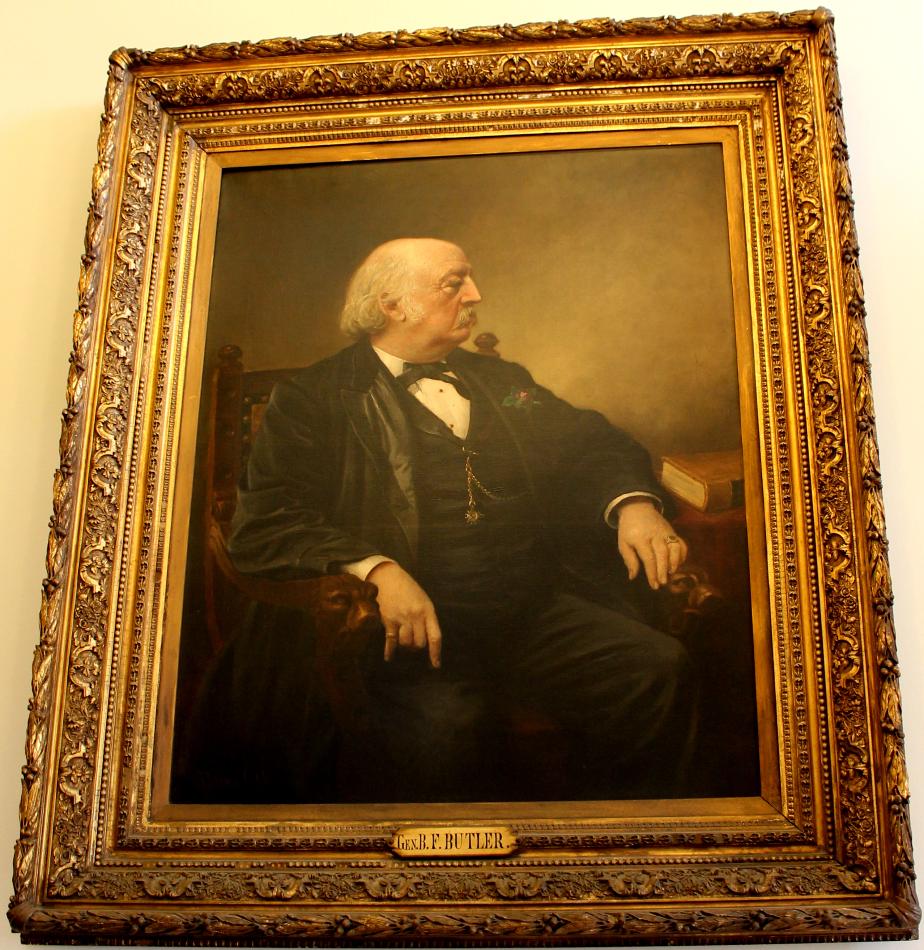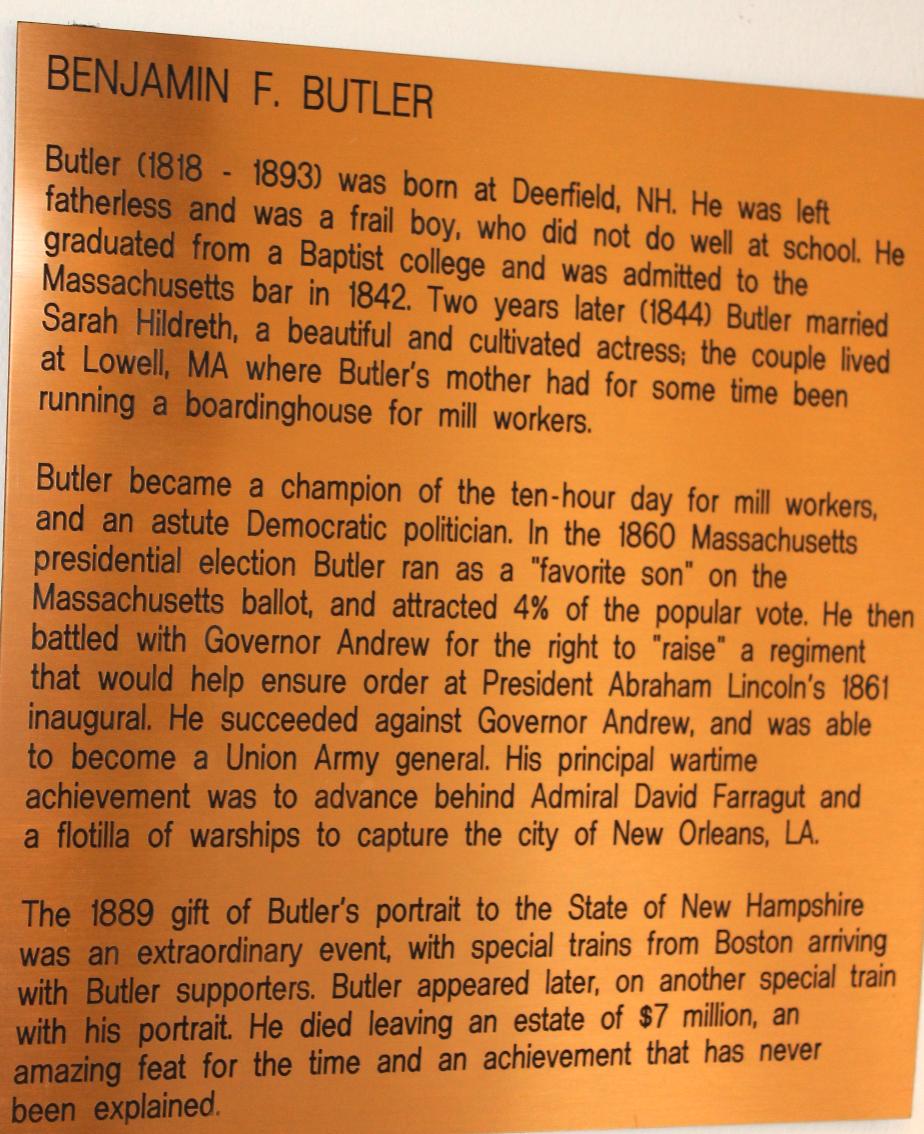 Charles H Campbell - NH State Senate President (1872)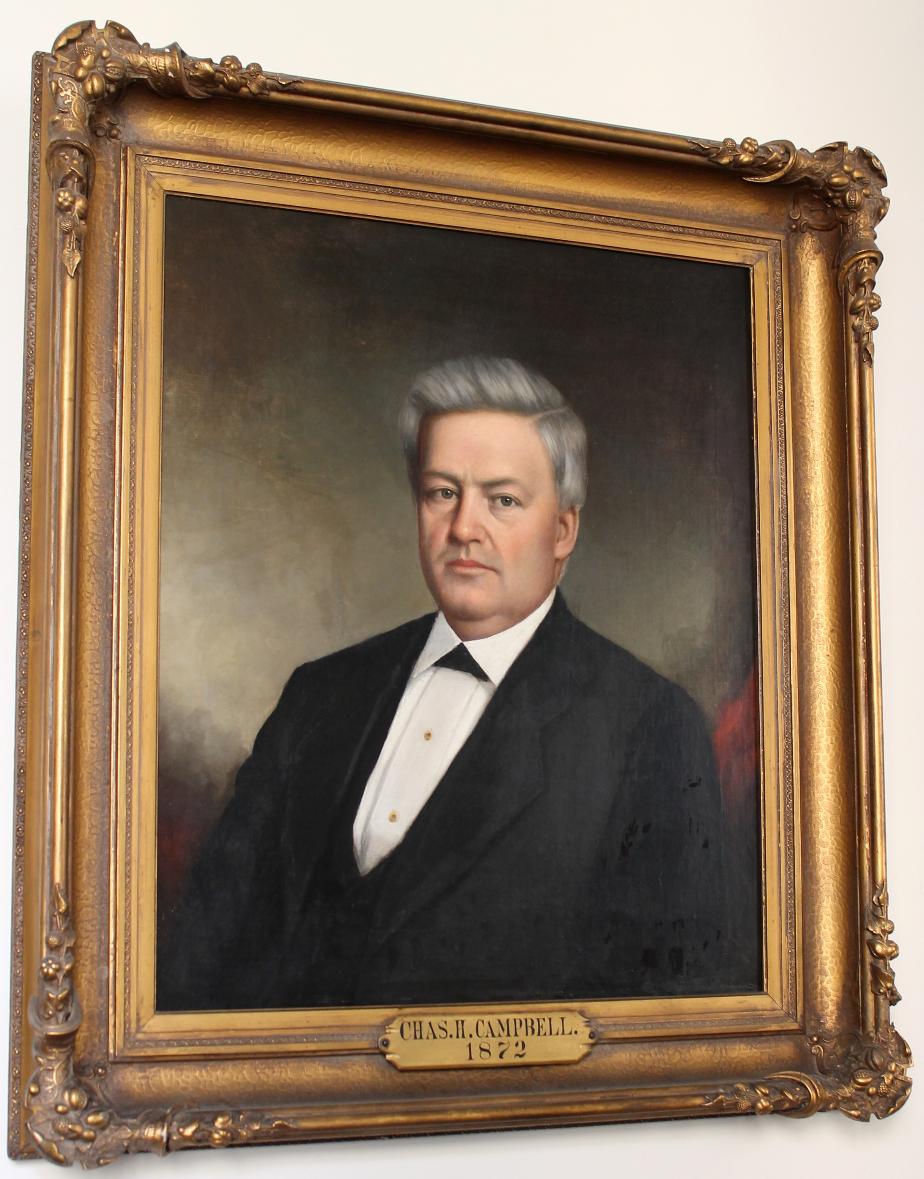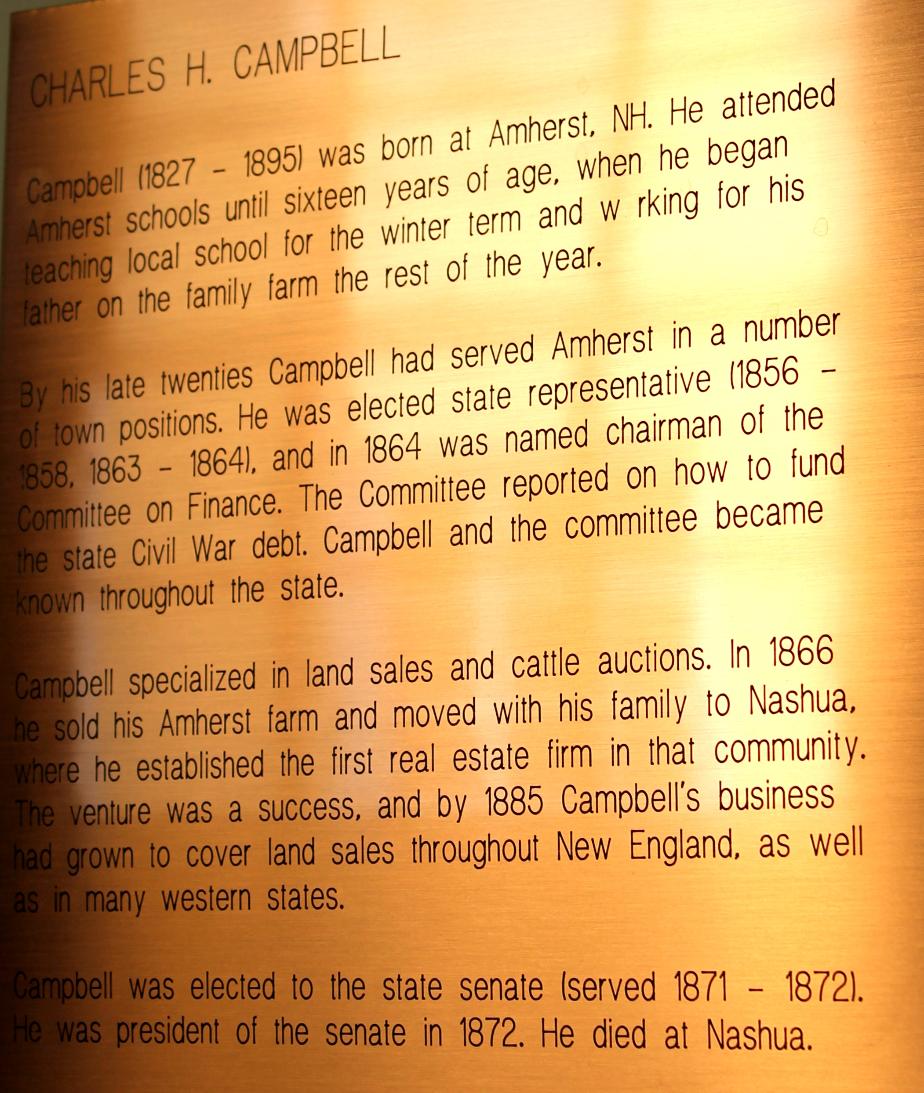 William E. Chandler - State Library Portrait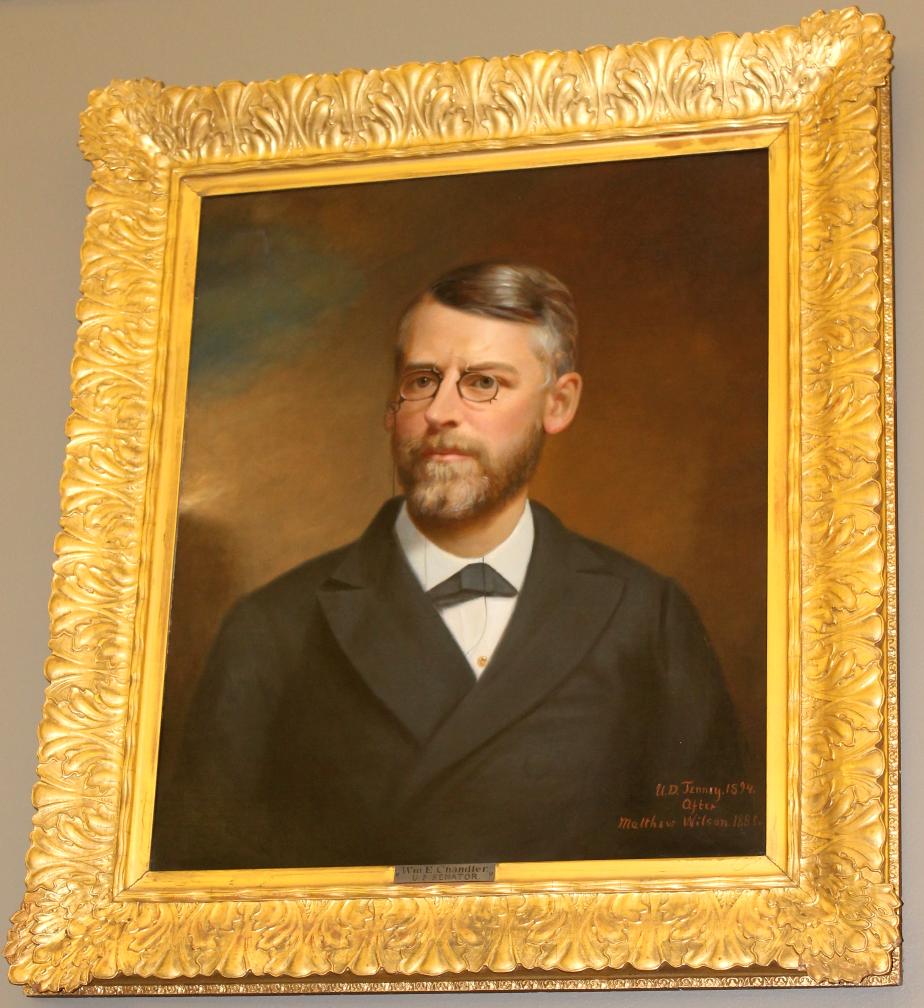 Senator Zachariah Chandler (Bedford)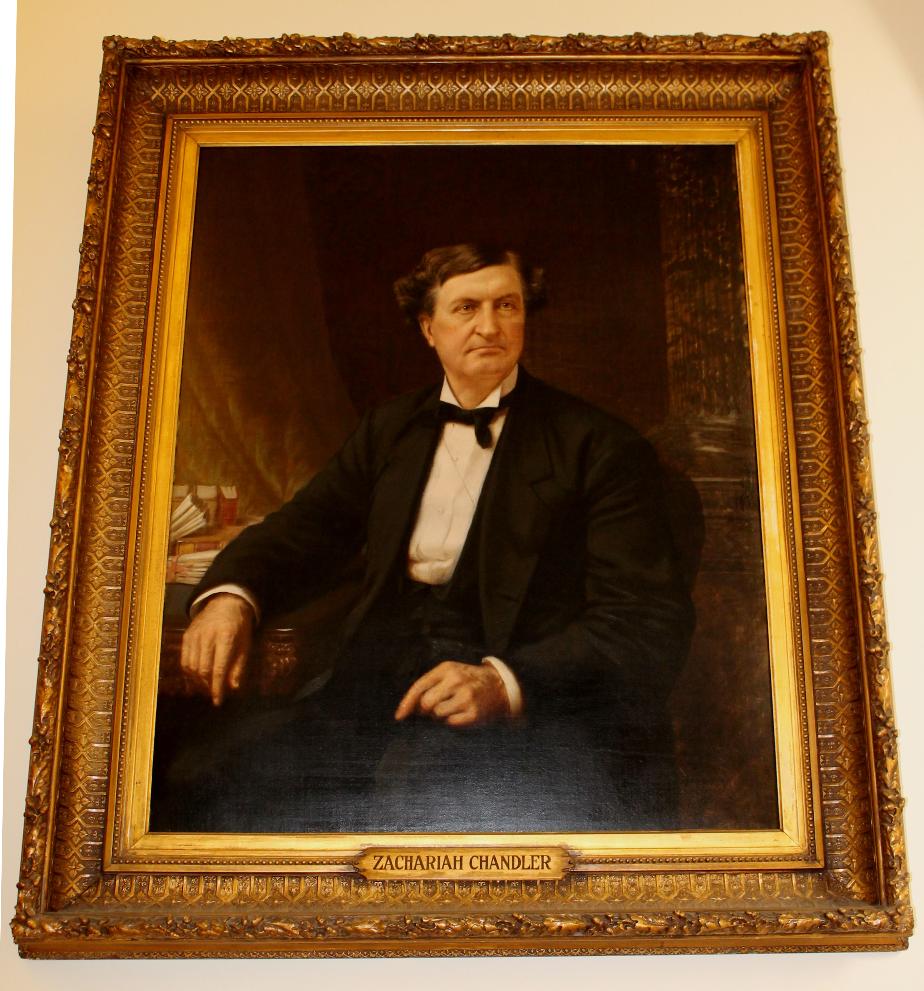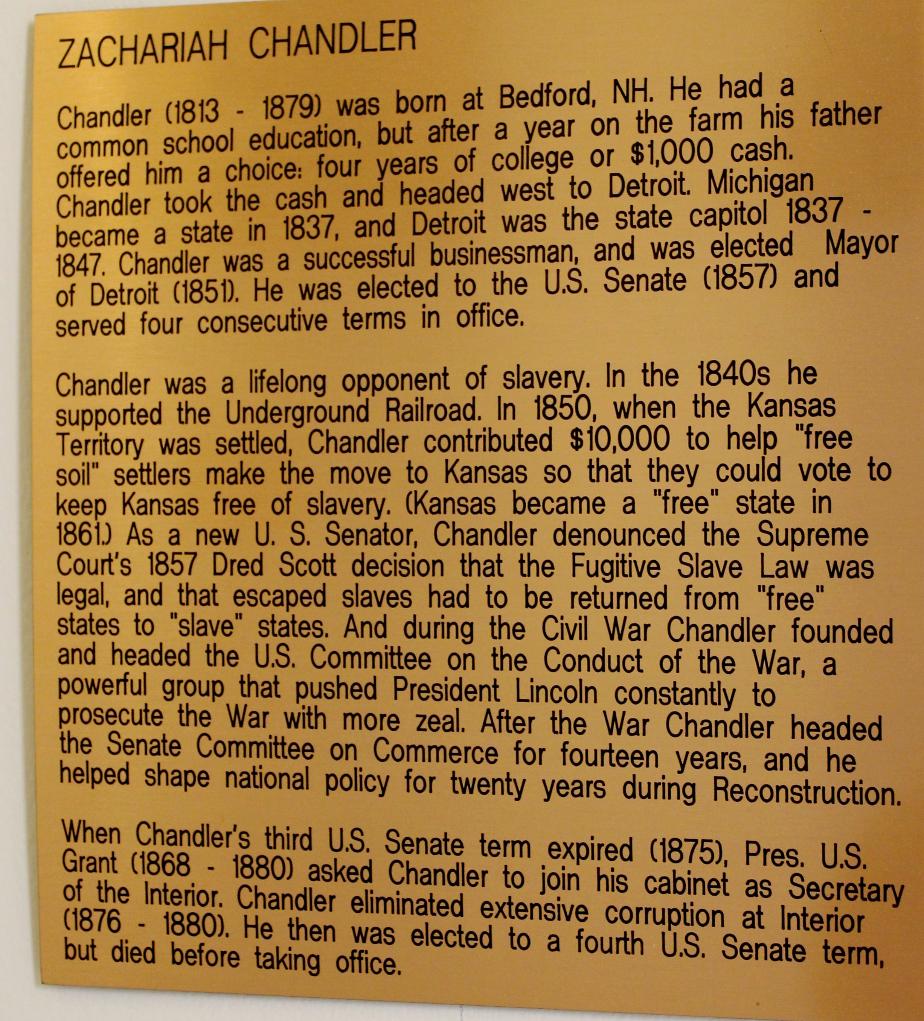 Governor Person C. Cheeney (Holderness) 1828-1901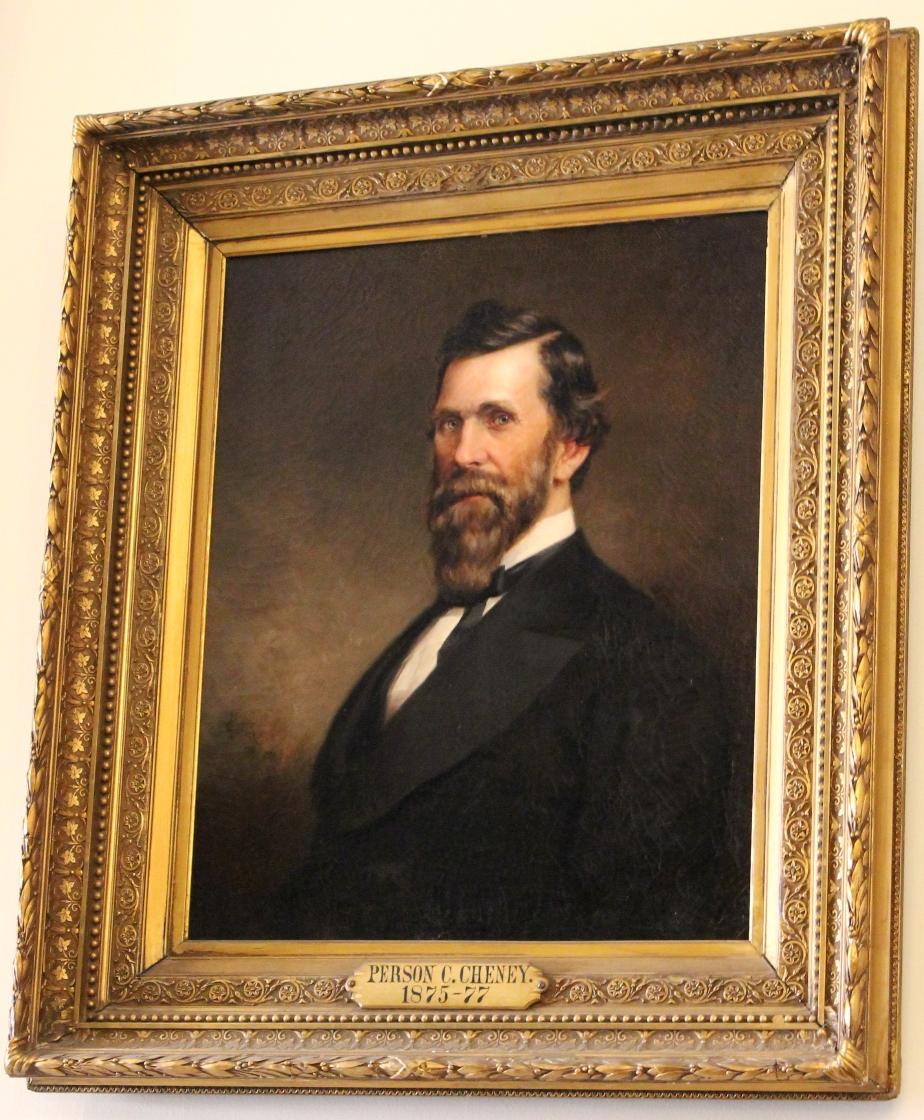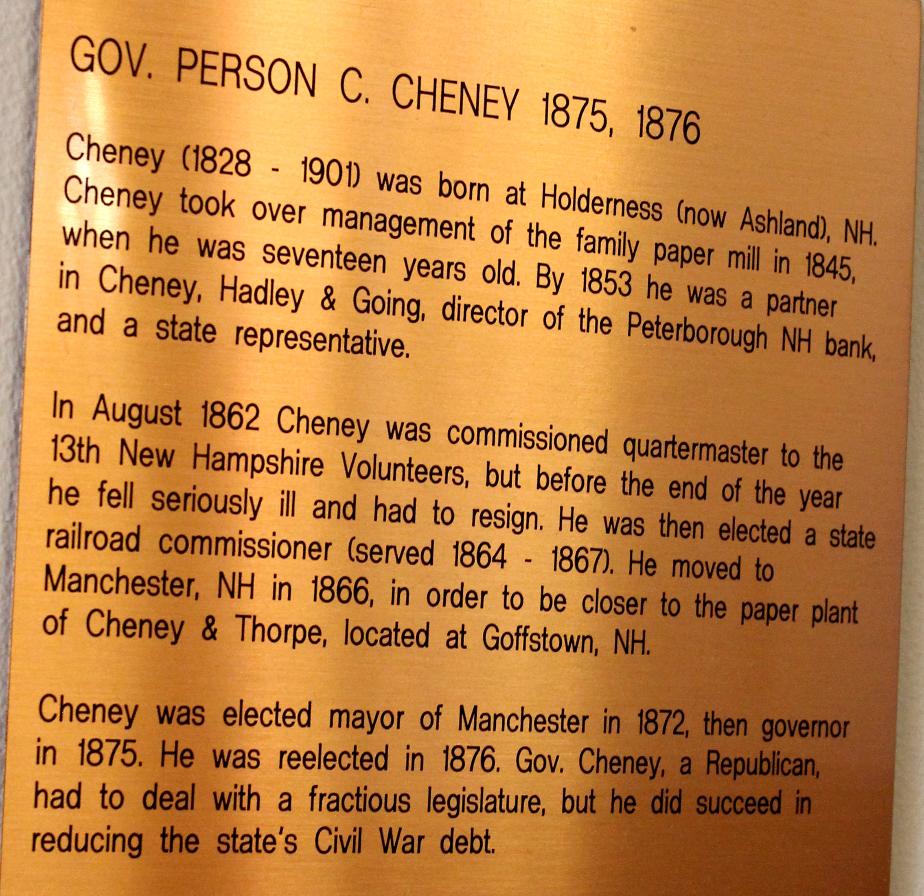 General Joseph Cilley (Nottingham 1734-1799)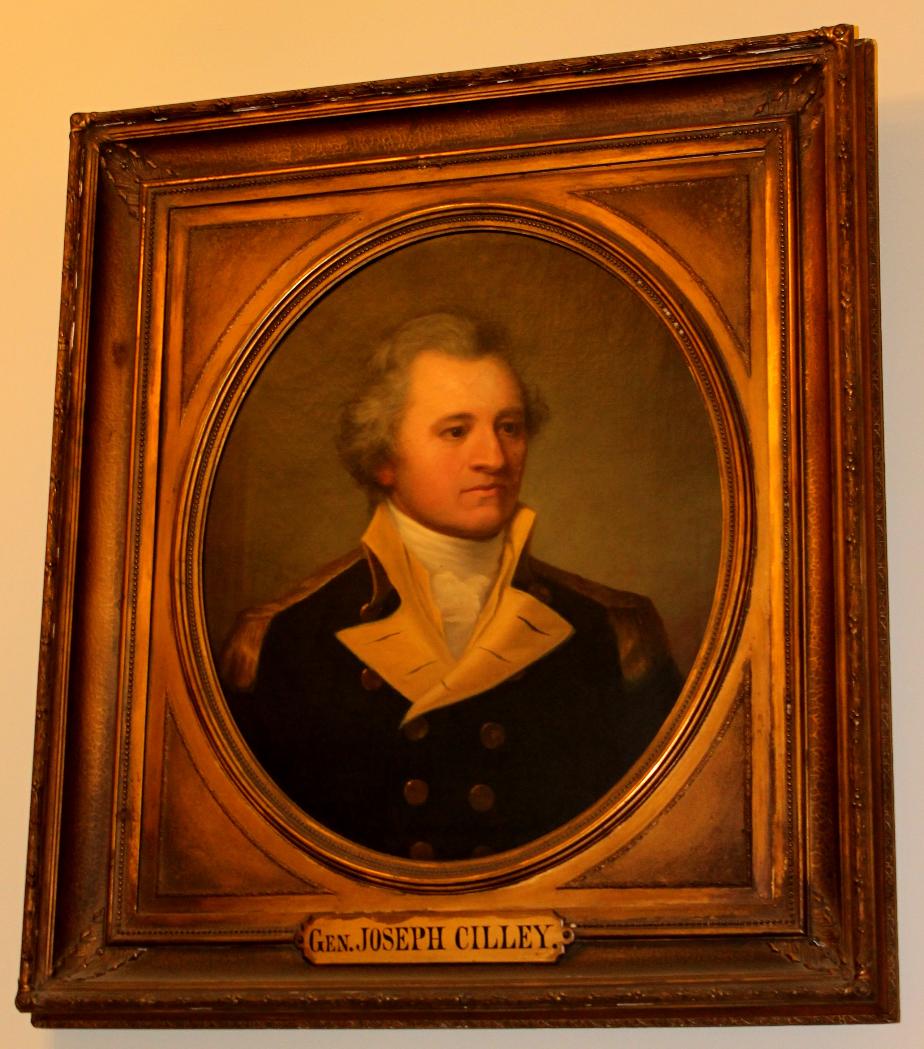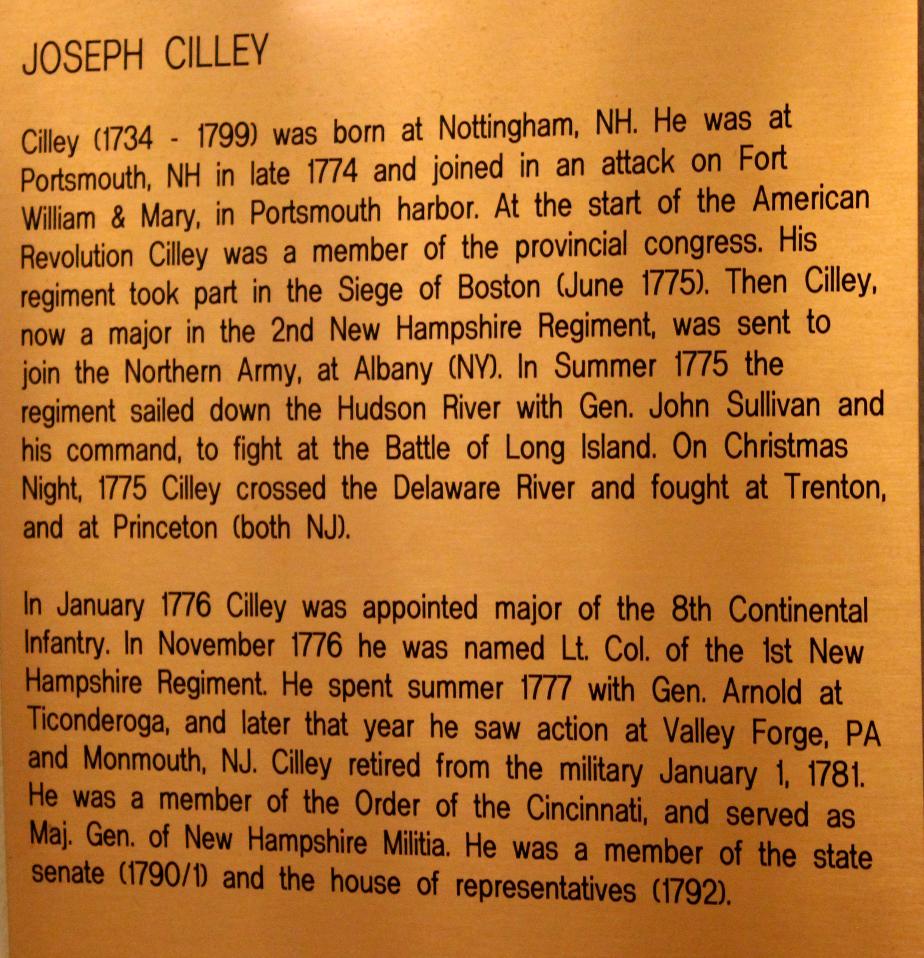 Governor Anthony Colby 1846 - 1847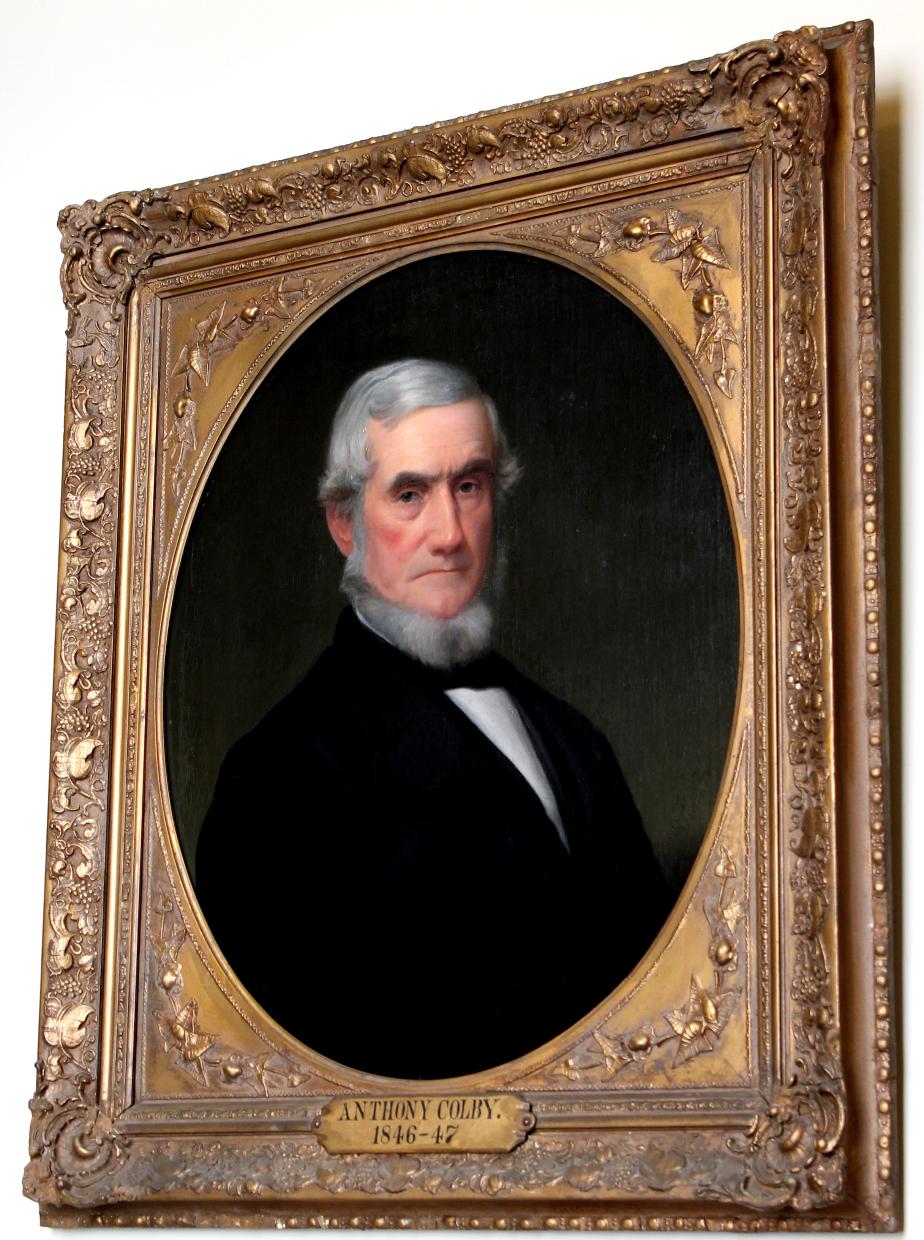 Norris Cotton (Warren) US Congressman (1947-1954) & US Senator (1954-1974)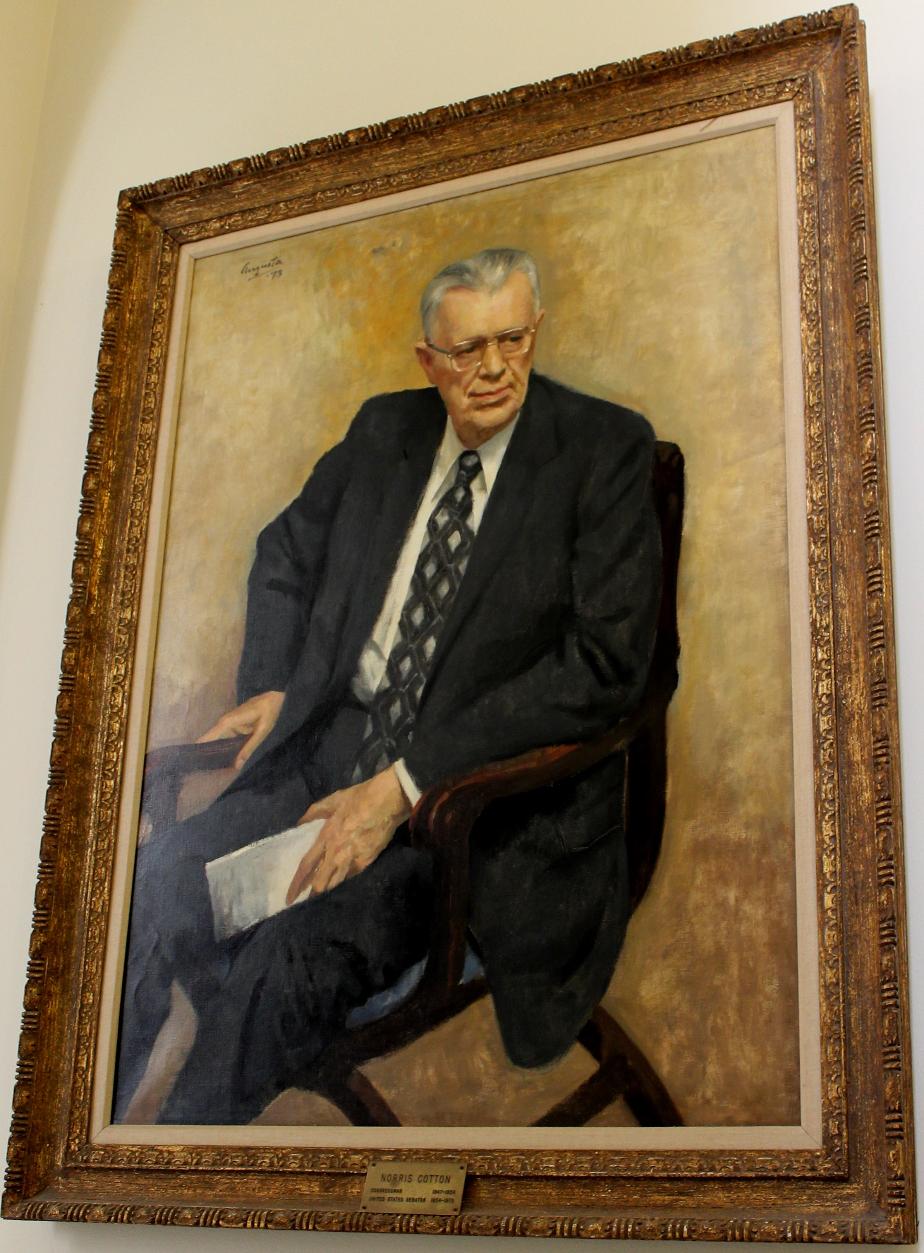 Norris H. Cottom, a Representative and a Senator from New Hampshire; born on a farm in Warren, Grafton County, N.H., May 11, 1900; attended Phillips Exeter Academy at Exeter, N.H.; graduated from Wesleyan University, Middletown, Conn., in 1923; editor of the Granite Monthly; clerk of the State senate; aide to United States Senator George Moses; attended the law school of George Washington University, Washington, D.C.; admitted to the bar in 1928 and commenced practice in Lebanon, N.H.; member, State house of representatives 1923, 1943, 1945, serving as majority leader in 1943 and speaker in 1945; elected as a Republican to the Eightieth Congress and to the three succeeding Congresses and served from January 3, 1947, until his resignation November 7, 1954, having been elected to the United States Senate; elected on November 2, 1954, as a Republican to the United States Senate to complete the unexpired term caused by the death of Charles W. Tobey for the term ending January 3, 1957; reelected in 1956, 1962, and again in 1968, and served from November 8, 1954, until his resignation December 31, 1974; was not a candidate for reelection in 1974; chairman, Republican Conference (1973-75); subsequently appointed to the seat August 8, 1975, to fill the vacancy caused by the contested election of November 5, 1974, and served from August 8, 1975, until September 18, 1975; was a resident of Lebanon, N.H., until his death, February 24, 1989; interment in First Congregational Church Cemetery.
Colonel Edward Cross (Lancaster)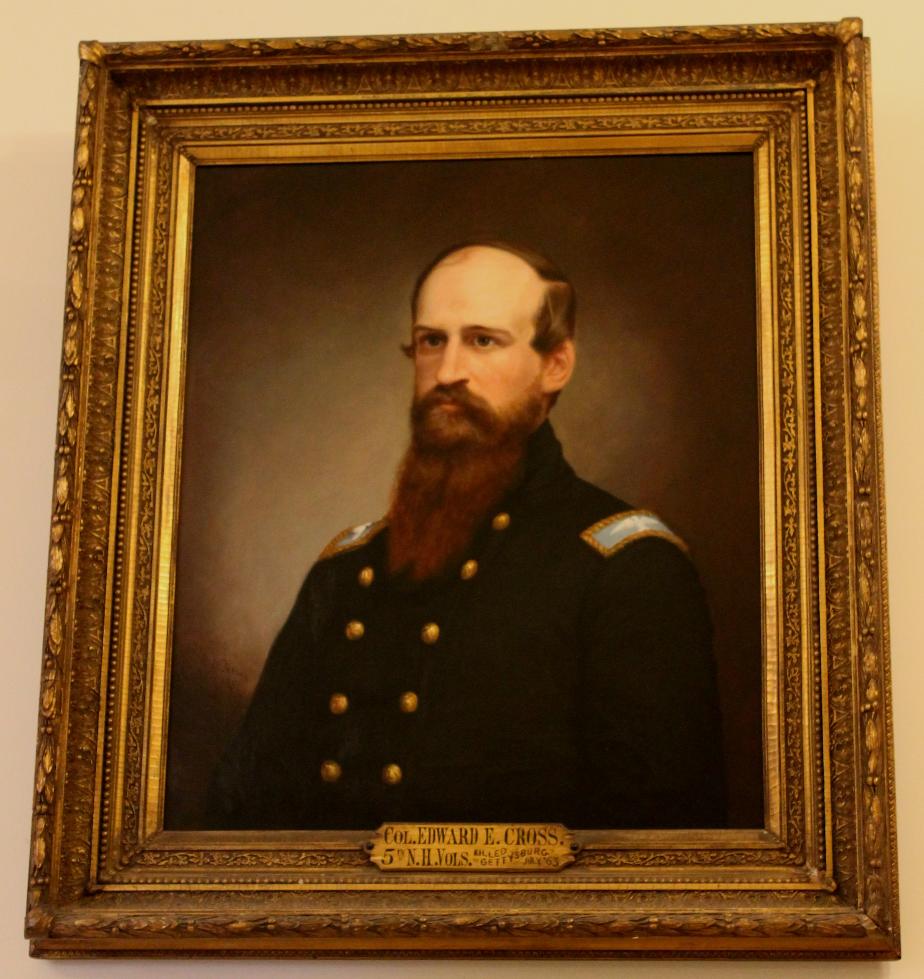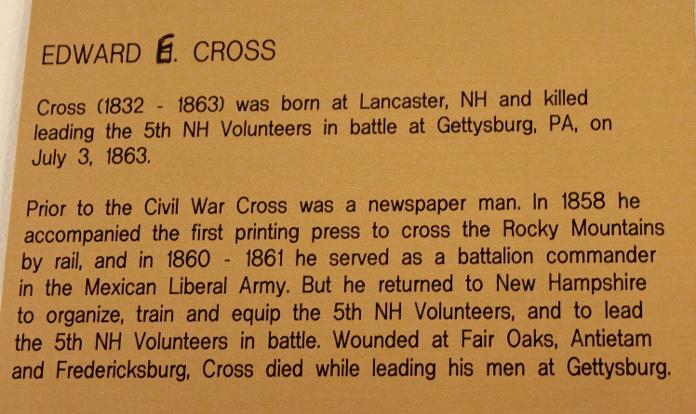 Governor Moody Currier (1885 - 1886) Boscowen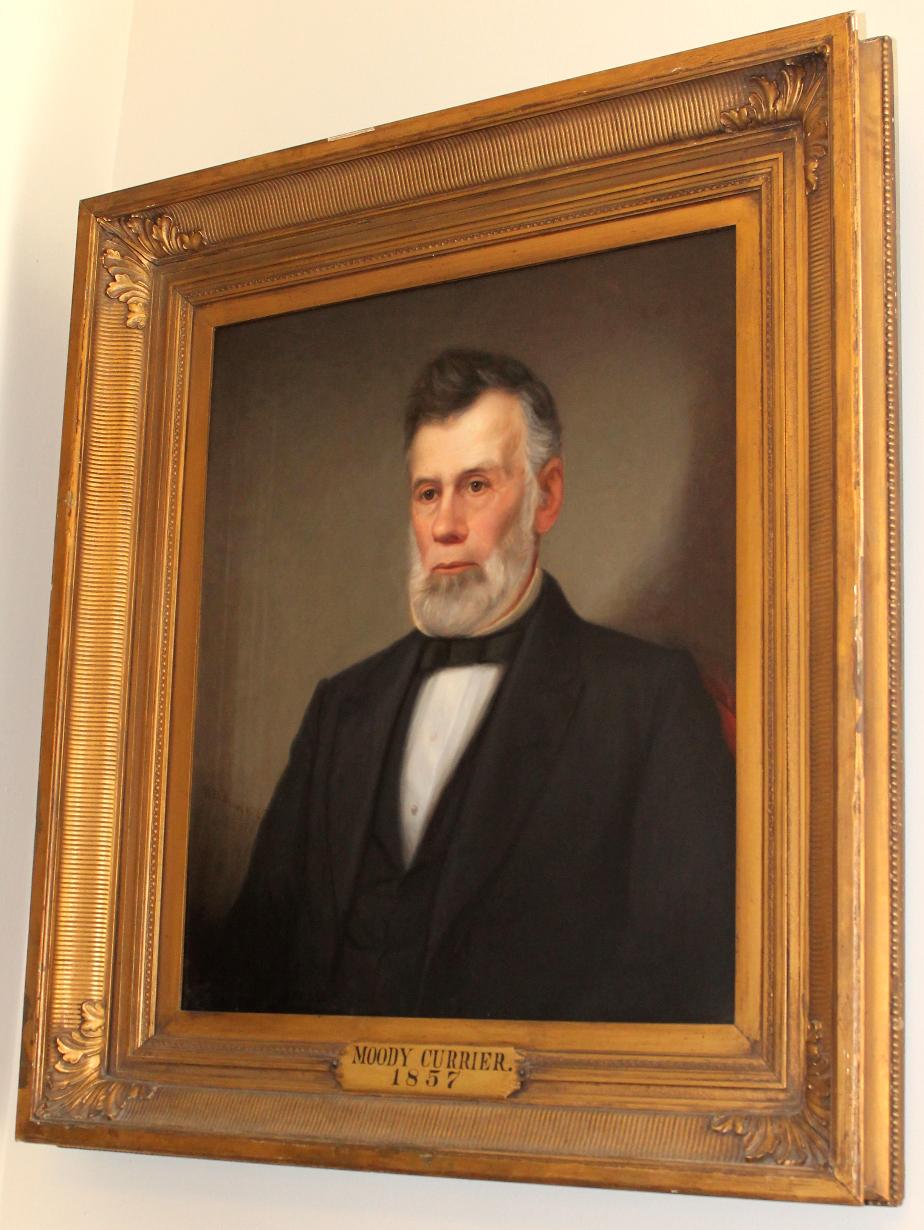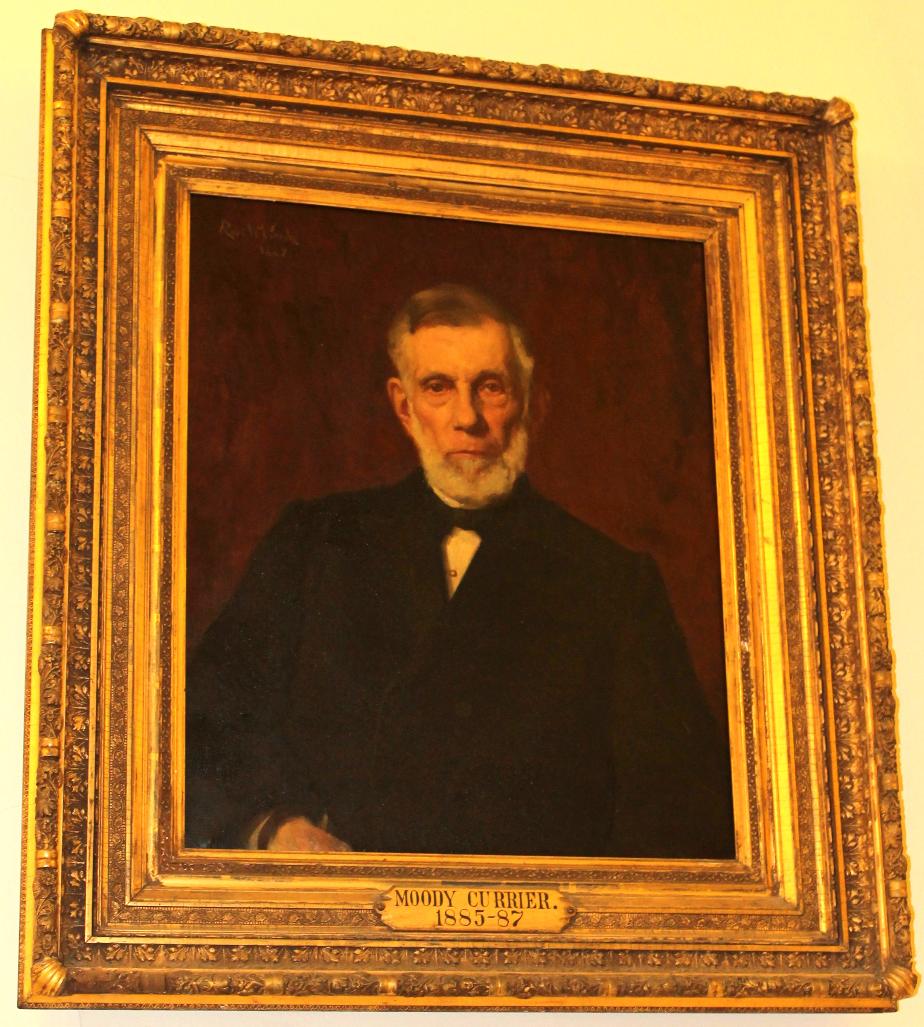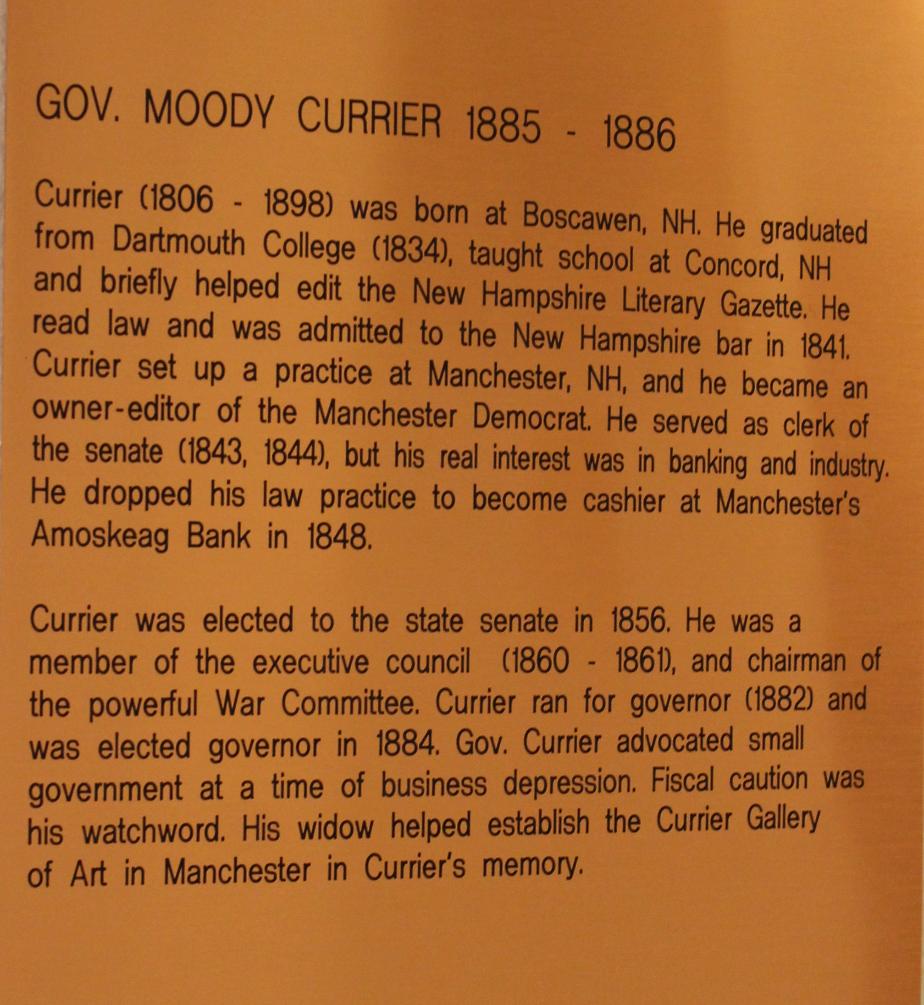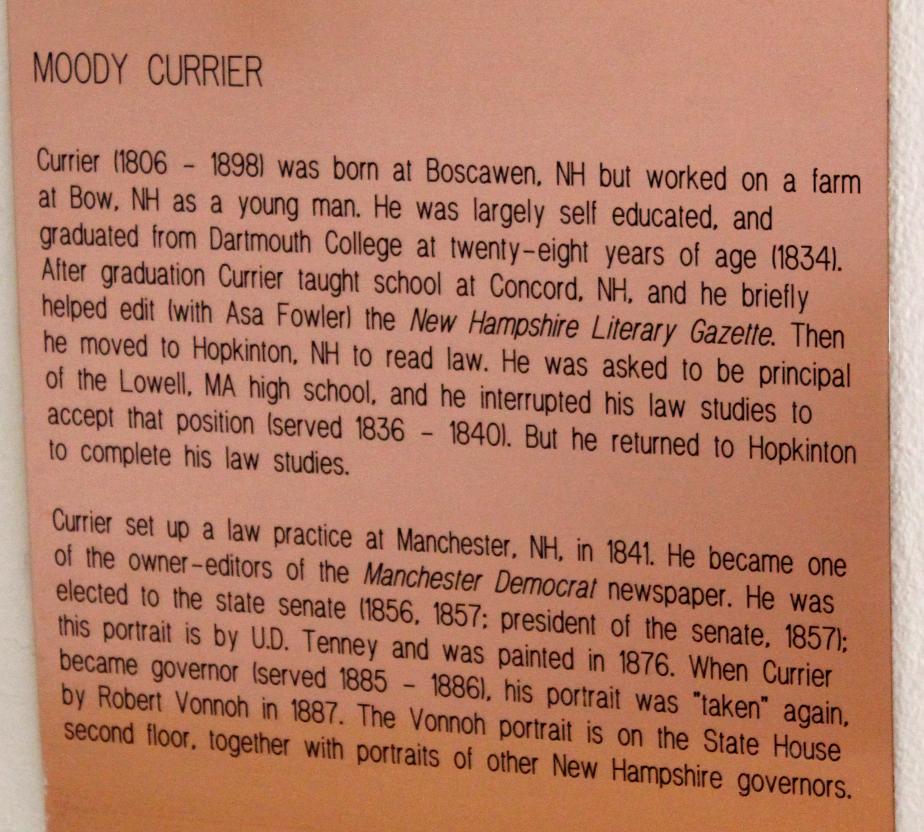 Governor Charles M Dale 1945 - 1947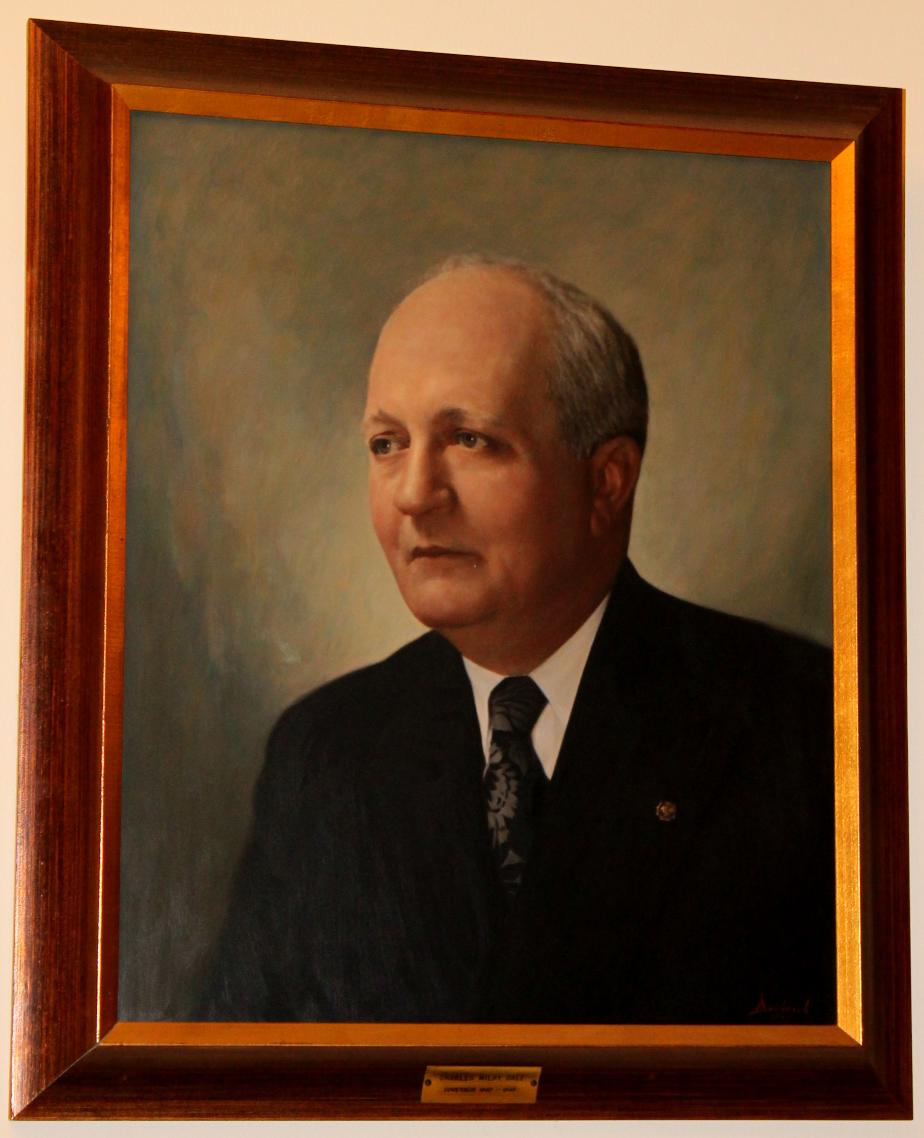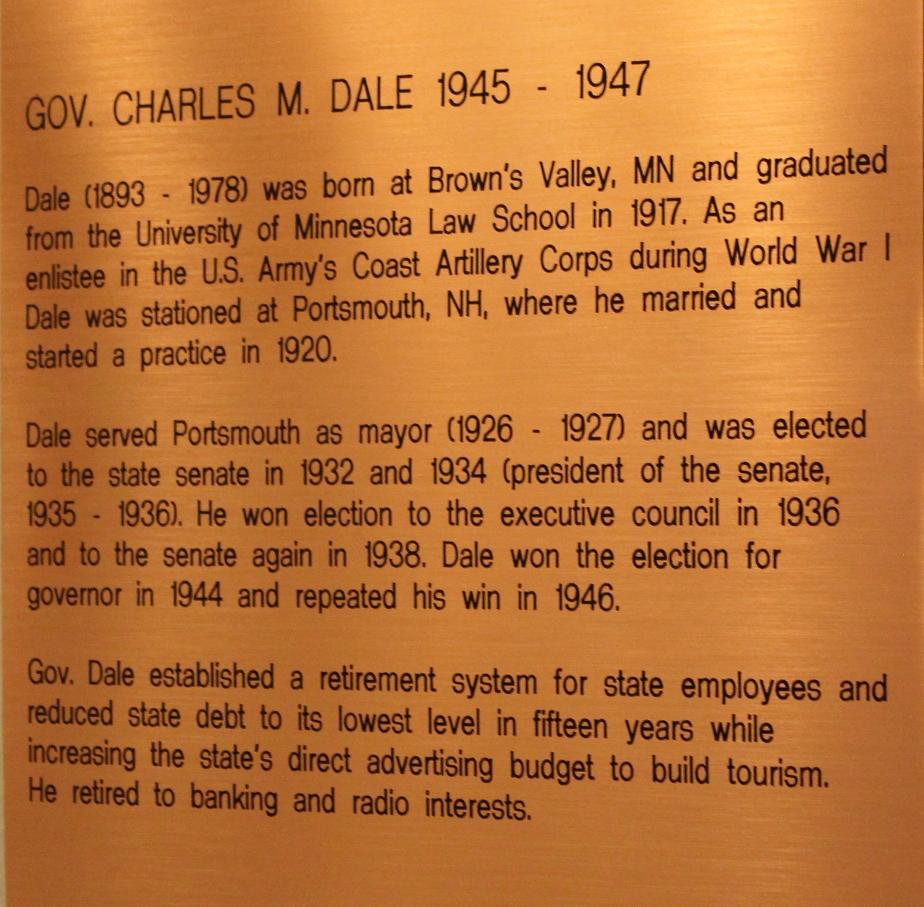 Harriet P. Dame - Civil War Nurse (Barnstead)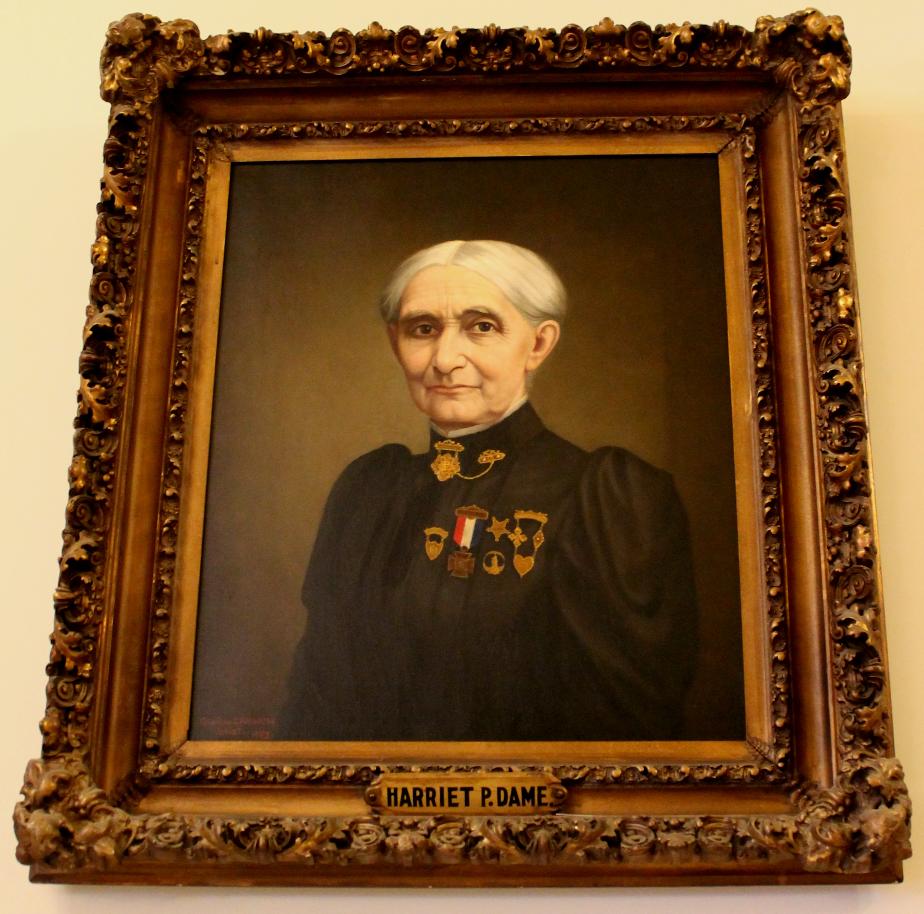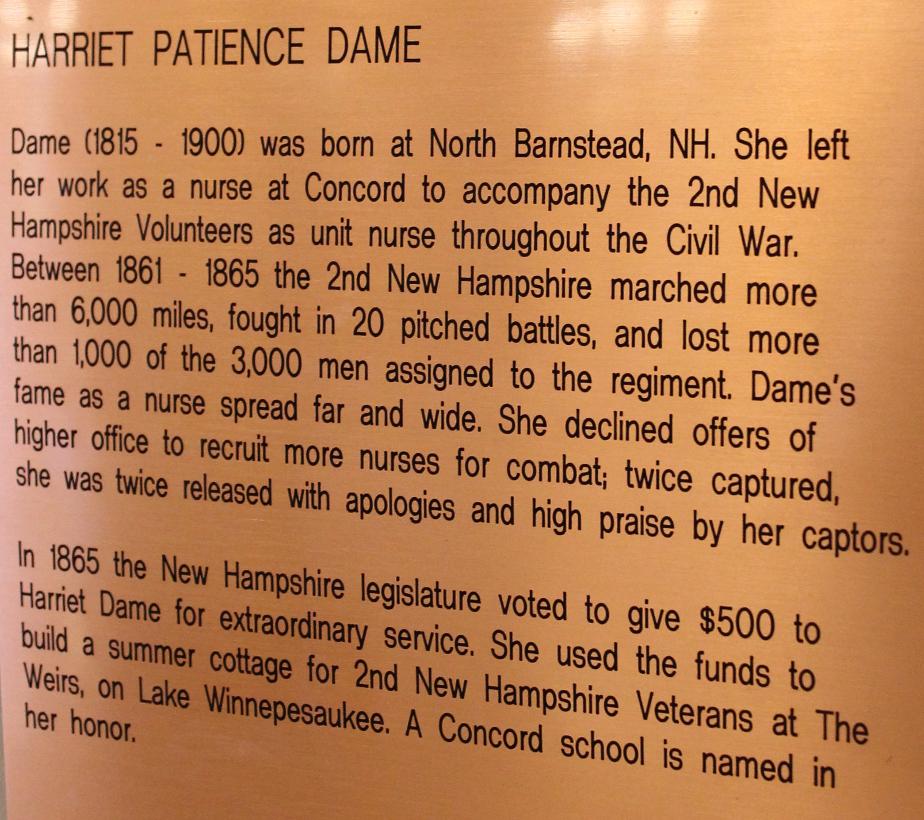 General Henry Dearborn (Hampton) 1751-1829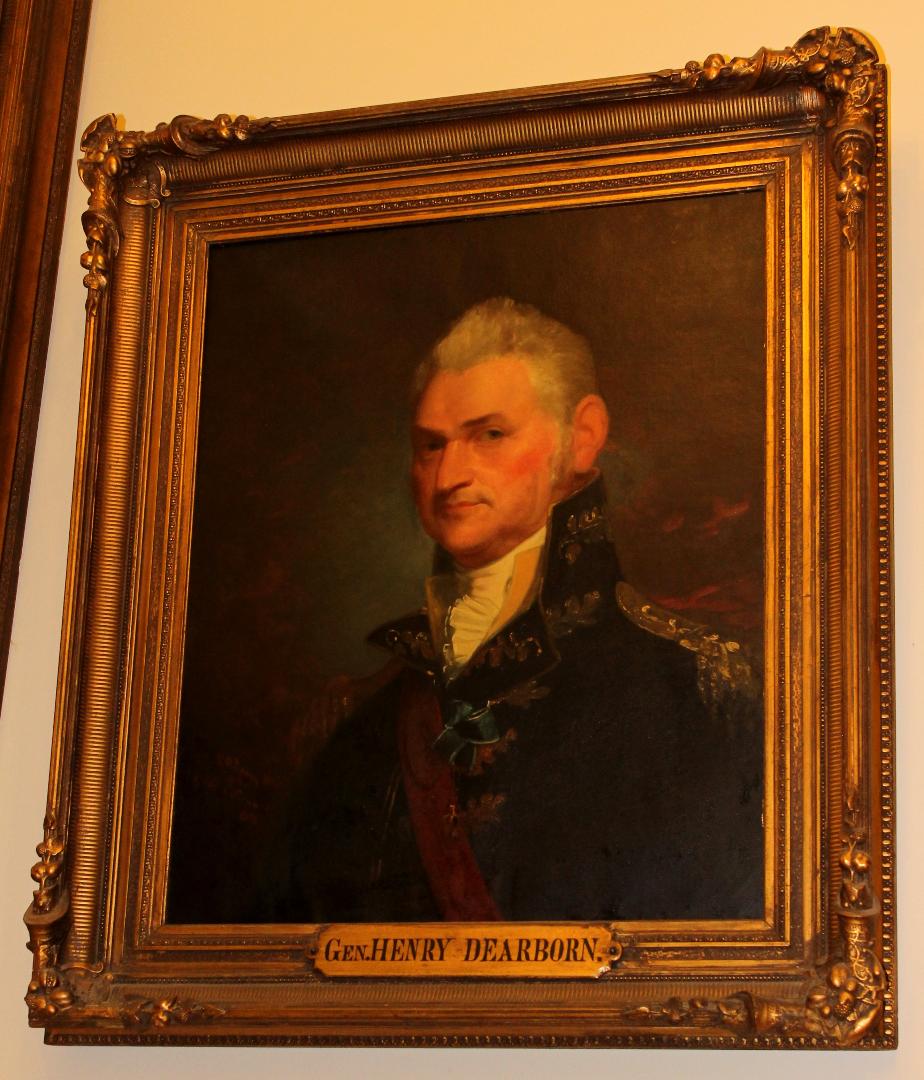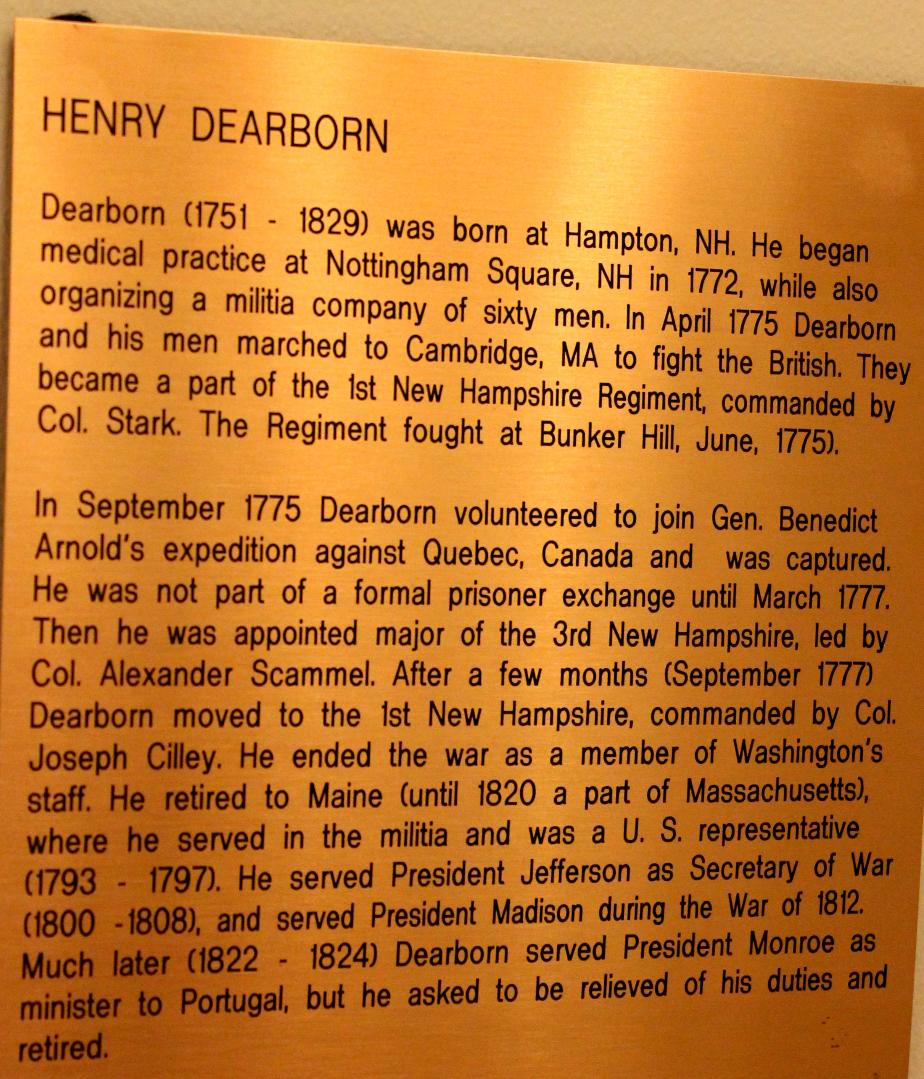 Johannes De Graff - Revolutionary War Diplomat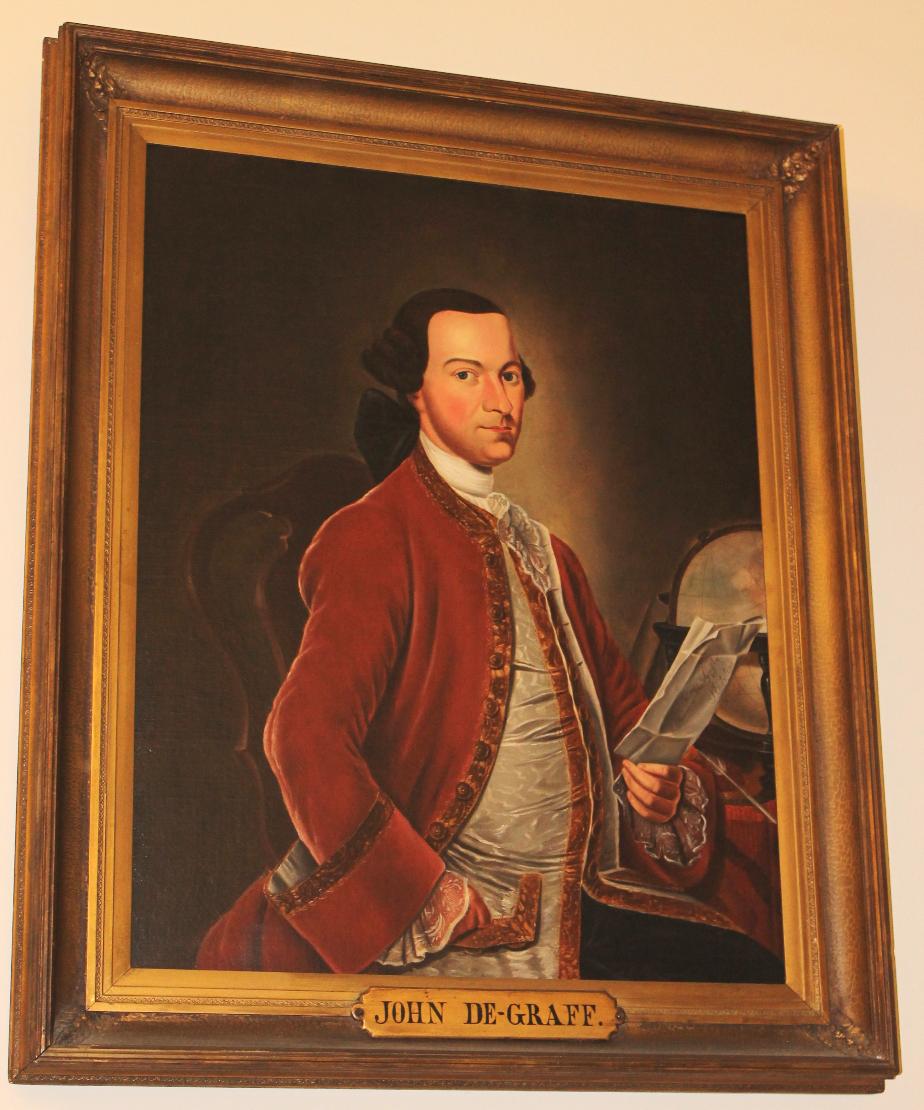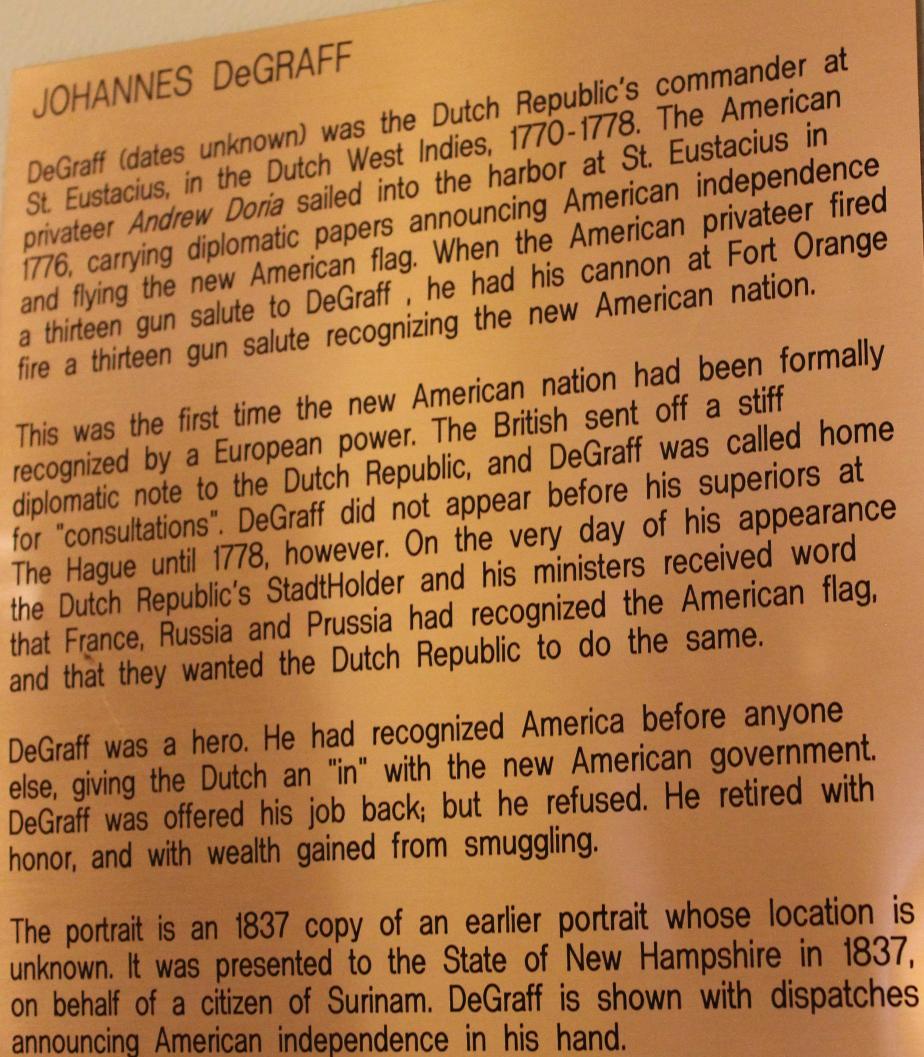 Governor Samuel Dinsmoor 1831 - 1833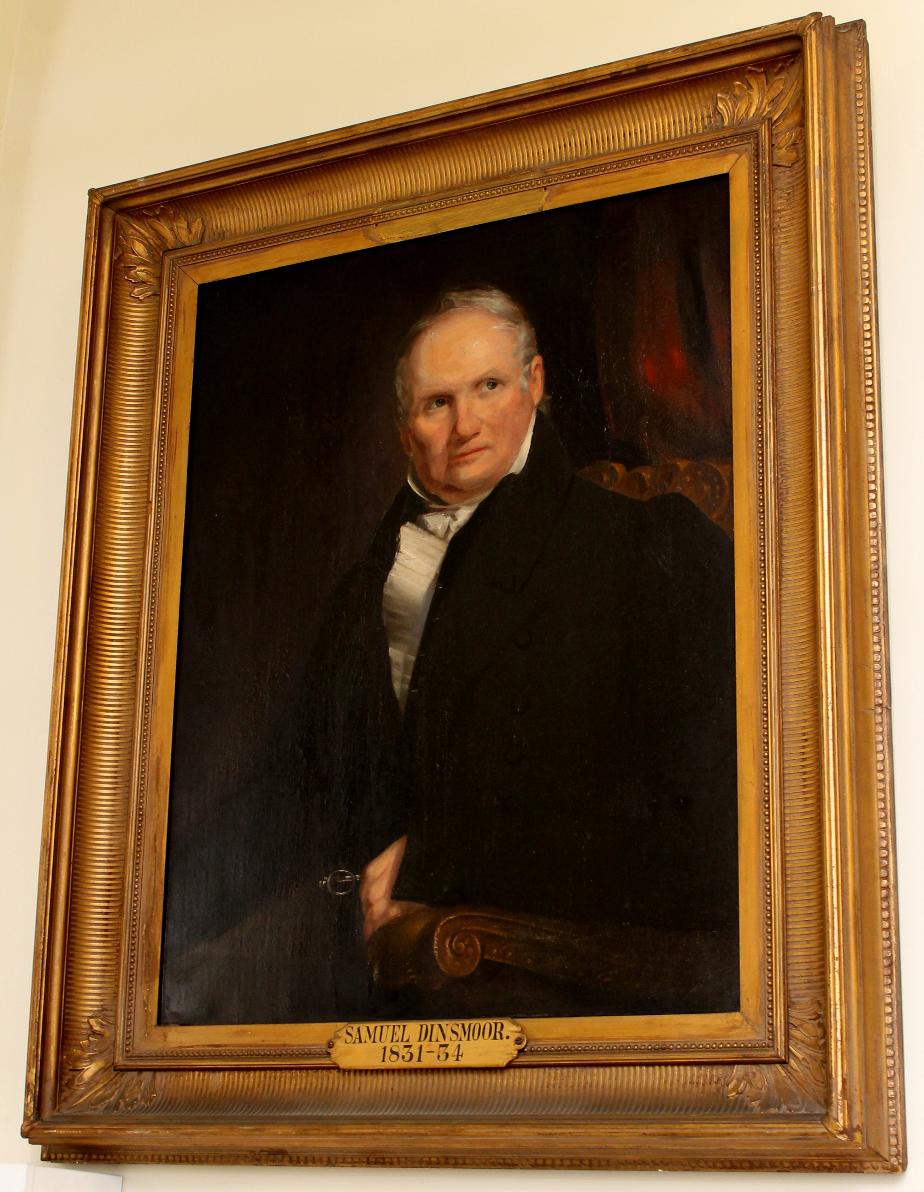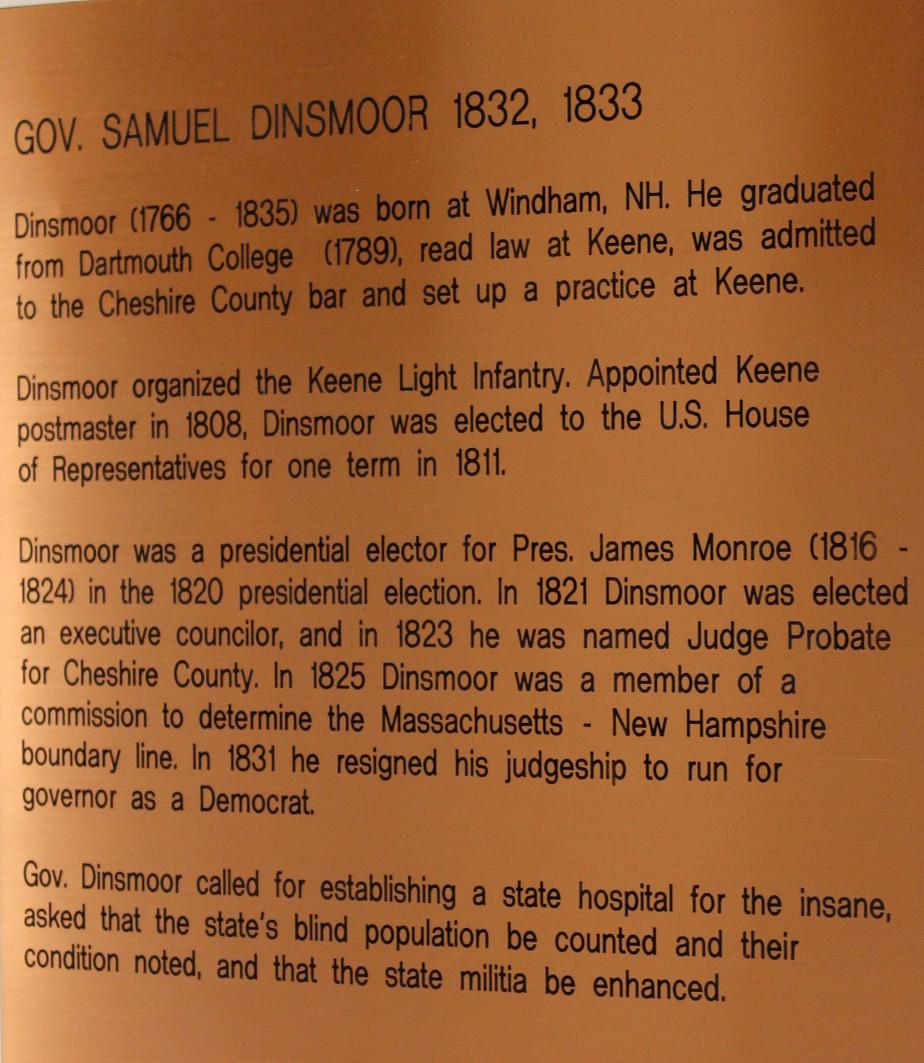 Governor Samuel Dinsmoor 1849 - 1852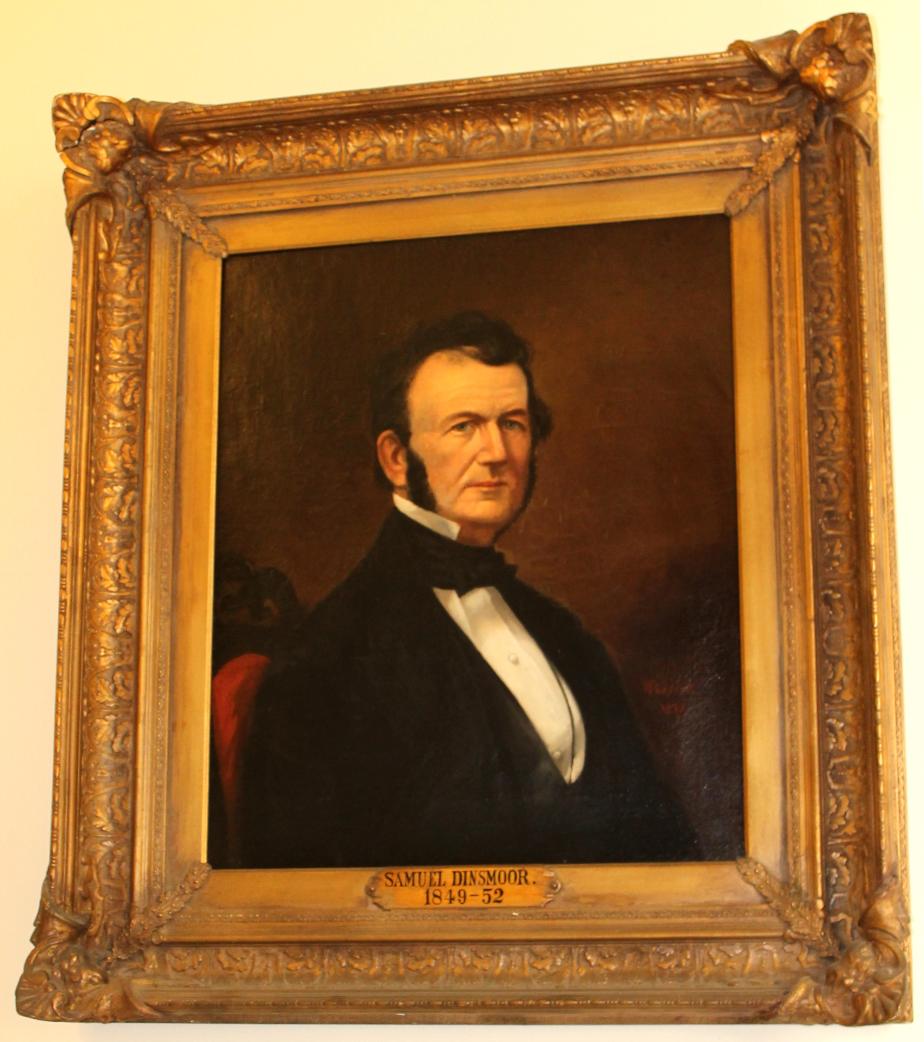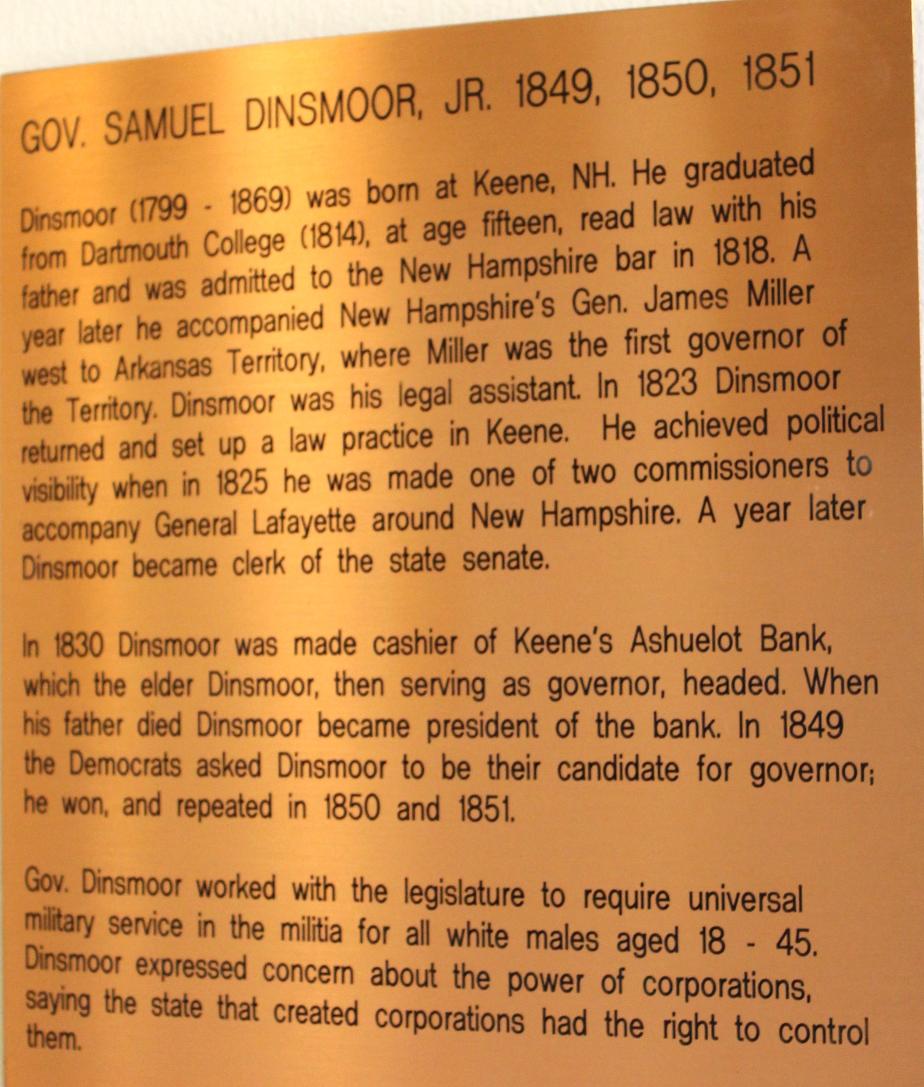 Gen. John Adams Dix (Boscawen) 1798-1879War of 1812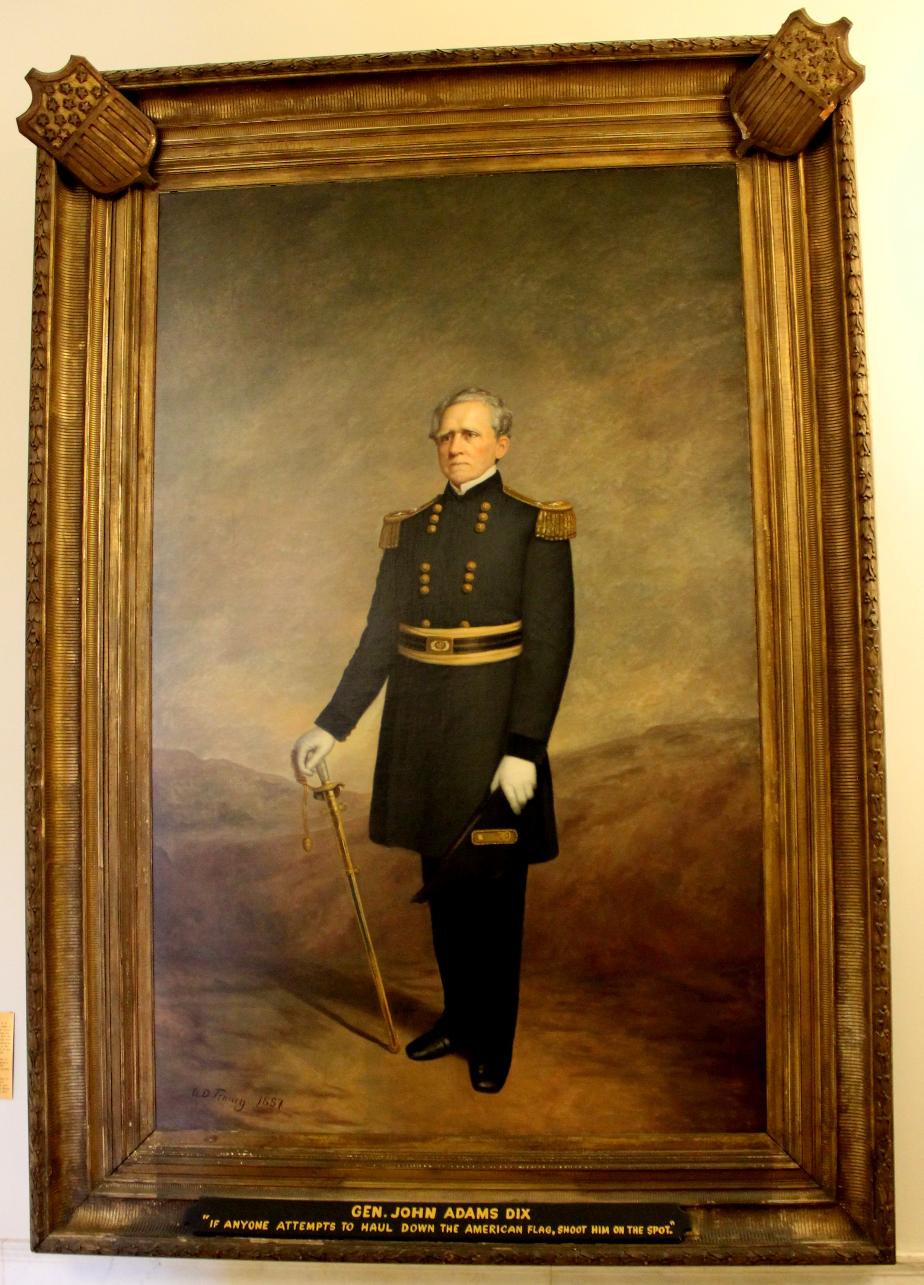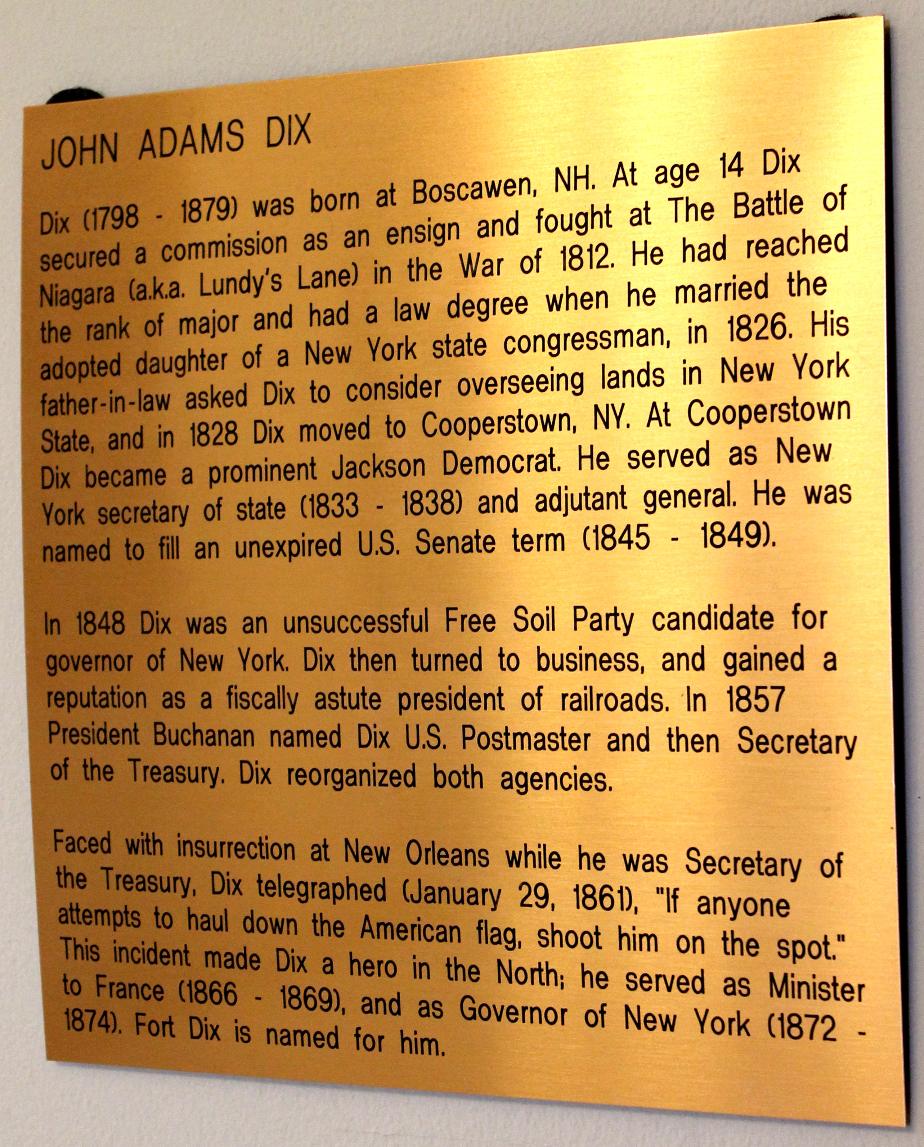 General Charles Doyen (Concord) 1859 - 1918 World War I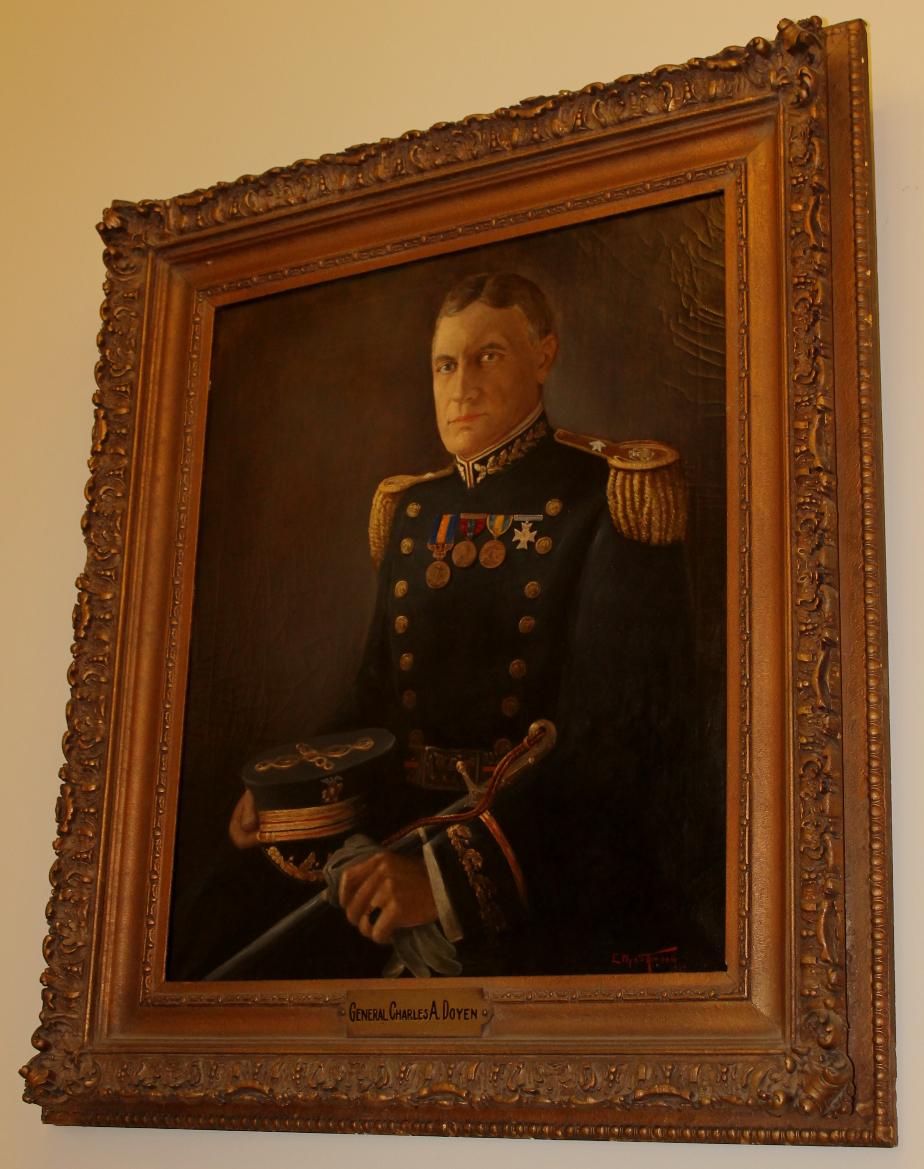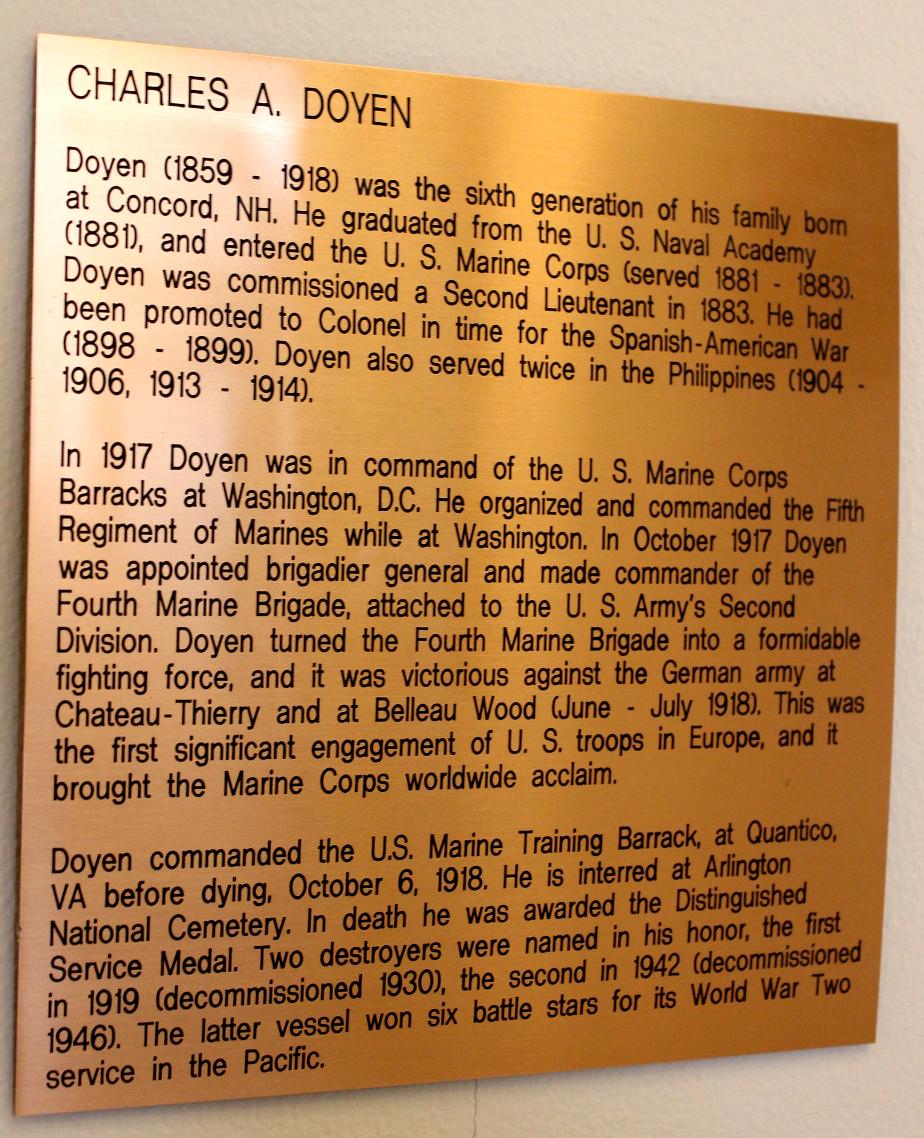 Governor Lane Dwindell 1955-1958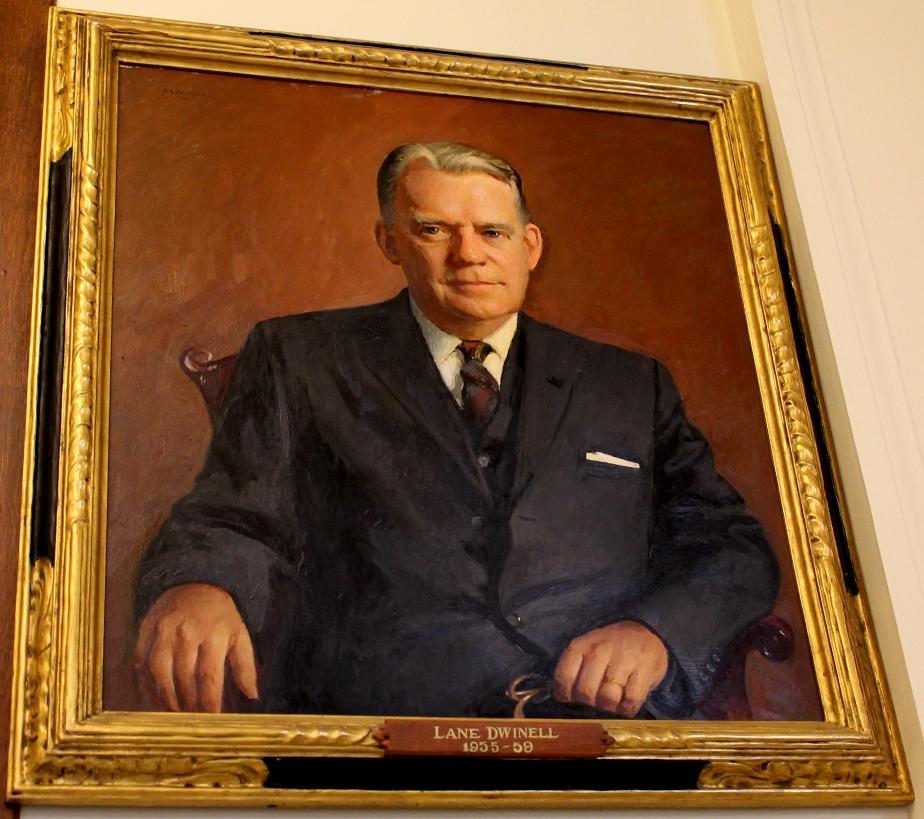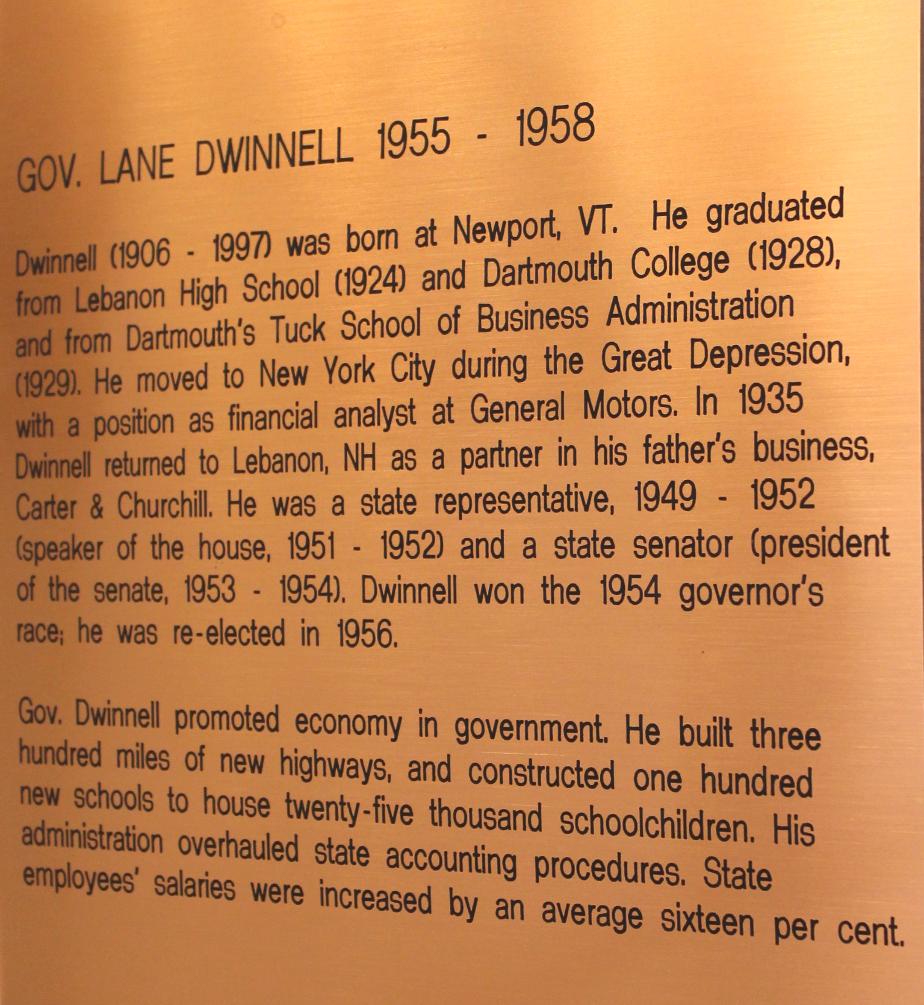 Lieutenant Jonathan Eastman - Veteran of the War of 1812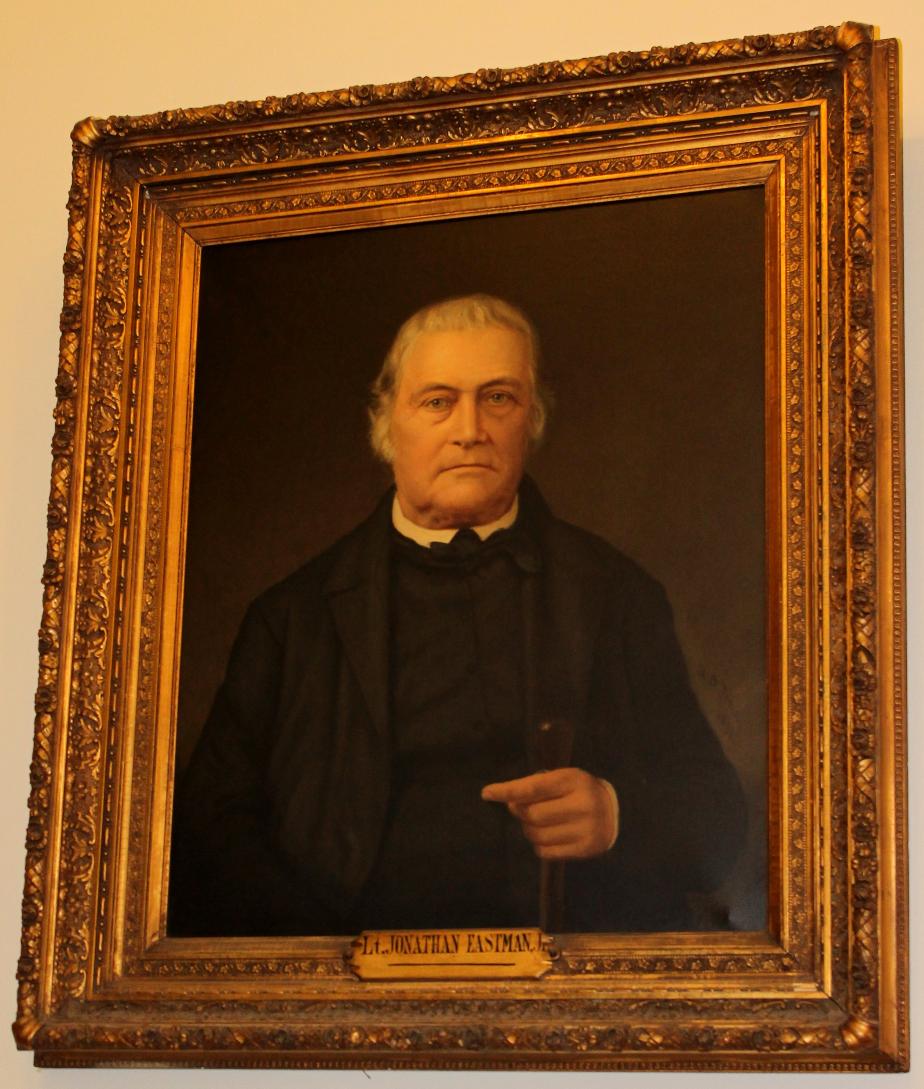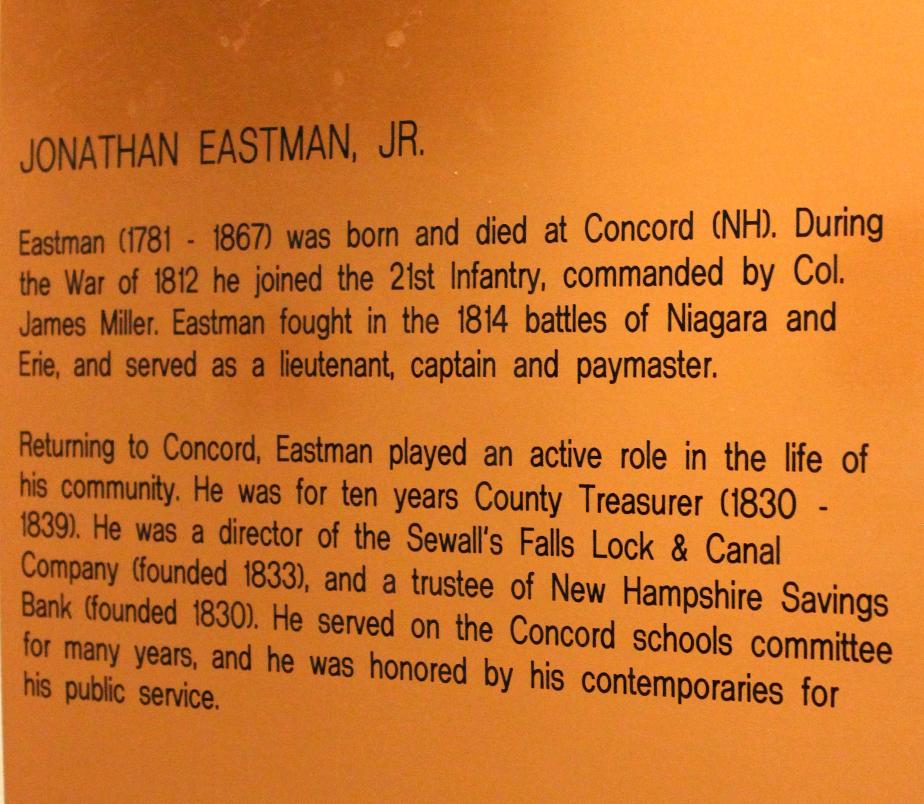 Reverend Israel Evans - Chaplain to Stark - Sullivan - Poor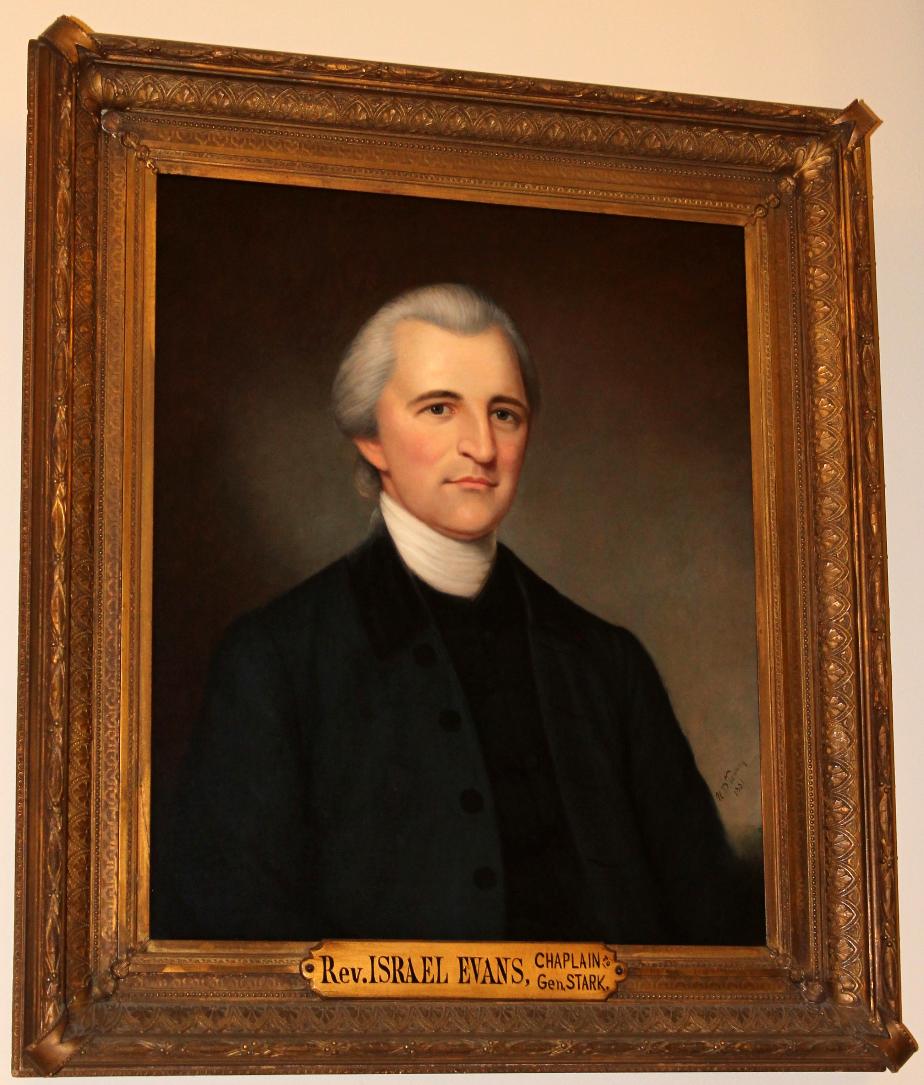 Evarts W. Farr - Civil War Officer and US Congressman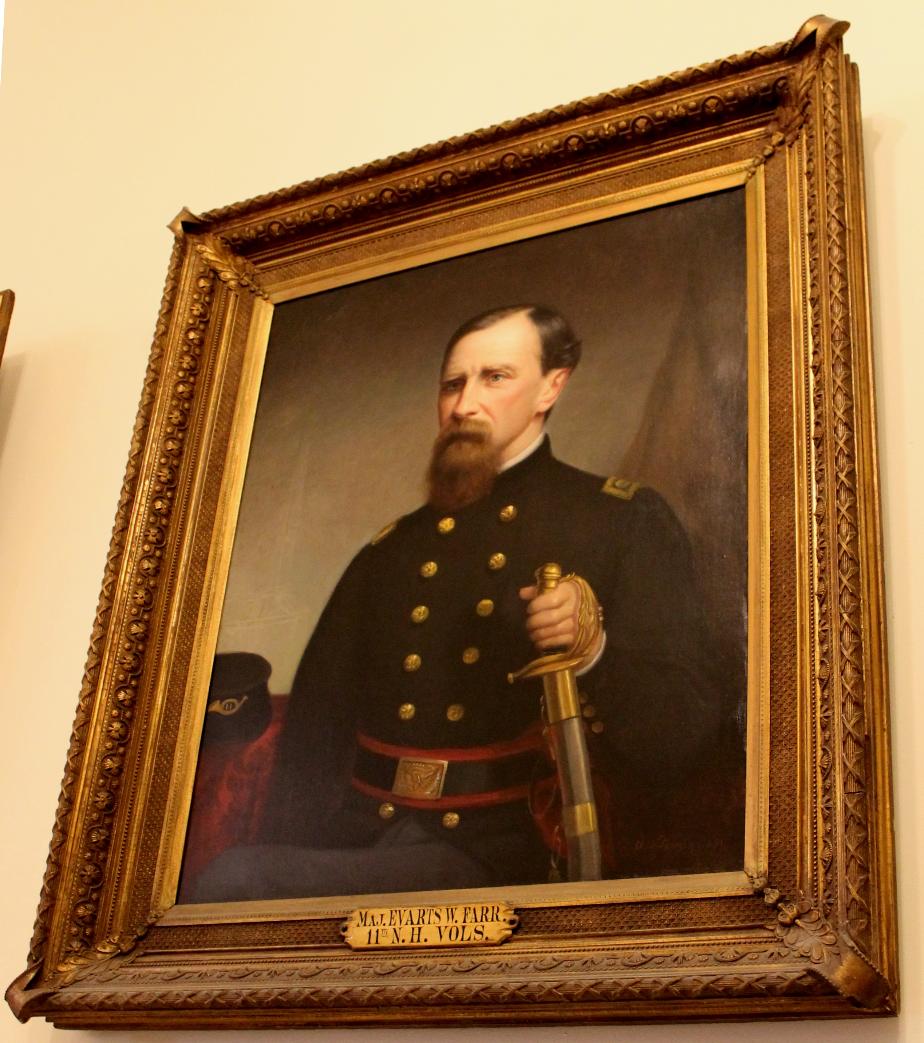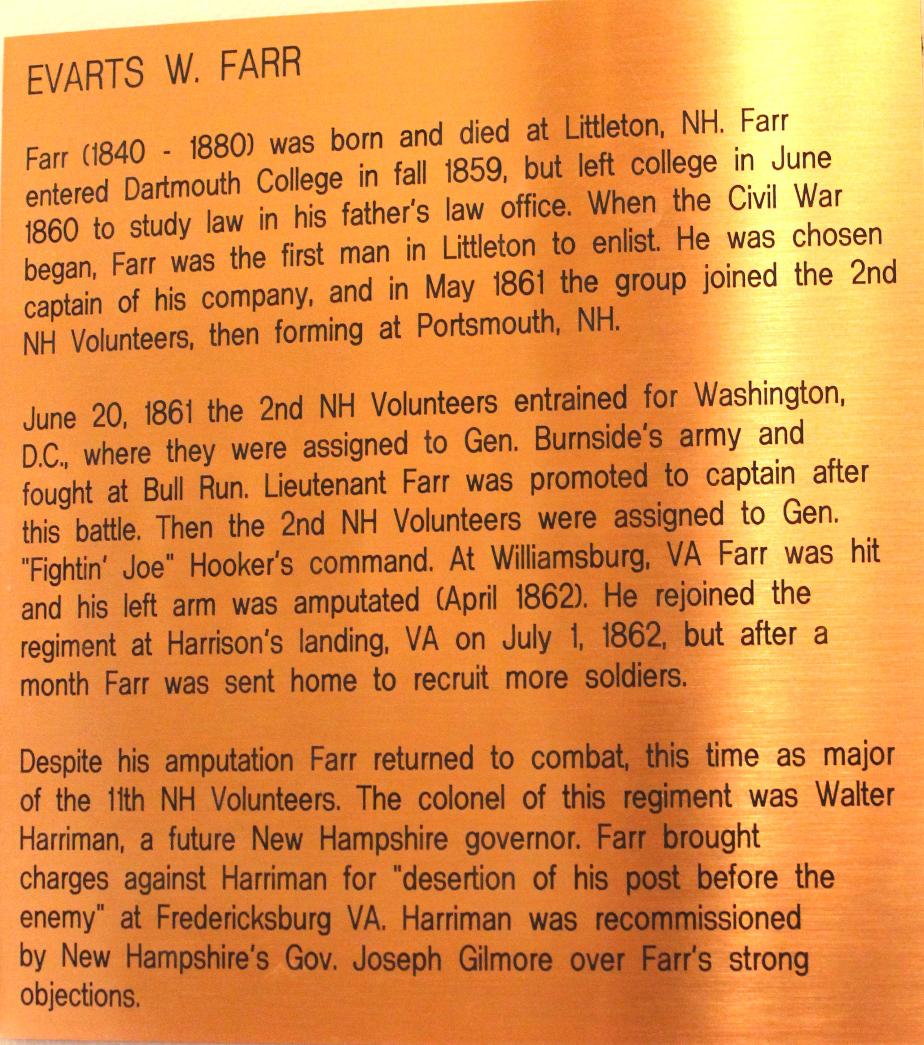 Evarts Worcester Farr, a Representative from New Hampshire; born in Littleton, Grafton County, N.H., October 10, 1840; attended the common schools and Dartmouth College, Hanover, N.H.; during the Civil War entered the Union Army as first lieutenant of Company G, Second Regiment, New Hampshire Volunteer Infantry and served as major in the Eleventh Regiment, New Hampshire Volunteer Infantry; assistant assessor of internal revenue 1865-1869; studied law; was admitted to the bar in 1867 and commenced practice in Littleton; assessor of internal revenue 1869-1873; solicitor for Grafton County 1873-1879; member of the executive council of New Hampshire in 1876; elected as a Republican to the Forty-sixth and Forty-seventh Congresses and served from March 4, 1879, until his death in Littleton, N.H., November 30, 1880; interment in Glenwood Cemetery
Timothy Farrar - Jugge of Court of Common Pleas 1824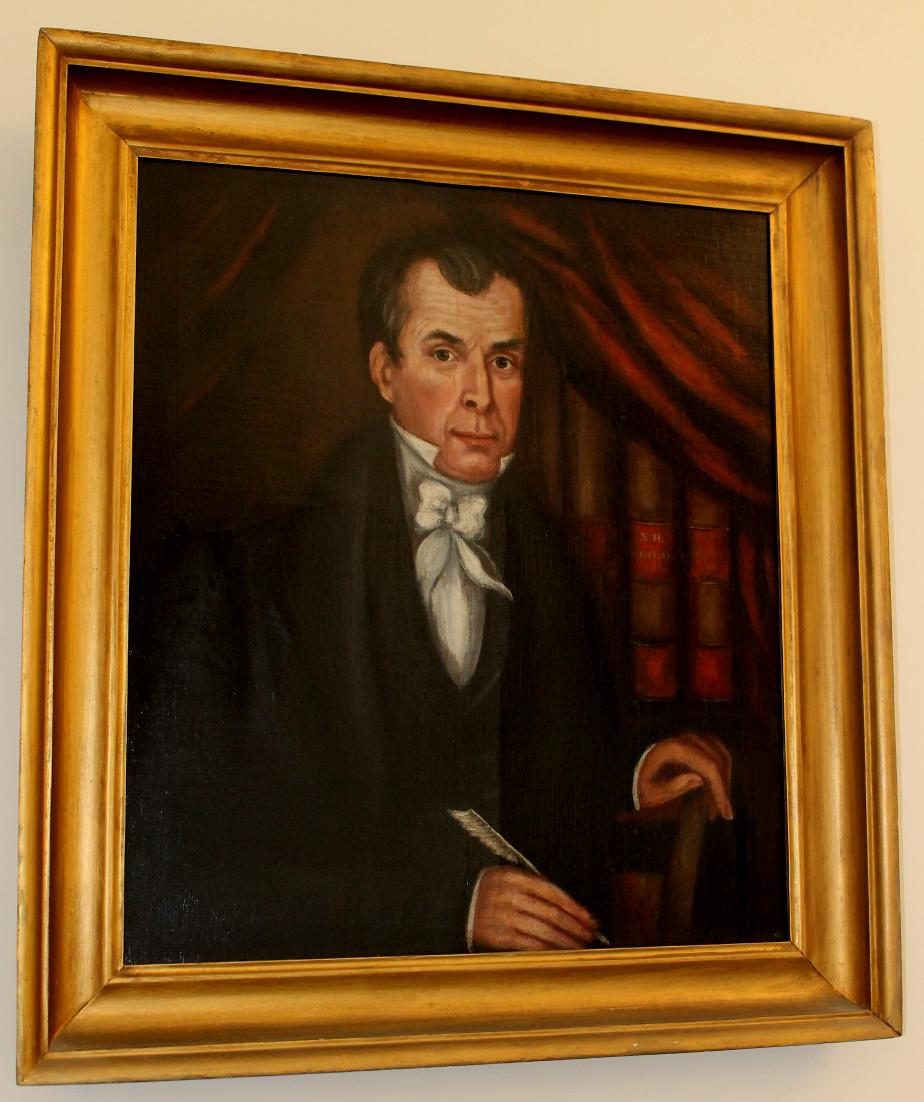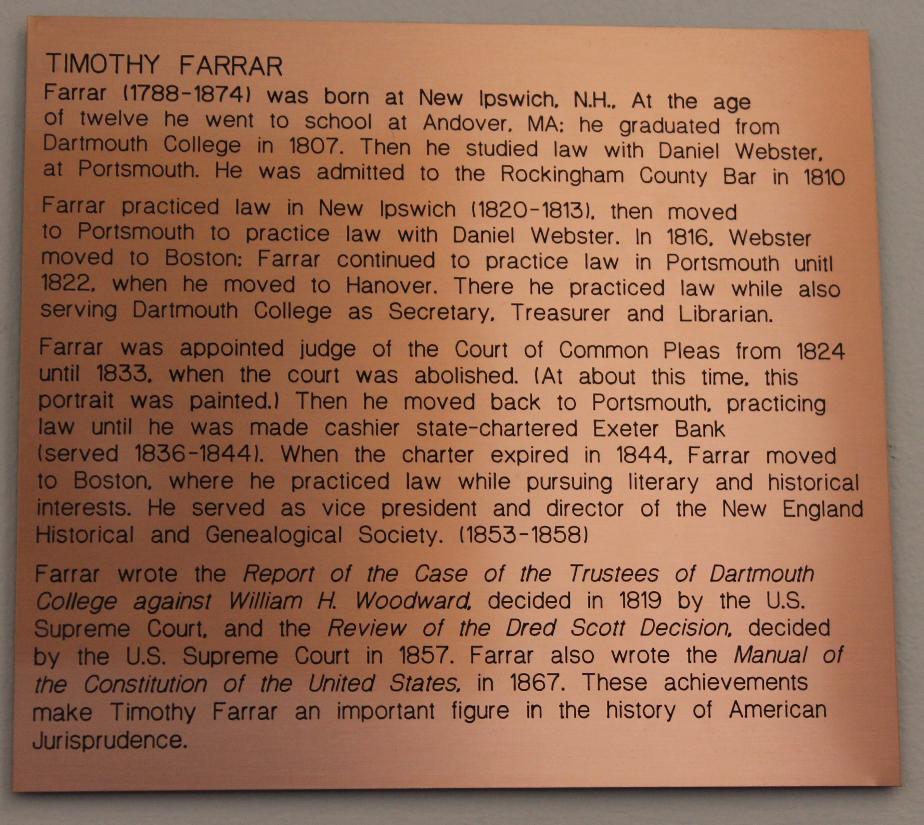 Governor Samuel D Felker 1914-1915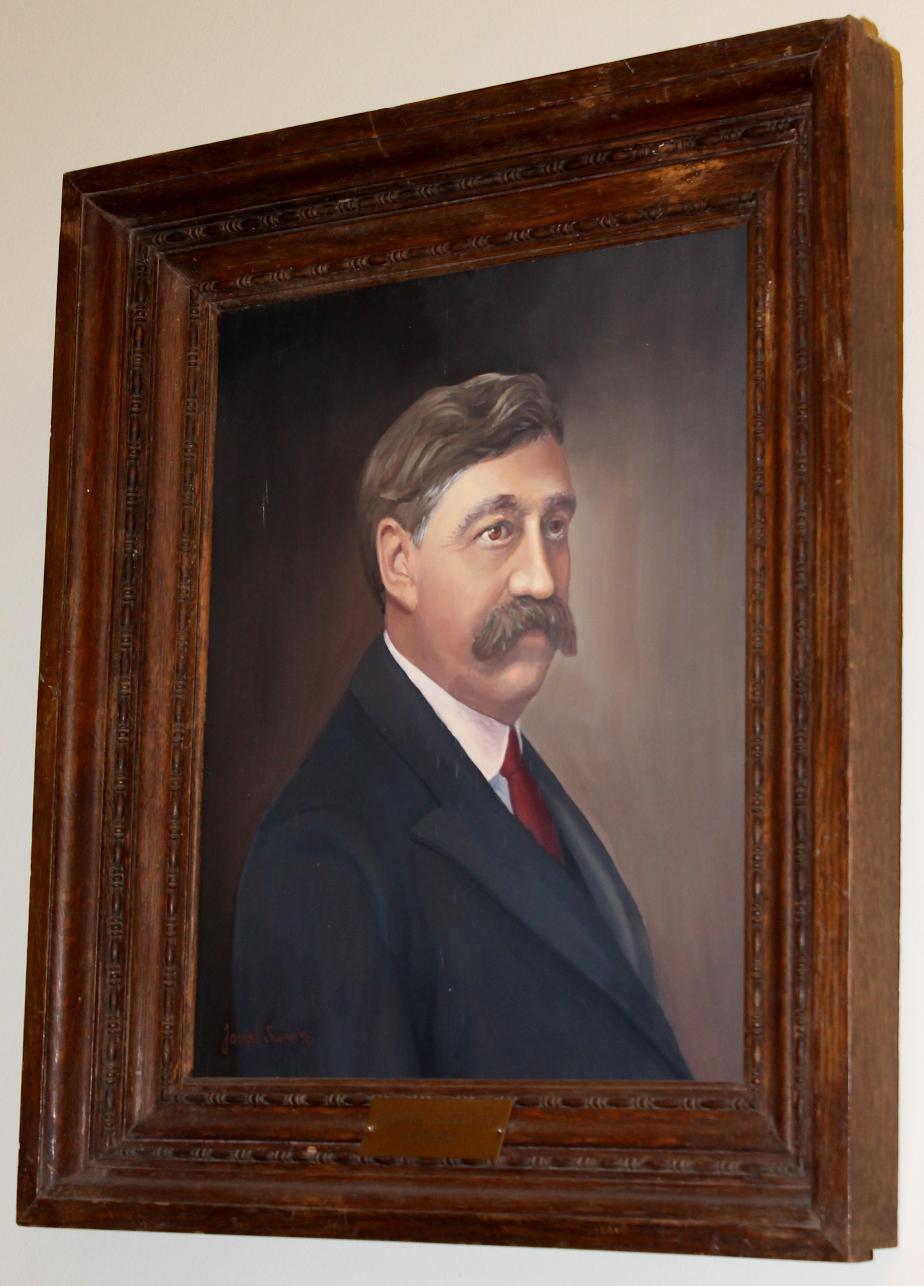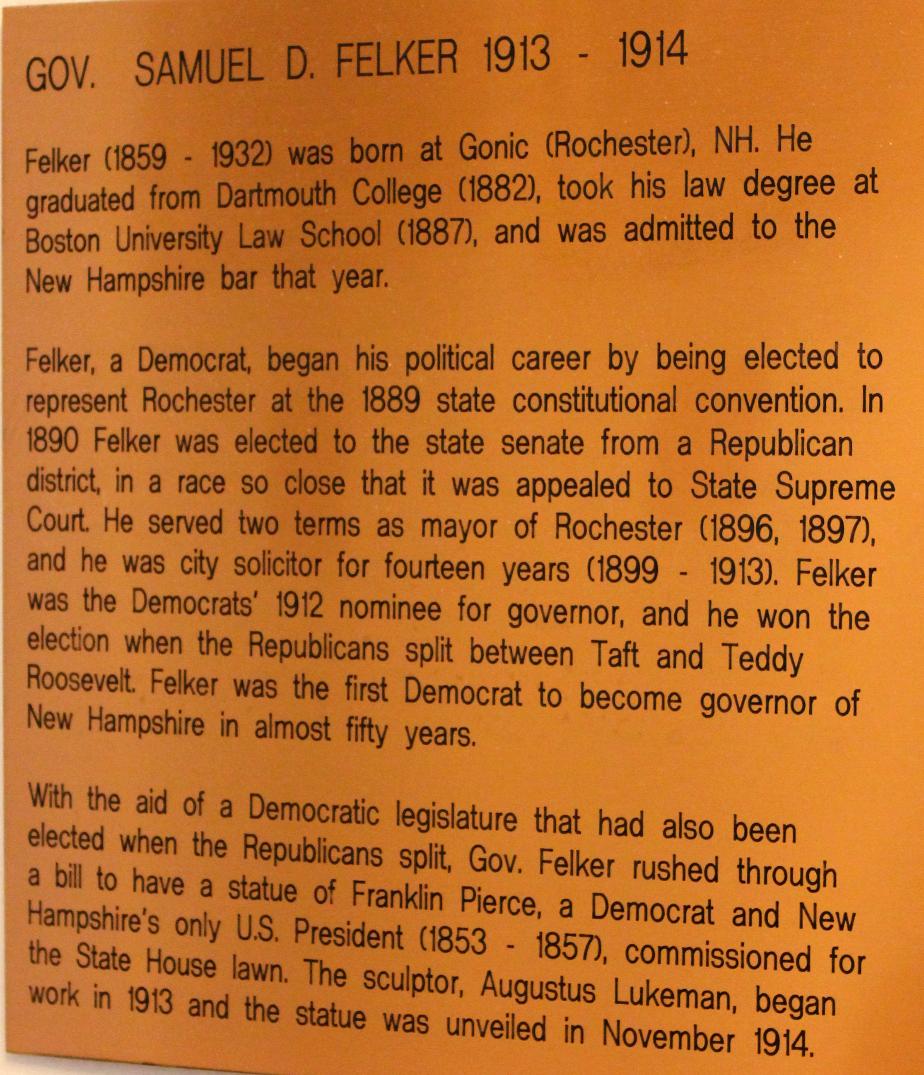 Governor Charles M. Floyd 1908-1909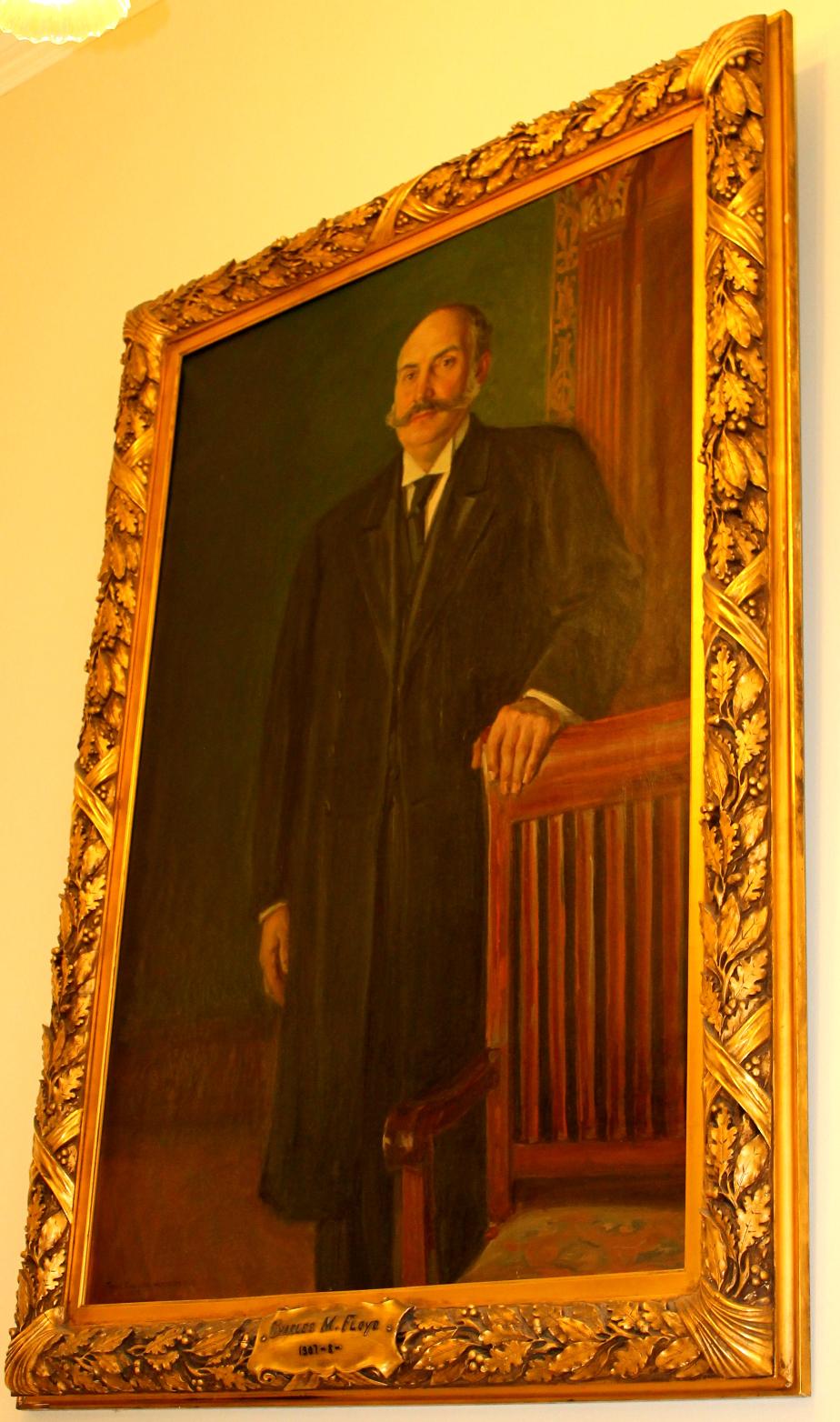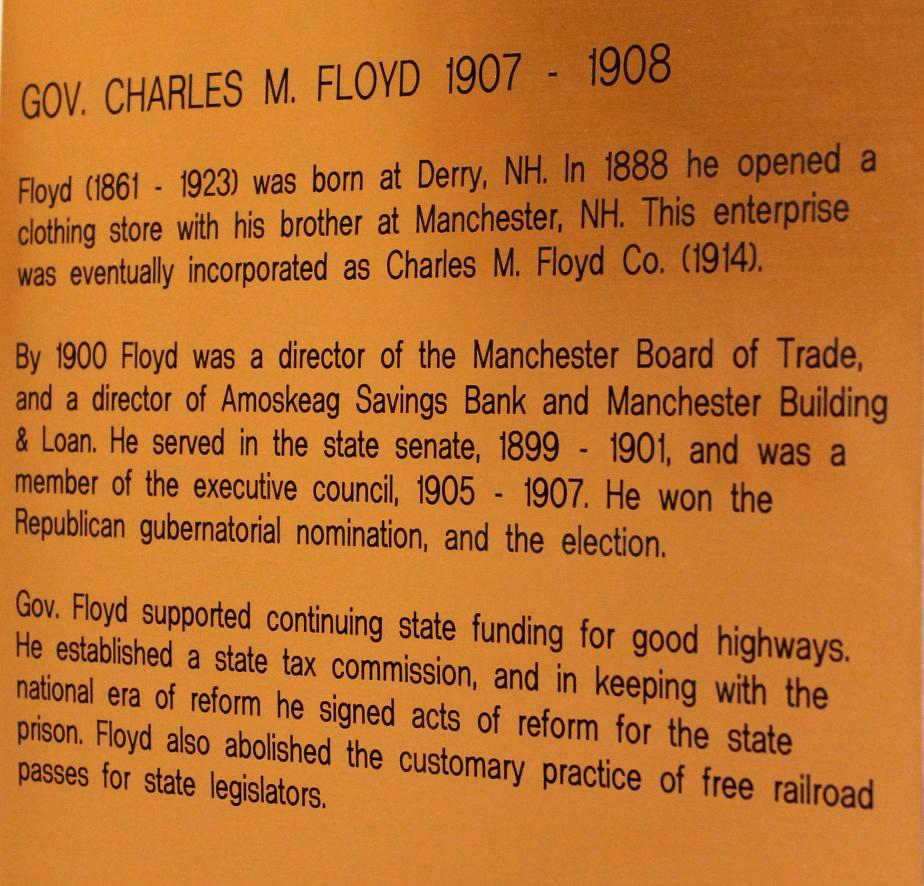 Herman Foster - NH Senate President (1861)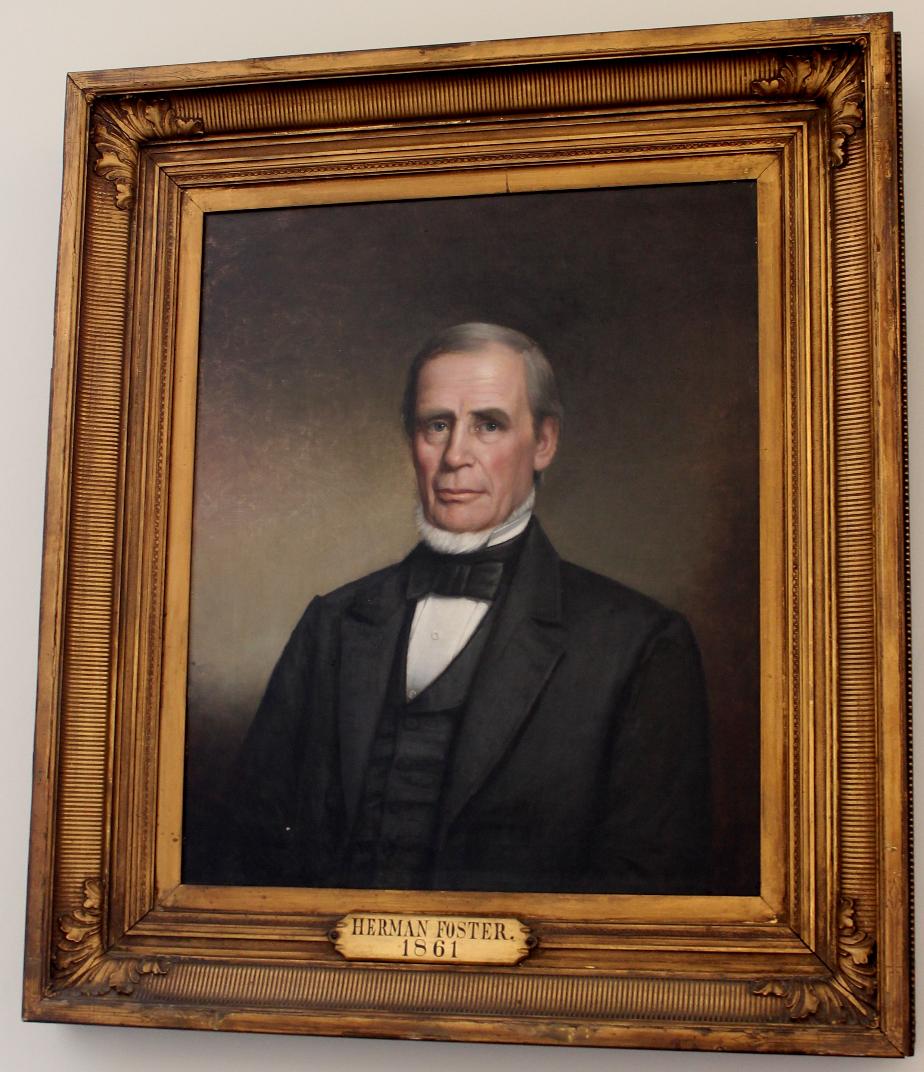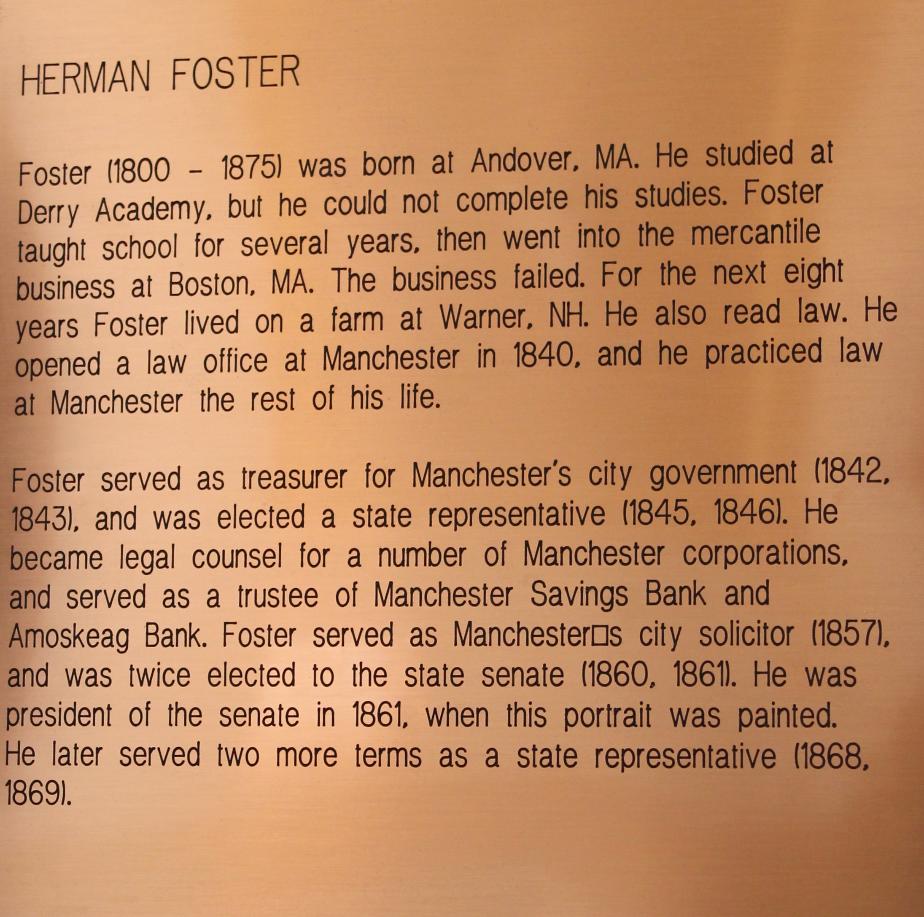 General John G. Foster (Whitefield) 1873 - 1874 Civil War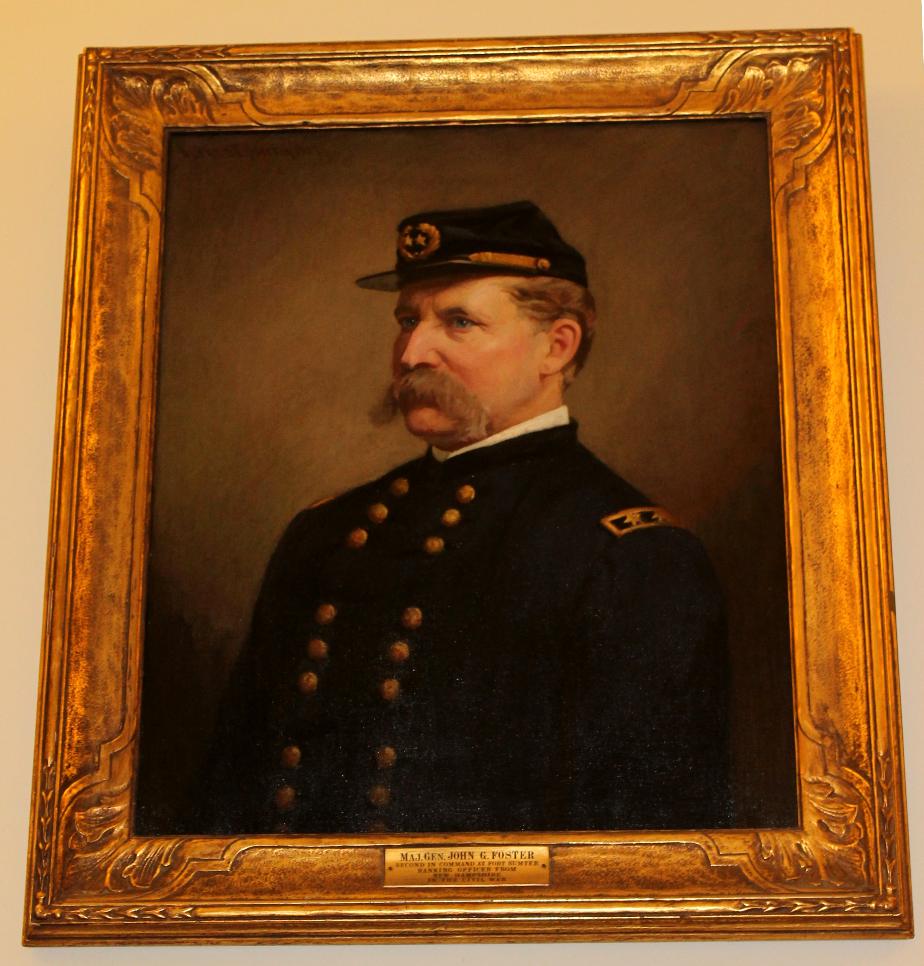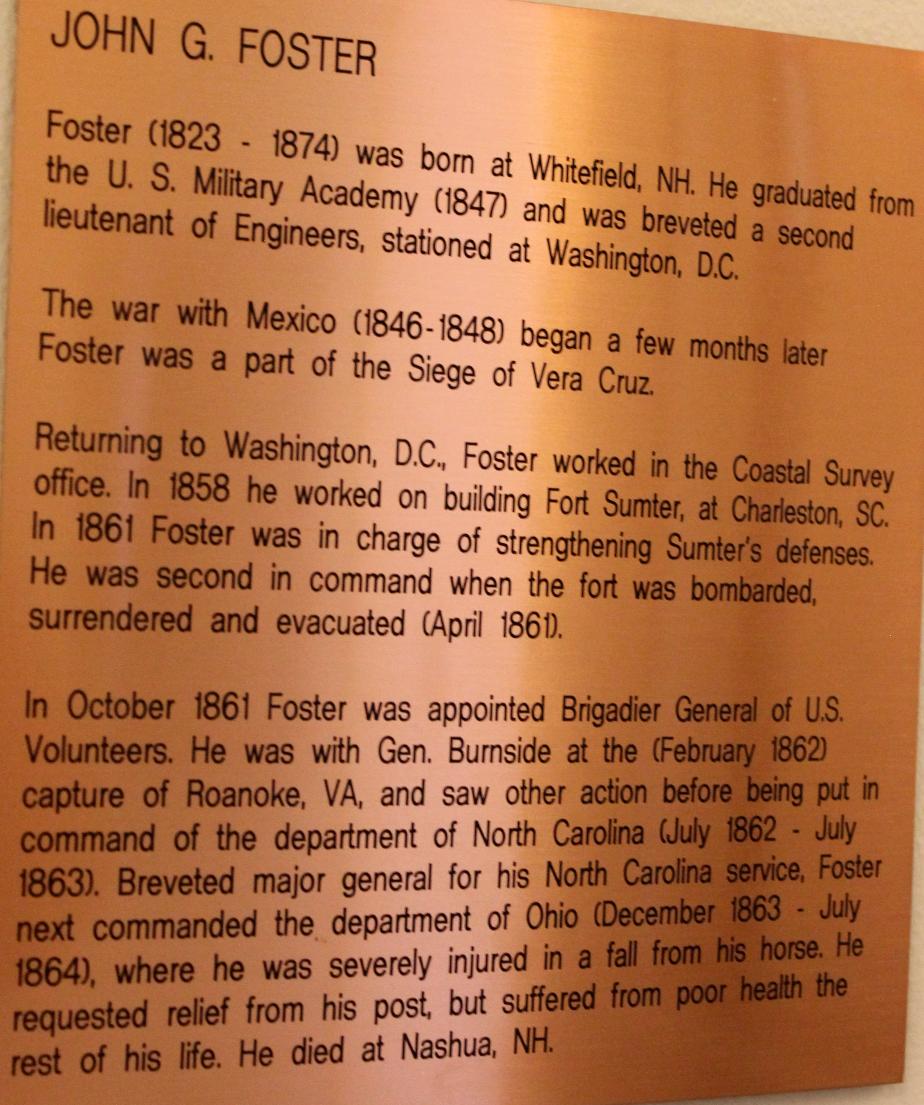 Hugh Gallen - NH Governor 1979 - 1982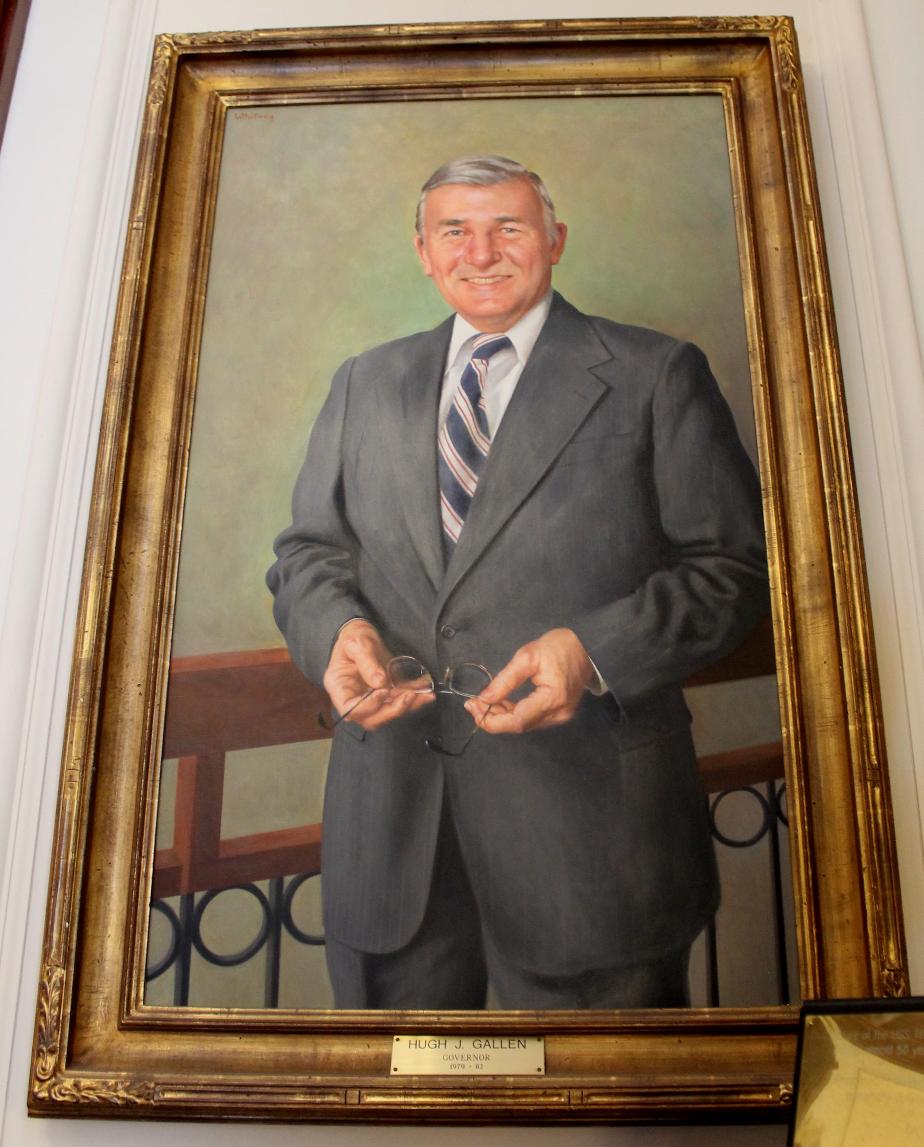 Hugh J. Gallen was born July 30, 1924, in Portland, Oregon. When he was six, Gallen's family moved to Medford, Massachusetts, where he attended local schools and graduated from Medford High School. After graduation, Gallen had a successful tryout with the Washington Senators baseball team and played for one of their minor league teams for a year, but an arm injury ended his career. In 1948 he began work as an automobile salesman in Littleton, New Hampshire. Gallen stayed in Littleton and in 1964 he became full owner of an automobile dealership, Hugh Gallen, Inc. From 1962 to 1965, he served on the Littleton, New Hampshire, Planning Board. In 1967, he was a member of the Small Business Administration's New Hampshire Advisory Council and the National Advisory Council. He served as director and char of the New Hampshire-Vermont Development Council from 1969 to 1972, and from 1967 to 1970 as the director of White Mountain Community Services, a nonprofit agency established to provide mental health care. From 1971 to 1972, Gallen was Democratic state chairman, and he was a delegate to the 1972 Democratic National Convention. In 1973 Gallen became the first Democrat to serve as a state representative for Littleton. He entered the 1978 Democratic Party primary for governor, won, and then won the general election because of a split in the Republican Party. Former governor Wesley Powell had declared as an Independent after losing the Republican primary to the incumbent governor, Meldrim Thomson; the split allowed Gallen to become governor. In 1979 Governor Gallen called out the National Guard to protect Seabrook Power against anti-nuclear demonstrators. Gallen's strong action won him reelection against Thomson in 1980, but a year later 9,200 state employees struck for higher wages. In negotiations Gallen agreed to a 9 percent raise; the Republican-controlled legislature would only agree to 6 percent. Gallen vetoed the state budget prepared by the Republicans, but he would not support a state sales tax or income tax to help pay for the contract he had negotiated with state workers. He had no way to pay for the state employees' contract. In 1982 Gallen ran unopposed in the Democratic primary, while John Sununu won the Republican primary for governor. During the campaign Gallen refused to pledge that he would not introduce a new sales tax or income tax to pay for the employees' contract; this cost Gallen the election. Shortly after the election Gallen contracted a rare blood infection and he died of this December 29, 1982, eight days before the end of his term. Vesta Roy, president of the New Hampshire Senate, served as acting governor until John Sununu could be sworn in as the state's new chief executive.
Governor David H Goodell 1889 - 1890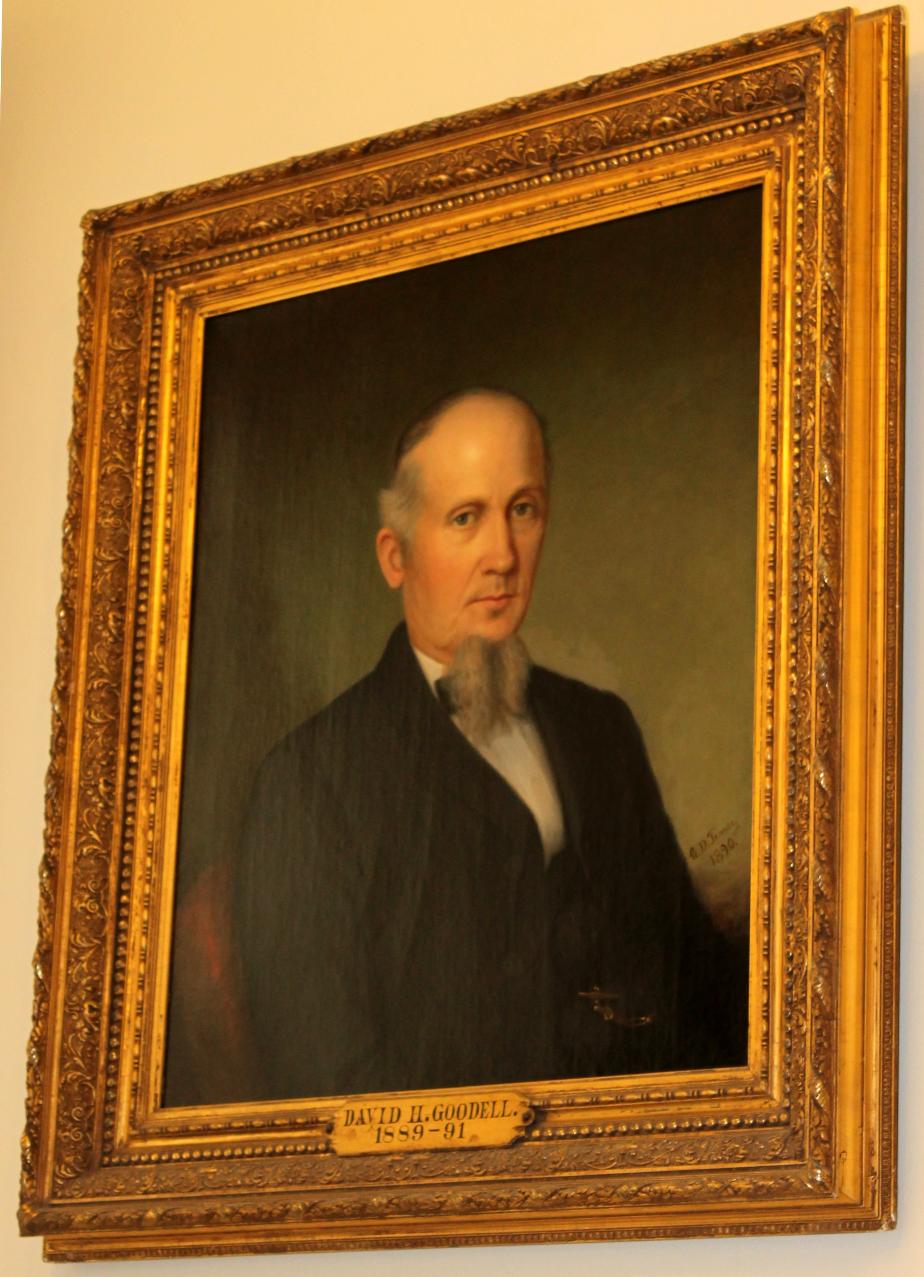 Governor Joseph A. Gilmore : 1863 - 1865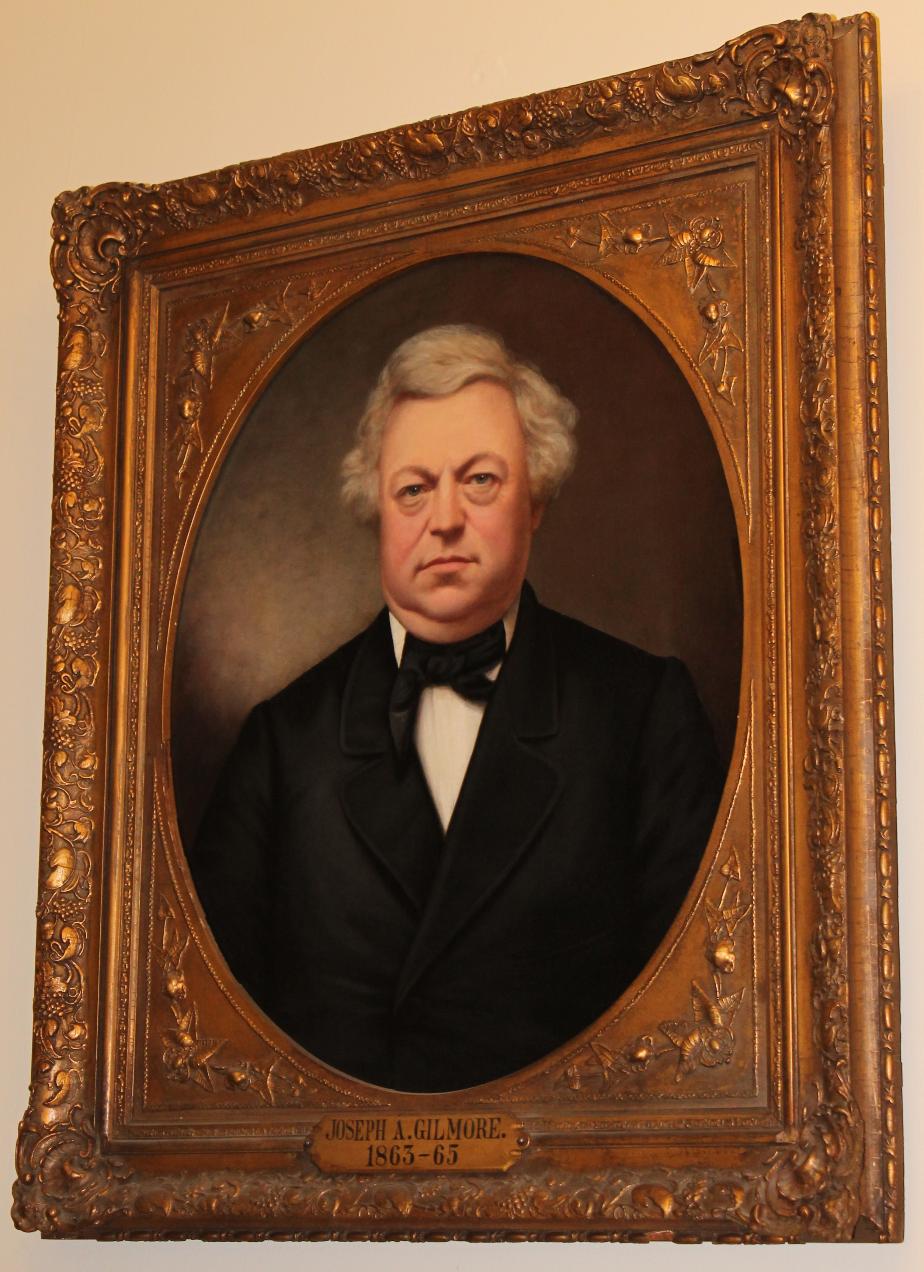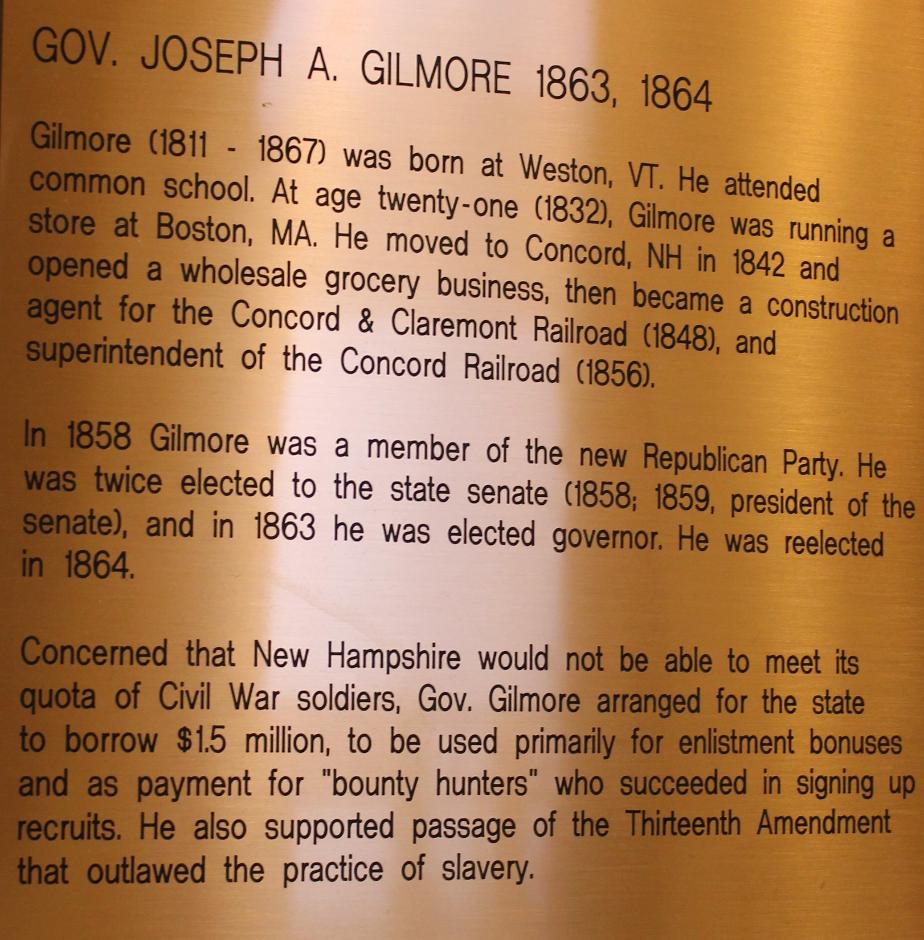 Icabod Goodwin - New Hampshire Governor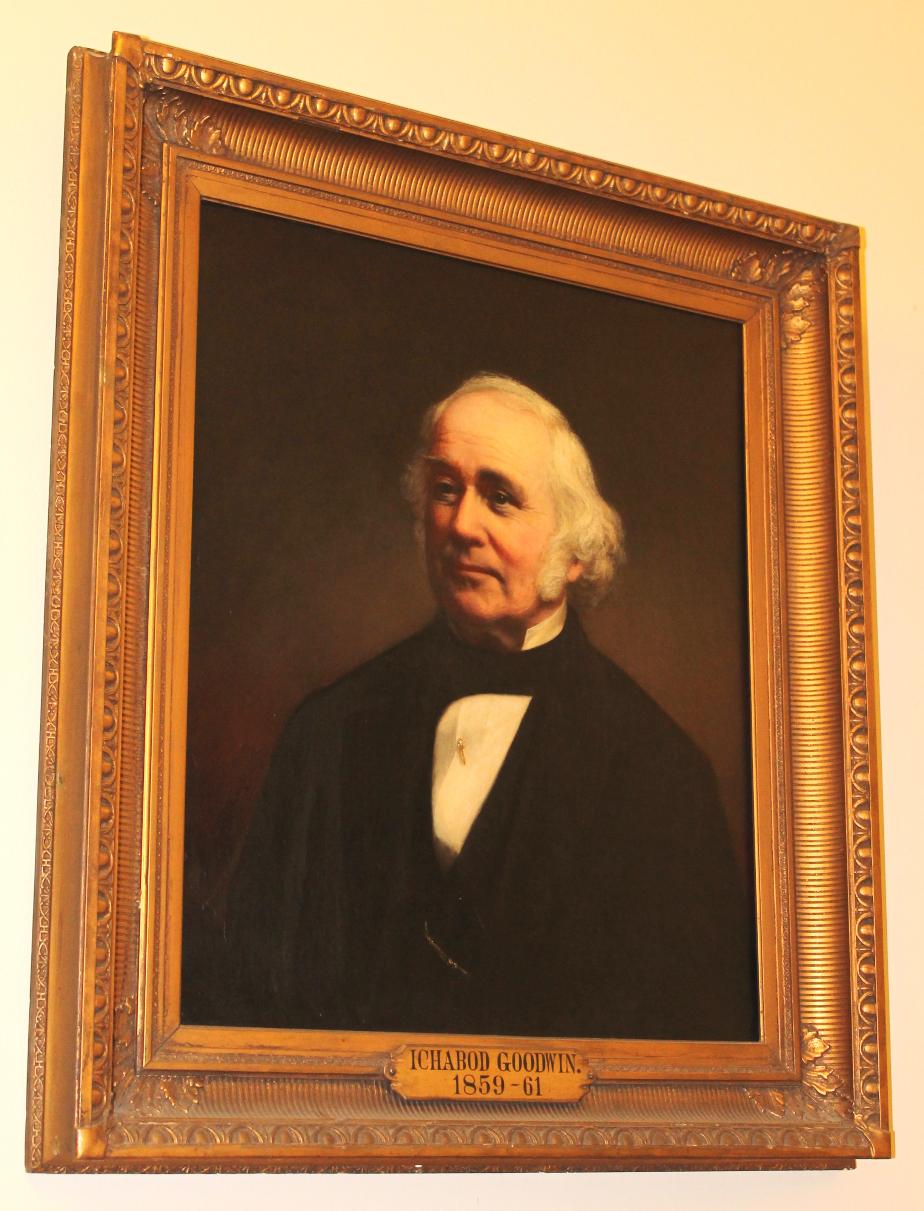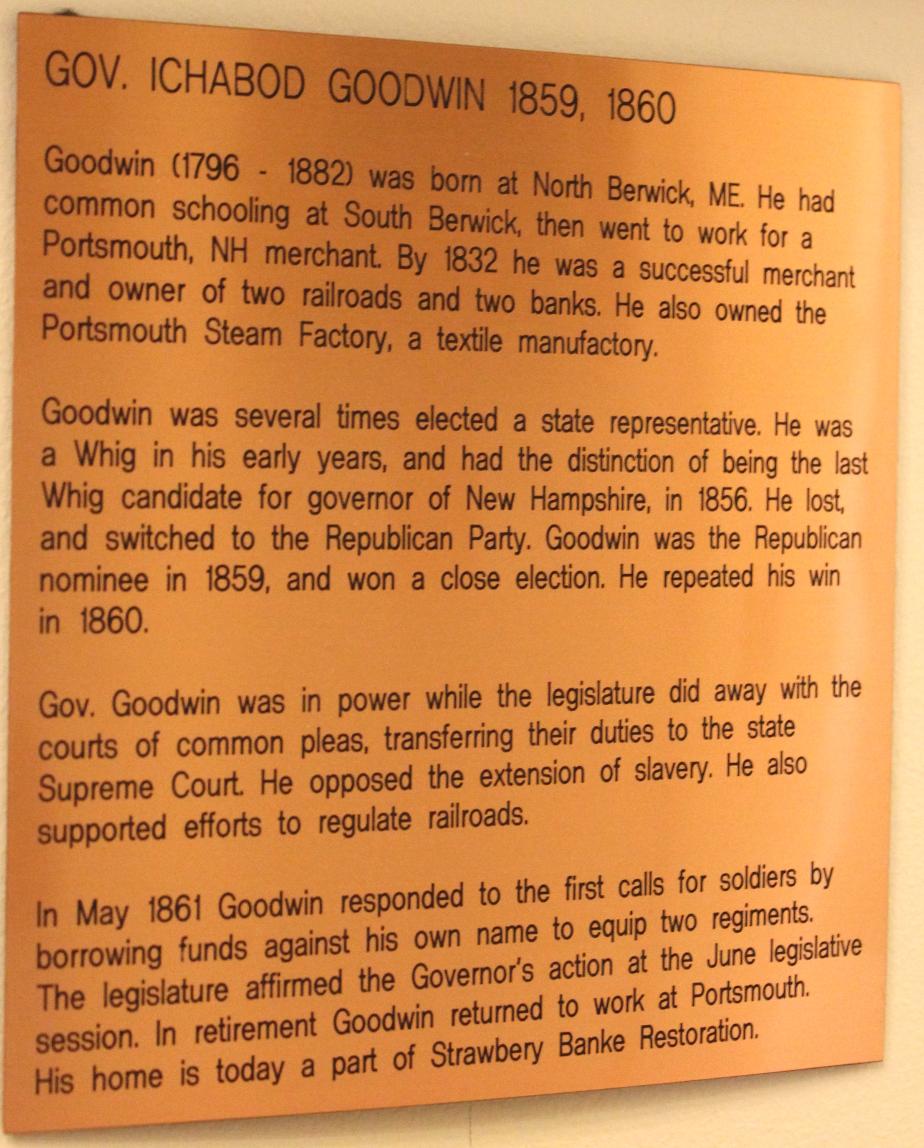 Nathaniel Gordon - NH State Senate President 1870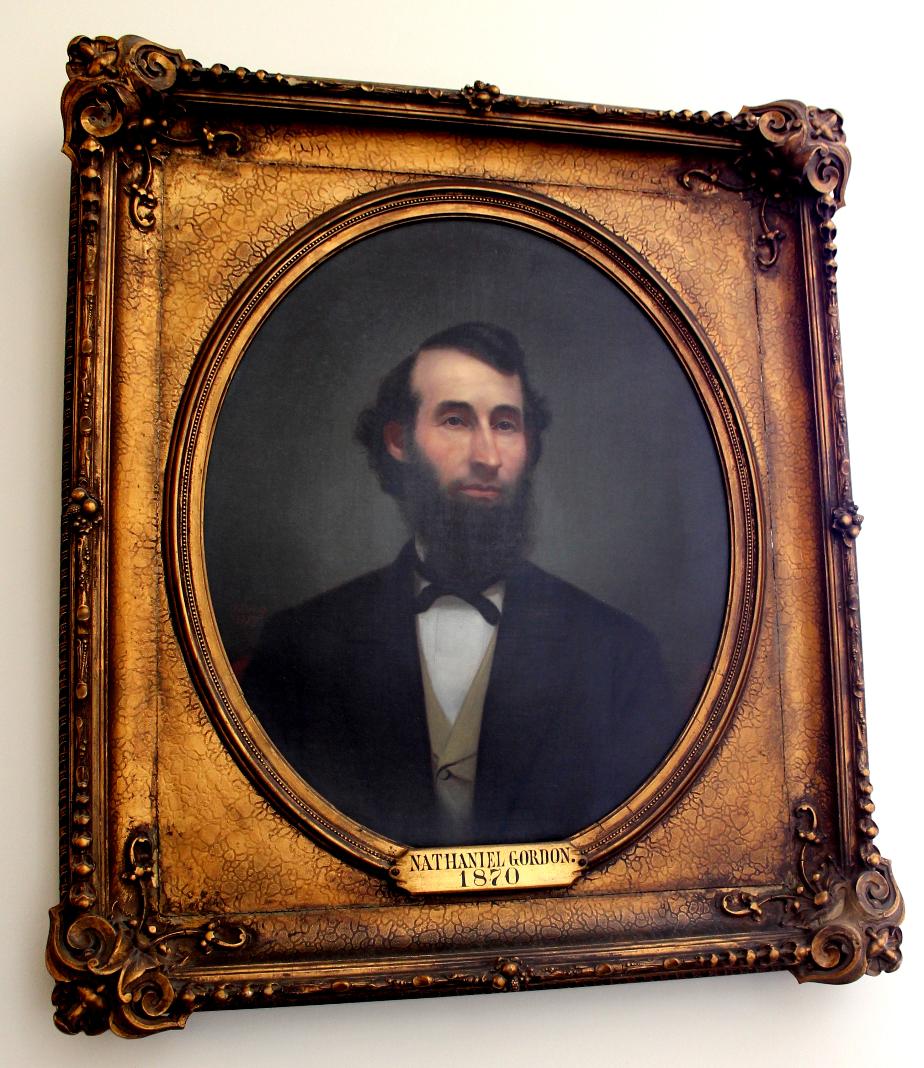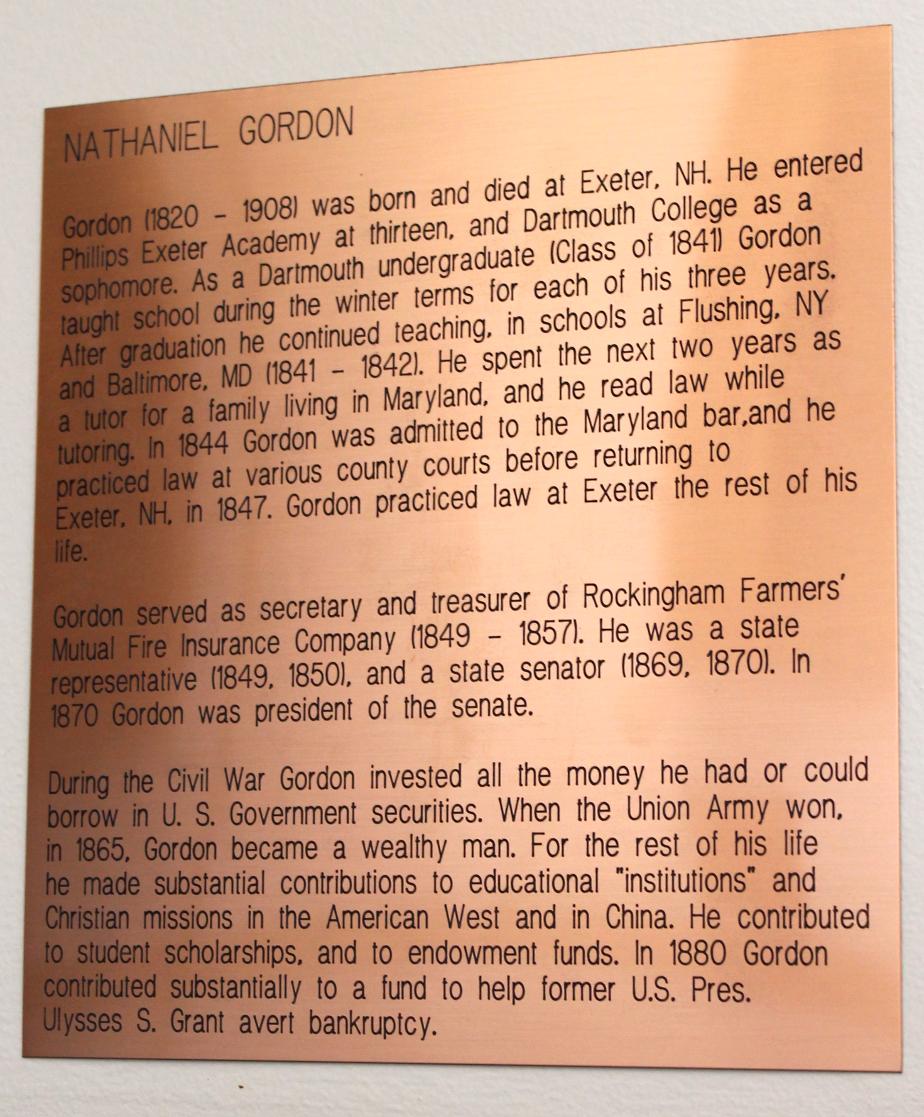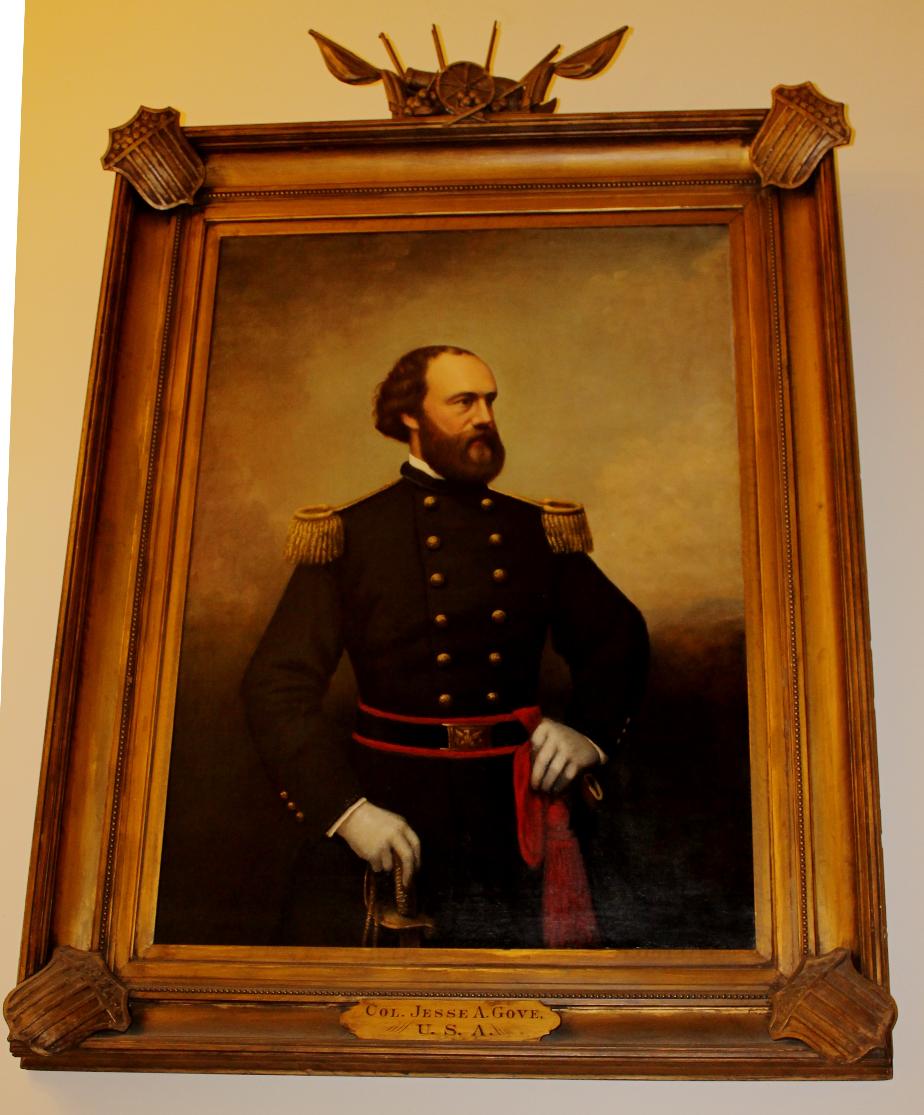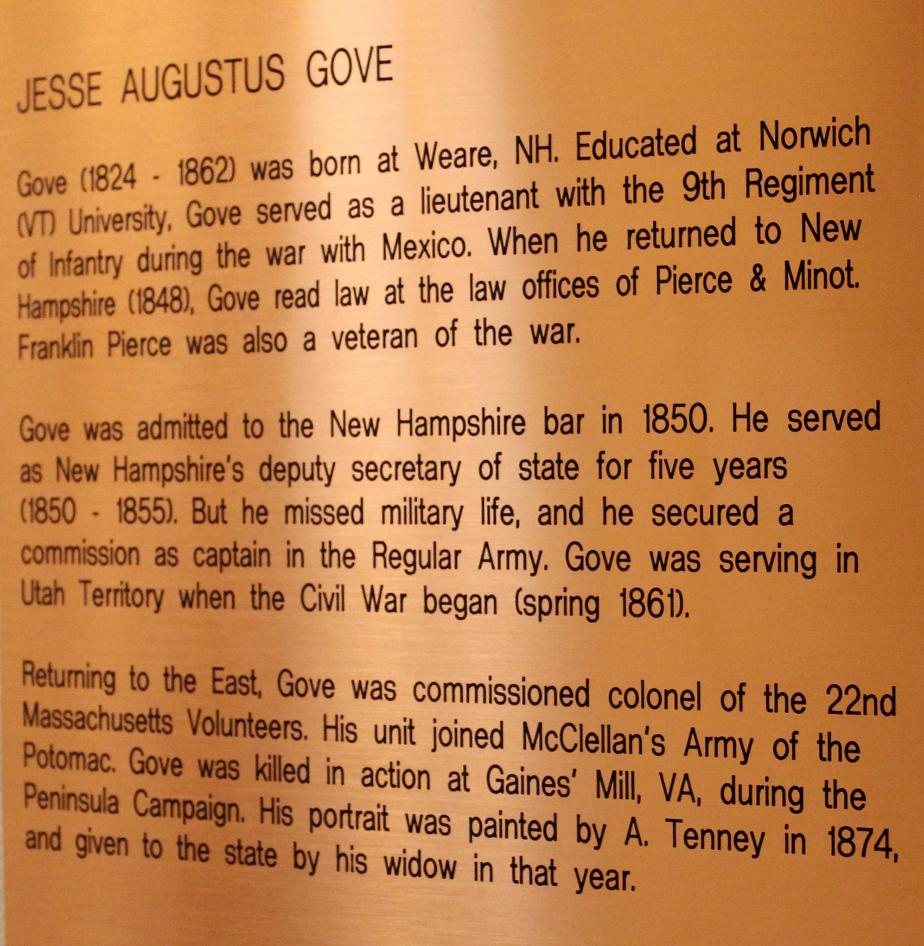 Abner Greenleaf - State Senate President (1829)
Hugh Gregg (Nashua) - Governor , 1953-1954
Judd Gregg (Nashua) NH Governor 1989 - 1992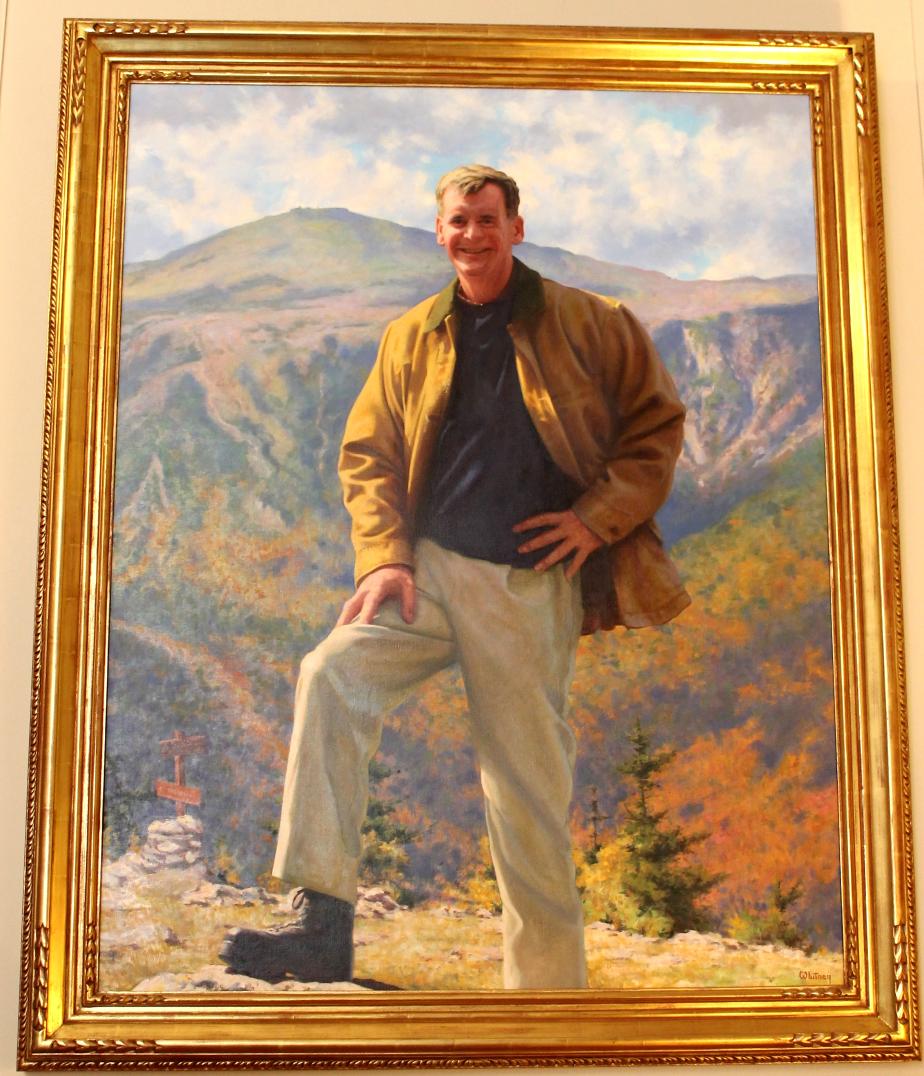 William H.Y. Hackett - NH State Senate President - 1862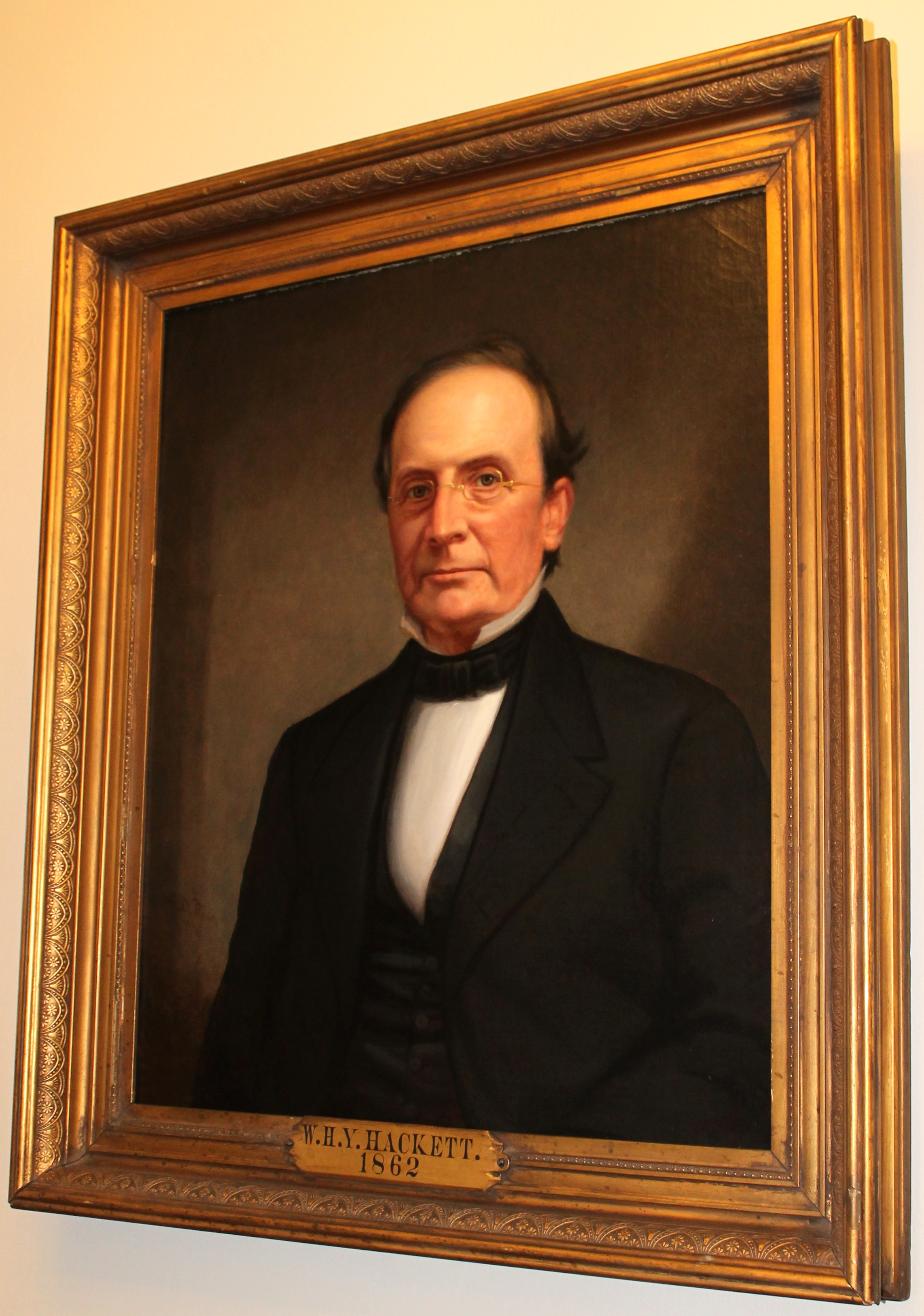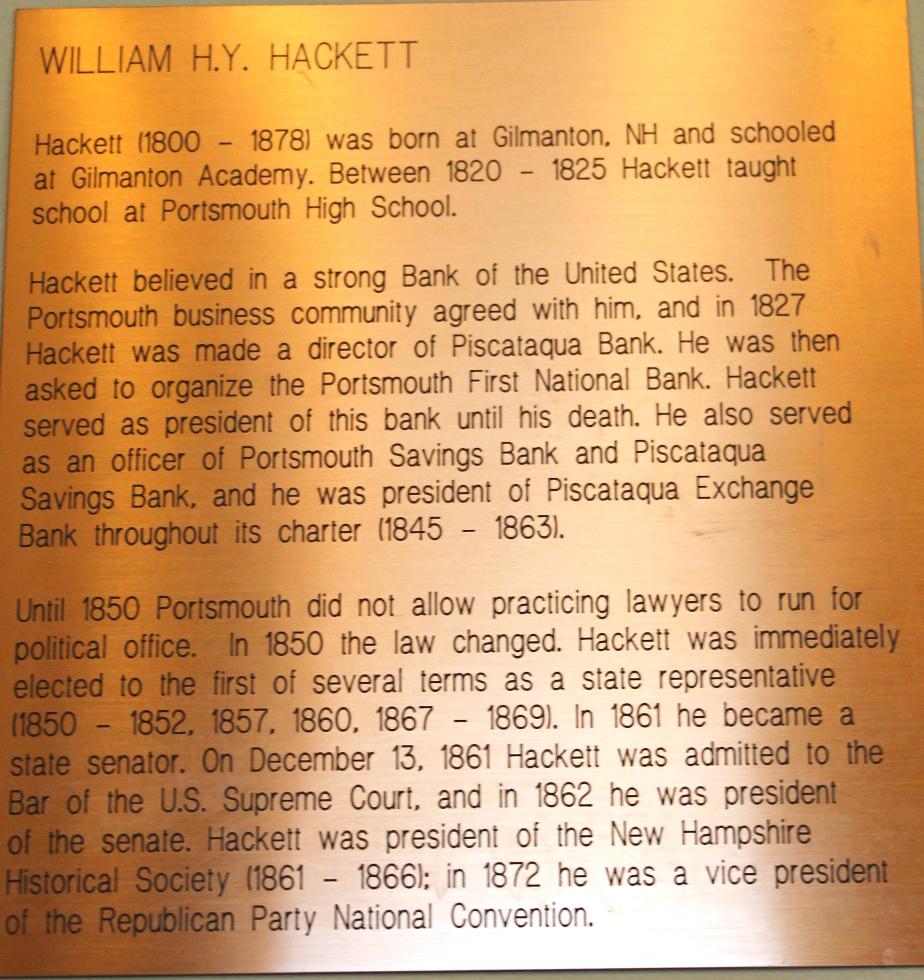 William Haile - NH Senate President (1855)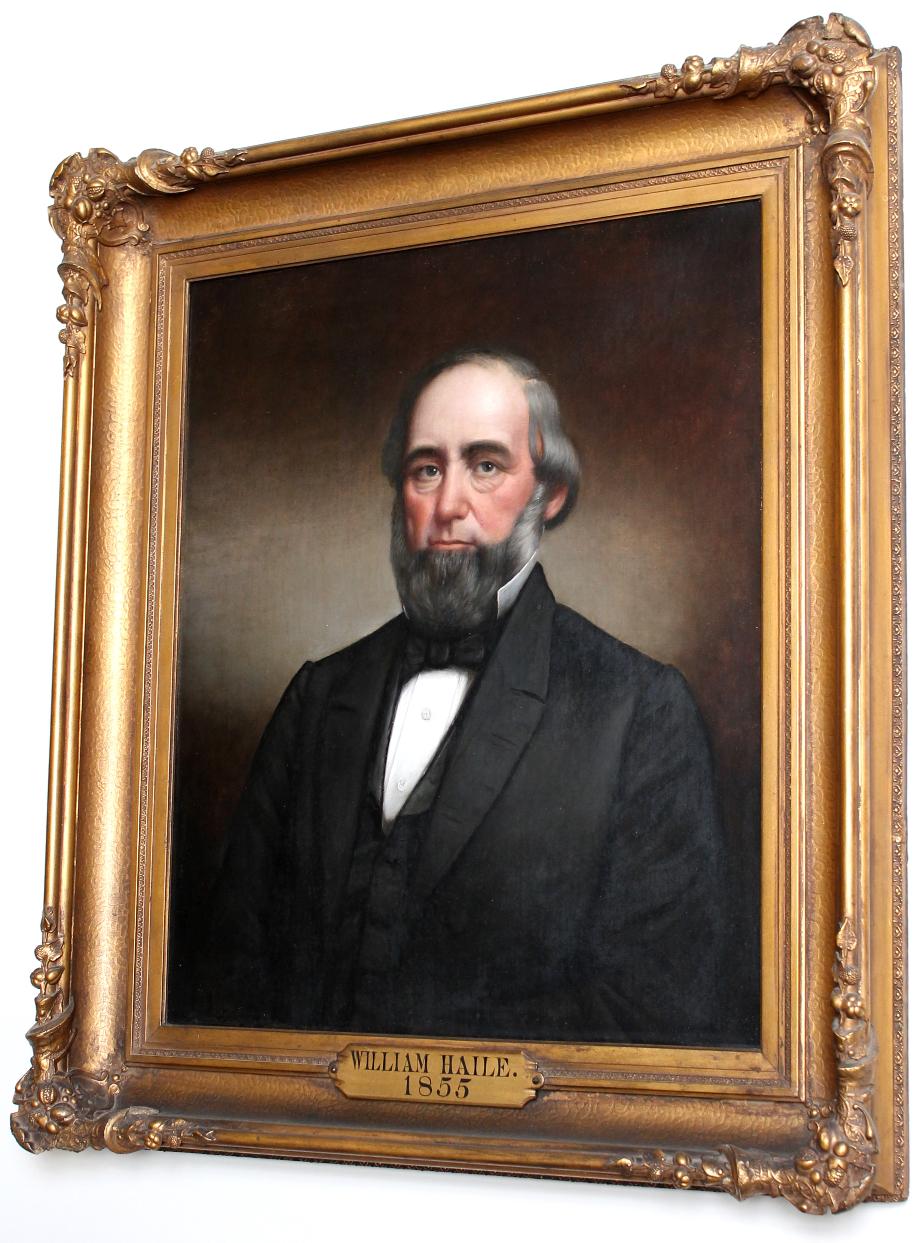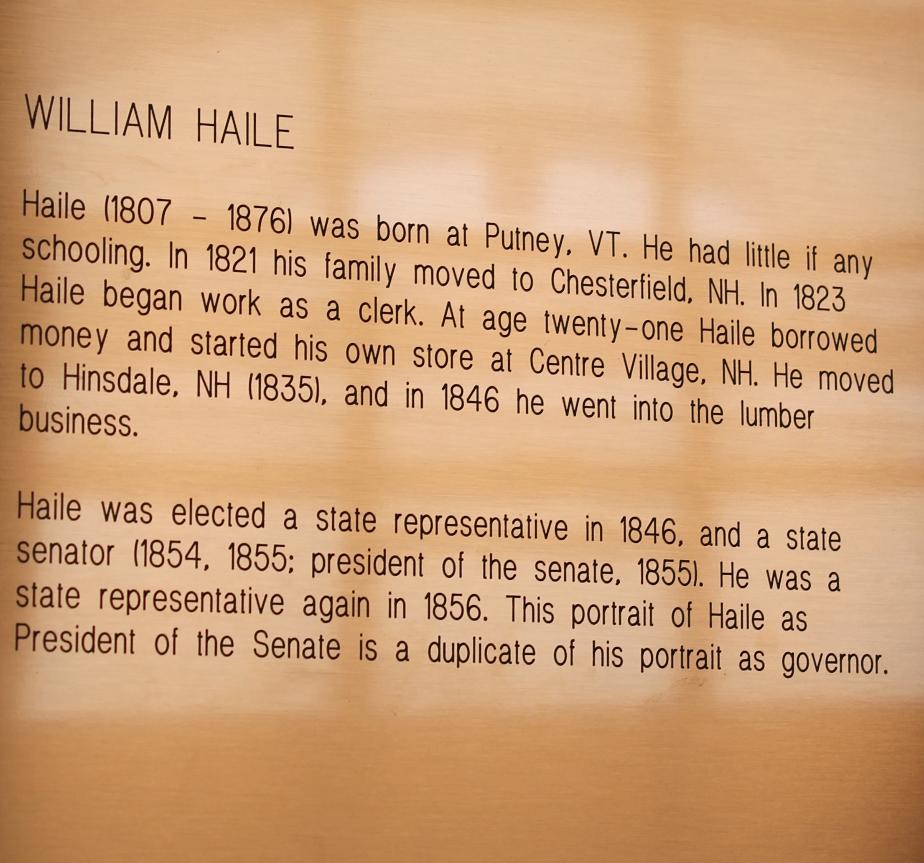 Governor William Haile : 1857 - 1859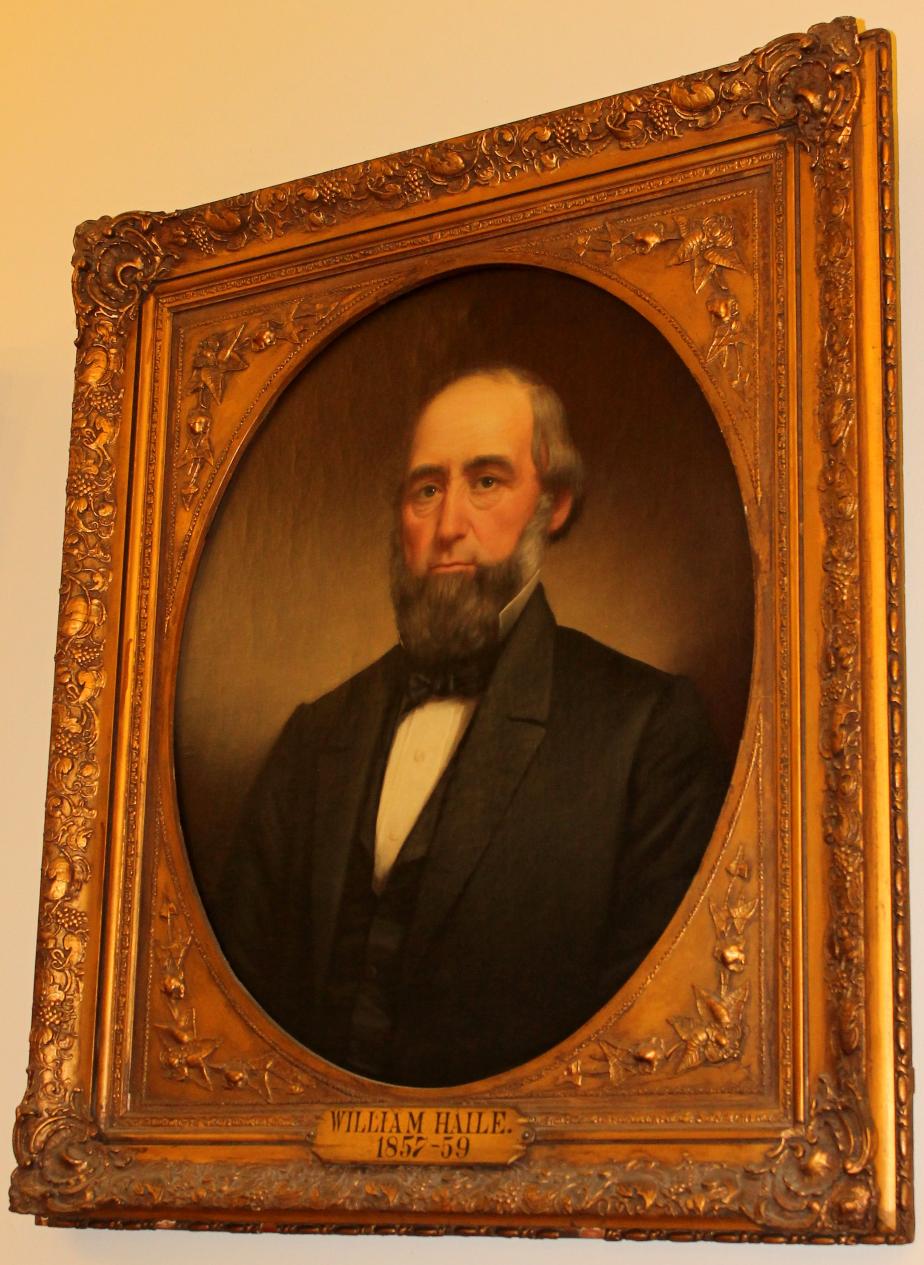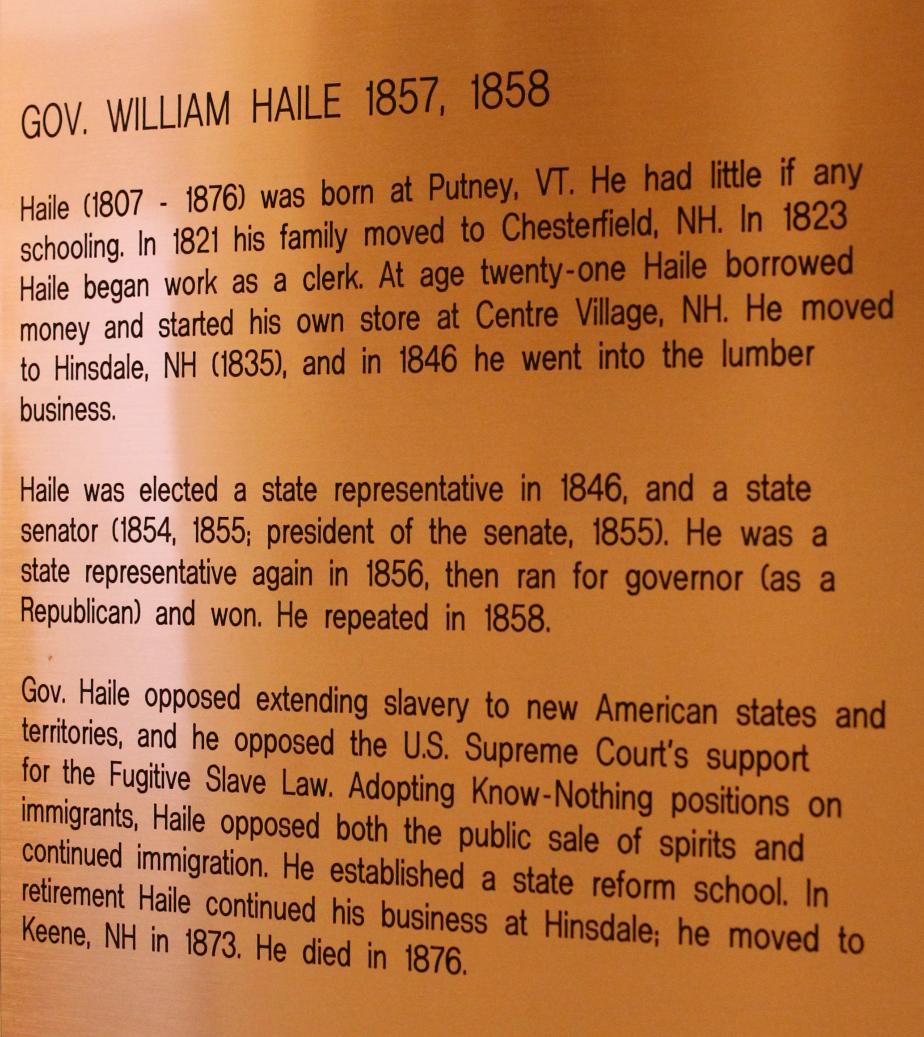 John P Hale - NH State House Legislative Chamber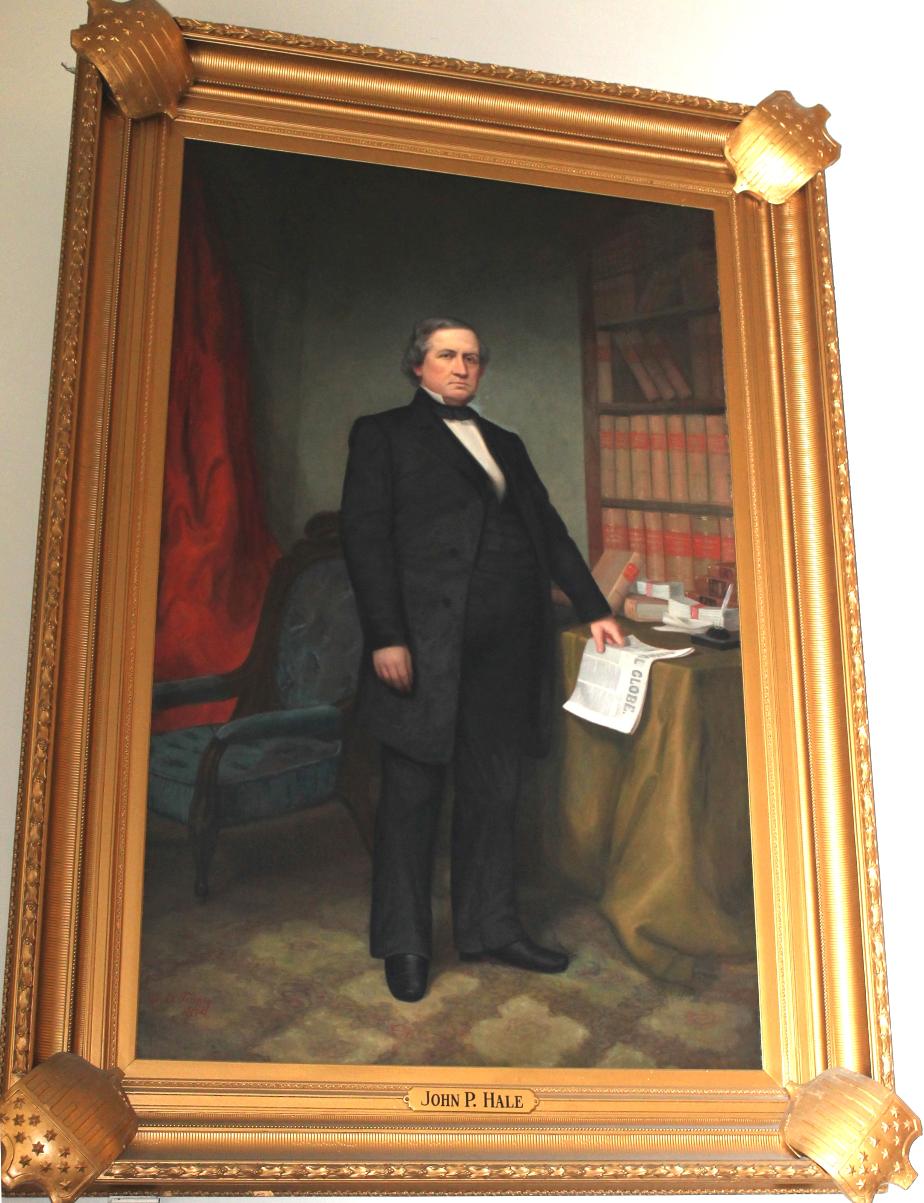 Governor Samuel W Hale - 1883 - 1884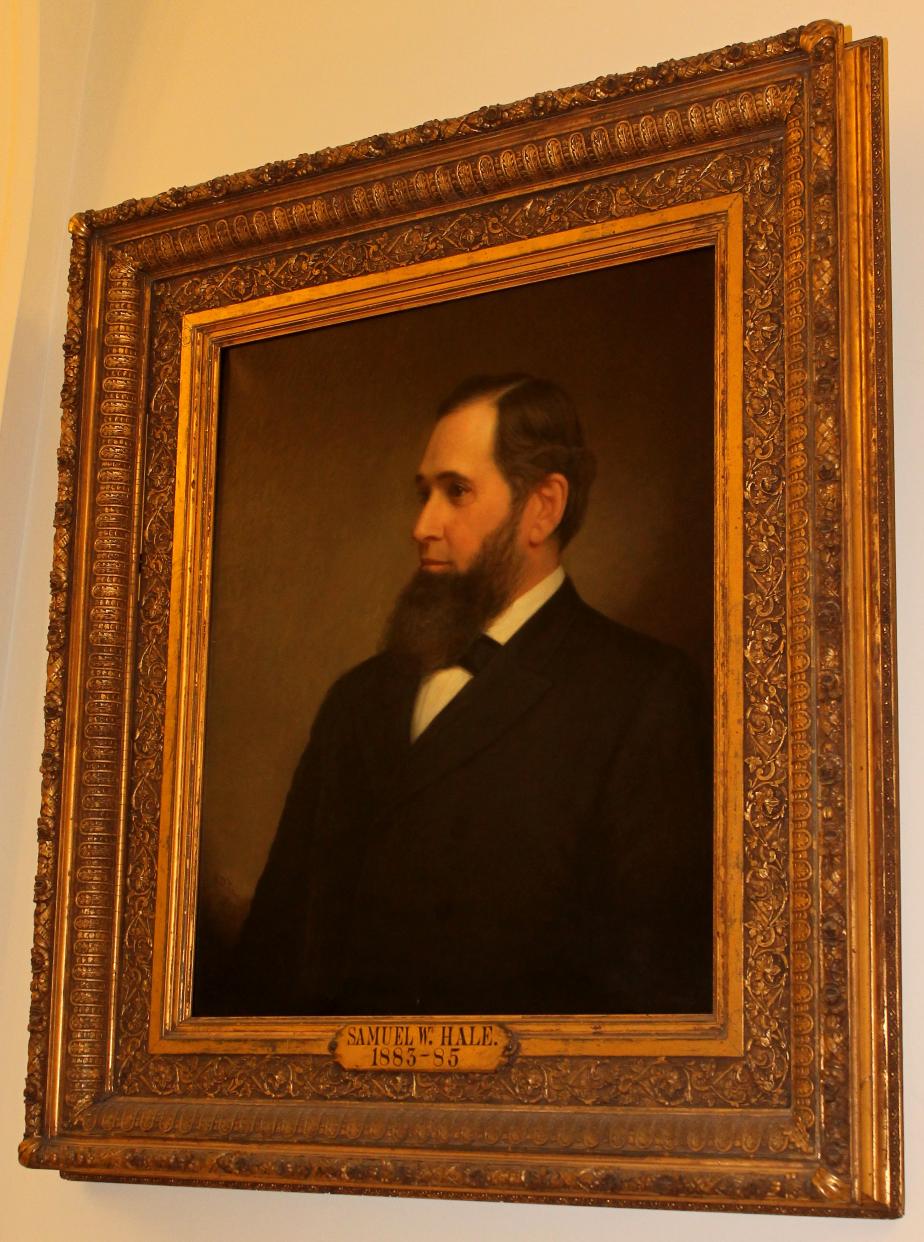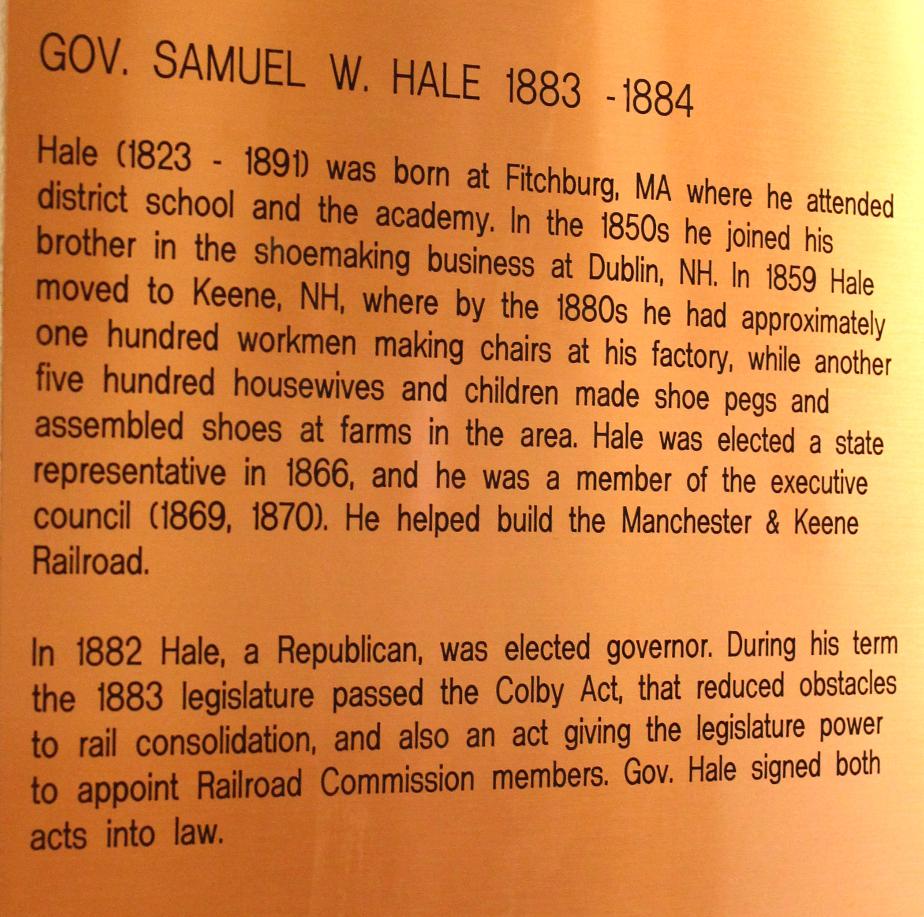 Governor Matthew Harvey: 1830-1831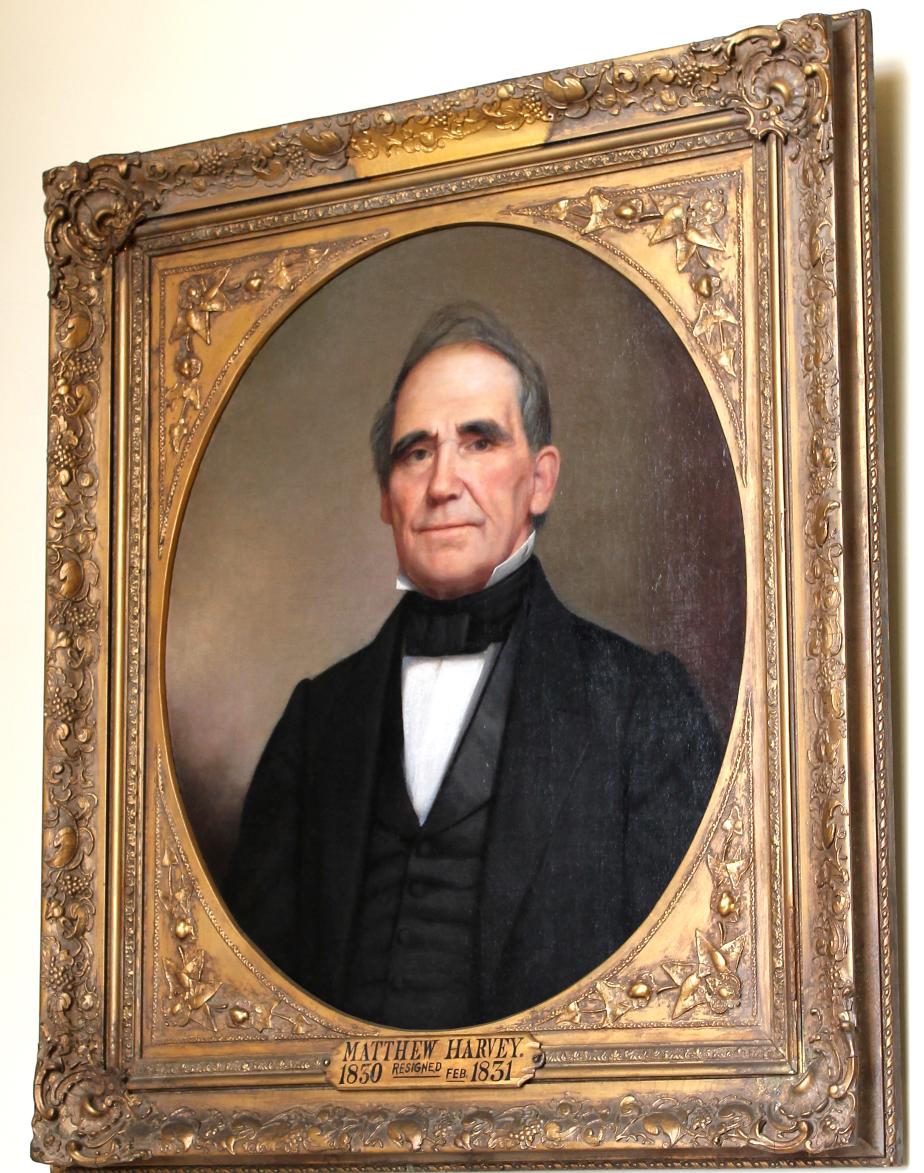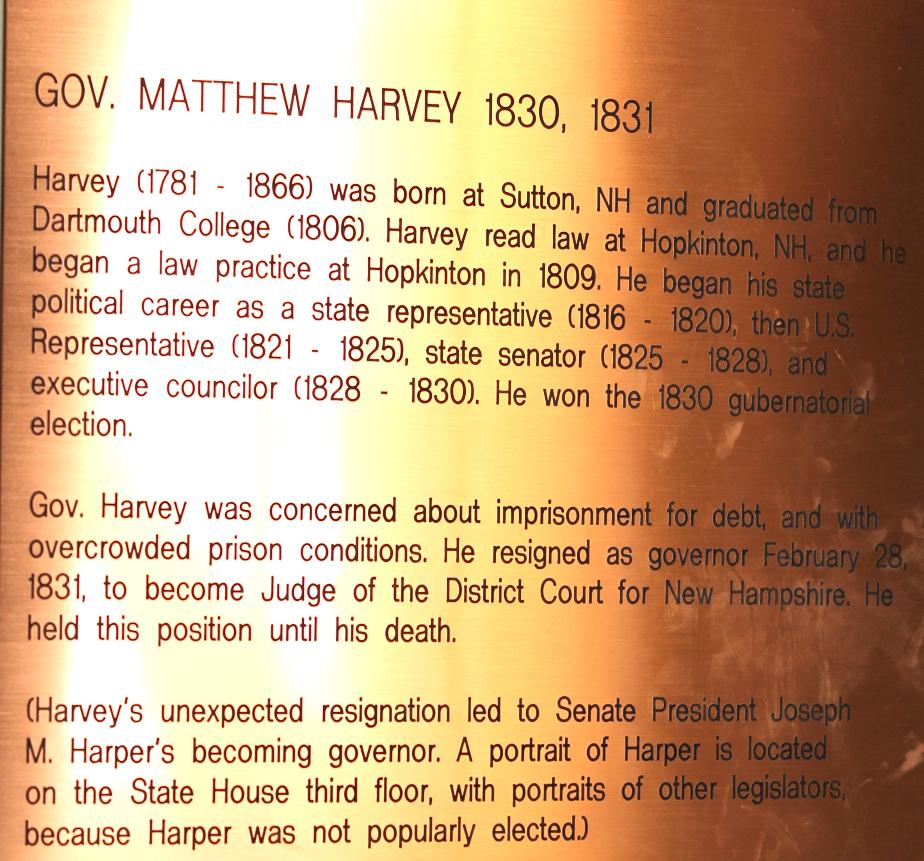 George Haselton - NH Senate President - 1915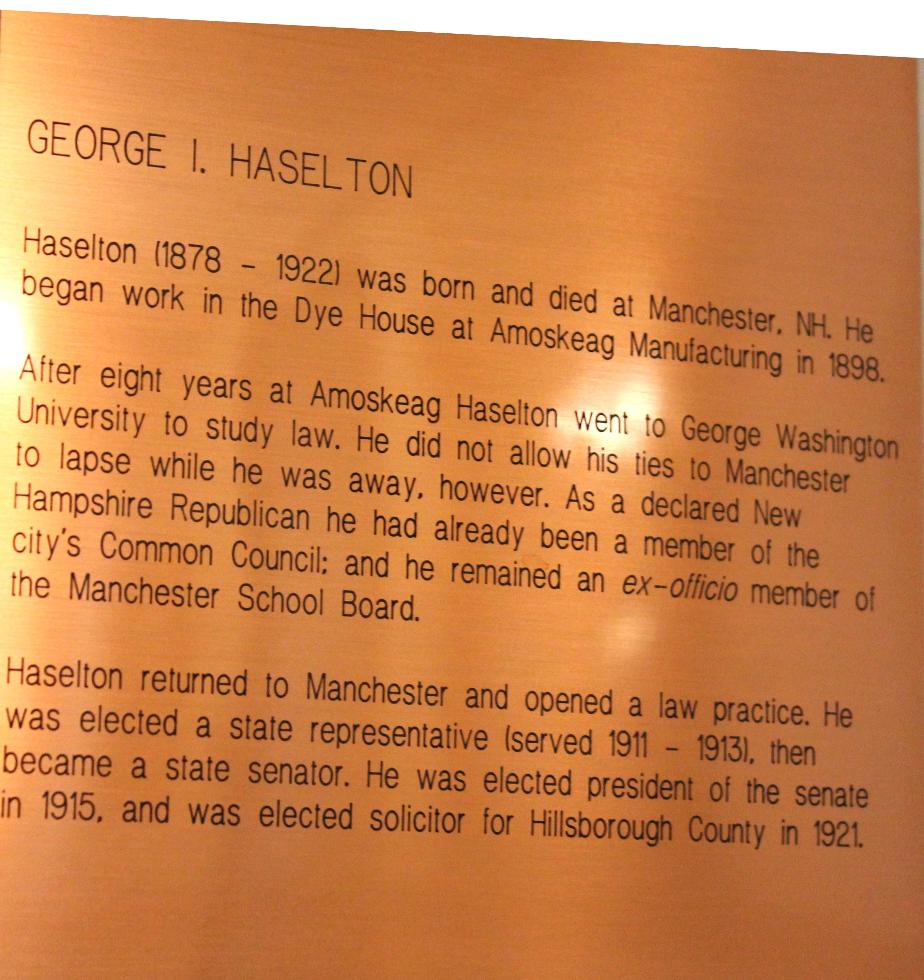 Governor Natt Head: 1879 - 1880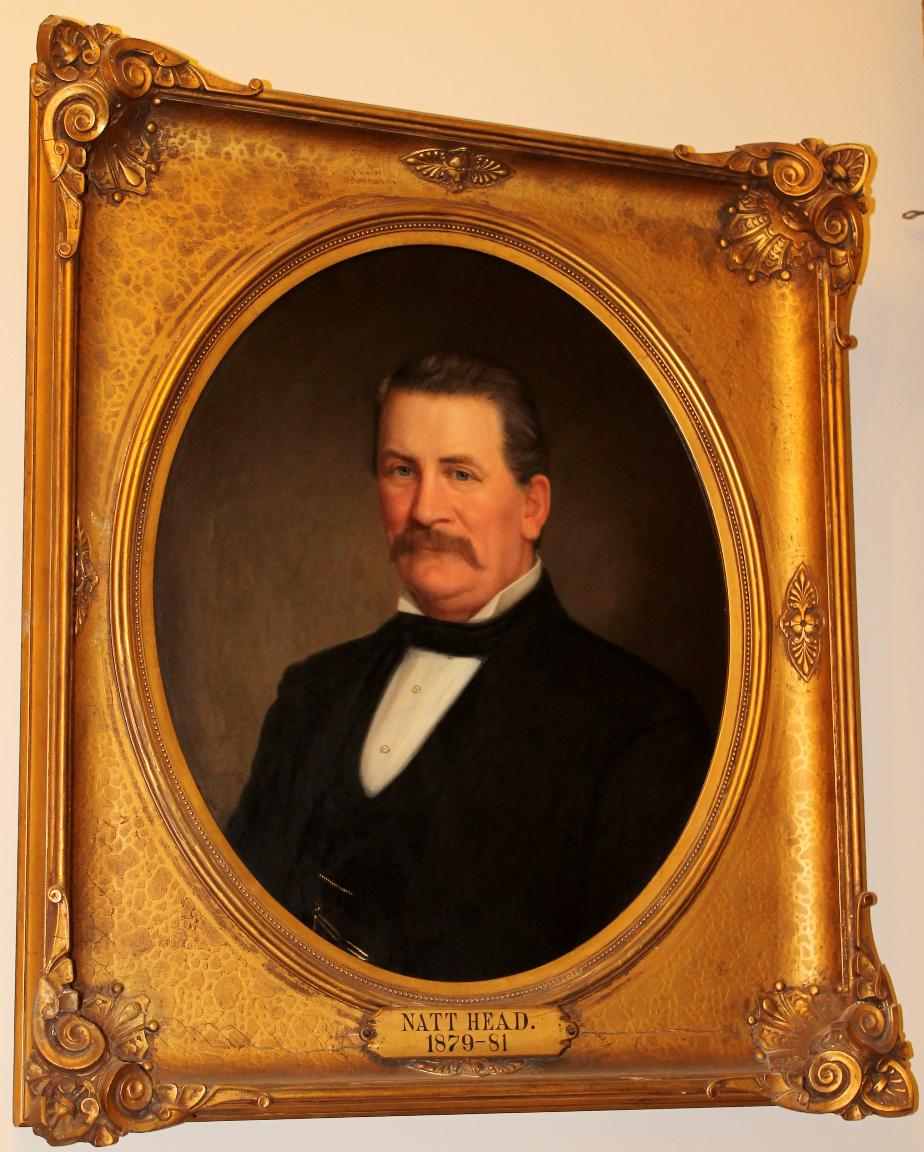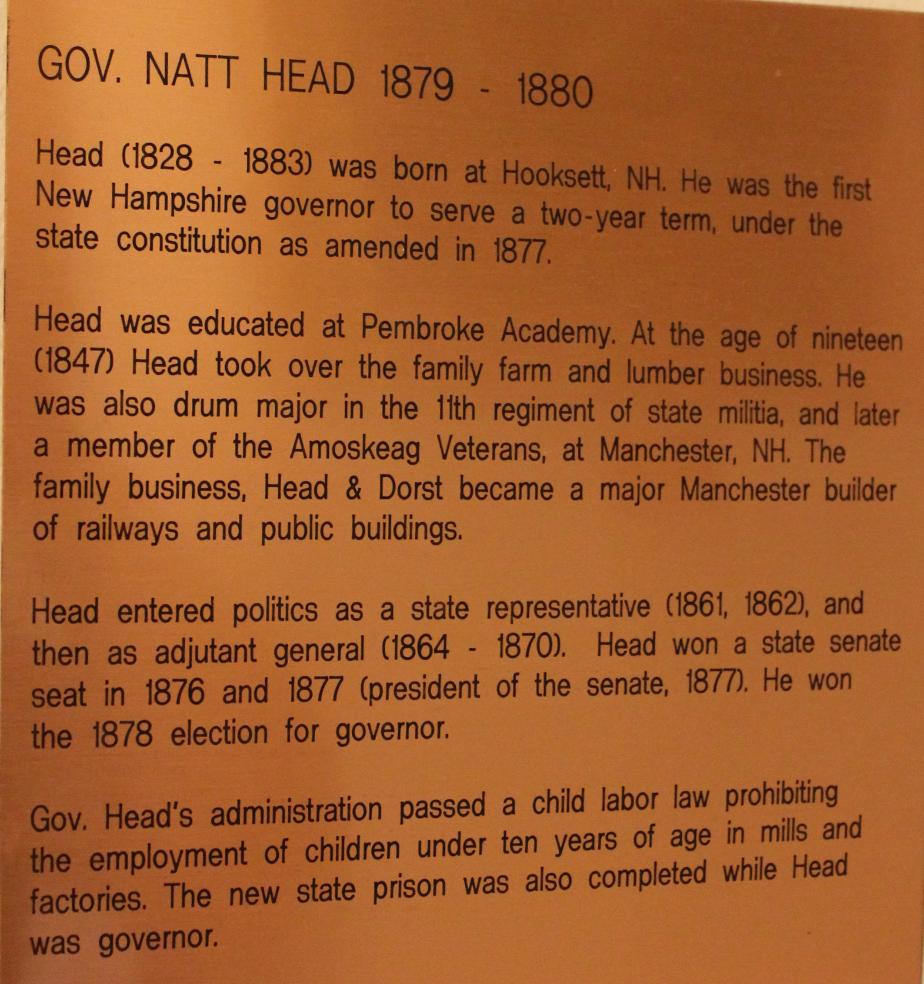 Governor Isaac Hill: 1836 - 1839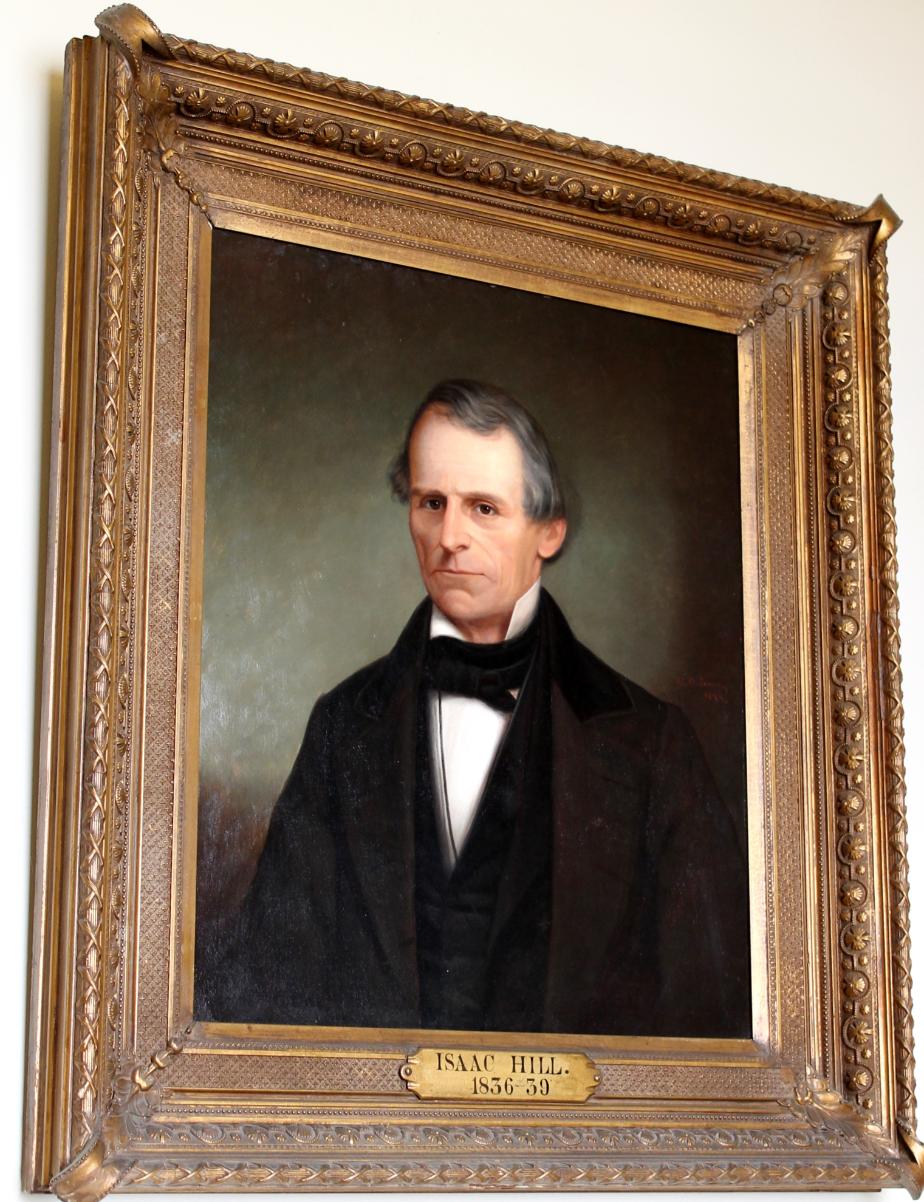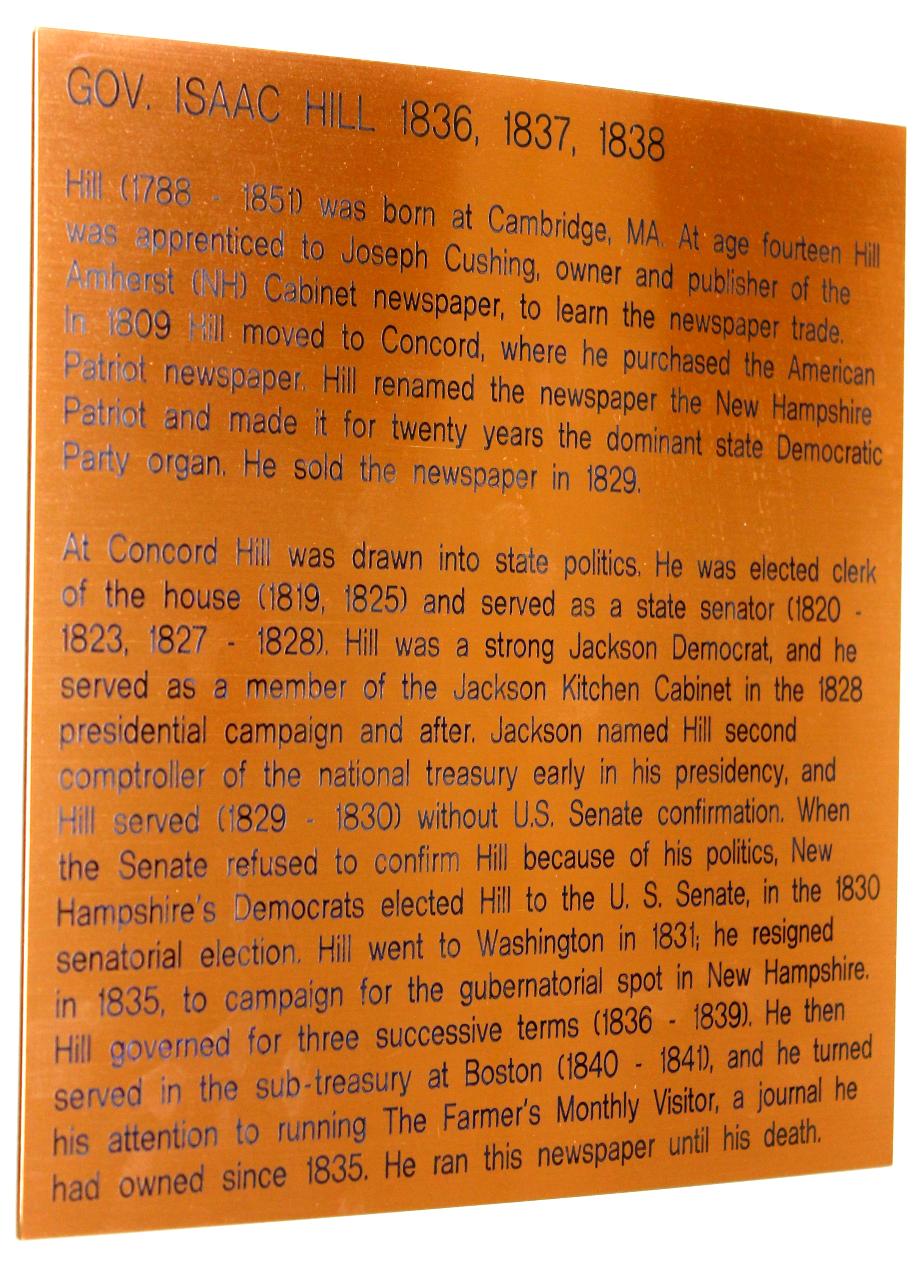 Henry Hubbard: NH Governor 1842-1844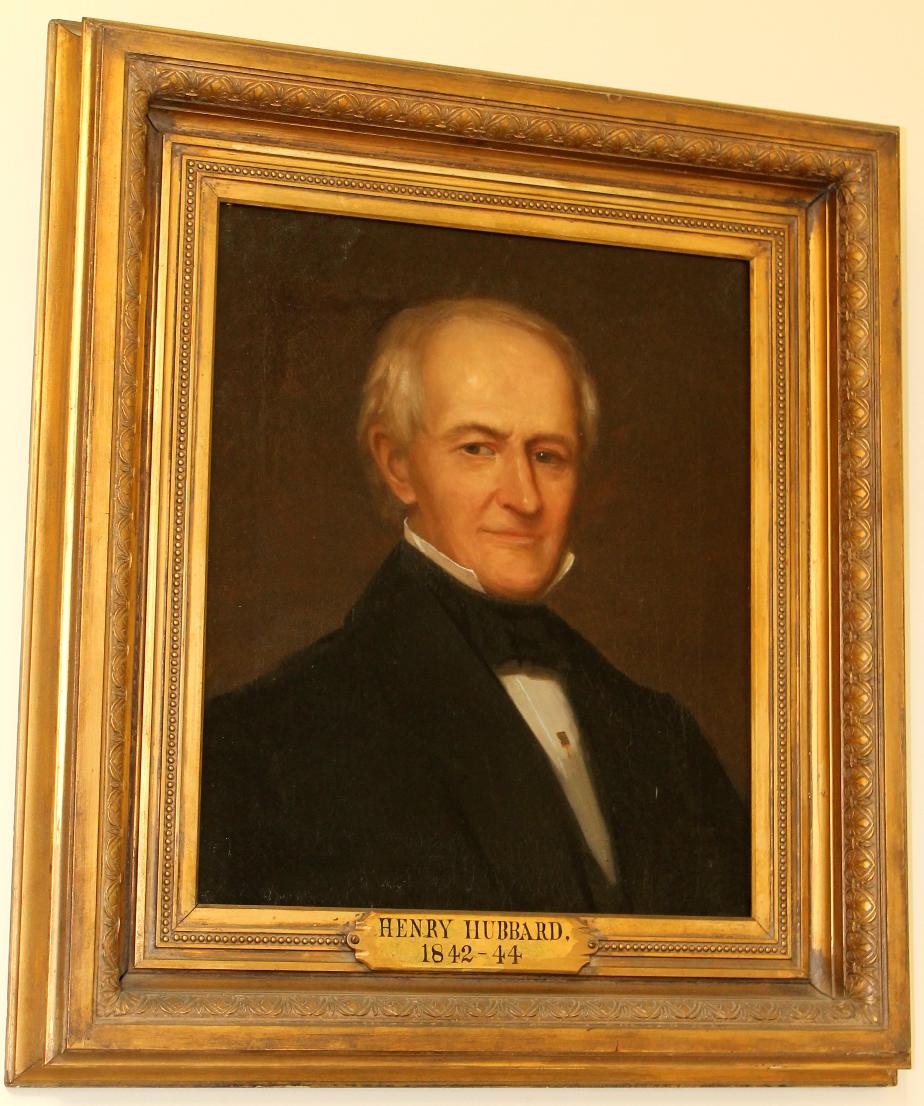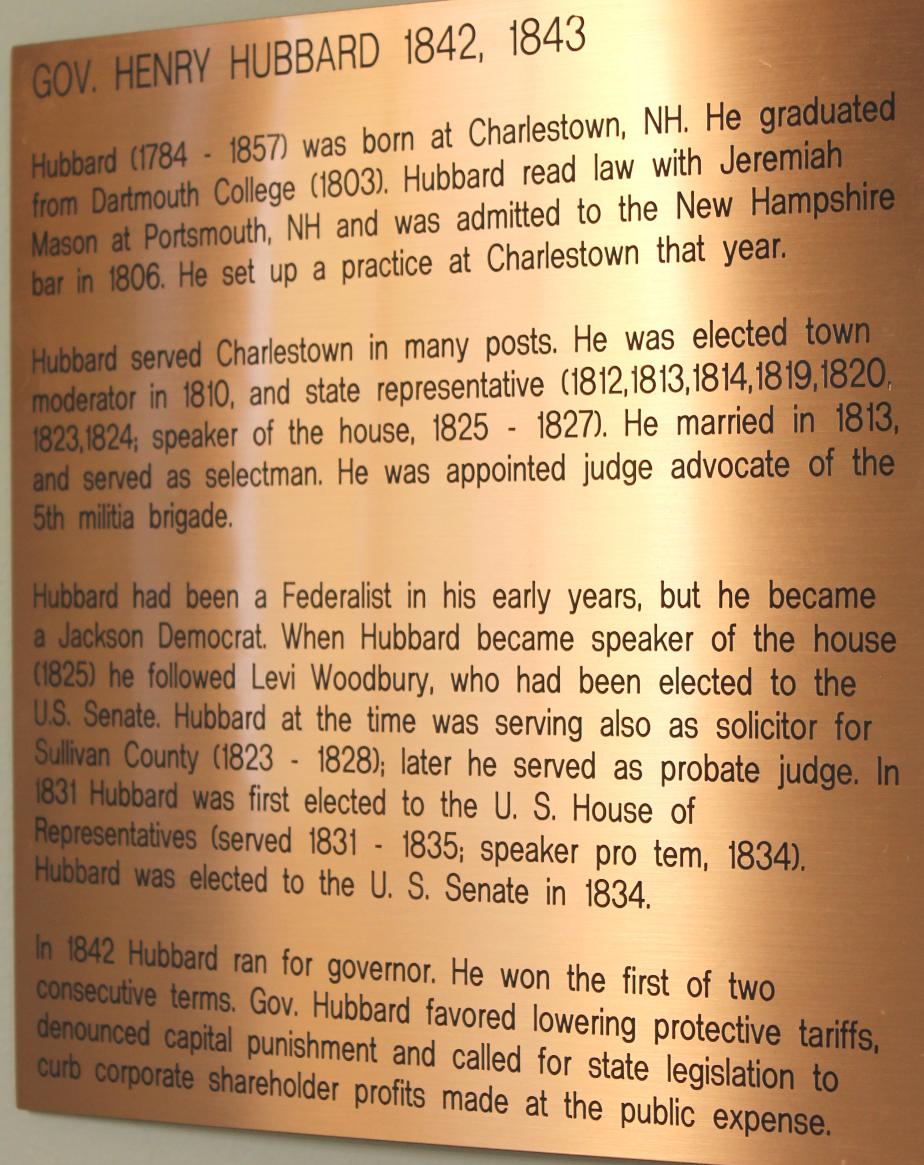 Richard Jenness (Deerfield) - President of Senate 1805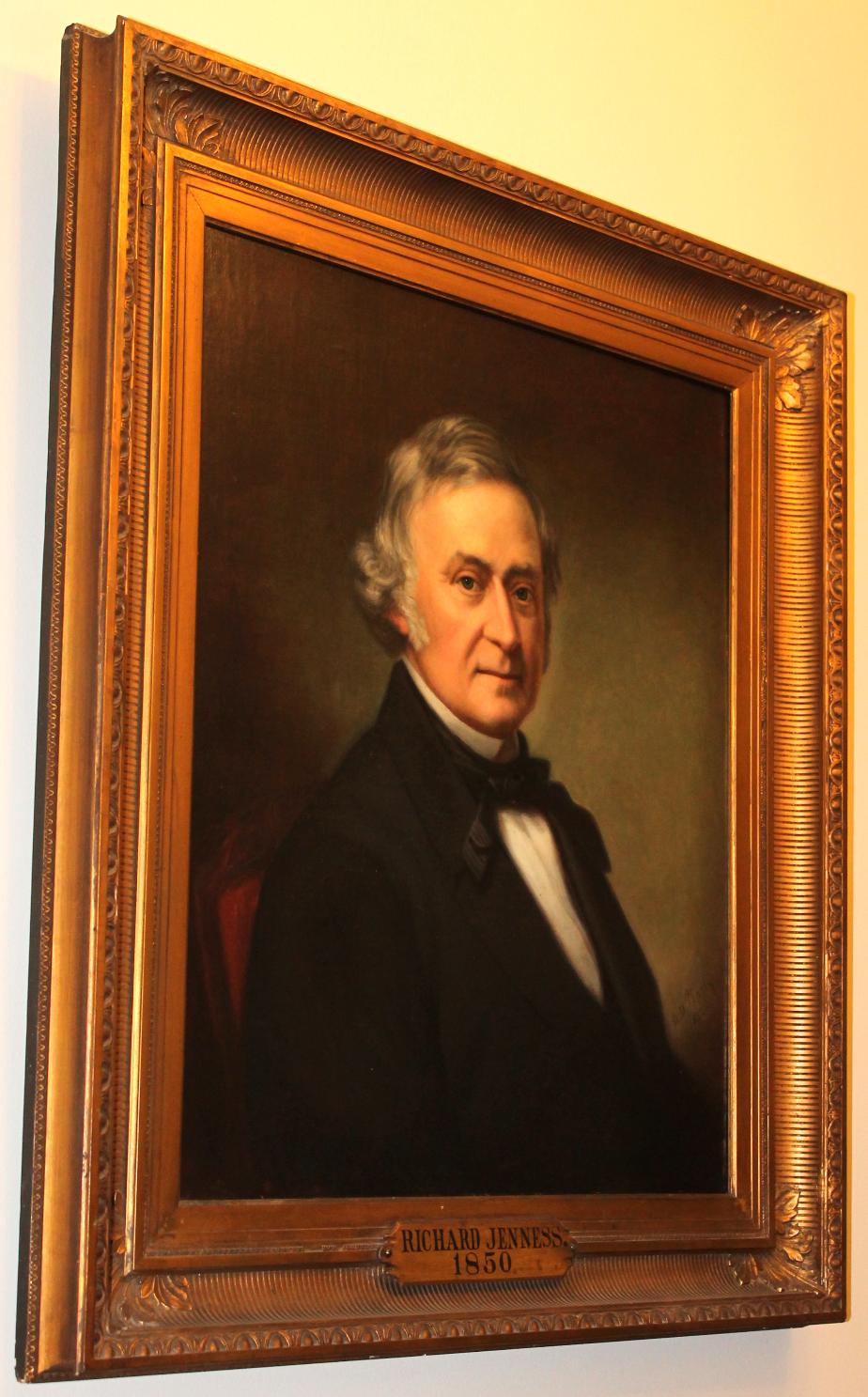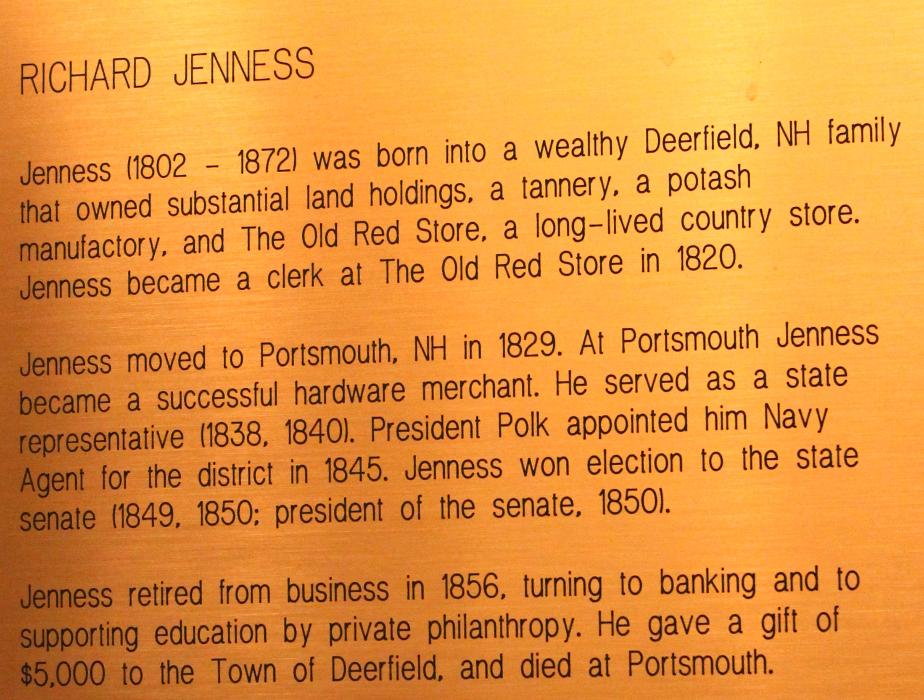 Governor Chester B Jordan 1901 - 1903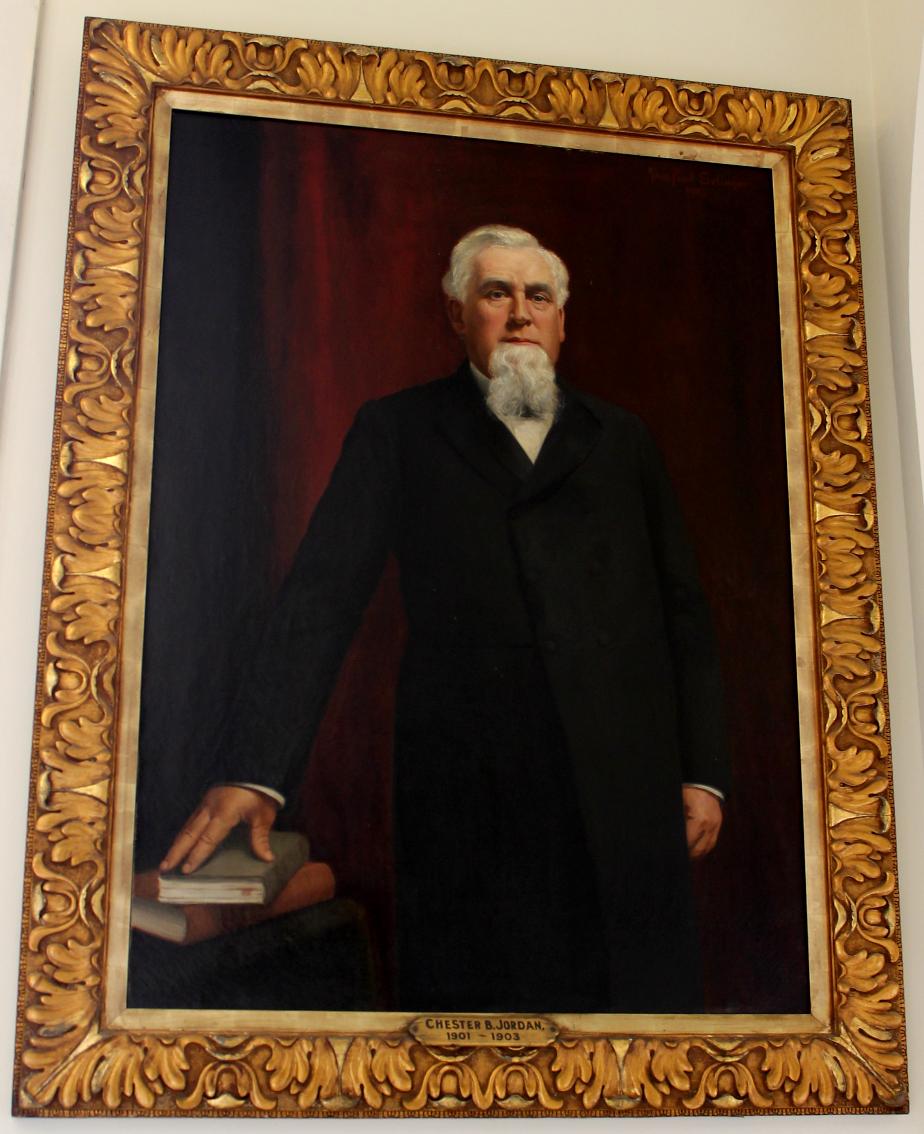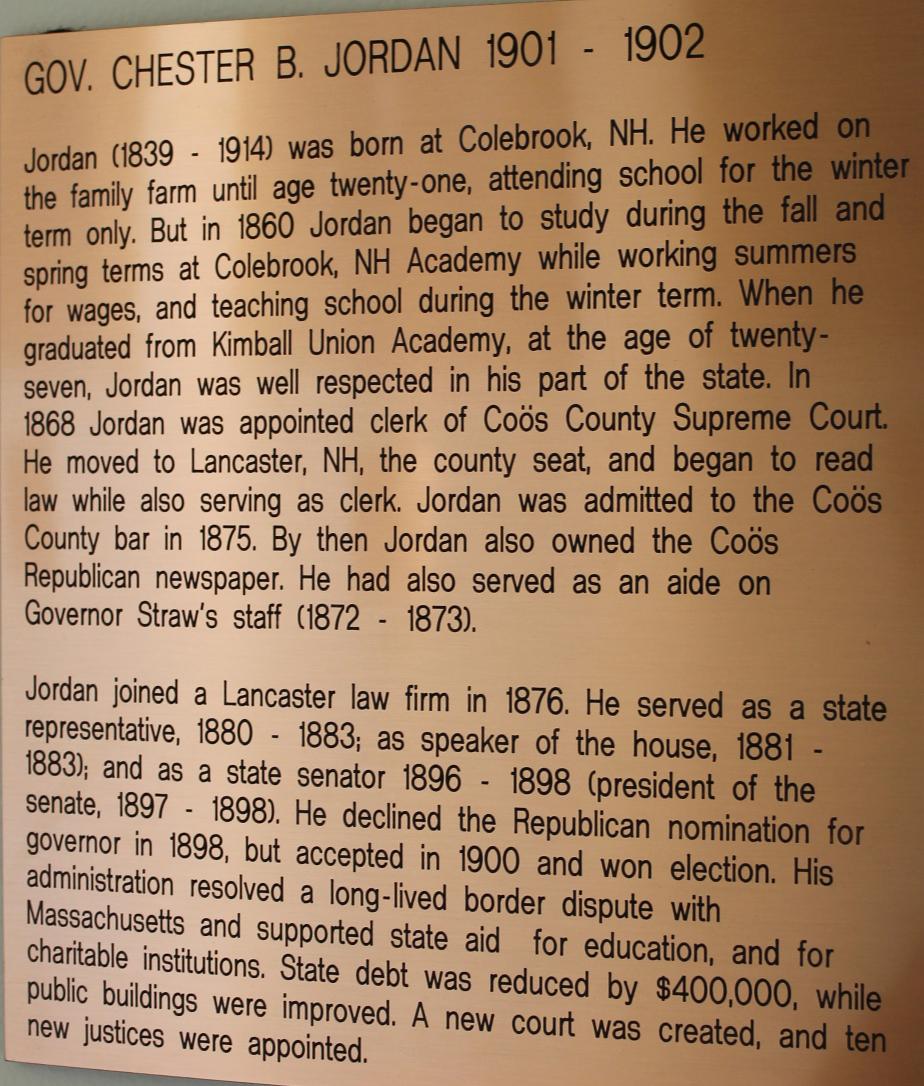 John H Kent - Portsmouth City Marshall -
Sheriff of Rockingham County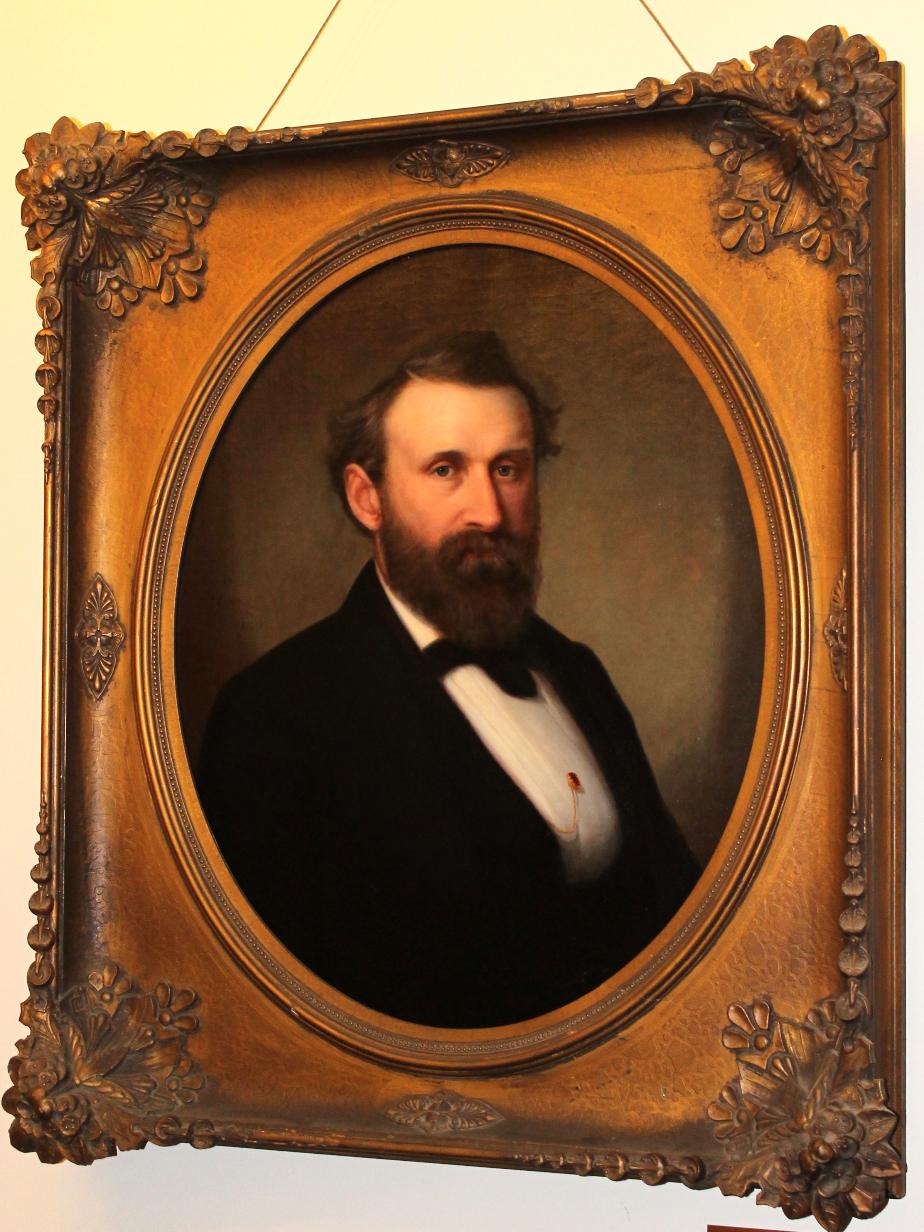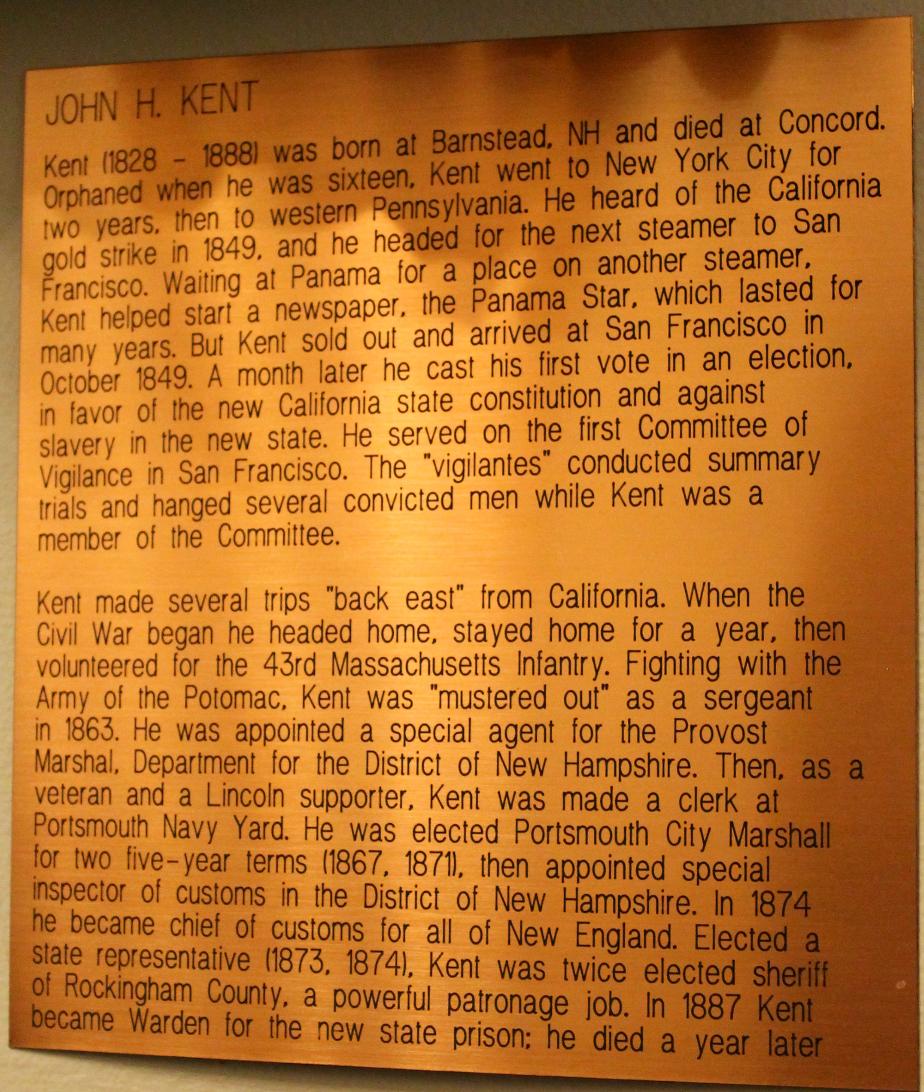 Governor Henry W. Keyes - 1917 - 1918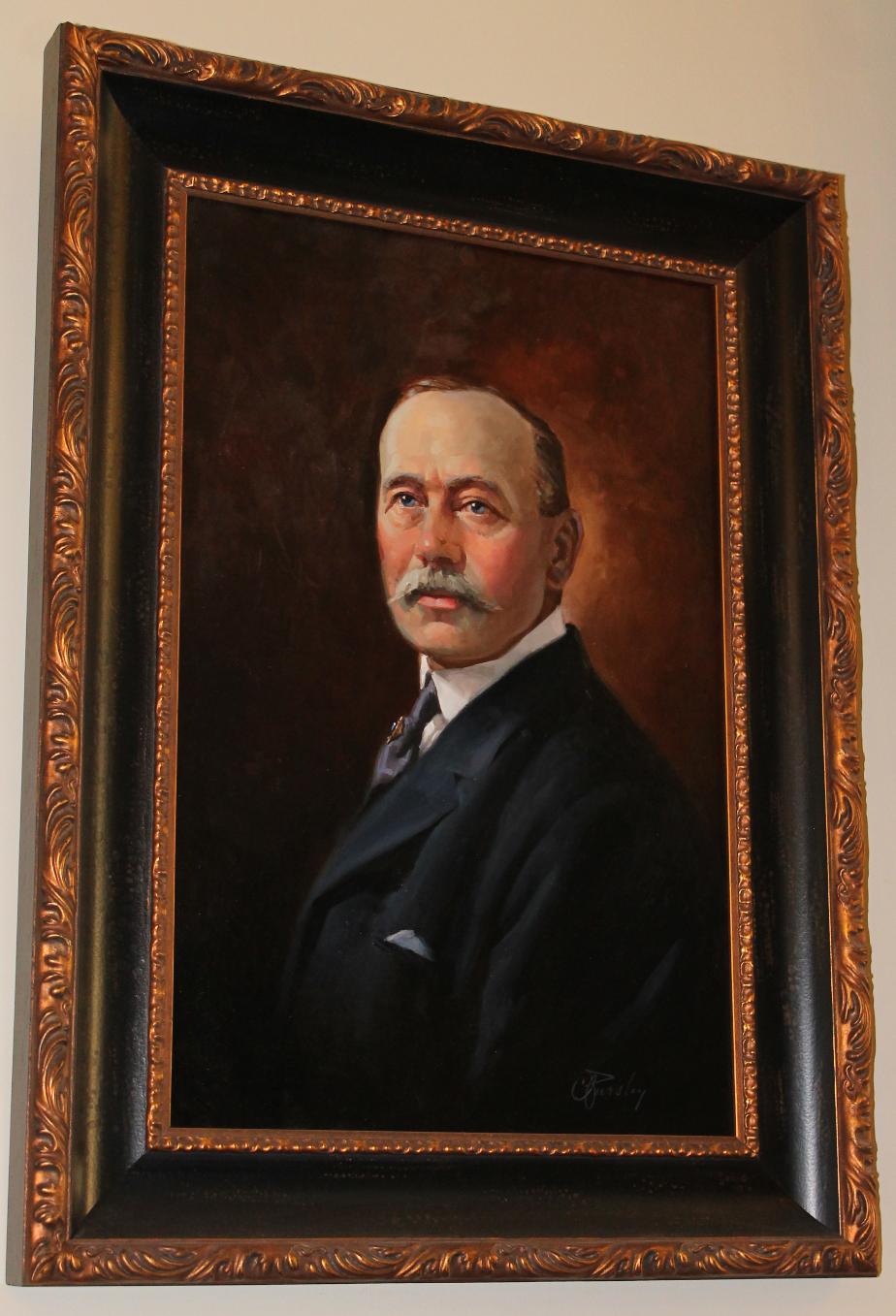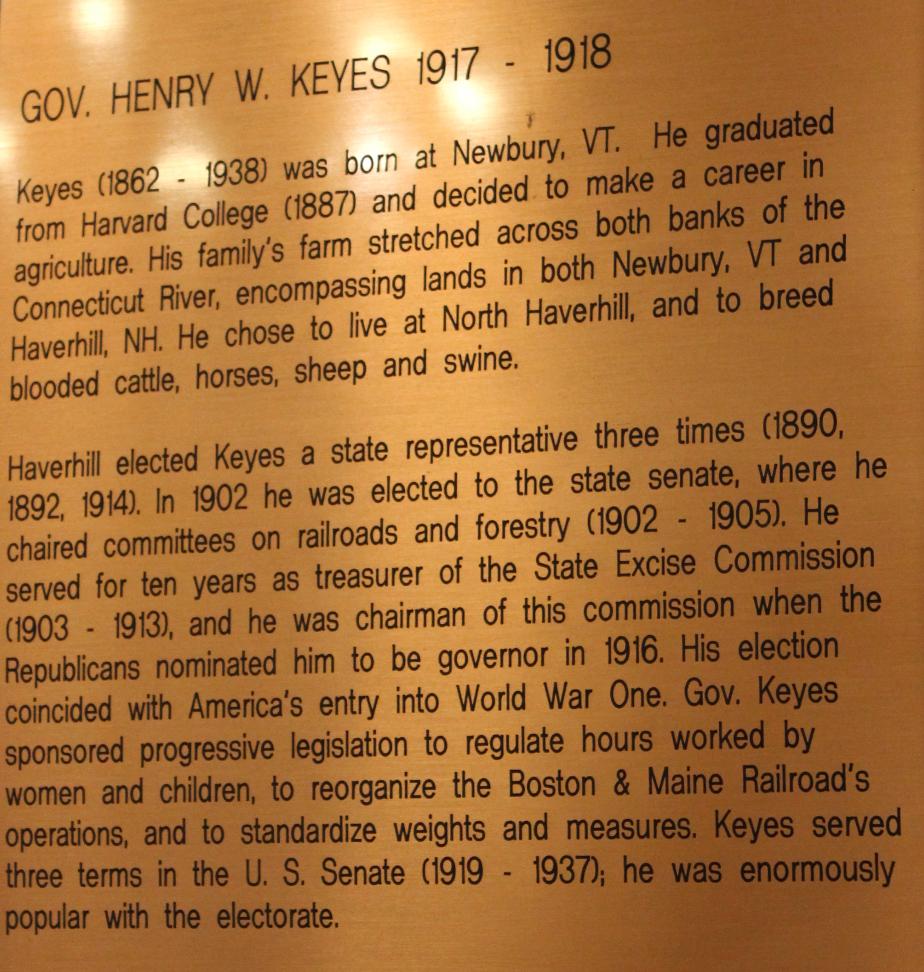 John W. King (Manchester) Governor 1963 - 1969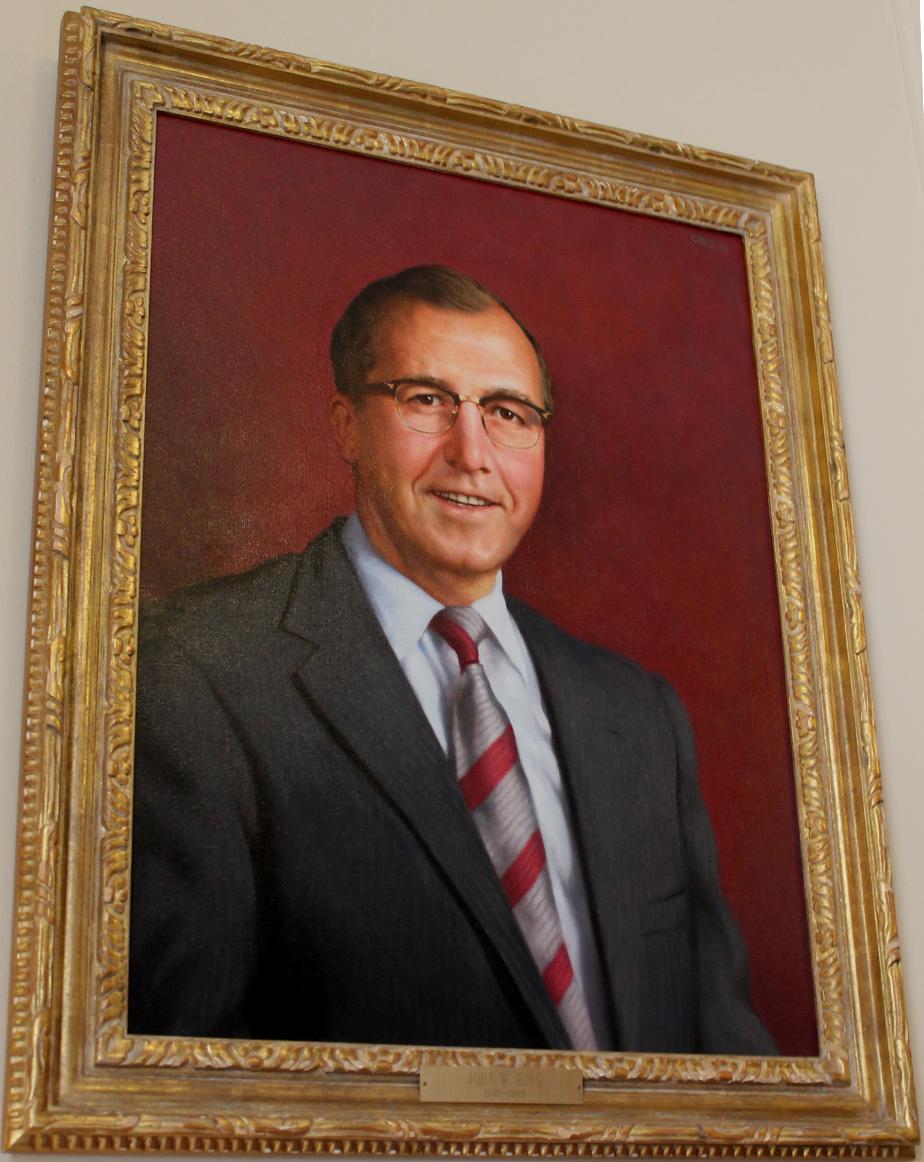 Woodbury Langdon - State House Senate Chamber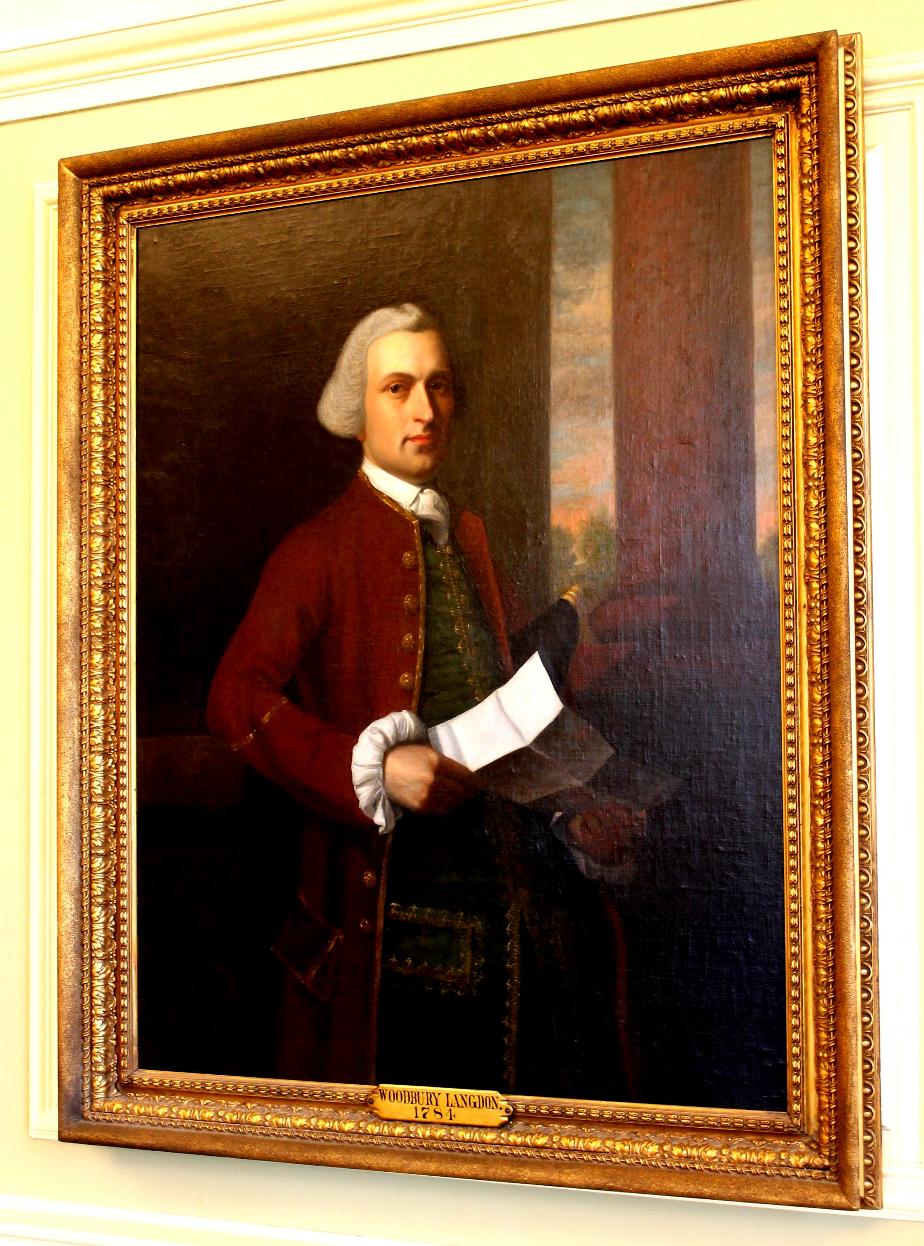 Woodbury Langdon, (brother of John Langdon), a Delegate from New Hampshire; born in Portsmouth, N.H., in 1739; attended the public schools; engaged in mercantile pursuits; prominent in pre-Revolutionary affairs and throughout the war; served in the state house of representatives in 1778 and 1779; Member of the Continental Congress in 1779; member of the state executive council 1781-1784; judge of the state superior court in 1782 and again from 1786 to January 1791, when he resigned; appointed in December 1790 by President Washington a commissioner to settle Revolutionary War claims; died in Portsmouth, N.H., January 13, 1805; interment in the North Cemetery.
Abraham Lincoln - NH State House Legislative Chamber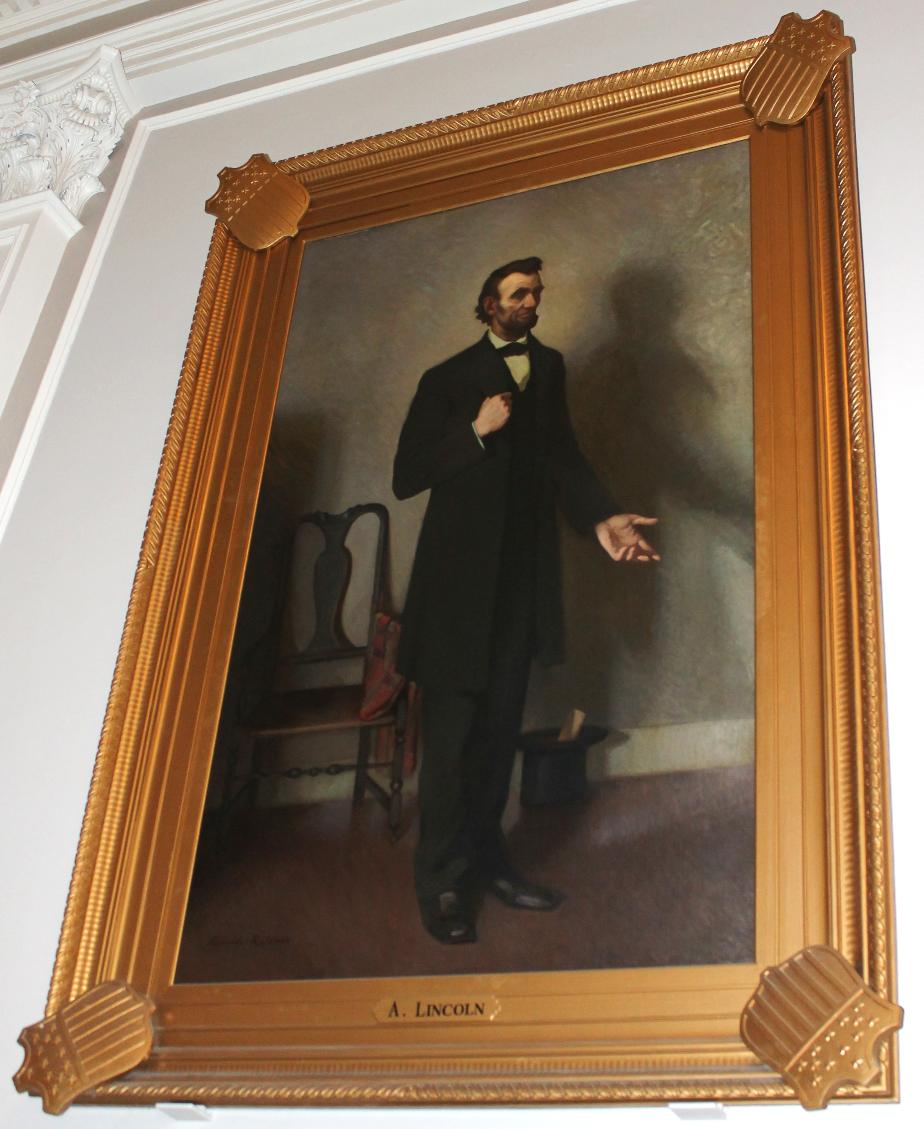 Harry T Lord - NH State Senate President 1909-1910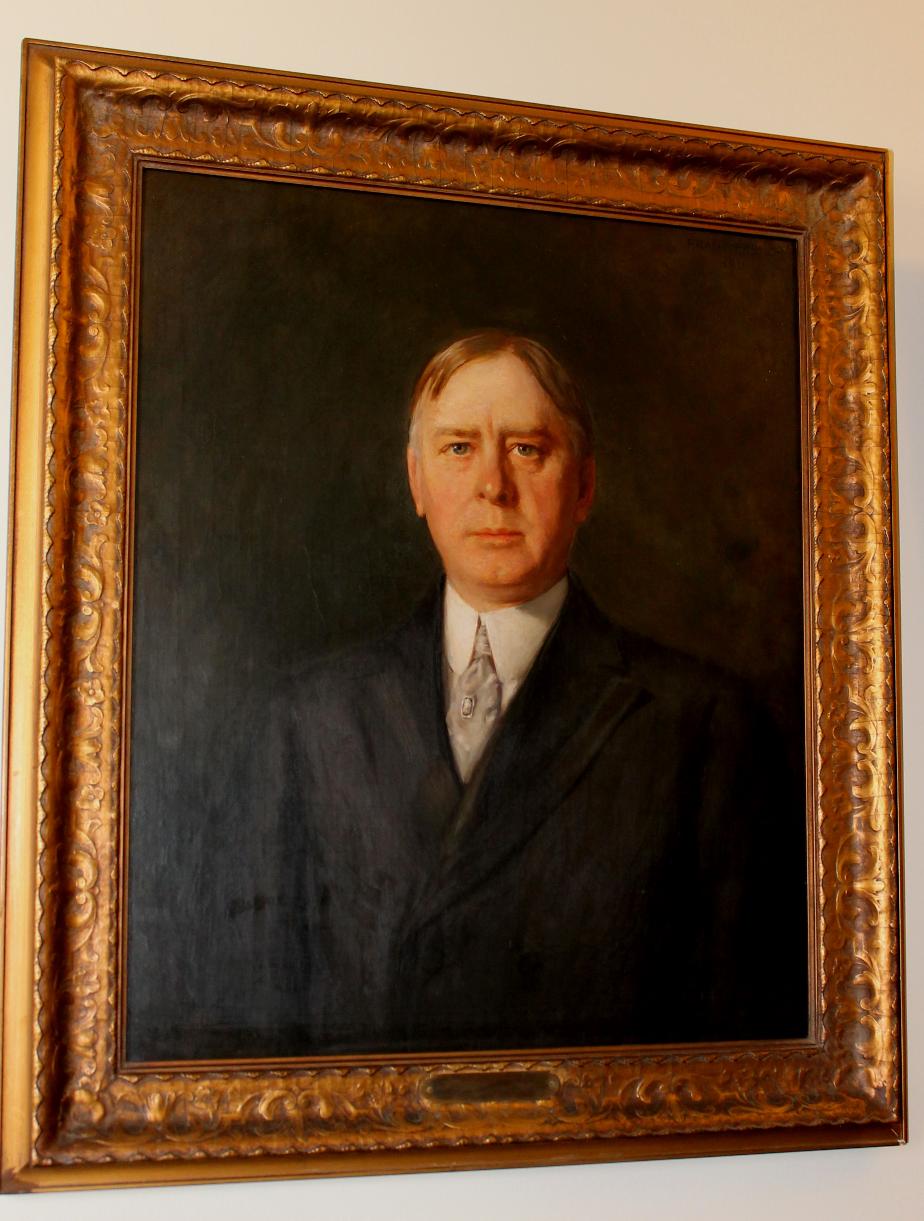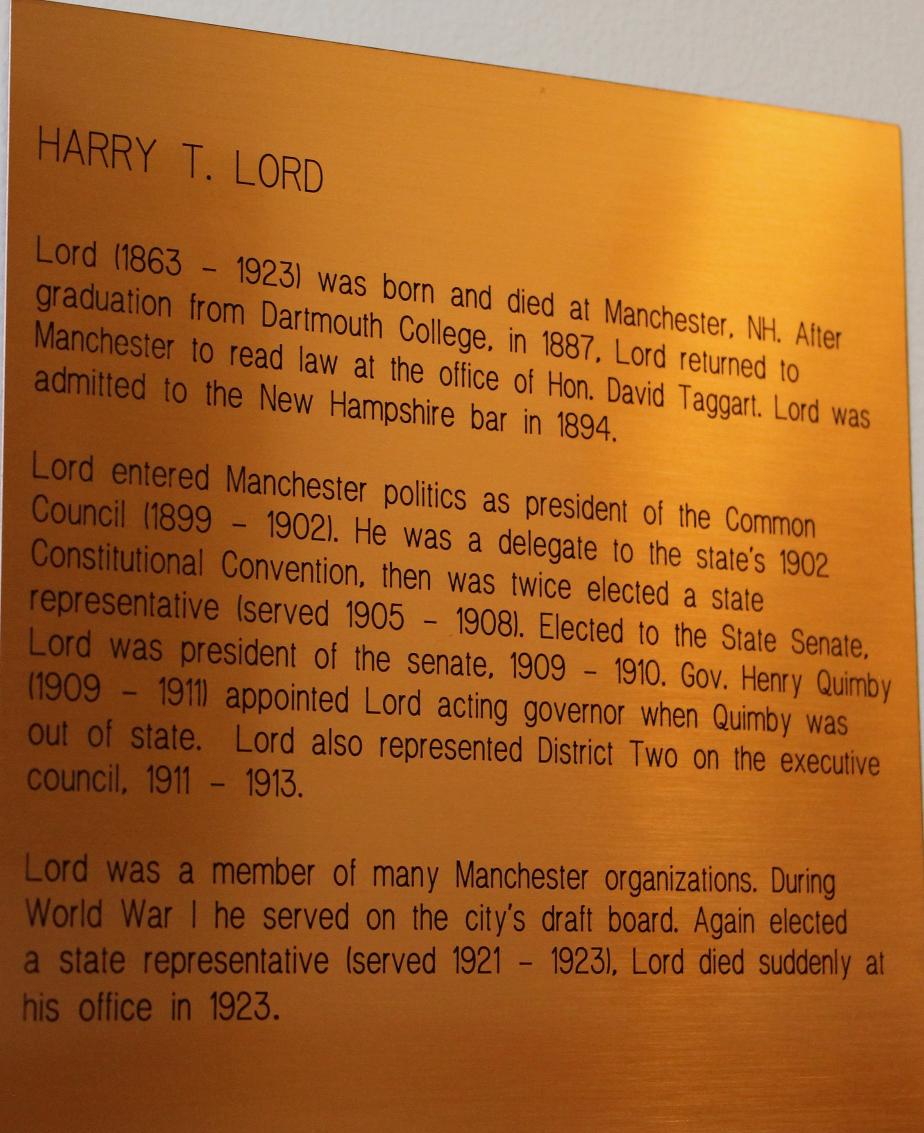 Governor Noah Martin - 1852 - 1854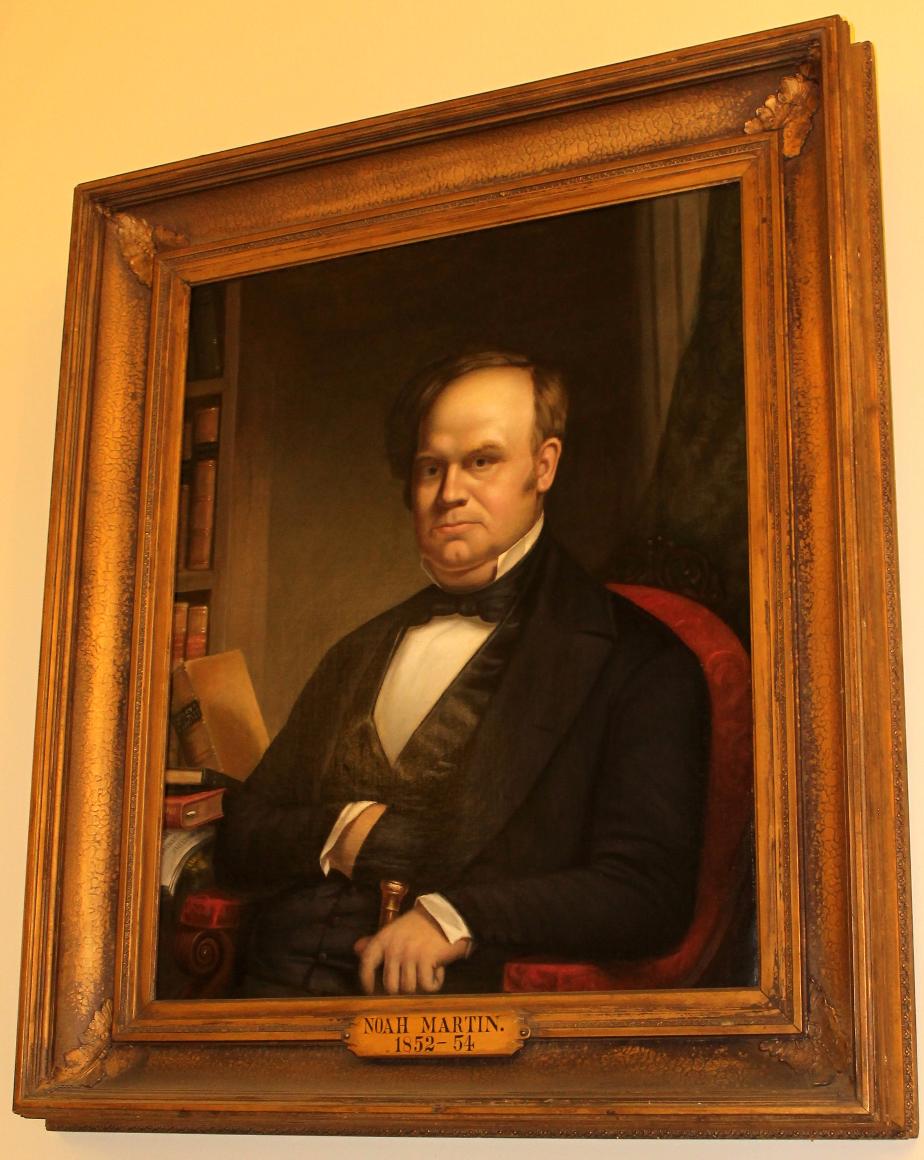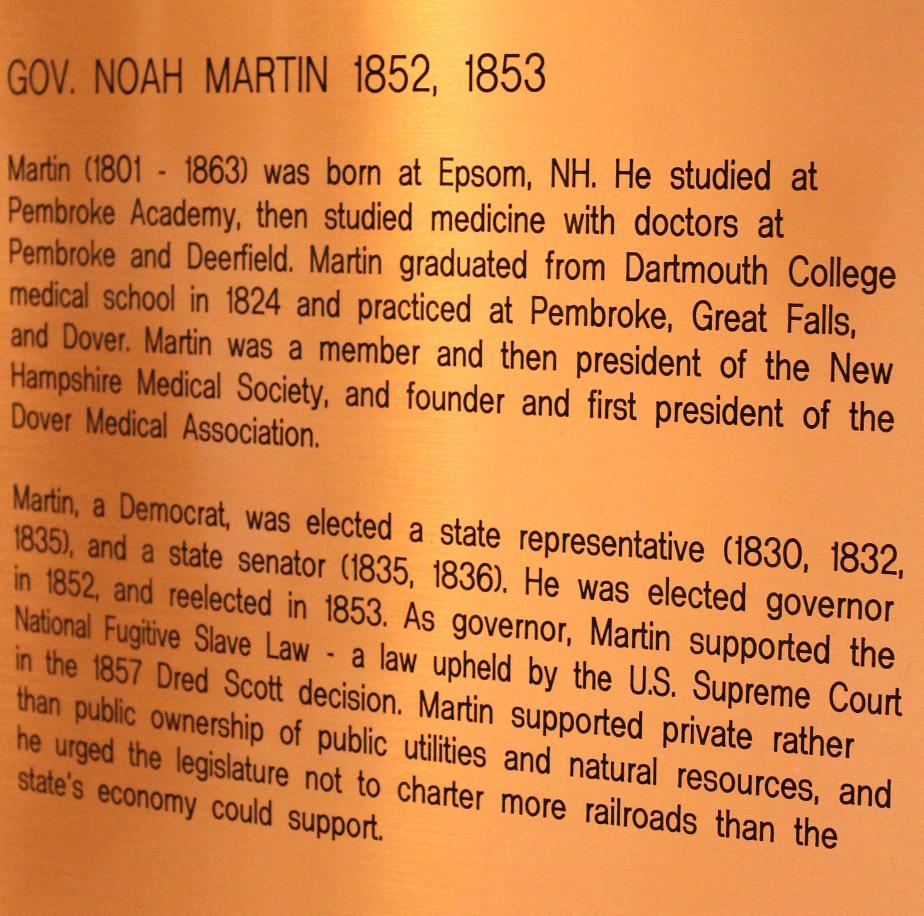 Senator Thomas J. McIntyre (Laconia)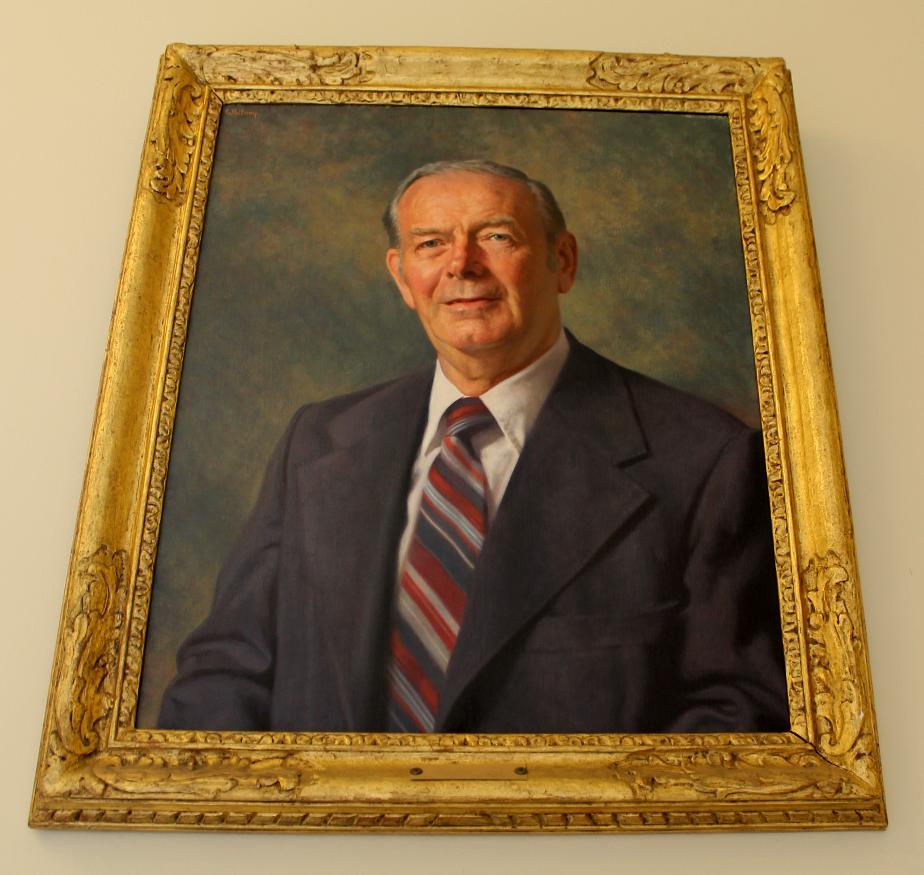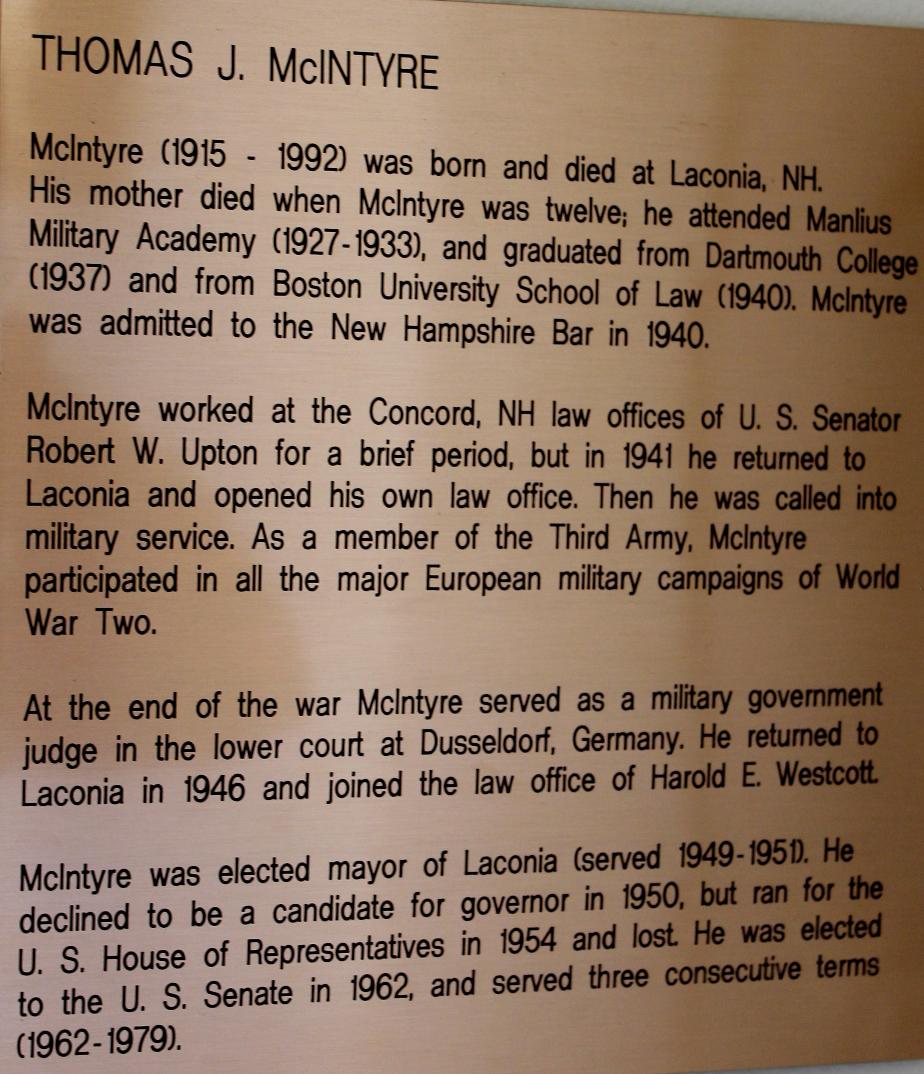 Governor John McLane 1905 - 1907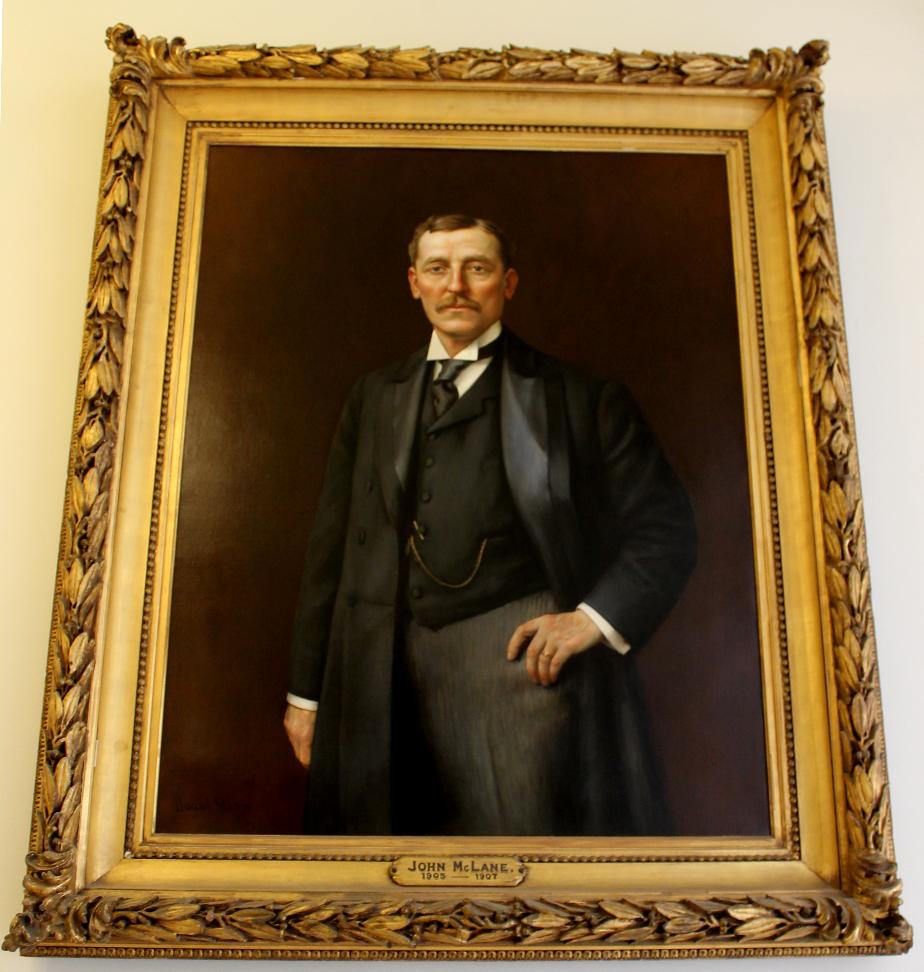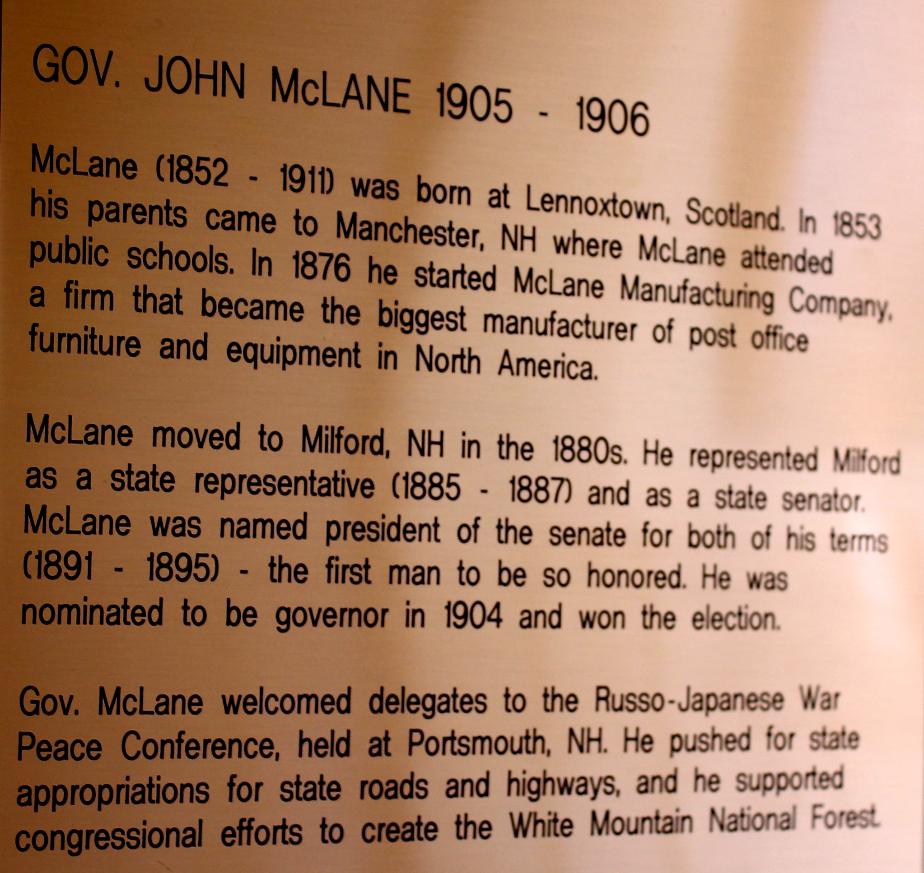 General John McNeil (Hillsborough) 1784 - 1850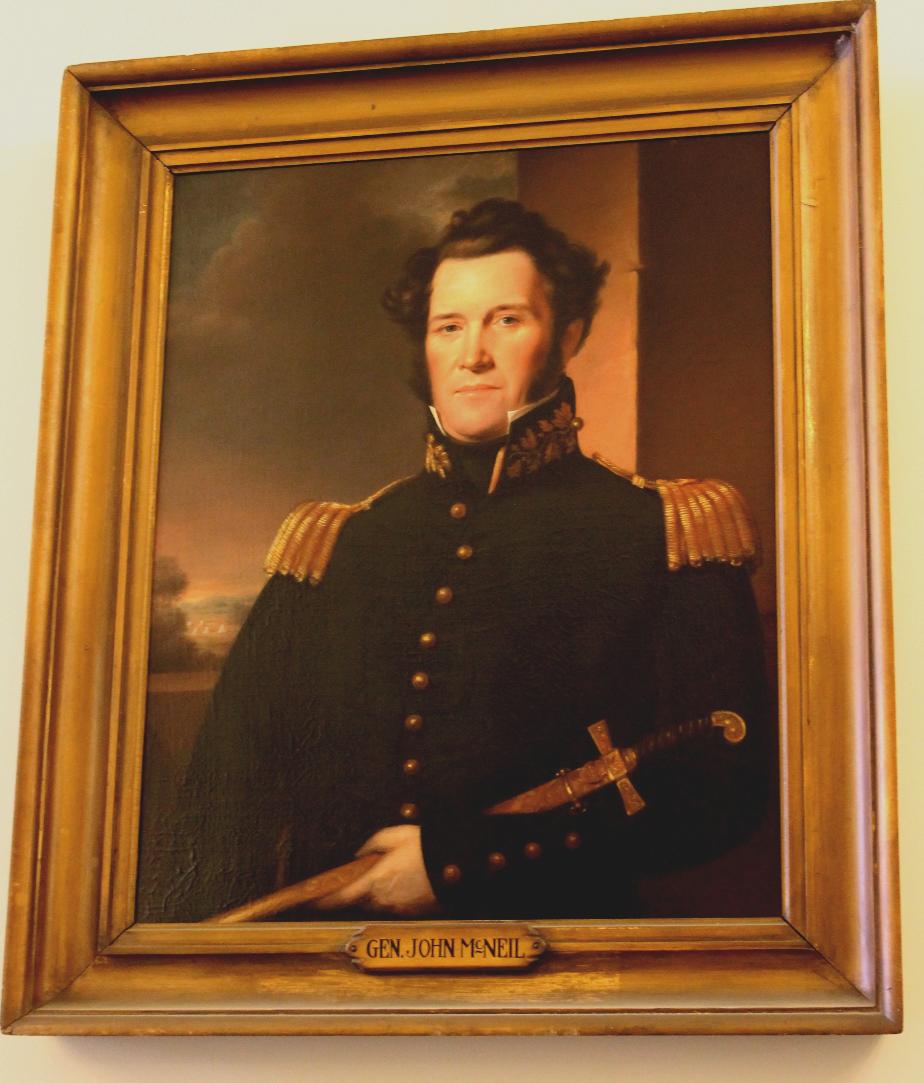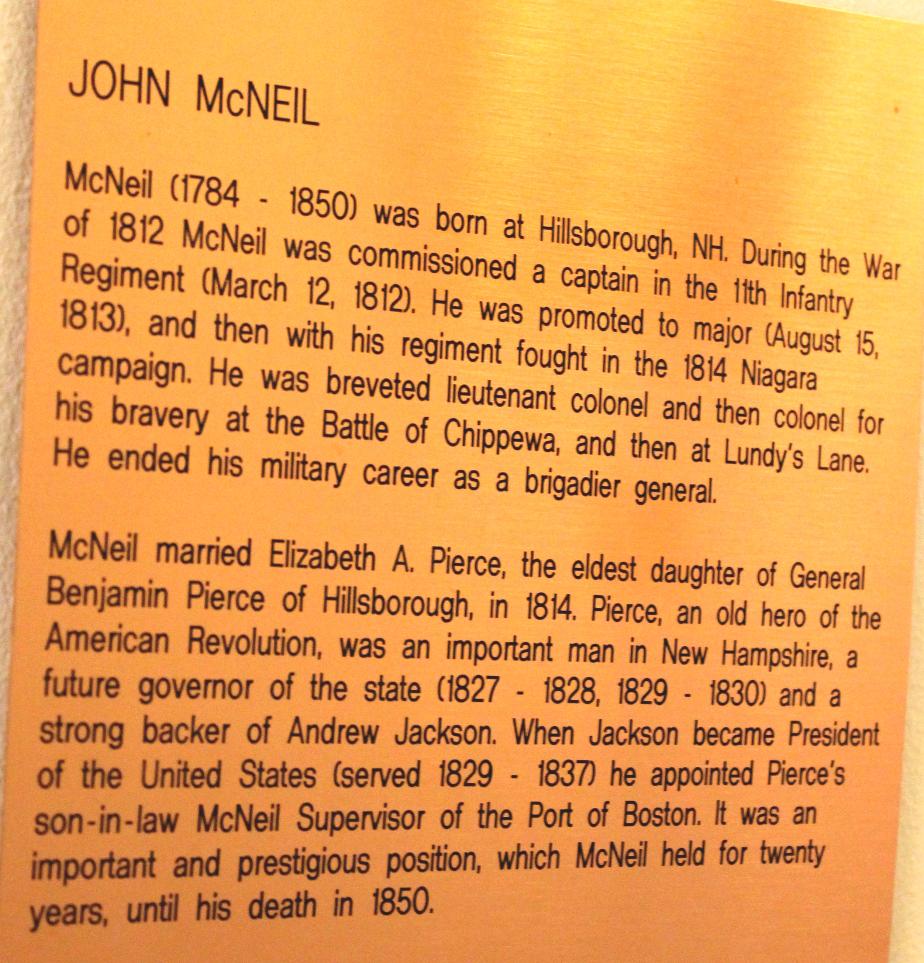 Governor Ralph Metcalf (Charlestown NH) - 1855 -1856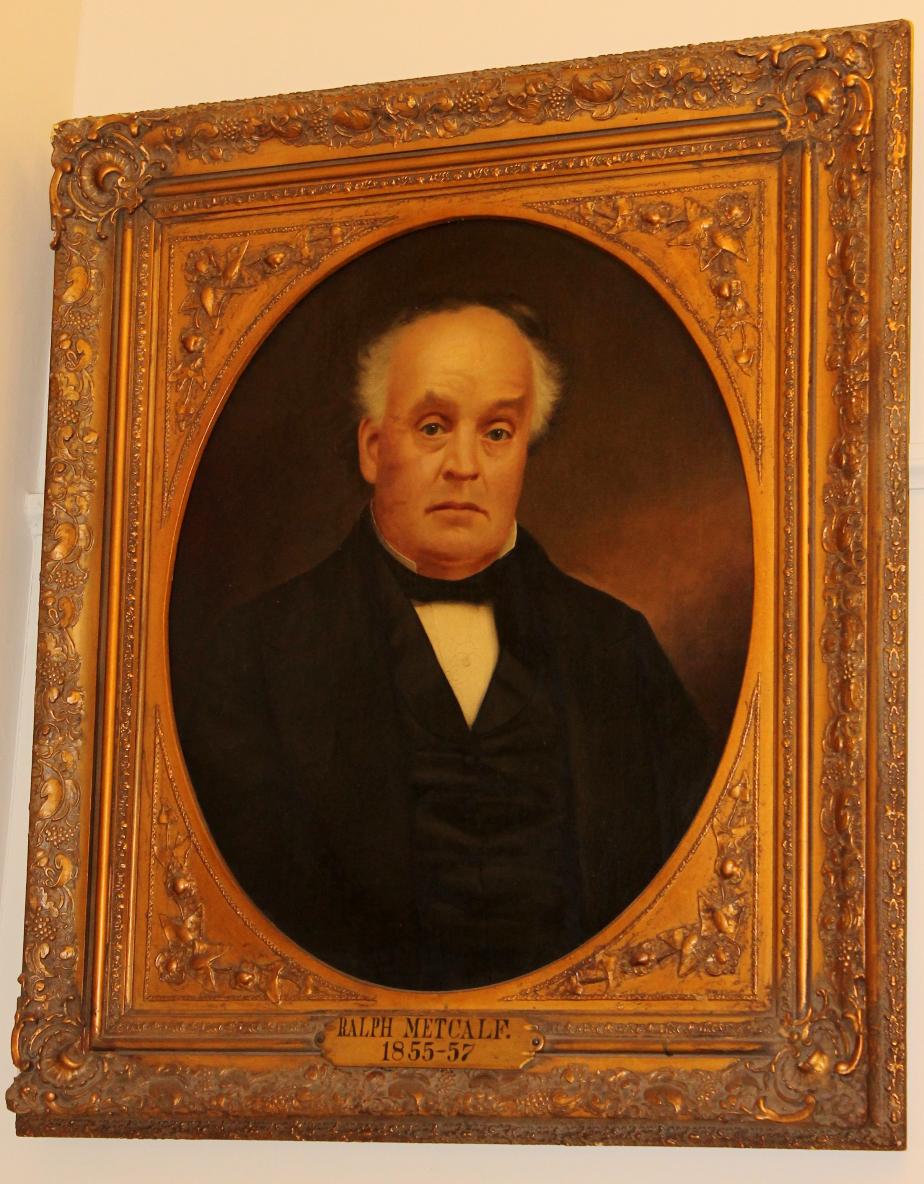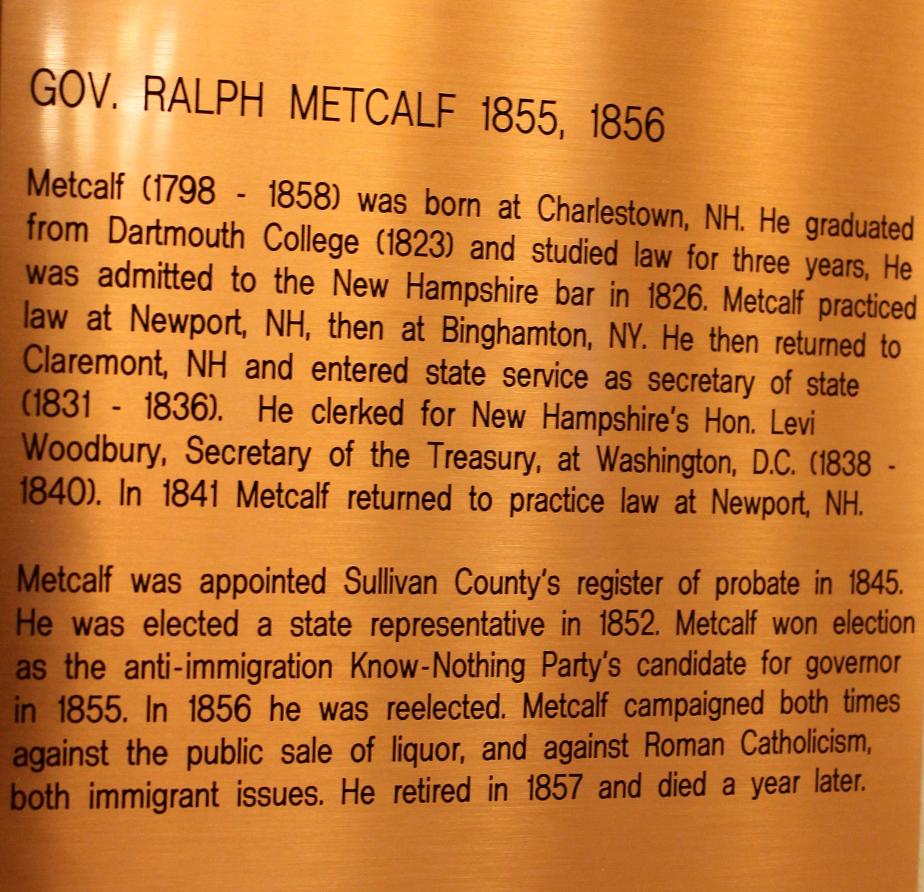 General James Miller, Veteran of the War of 1812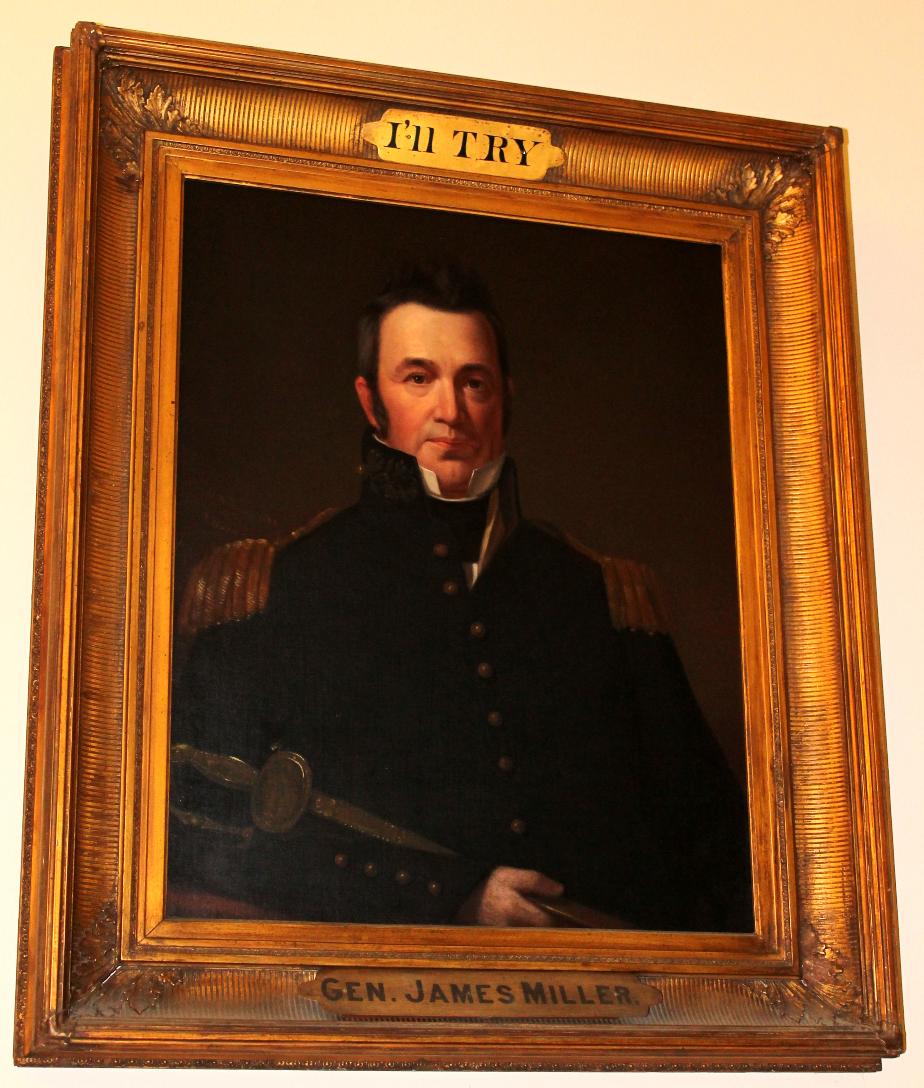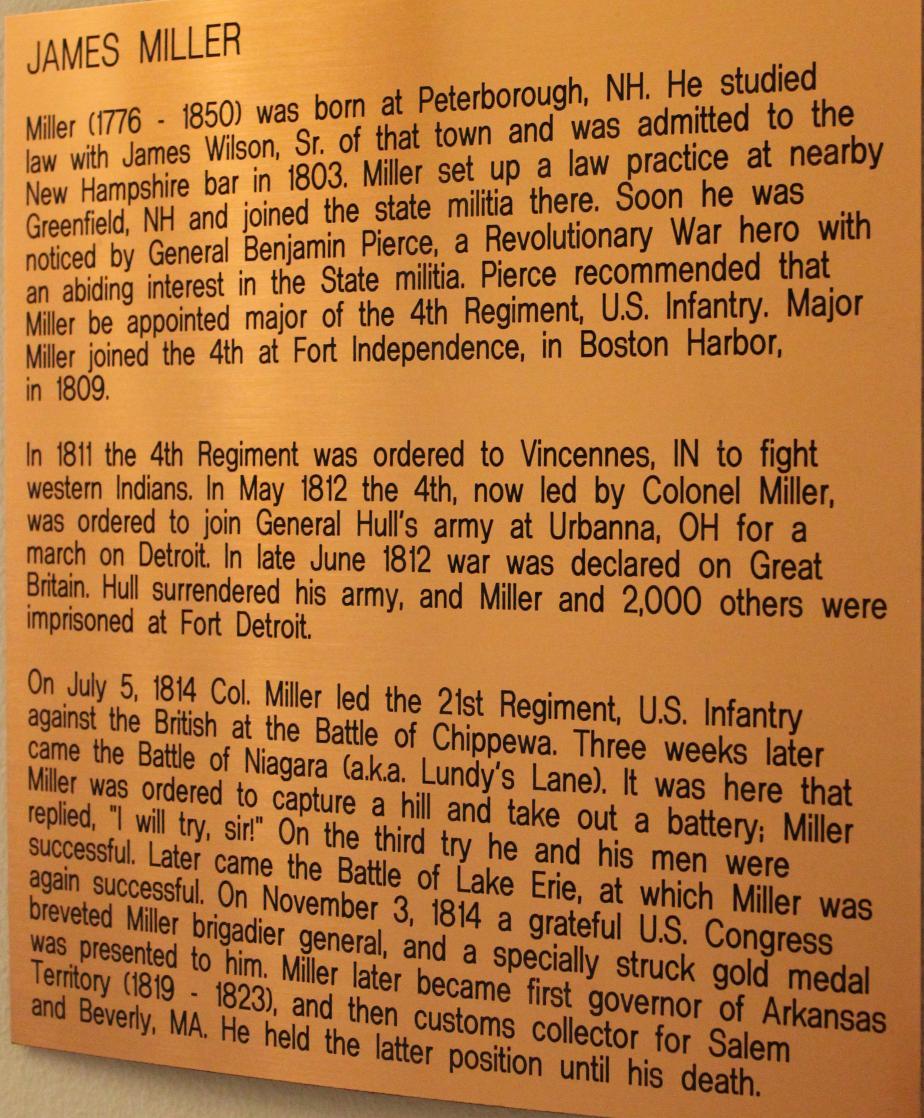 Arthur P Morrill - Speaker of the NHHouse 1917 - 1918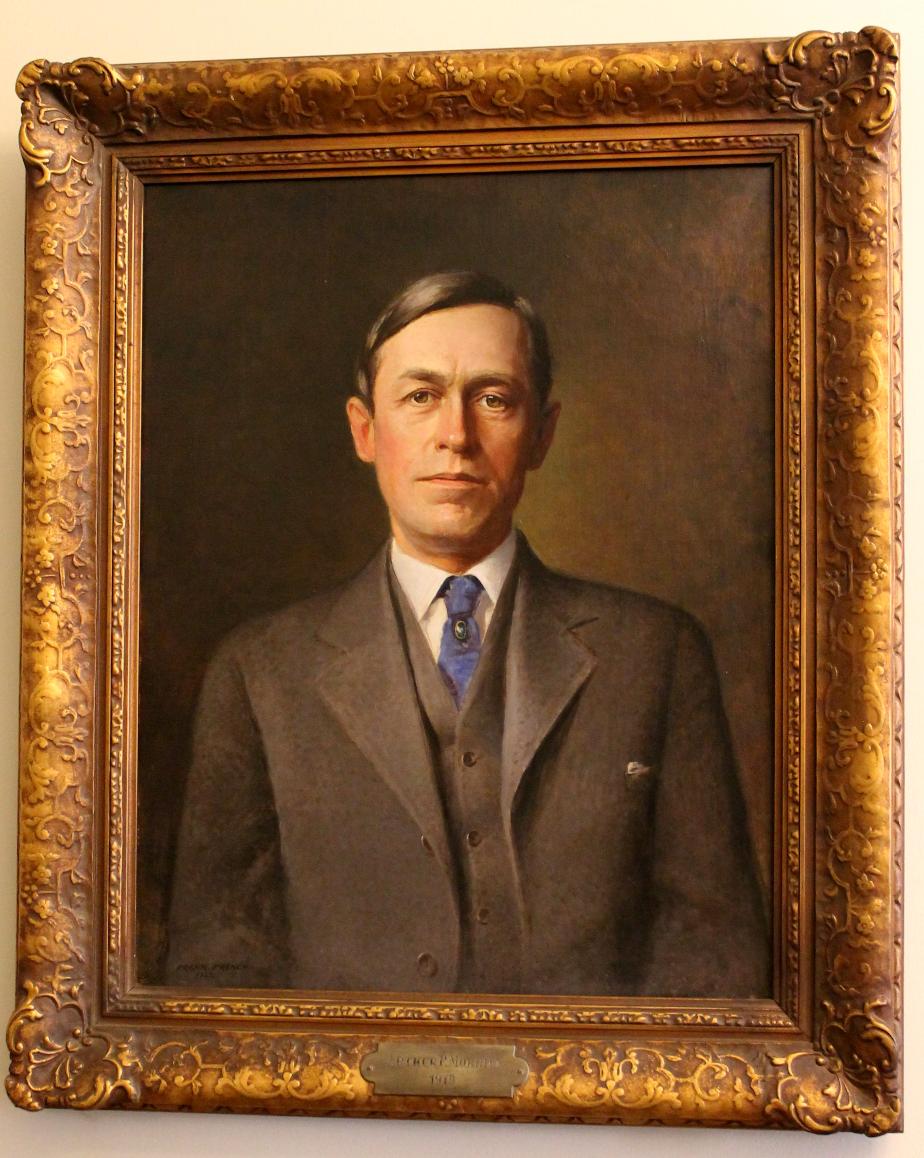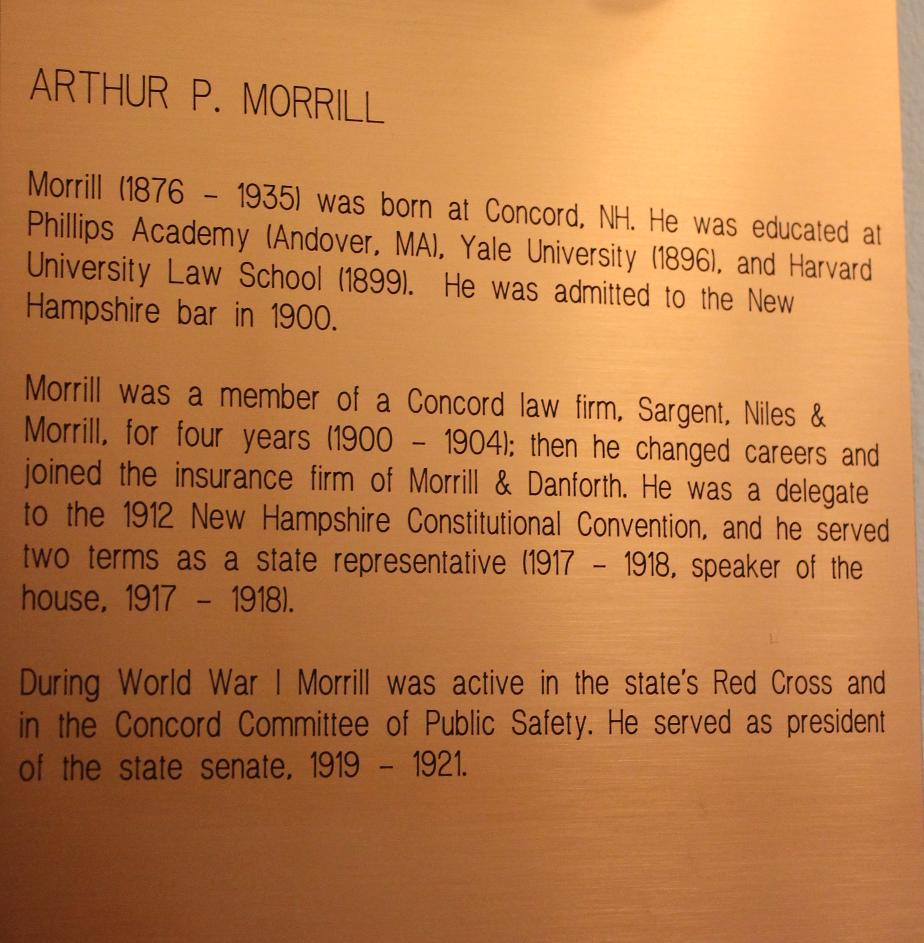 Governor David L. Morril 1824 - 1827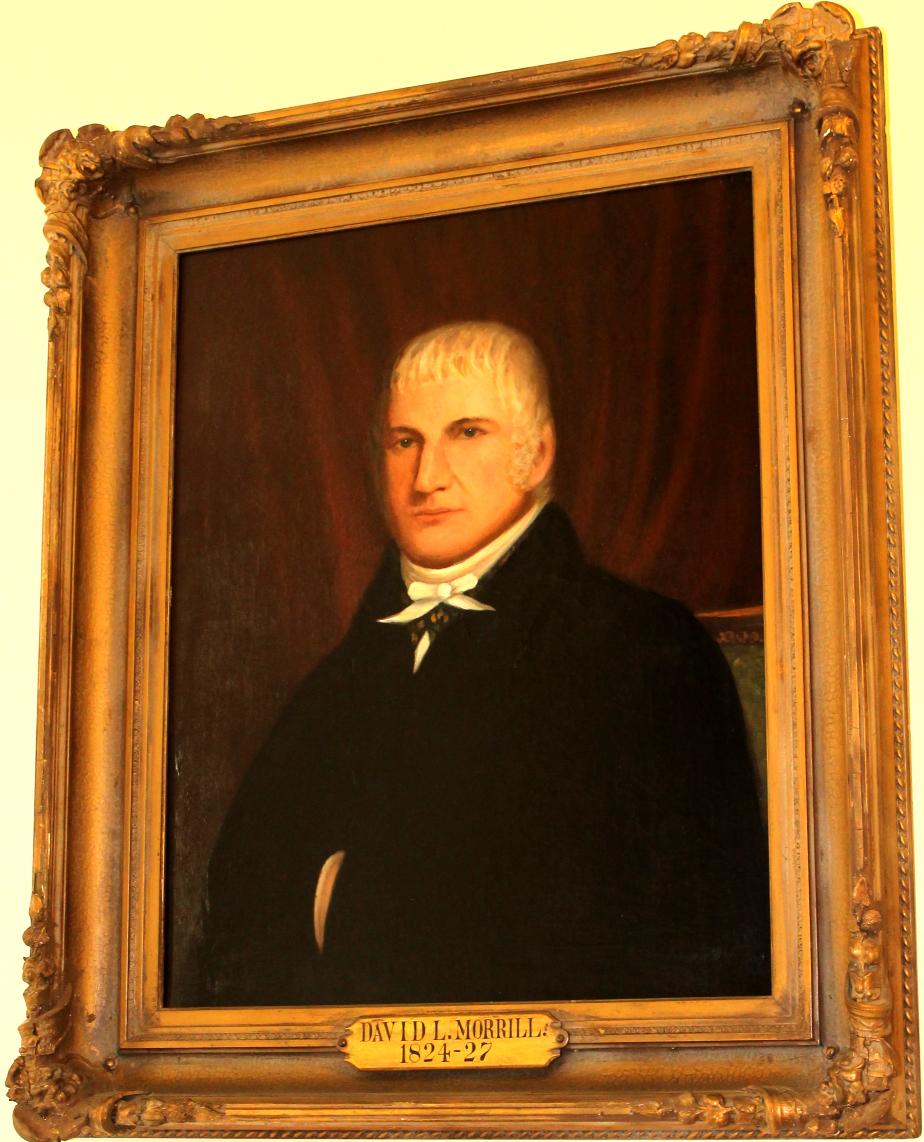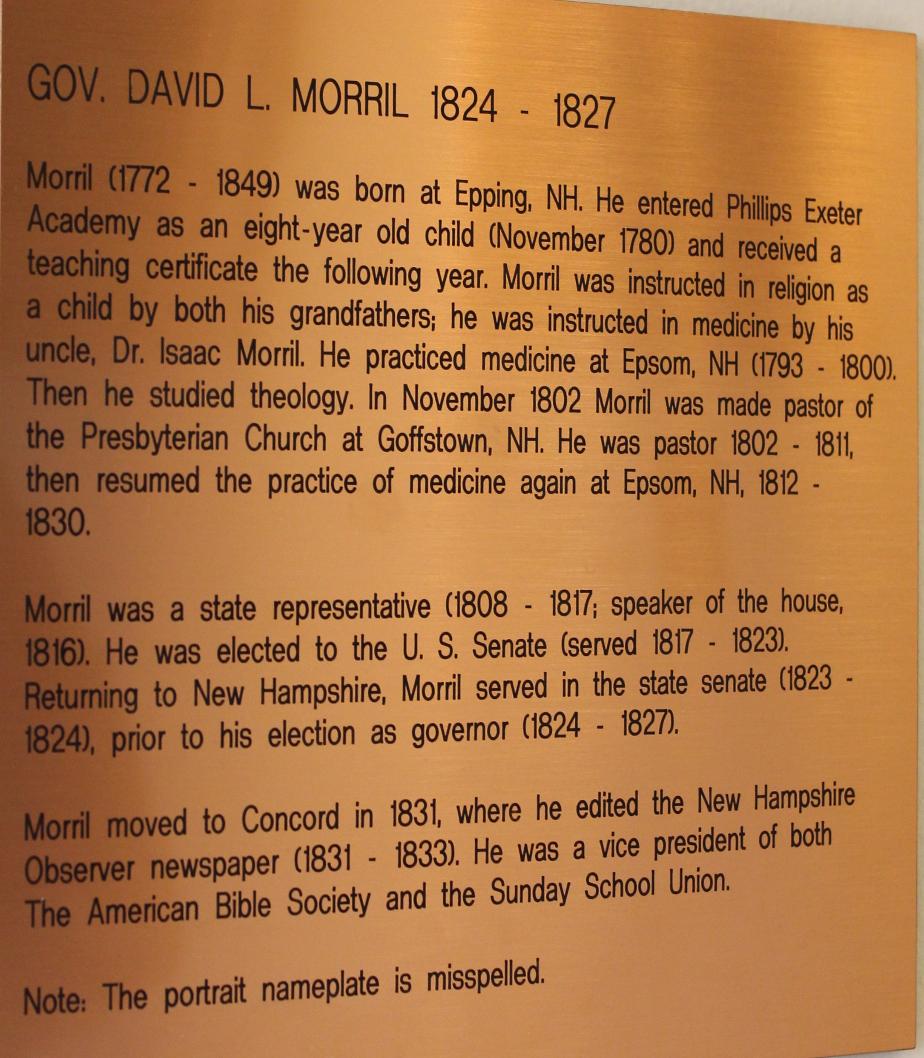 Governor Francis P Murphy 1937-1941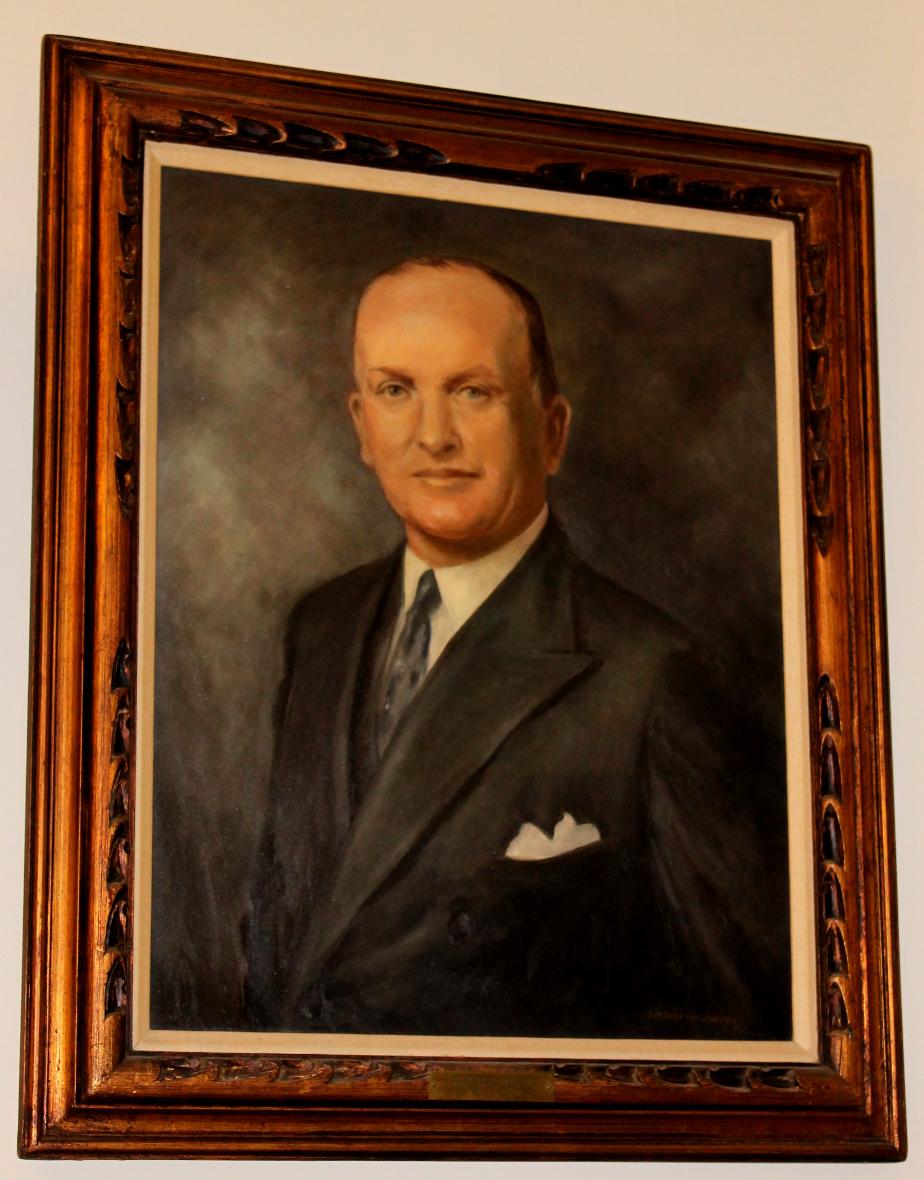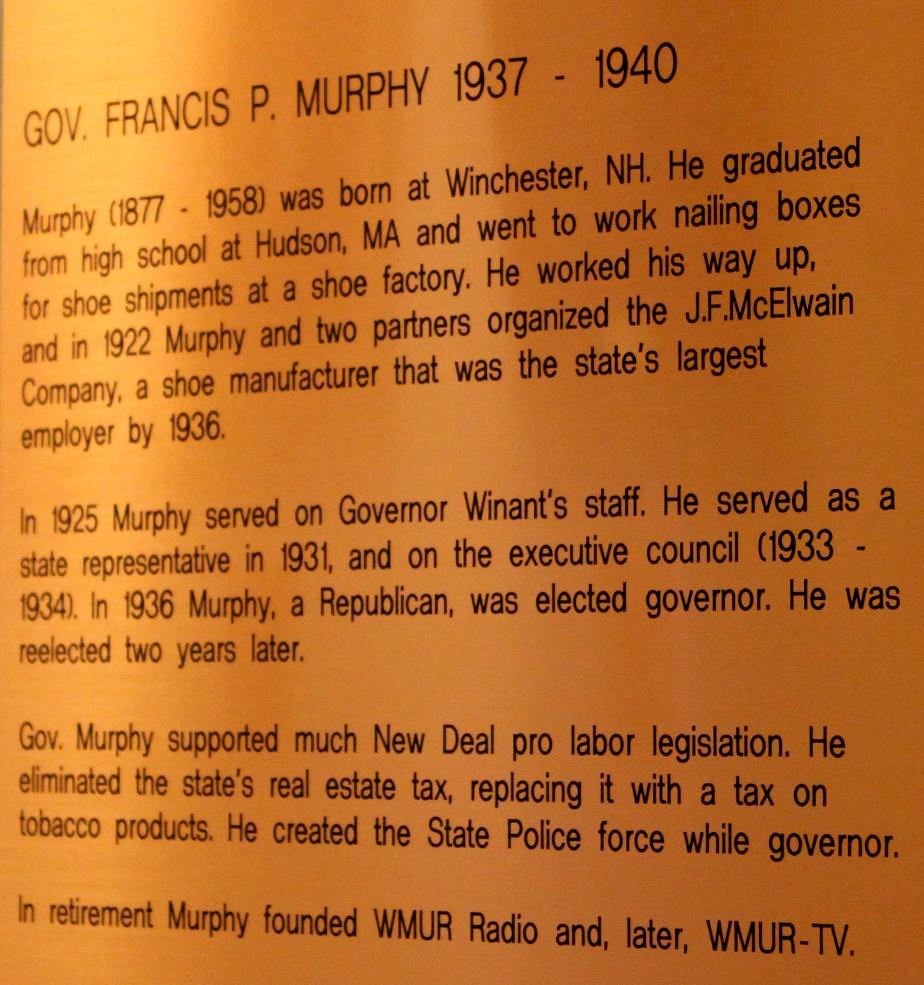 Governor John Page 1839 - 1842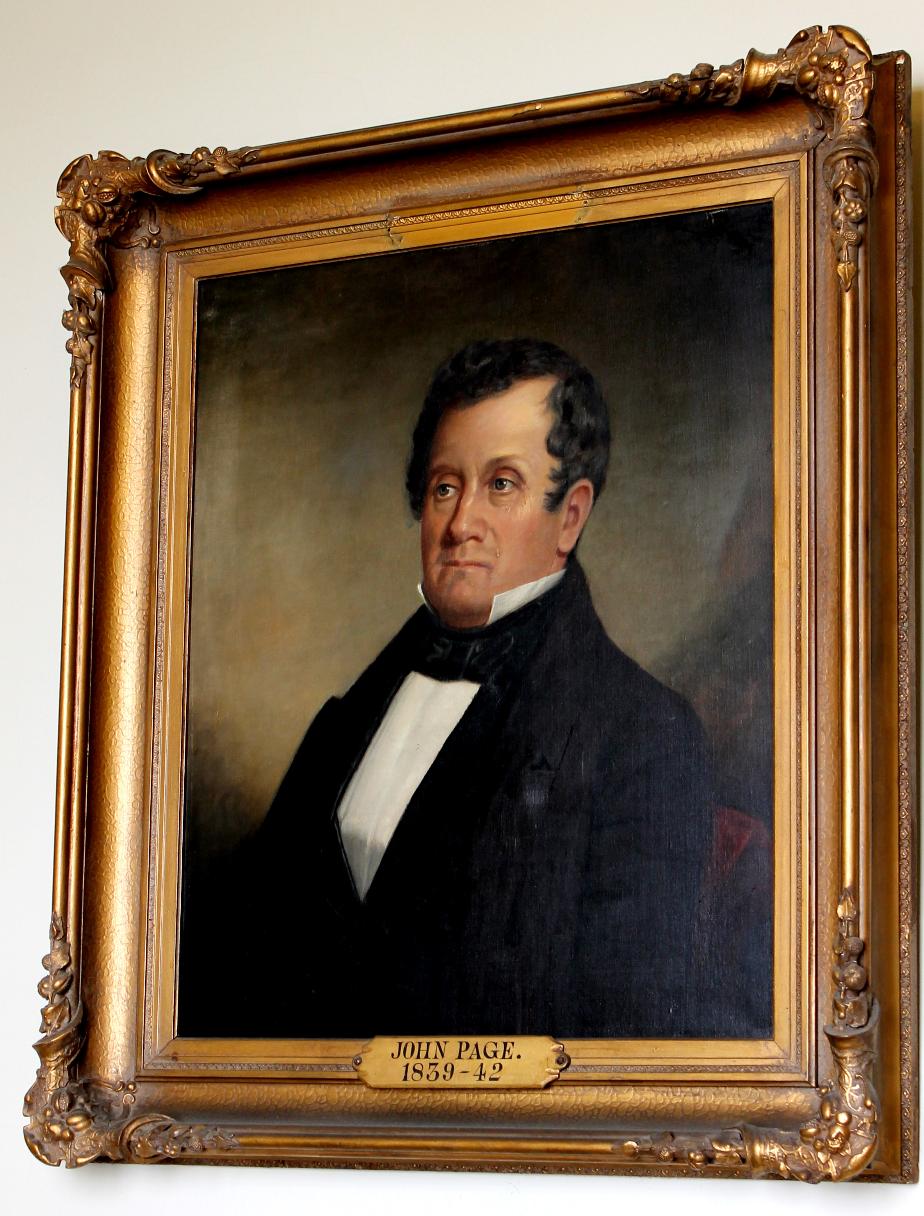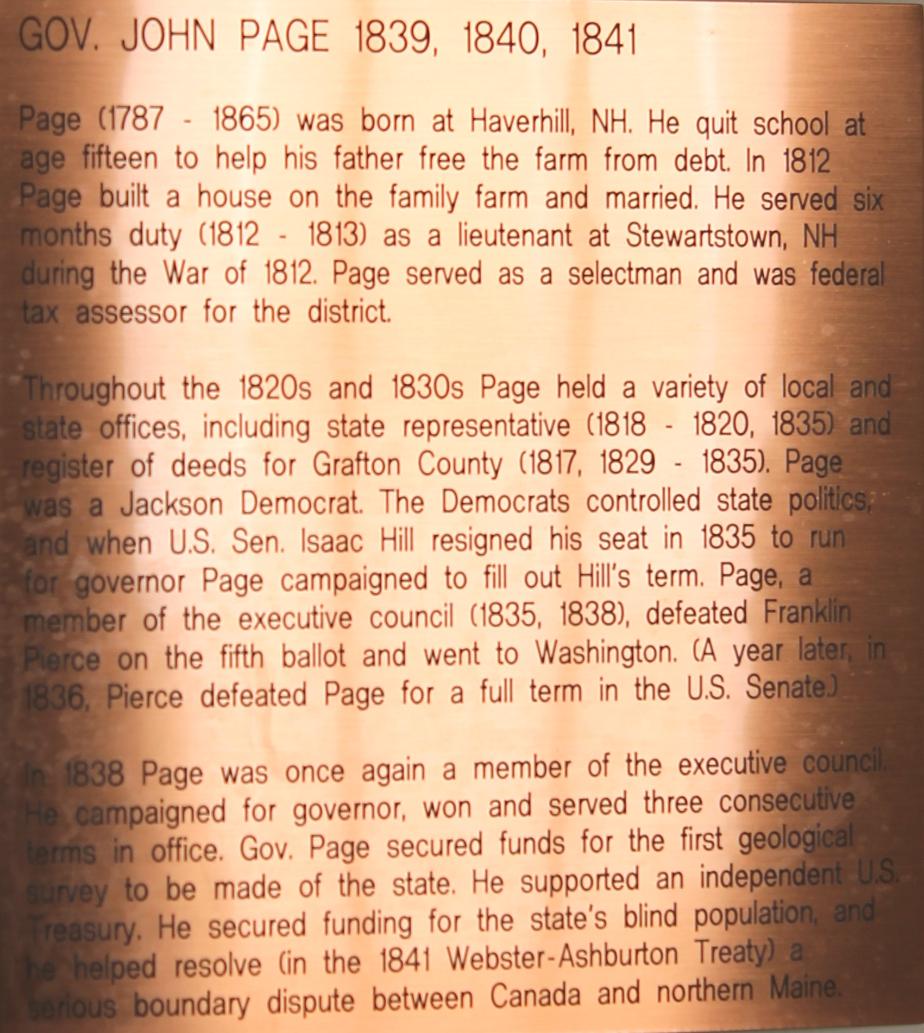 George Hamilton Perkins Civil War Naval Officer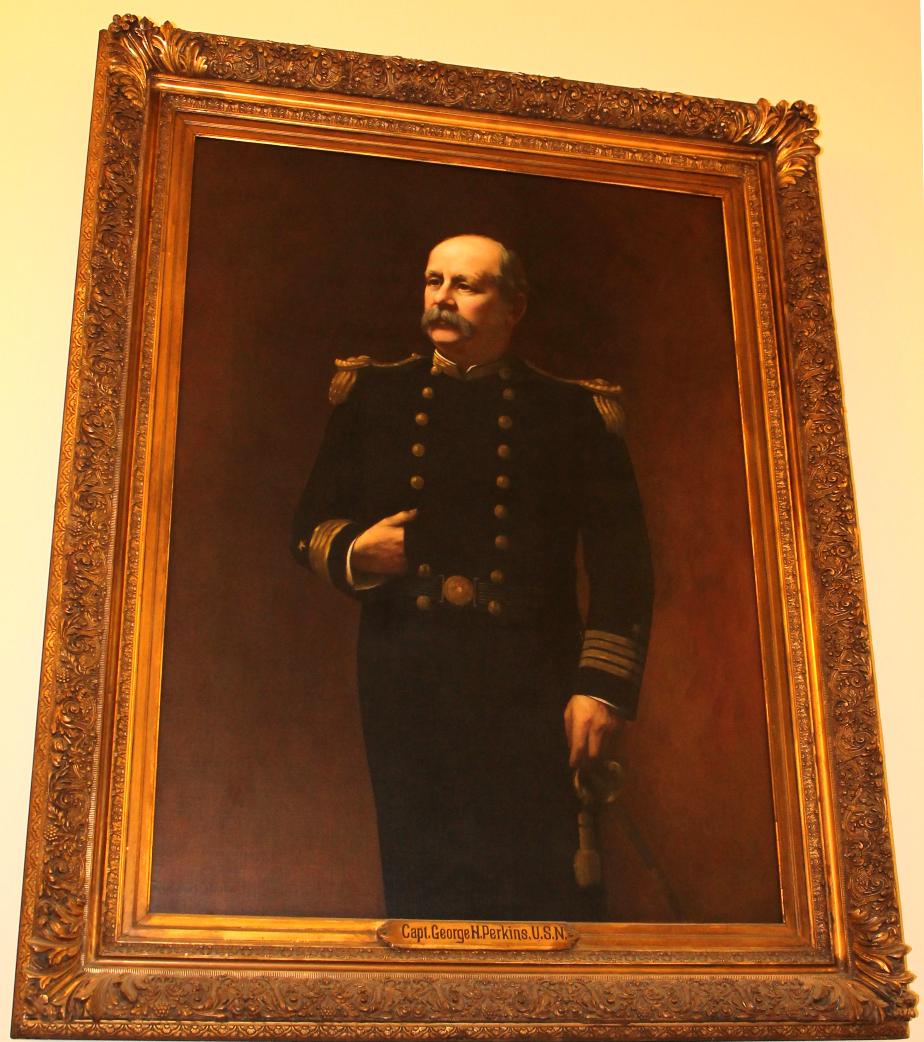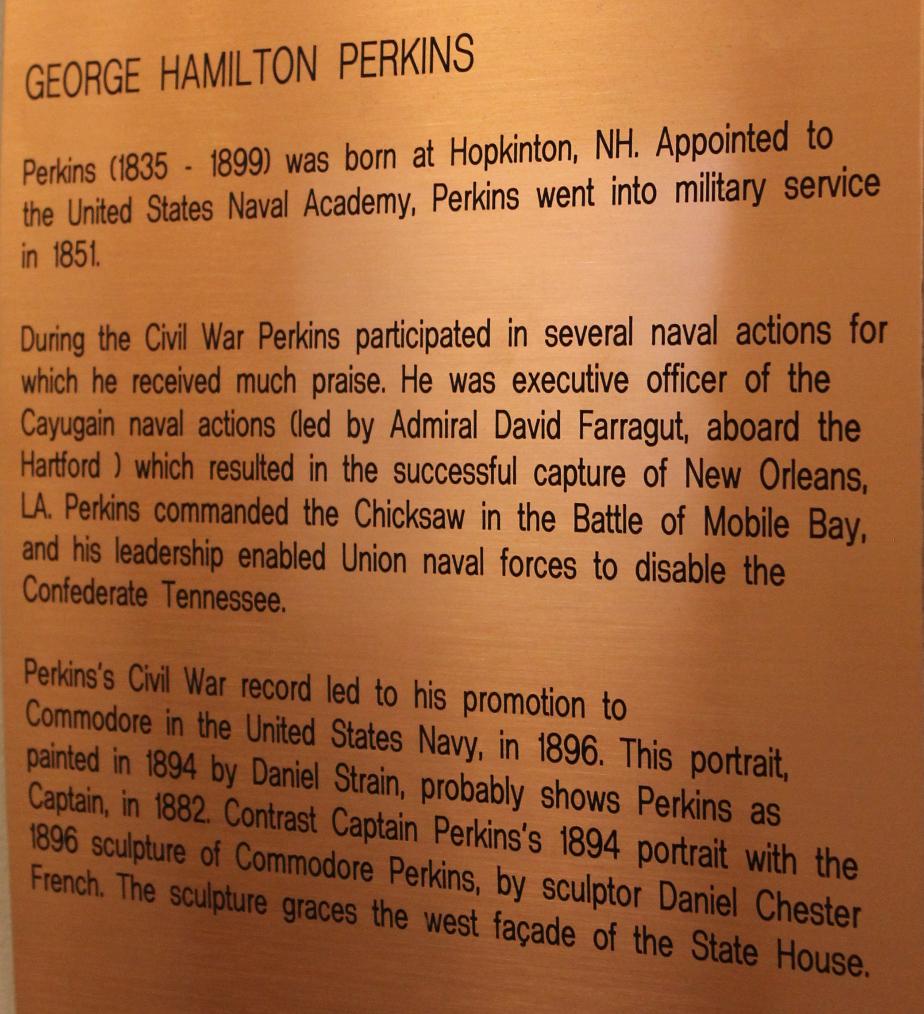 Walter R Peterson Jr. (Nashua) NH Governor 1969 - 1973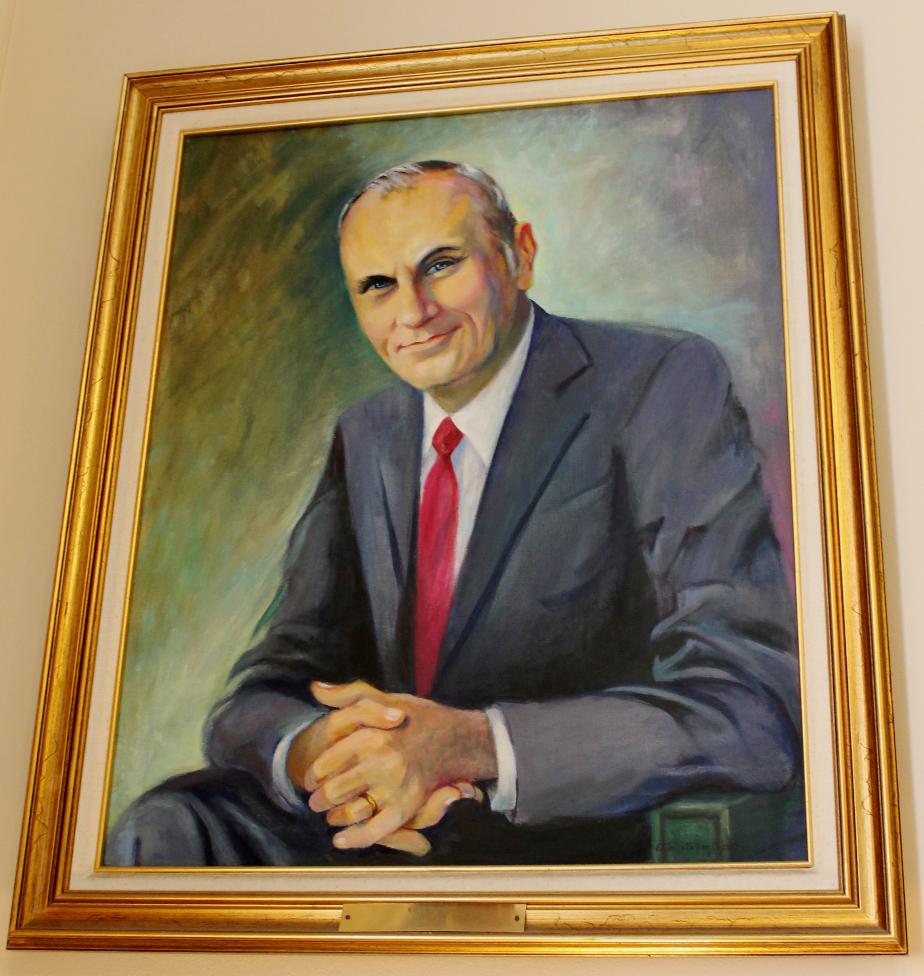 Gov. Benjamin Pierce (1827 - 1830) - Rev War General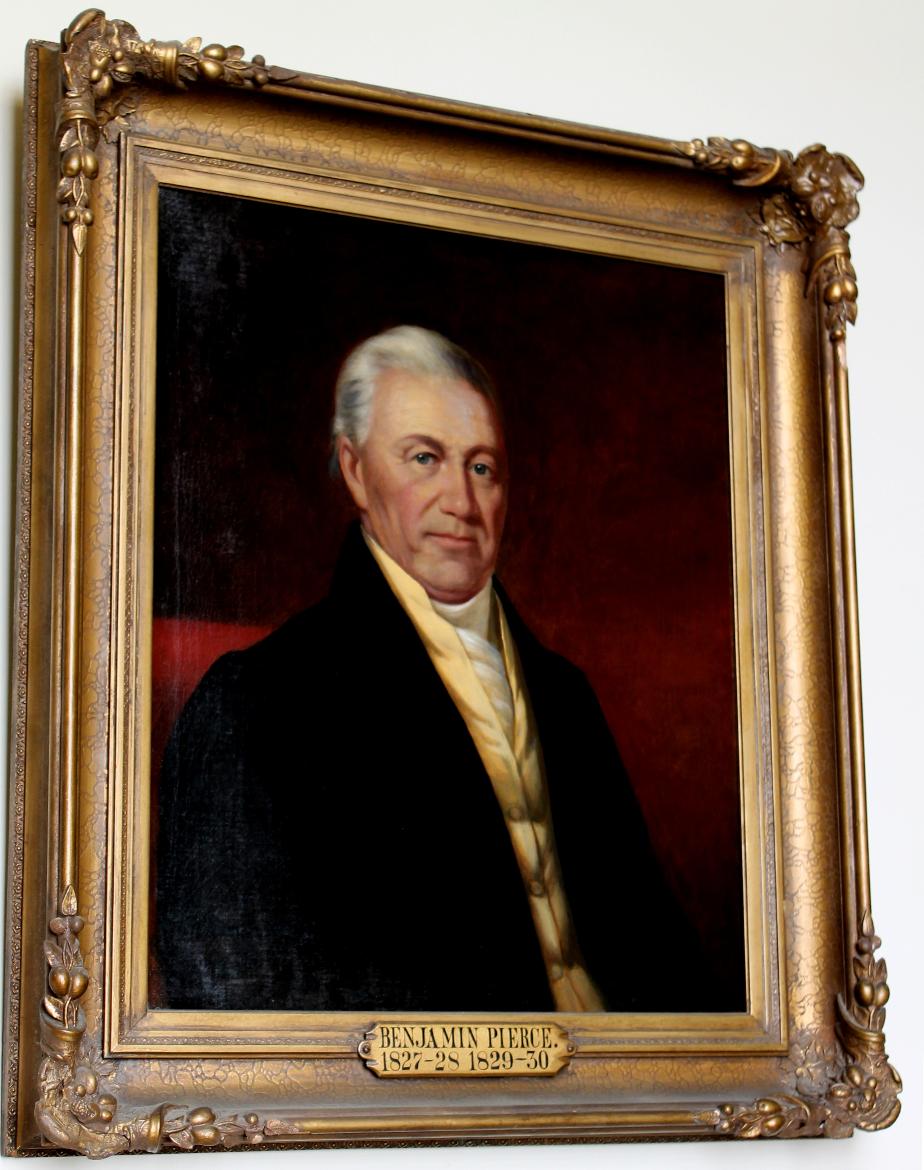 Franklin Pierce- NH State House Legislative Chamber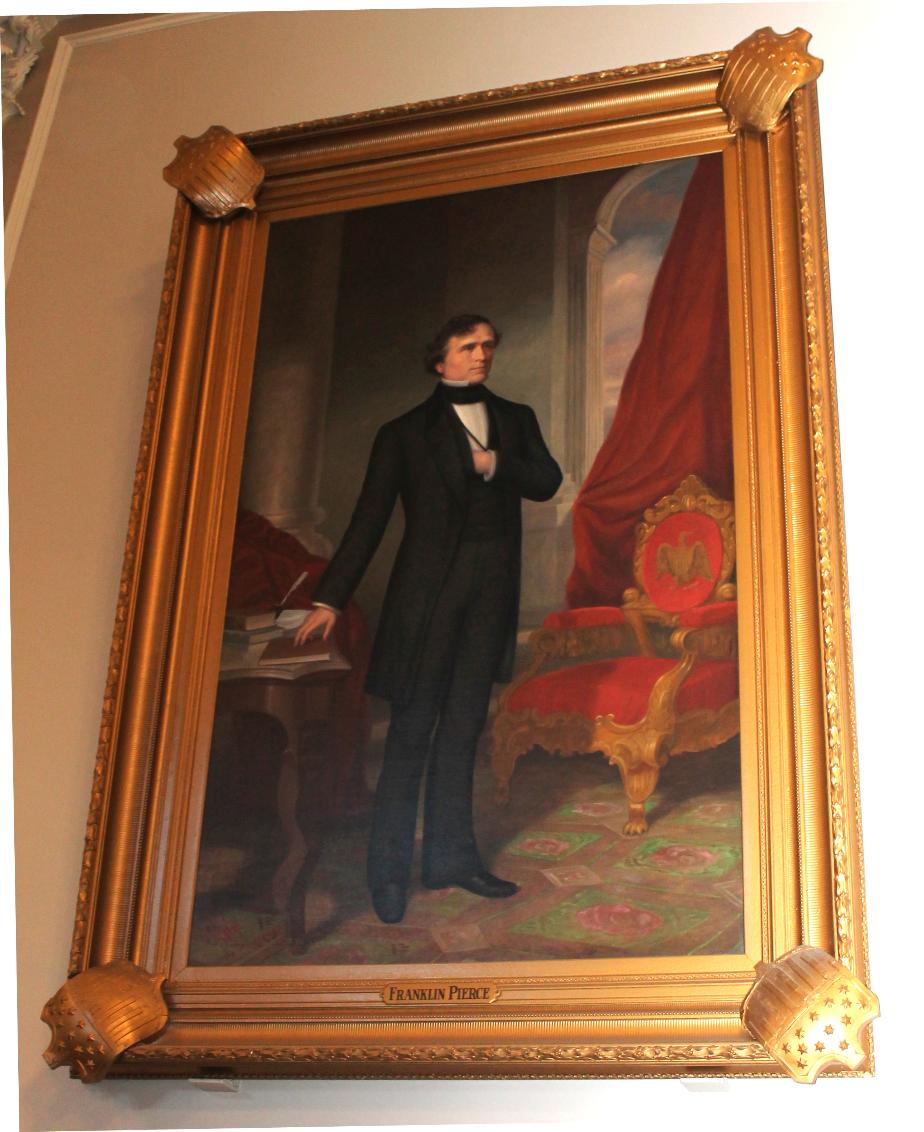 Franklin Pierce - NH State Library Portrait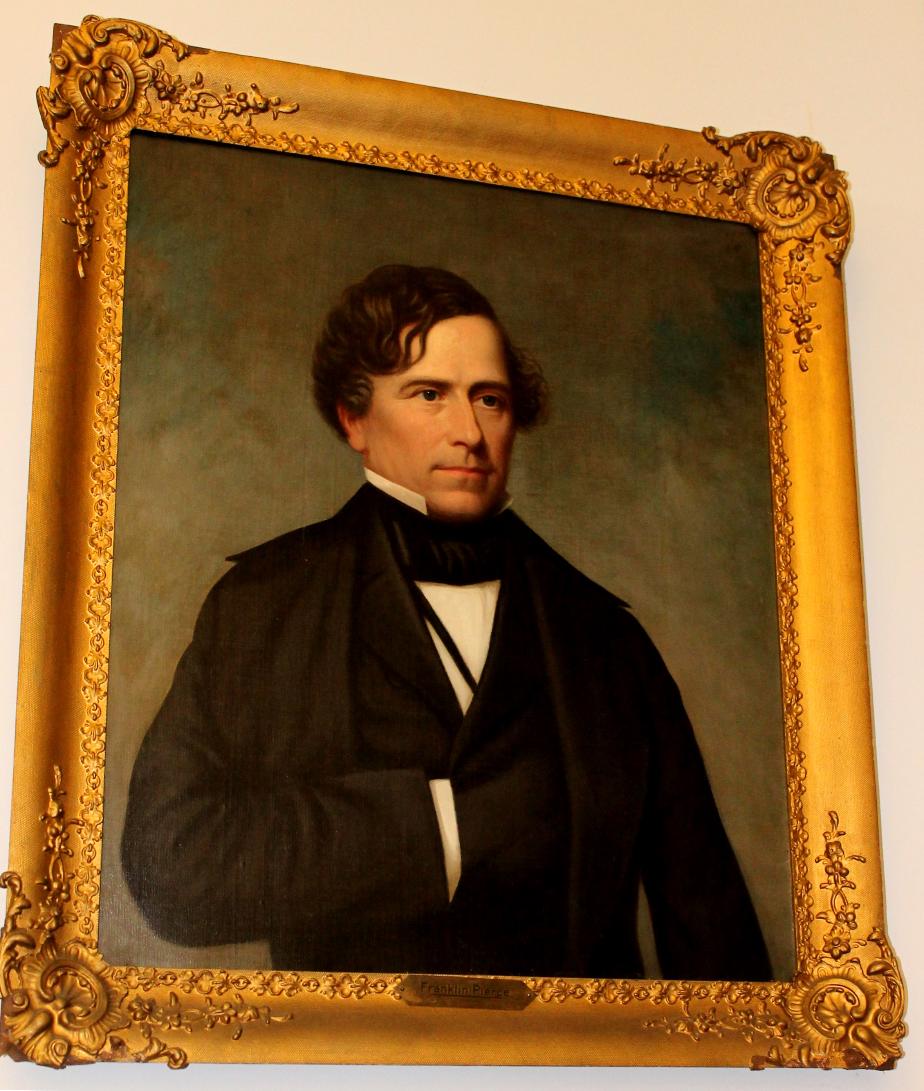 Governor Wesley Powell : 1959 - 1962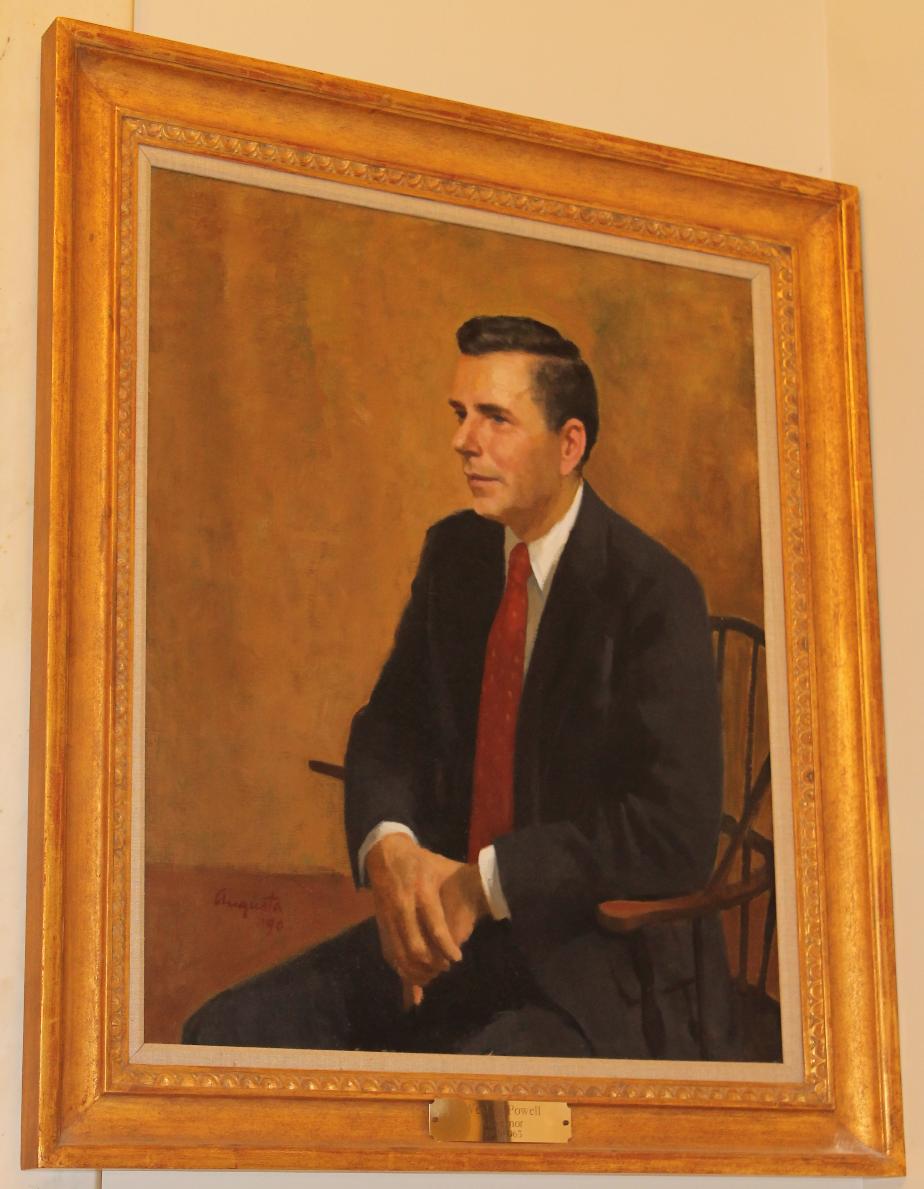 Benjamin Prescott, NH Governor (1877 - 1879)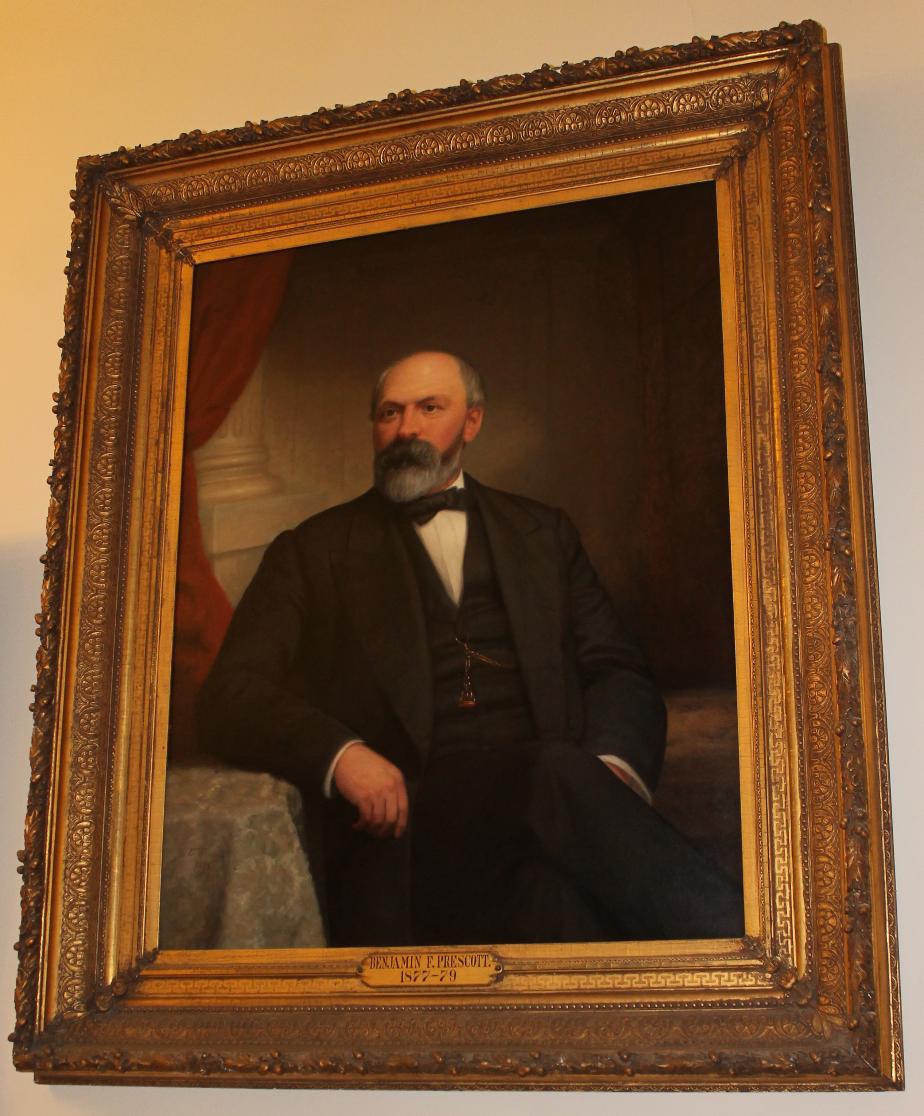 Governor Henry B Quinby 1909-1910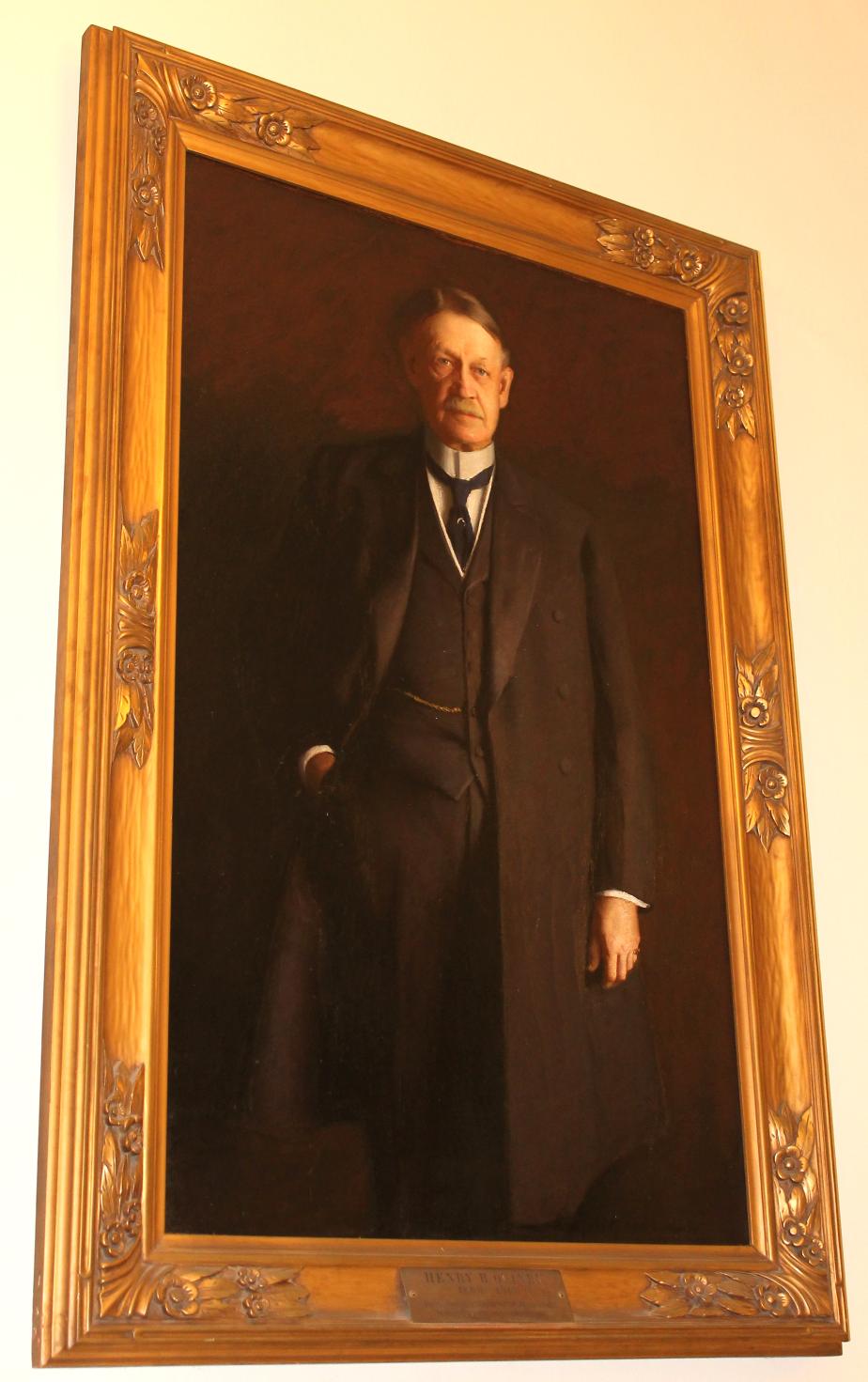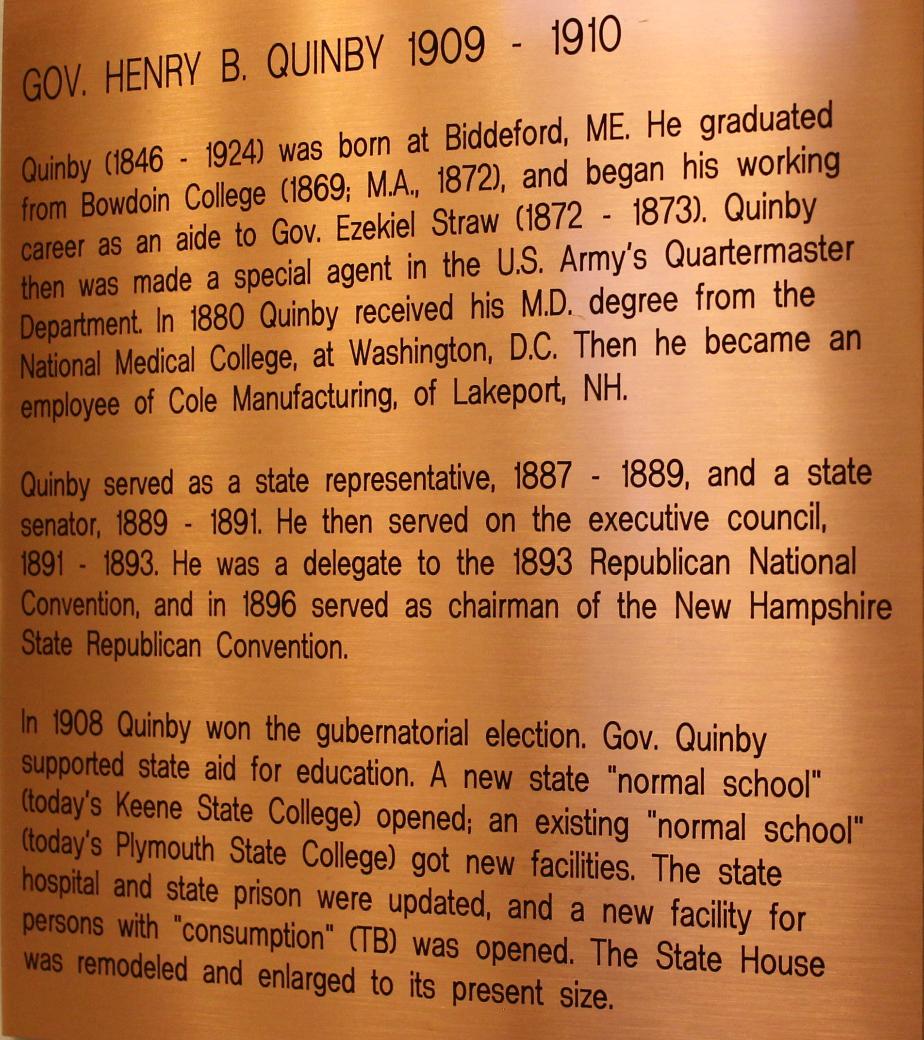 Governor George A Ramsdell 1897 - 1899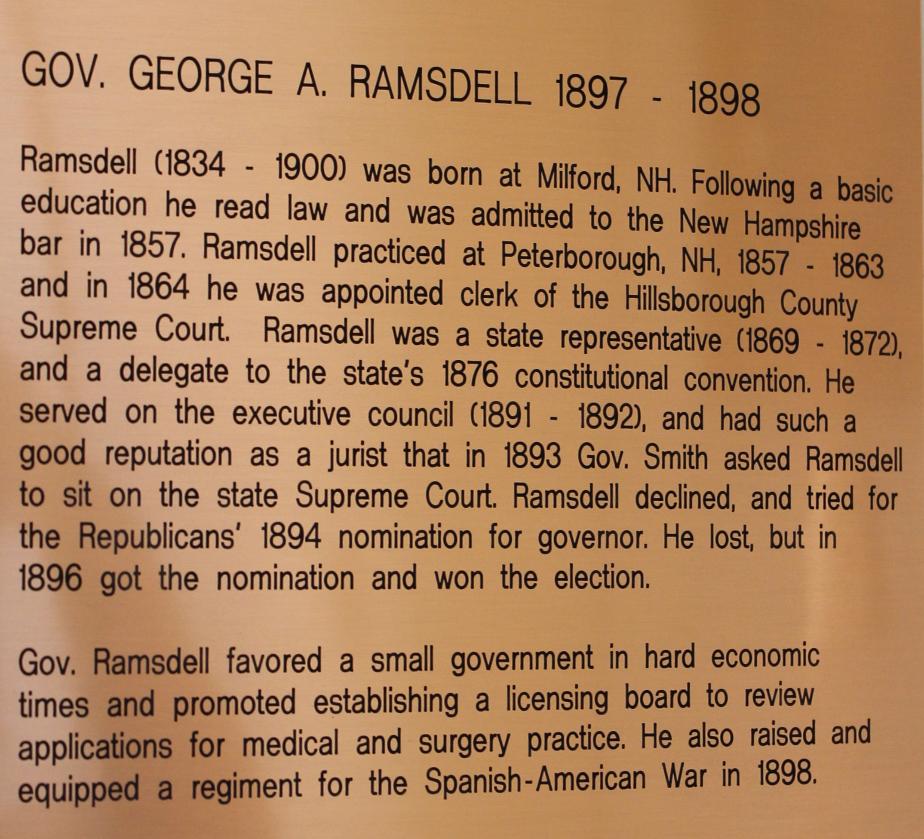 General James Reed 1724 - 1807 (Fitzwilliam)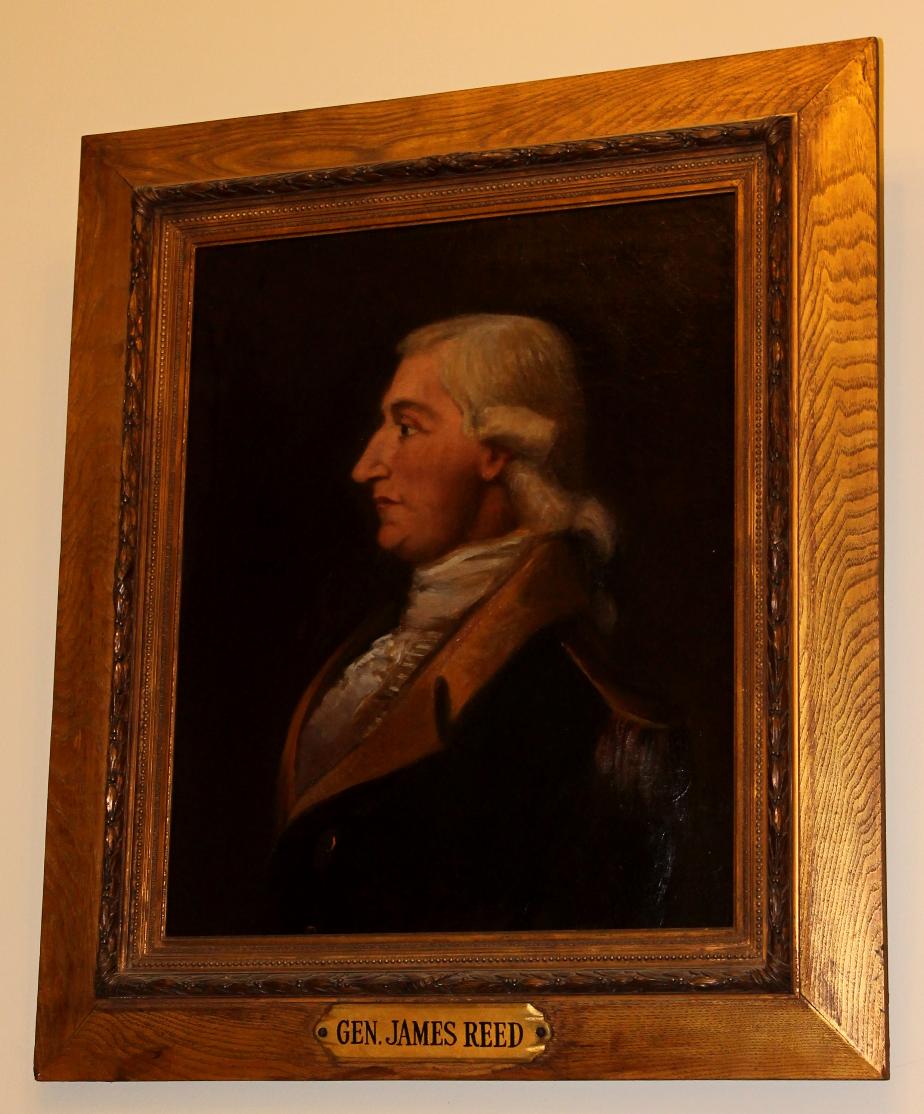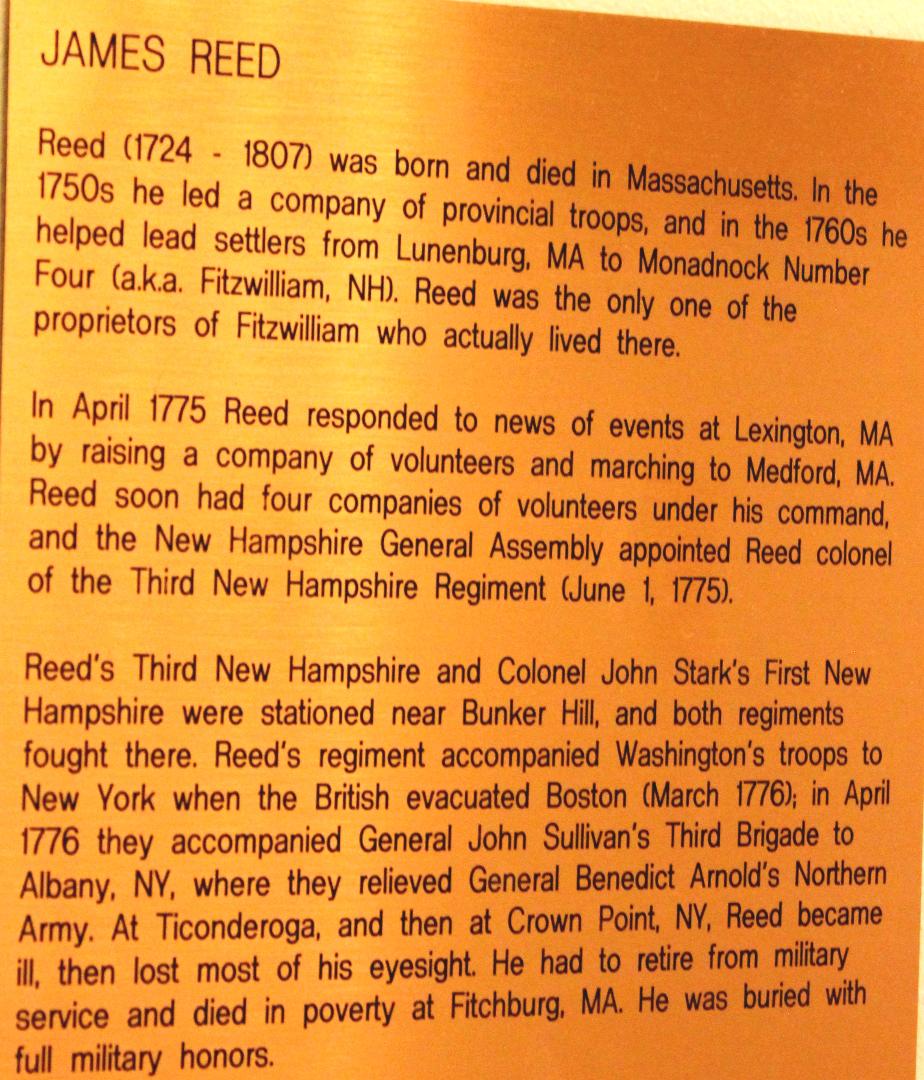 General George Reid 1733-1815 (Londonderry)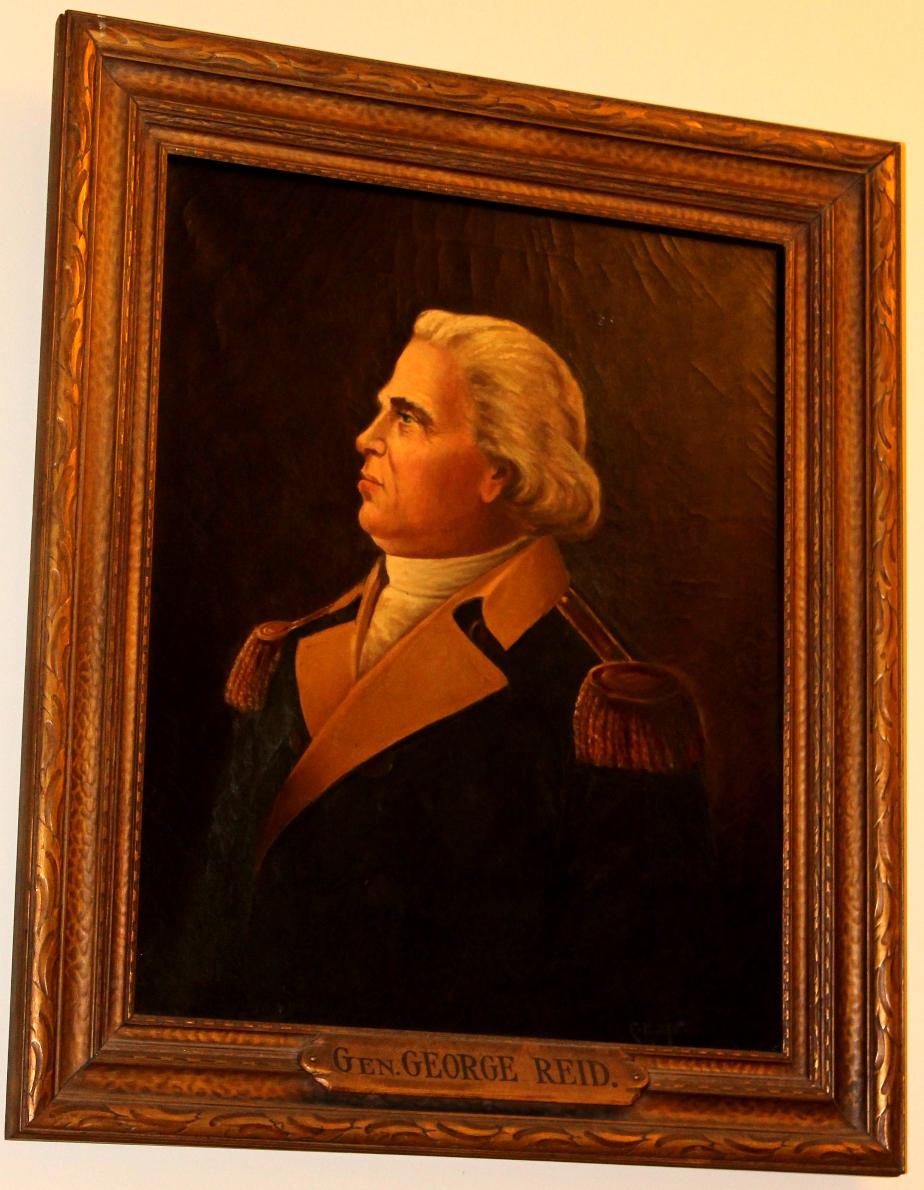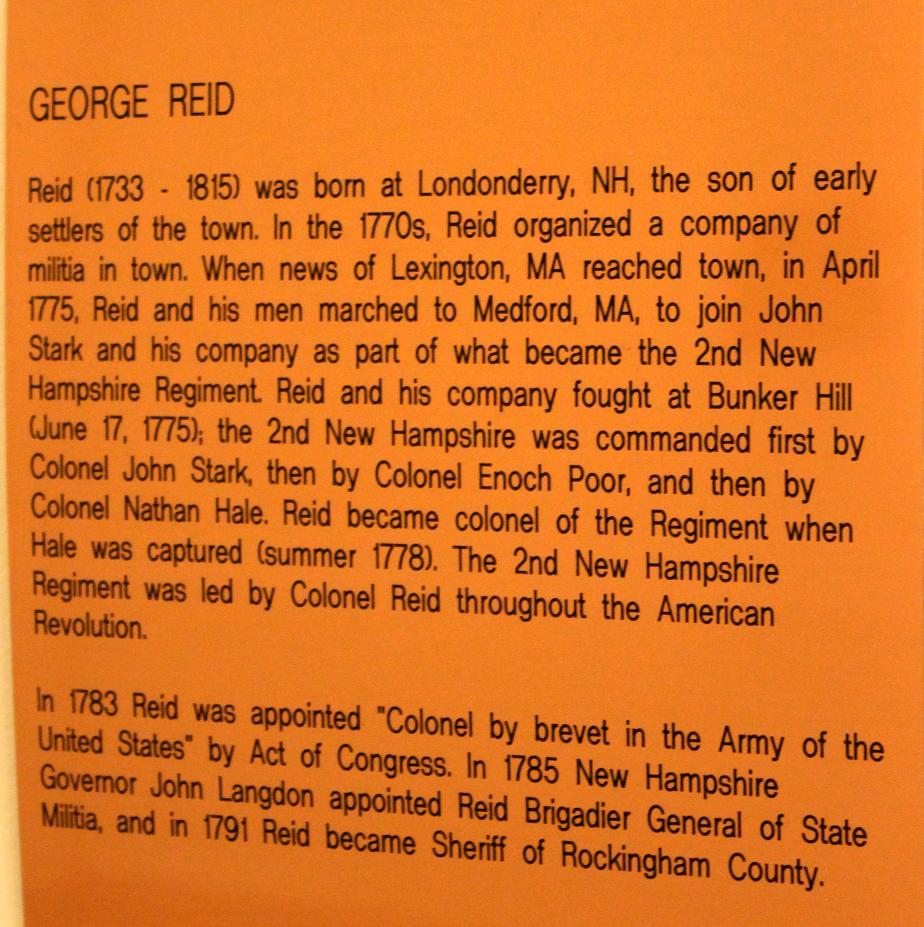 Nathaniel P. Rogers (Plymouth)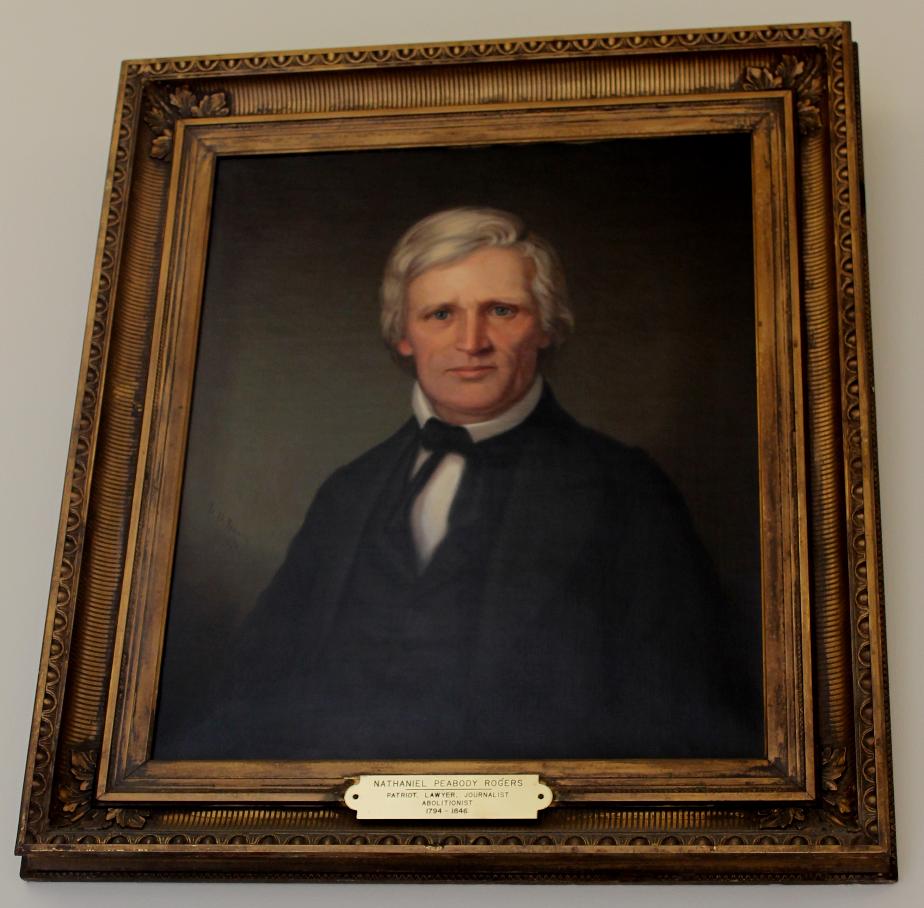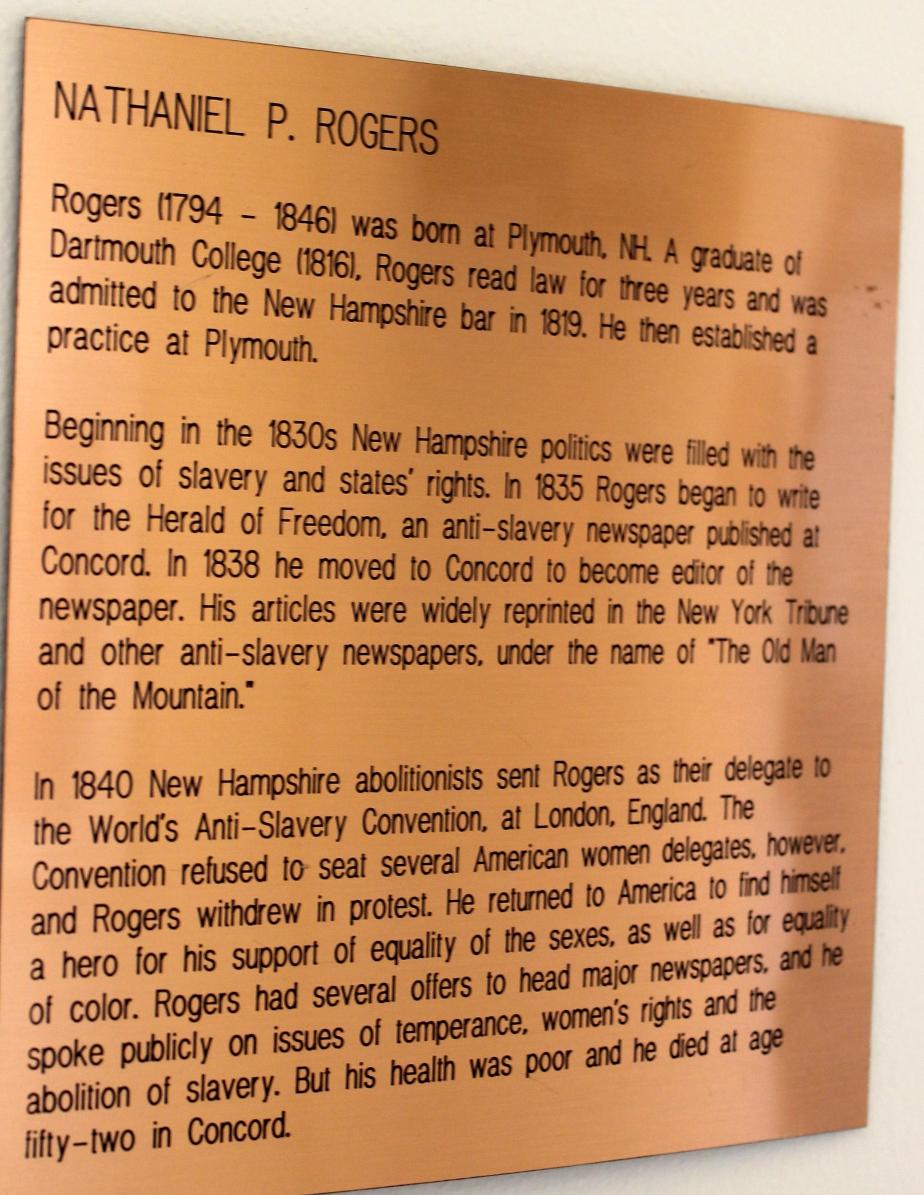 Governor Frank Rollins (Concord) : 1899 - 1900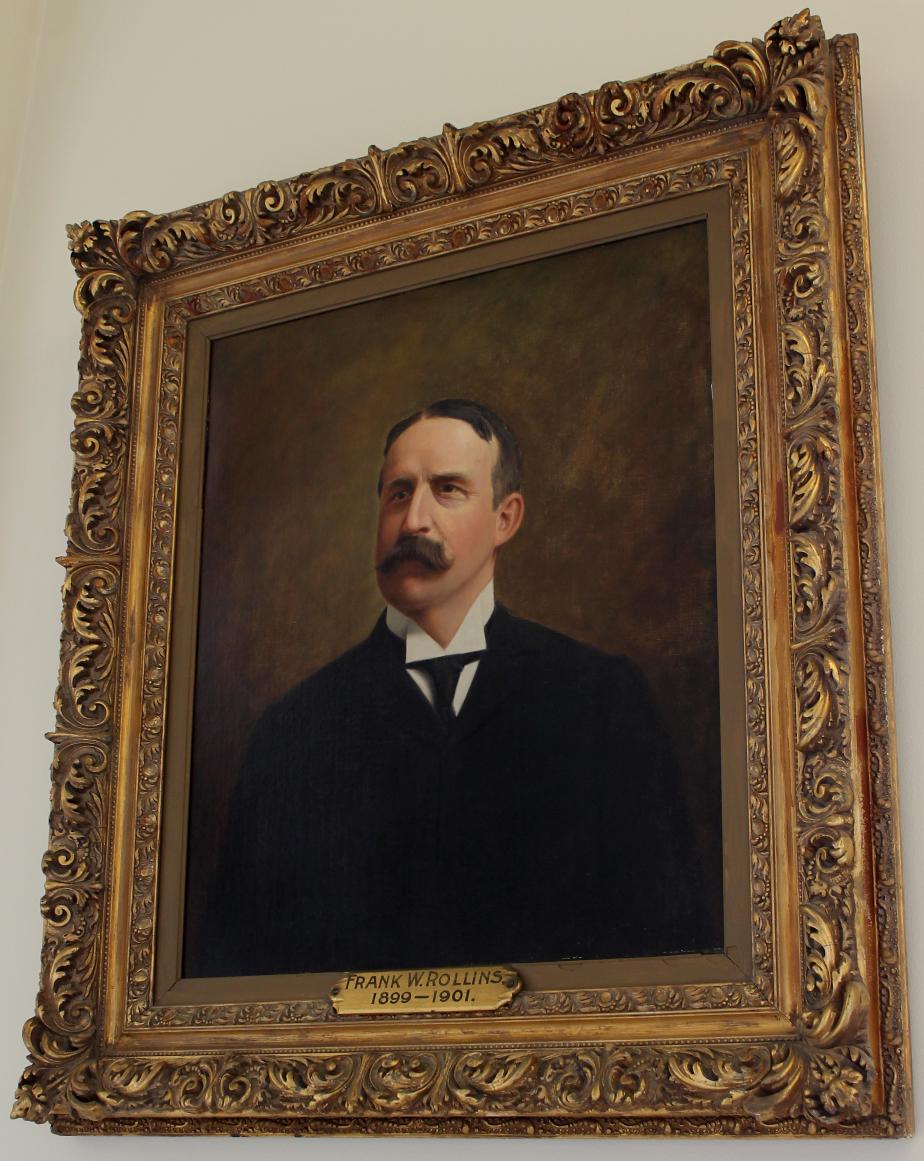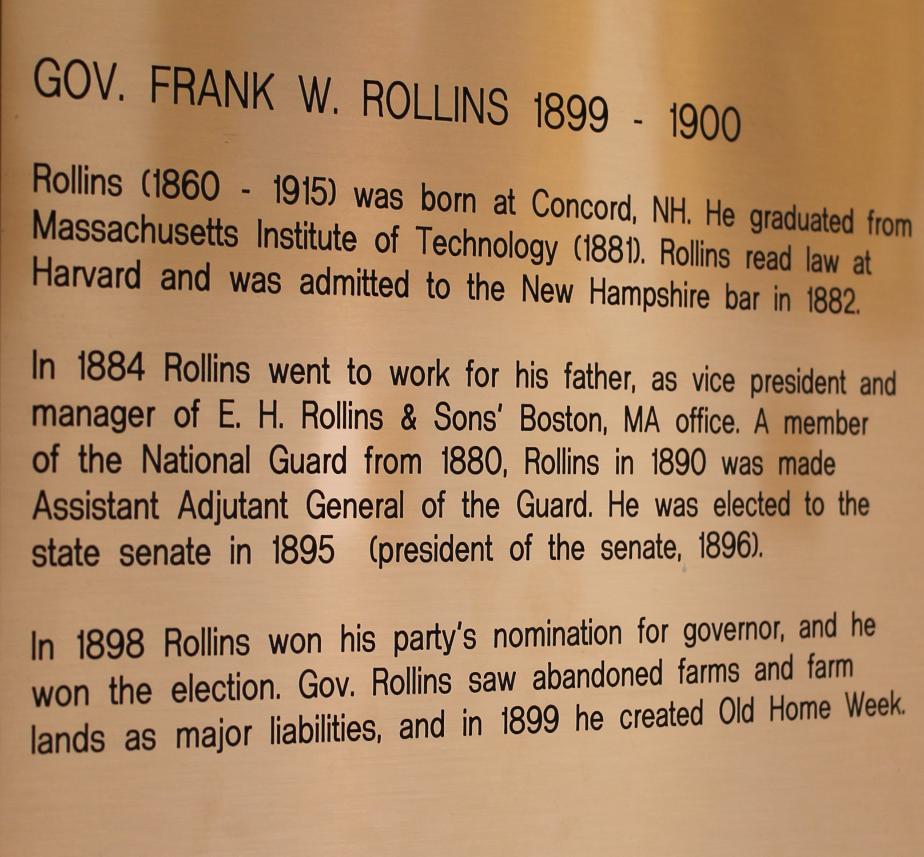 John W. Sanborn 1822-1903(Wakefield) State Senate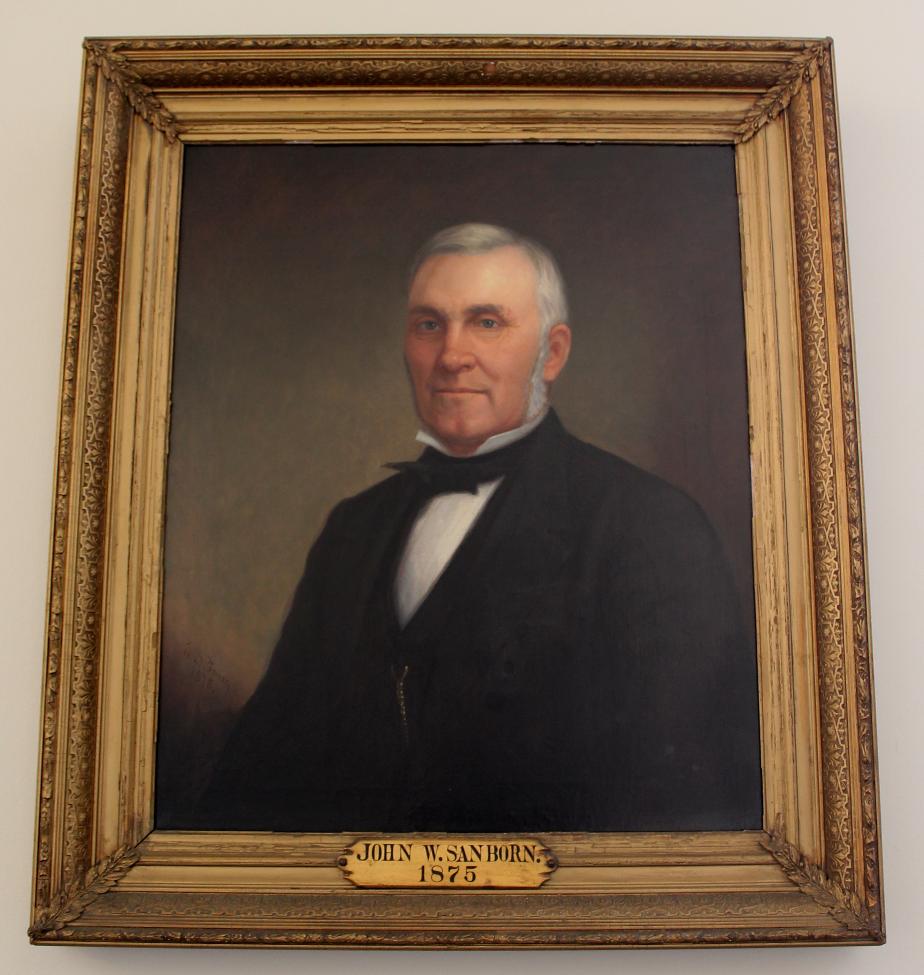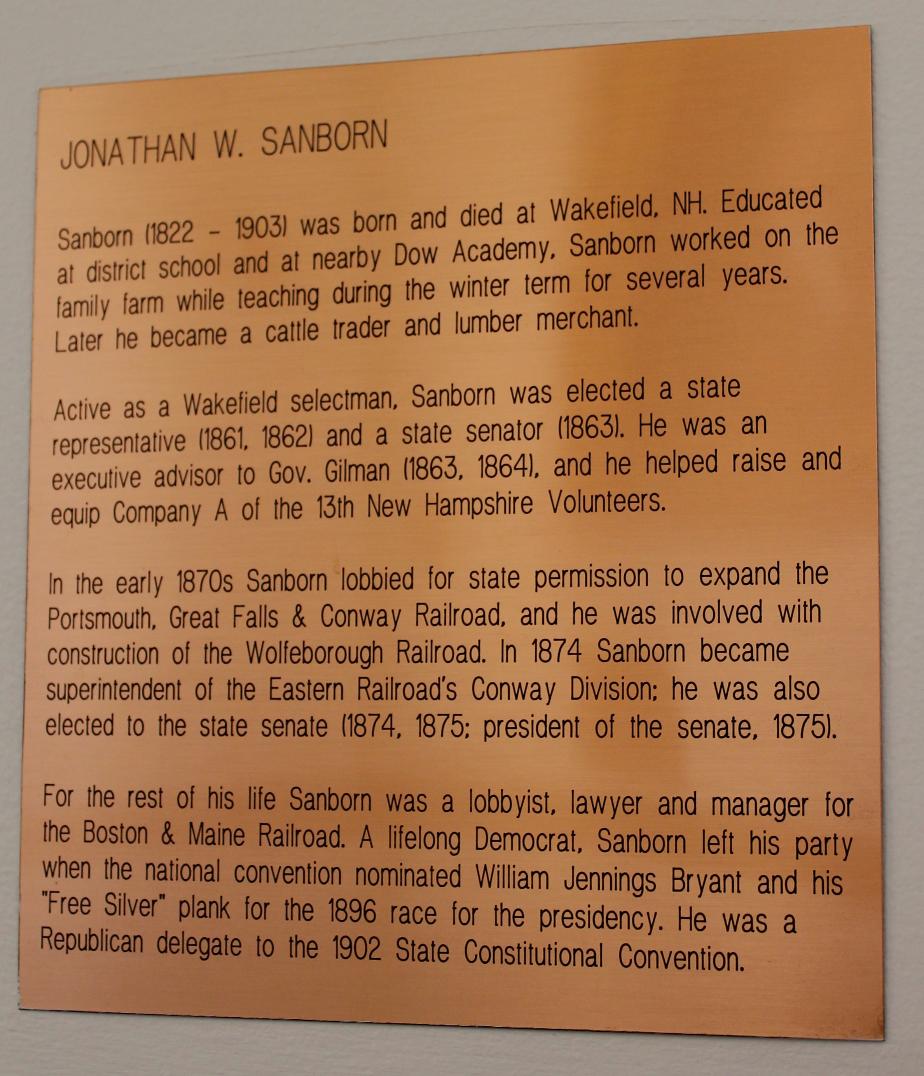 Jonathan E Sargent - NH Chief Justice (1873)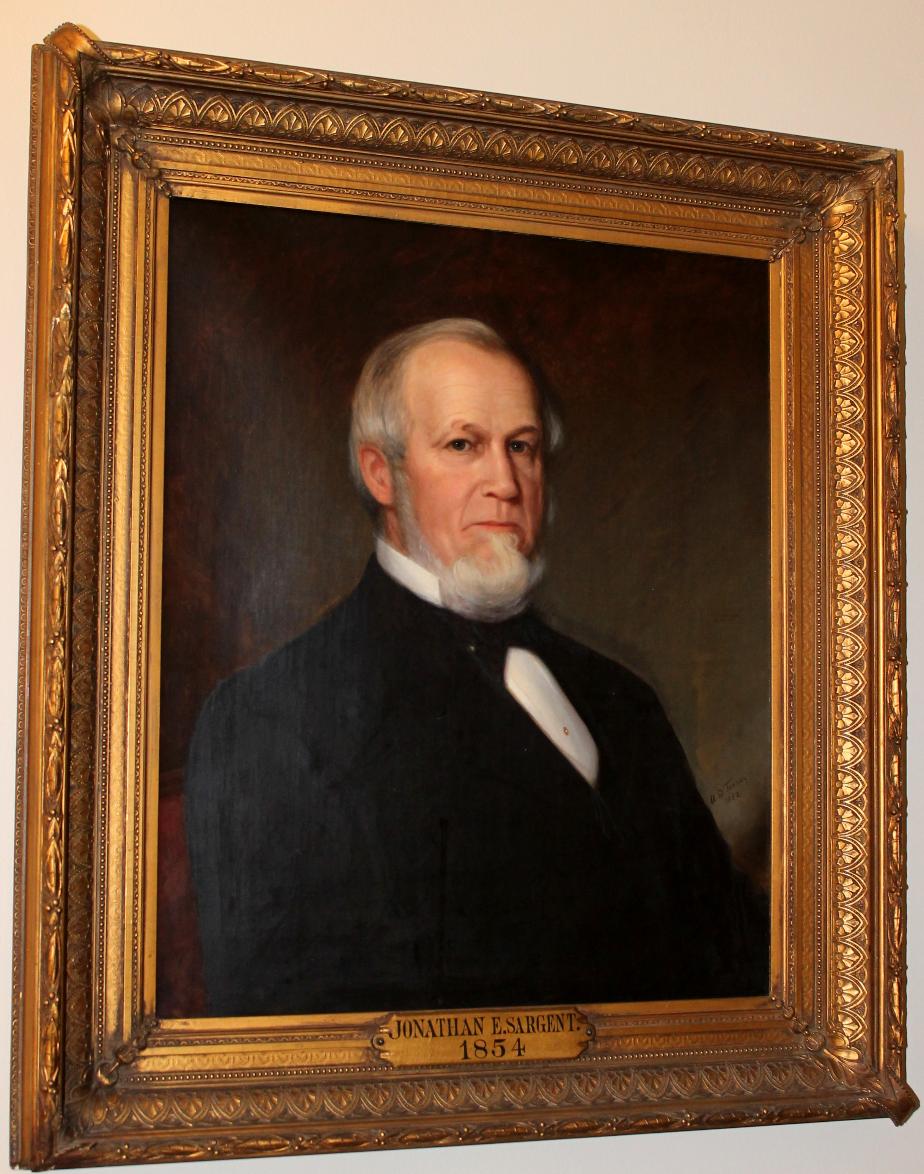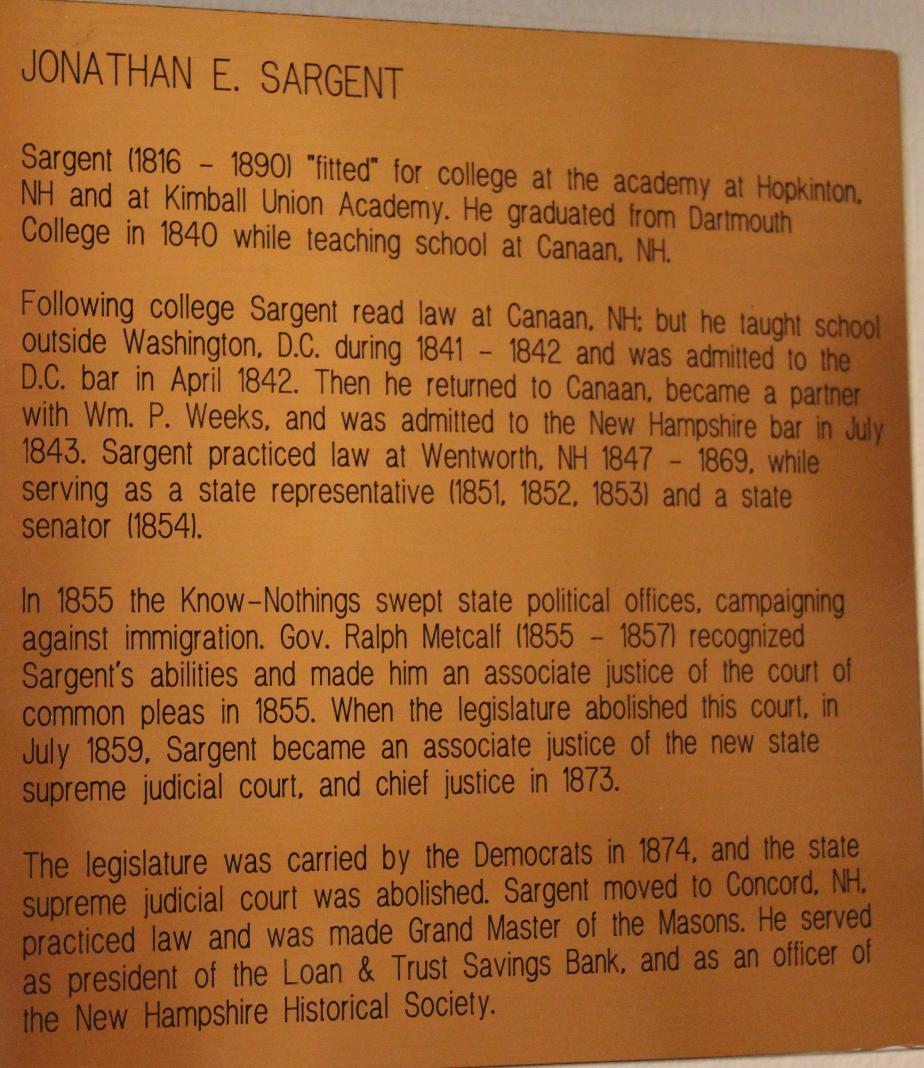 Governor Charles H Sawyer 1887 - 1888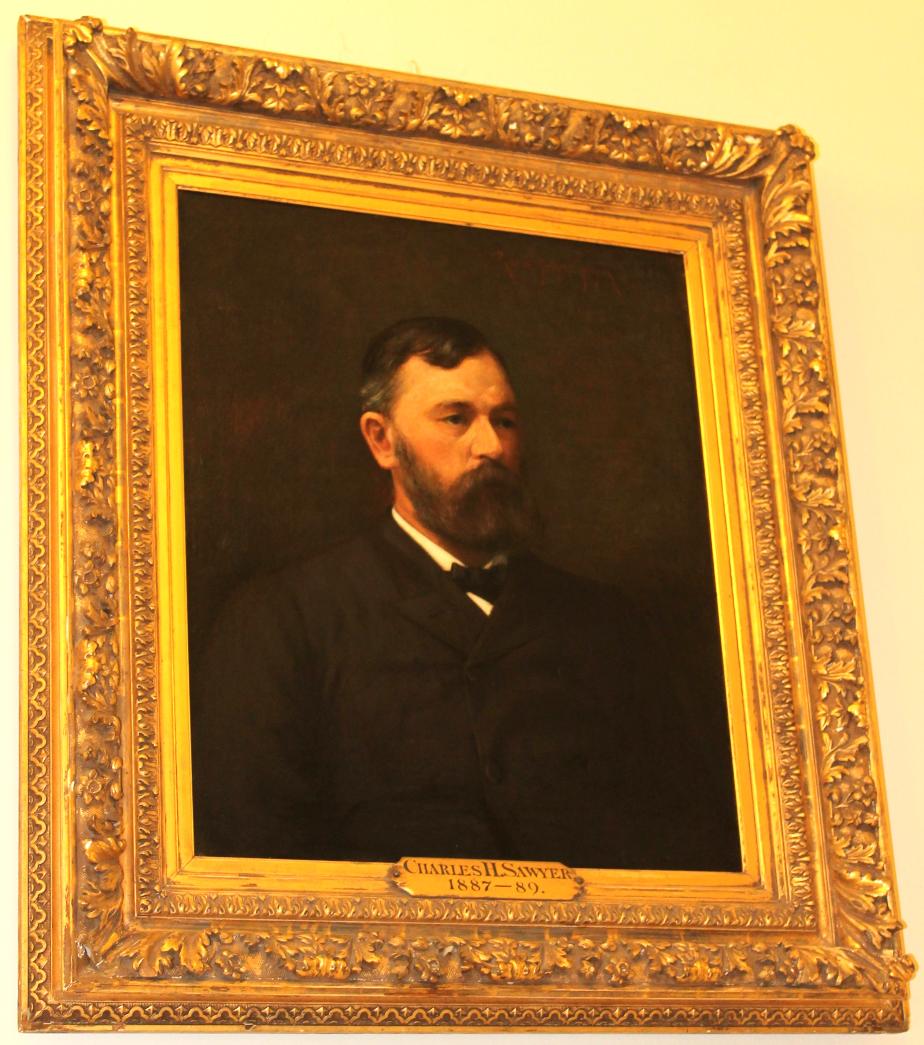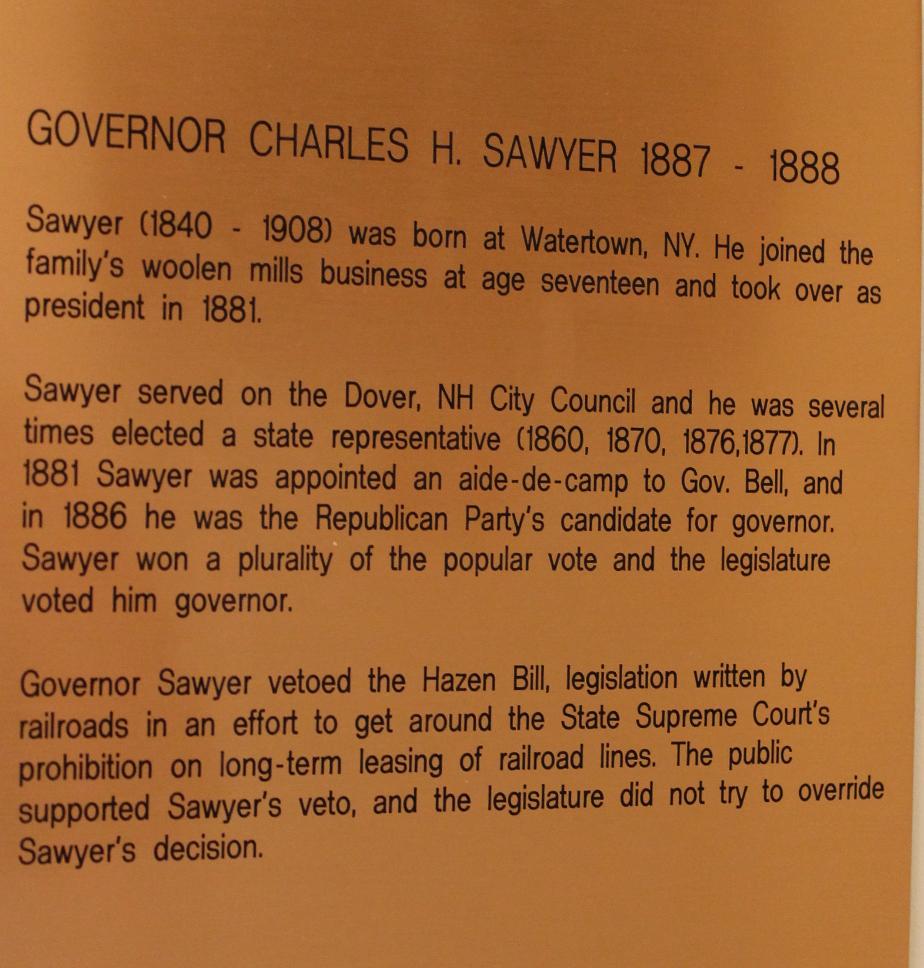 John Scammon - NH State Senate President - 1907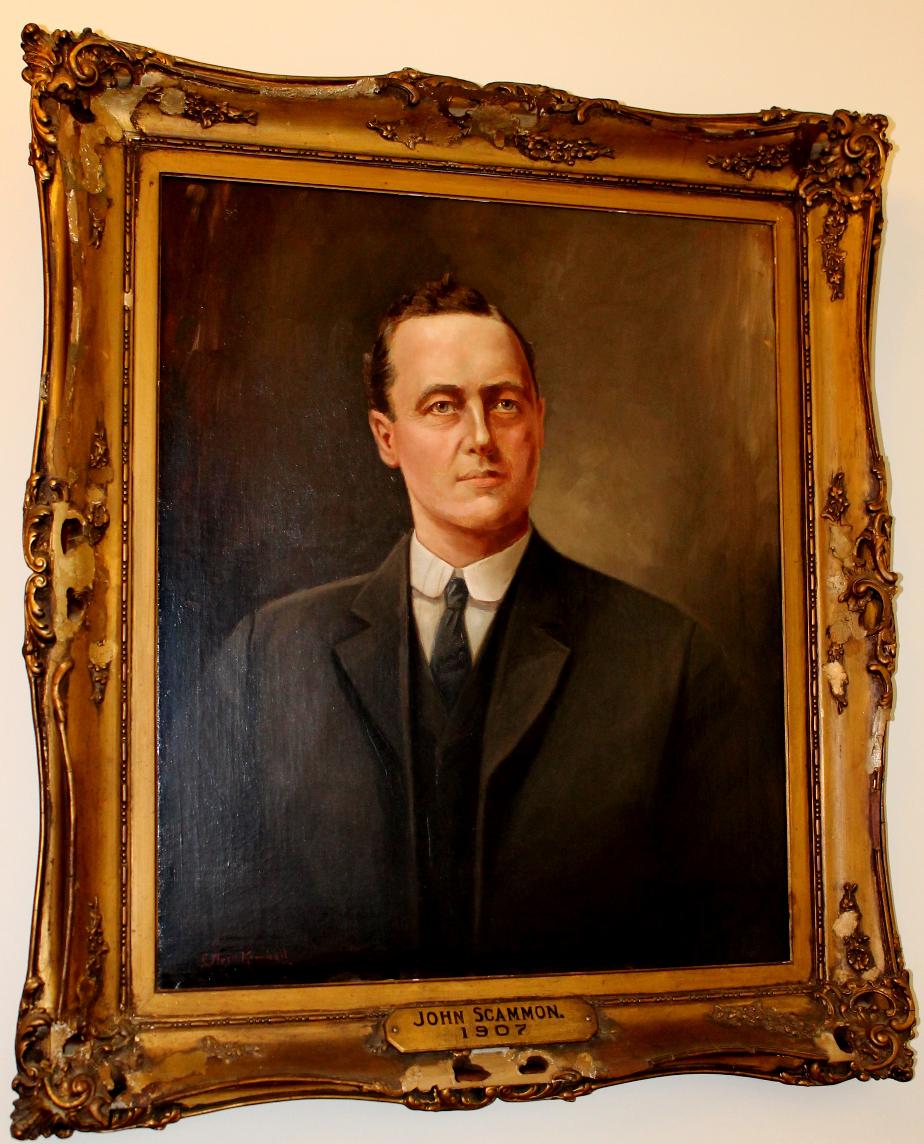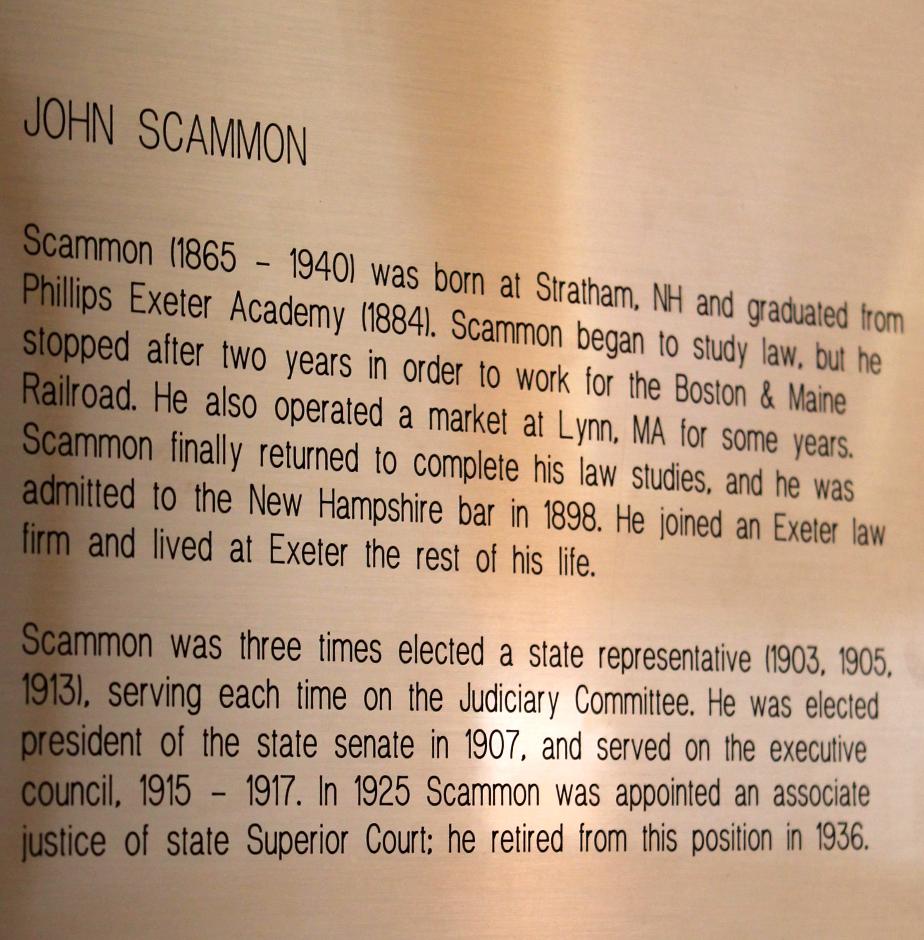 Senator James Sheafe (Portsmouth)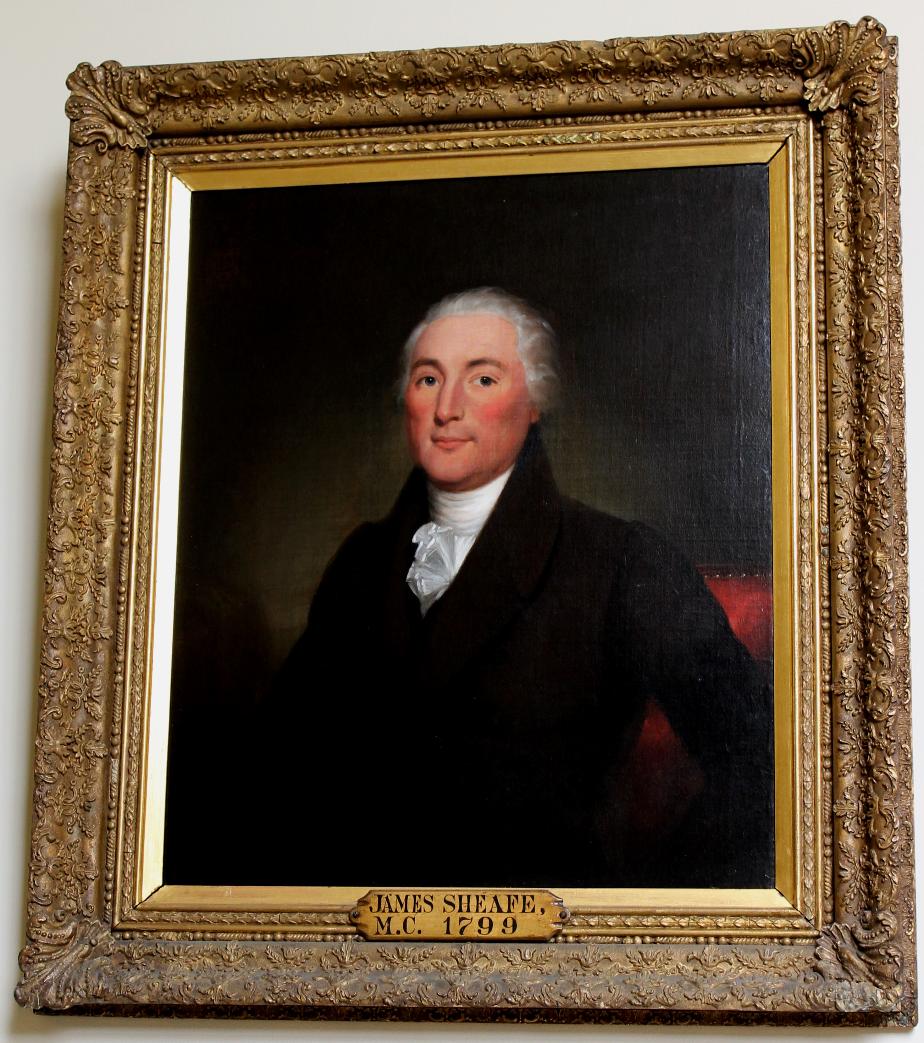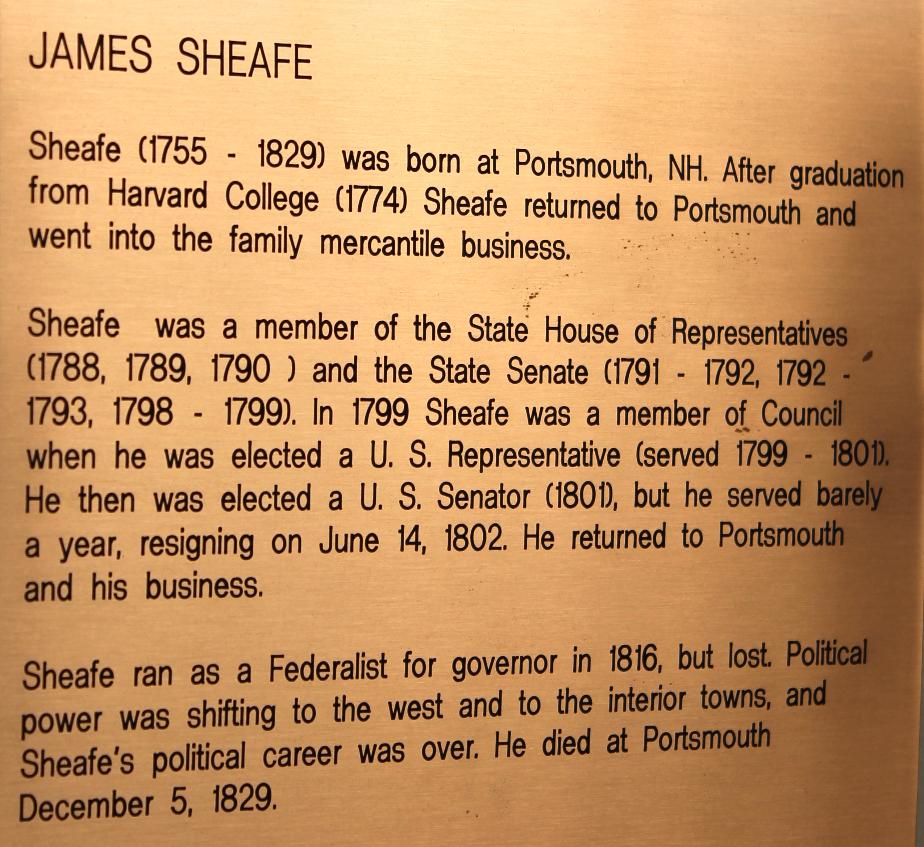 Governor John Butler Smith 1893 - 1894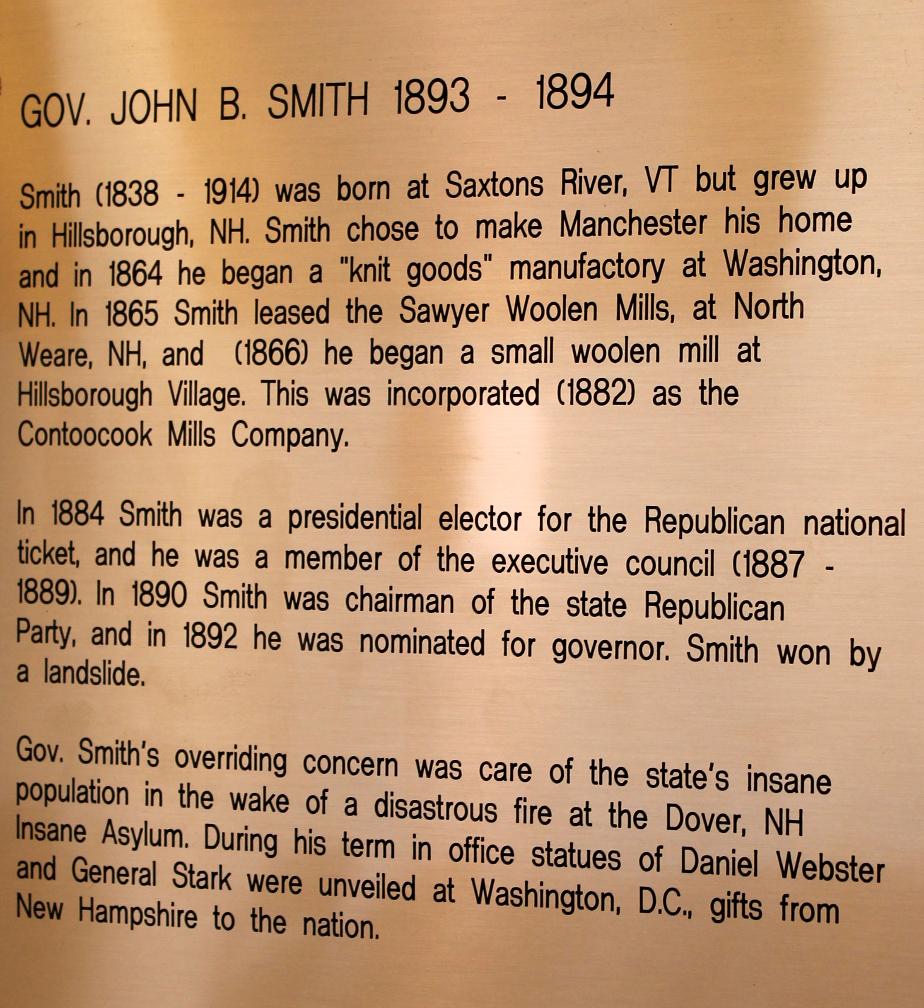 Governor Frederick Smyth: 1865 - 1866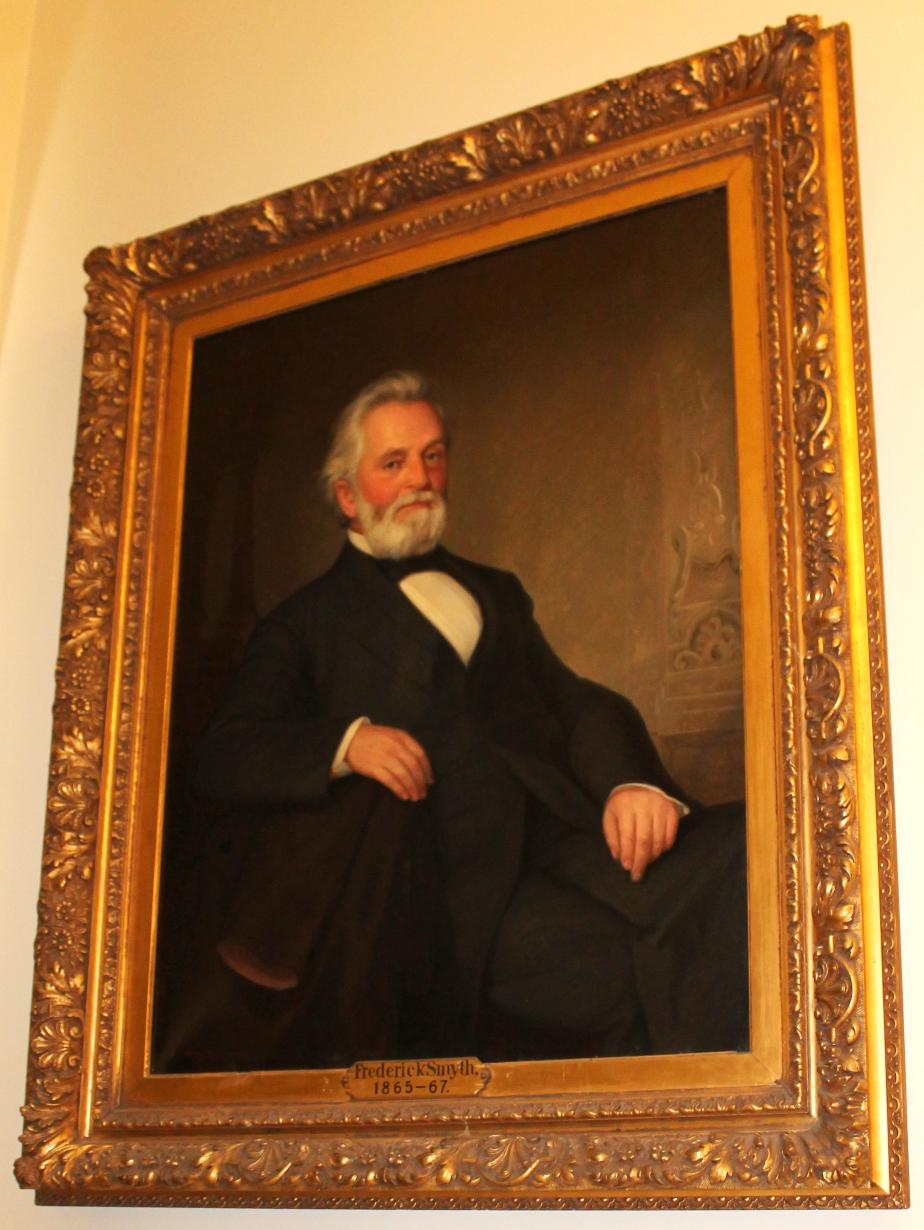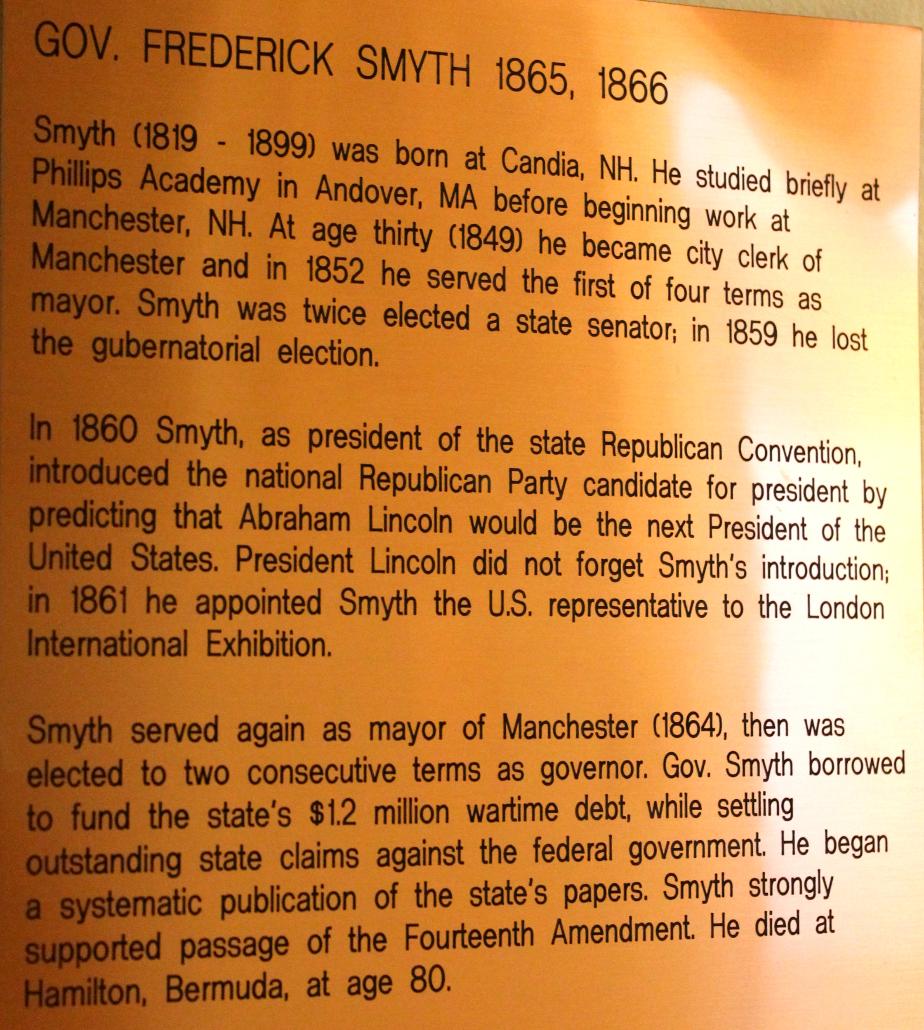 Leslie P Snow - NH State Senate President (1921)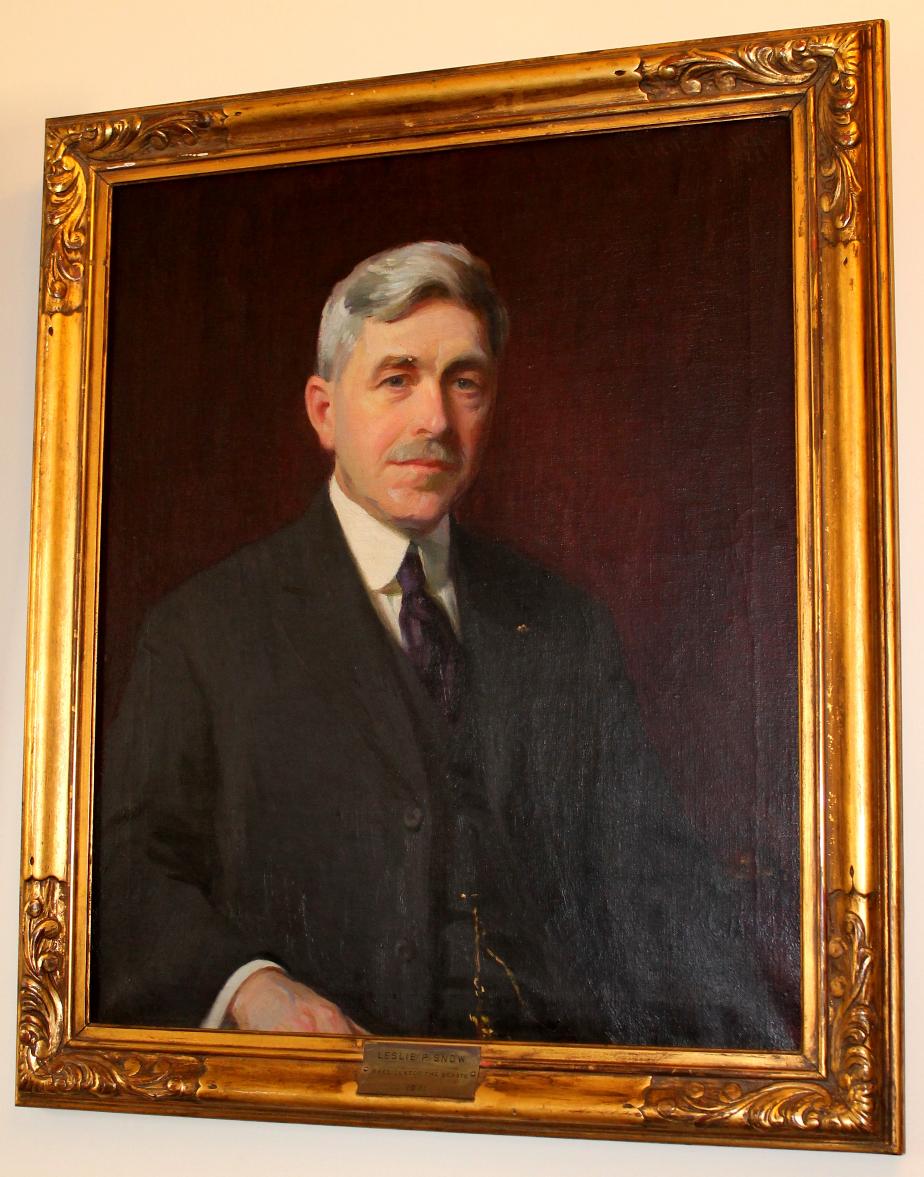 Governor Huntley Spaulding (1927 - 1928)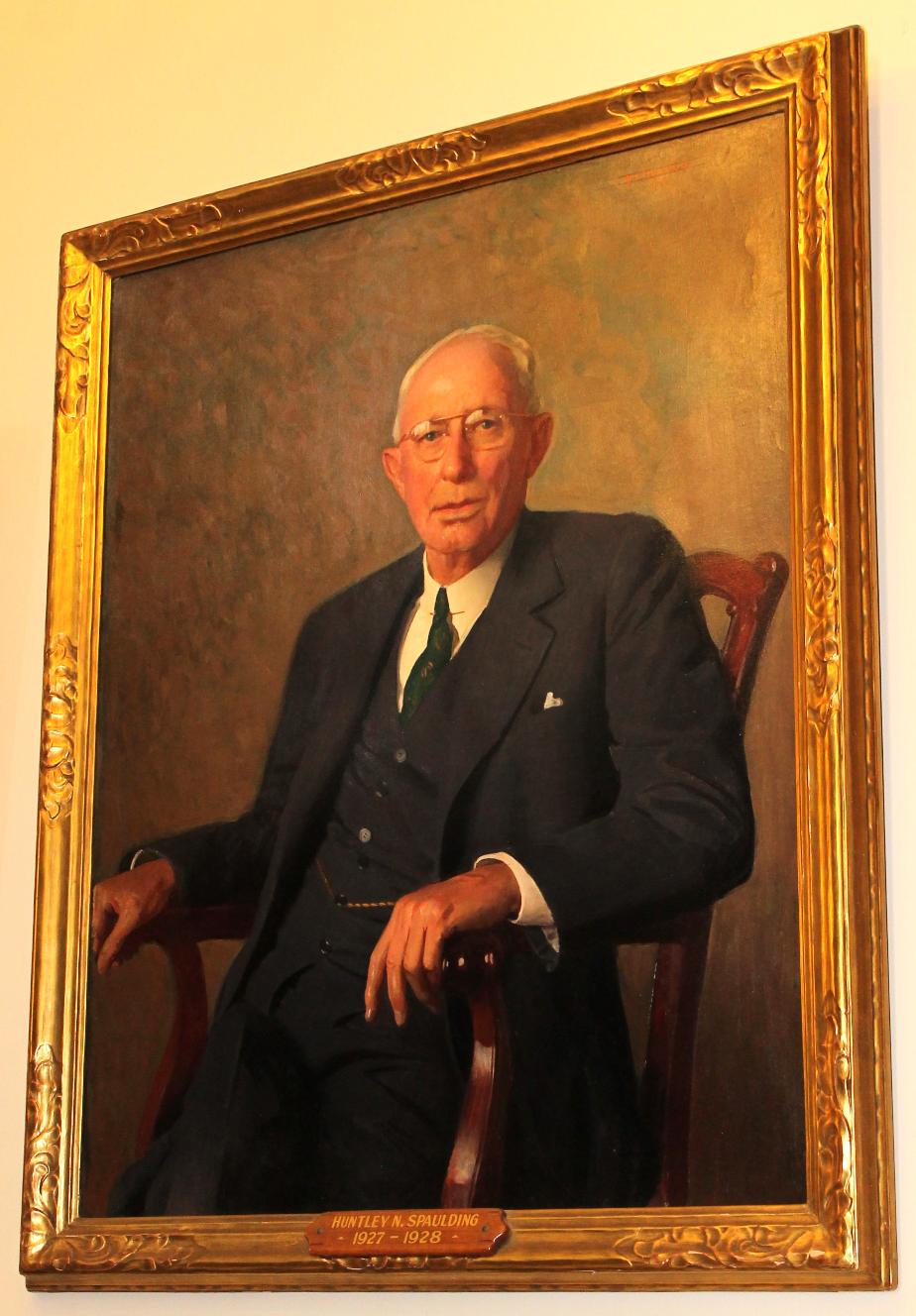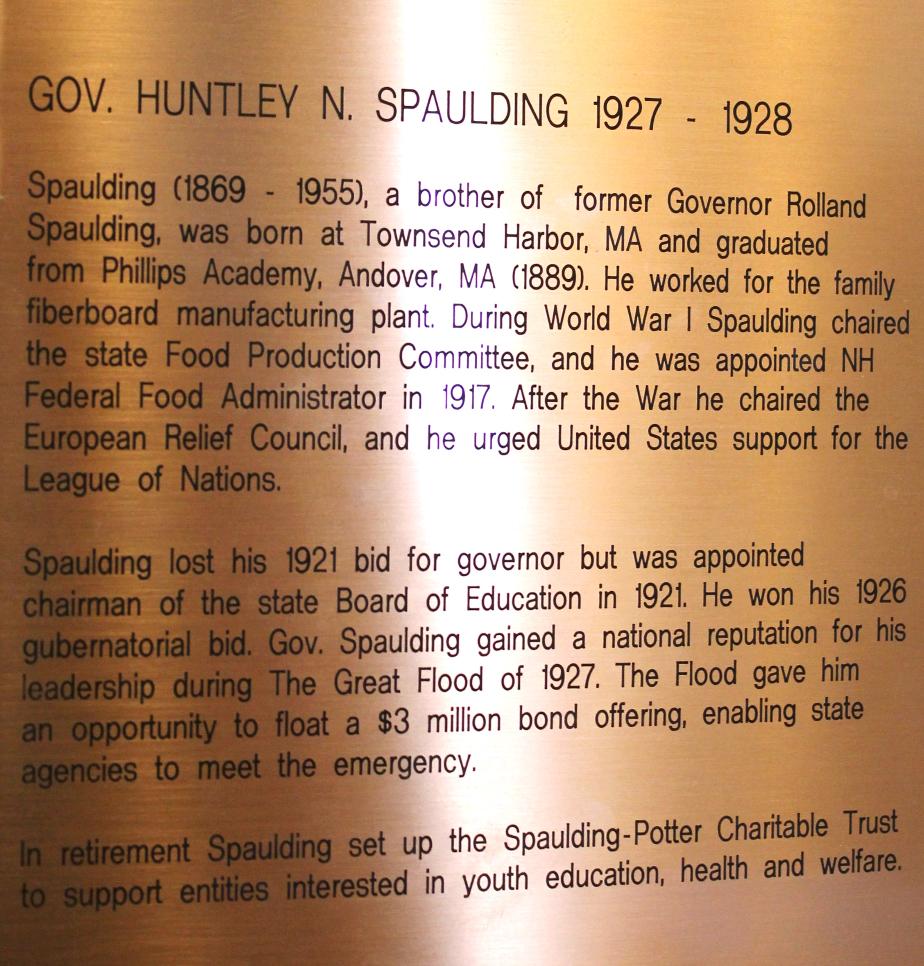 Governor Rolland H. Spaulding (1915 - 1916)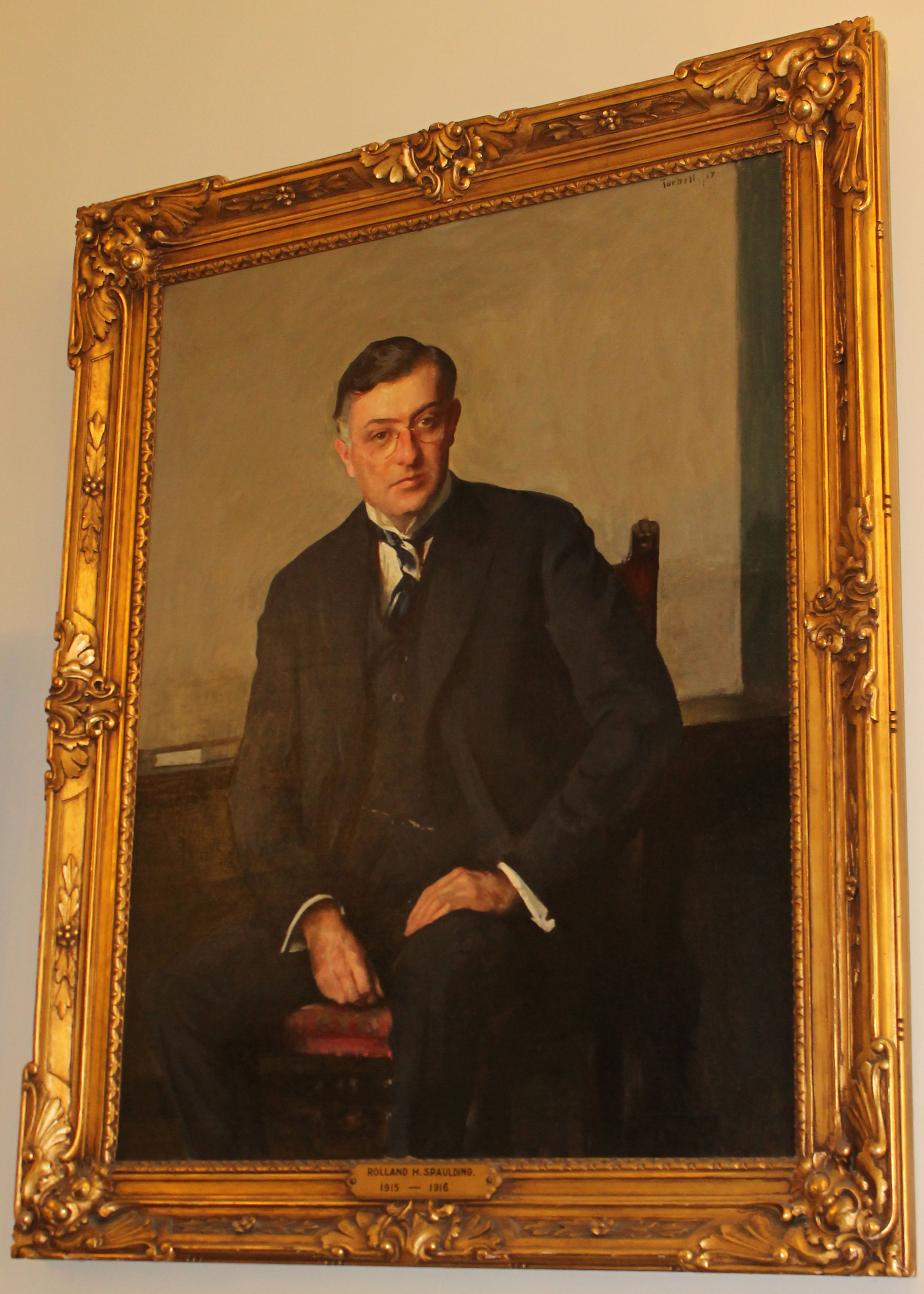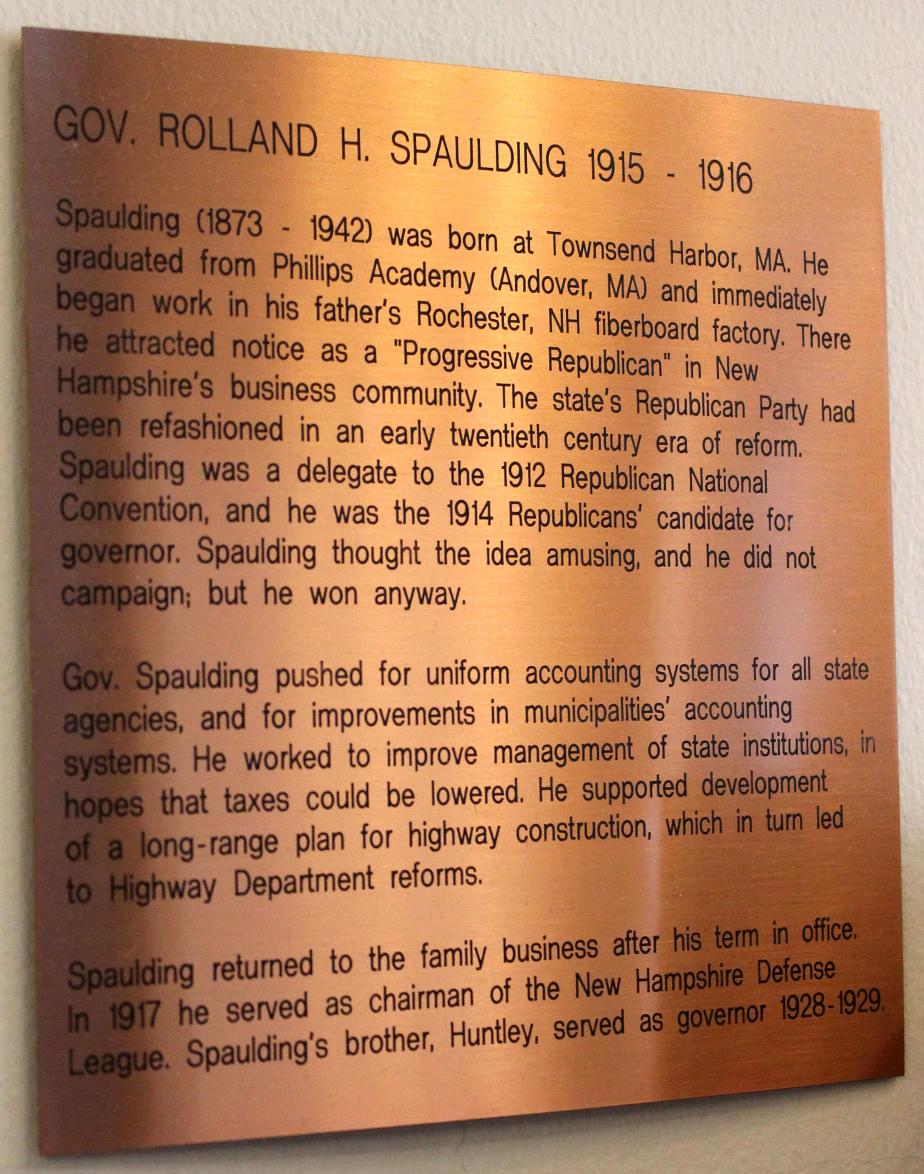 General John Stark (Londonderry)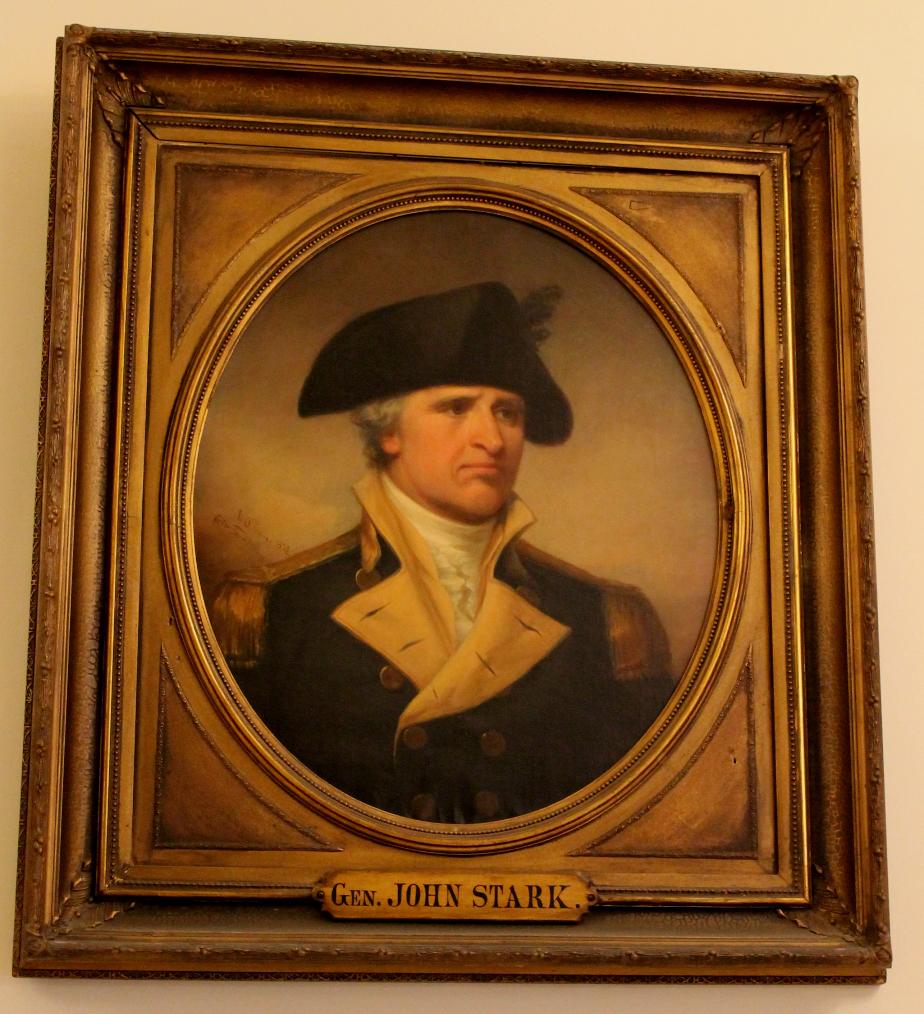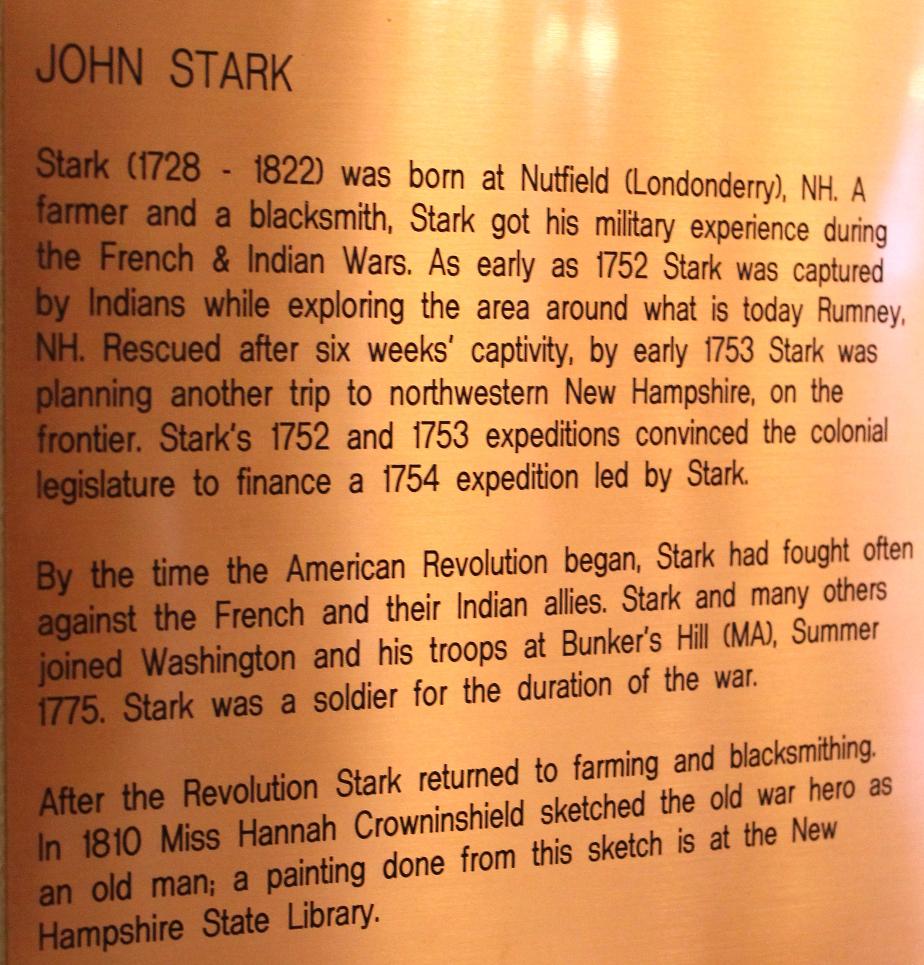 General John Stark - NH State Library Portrait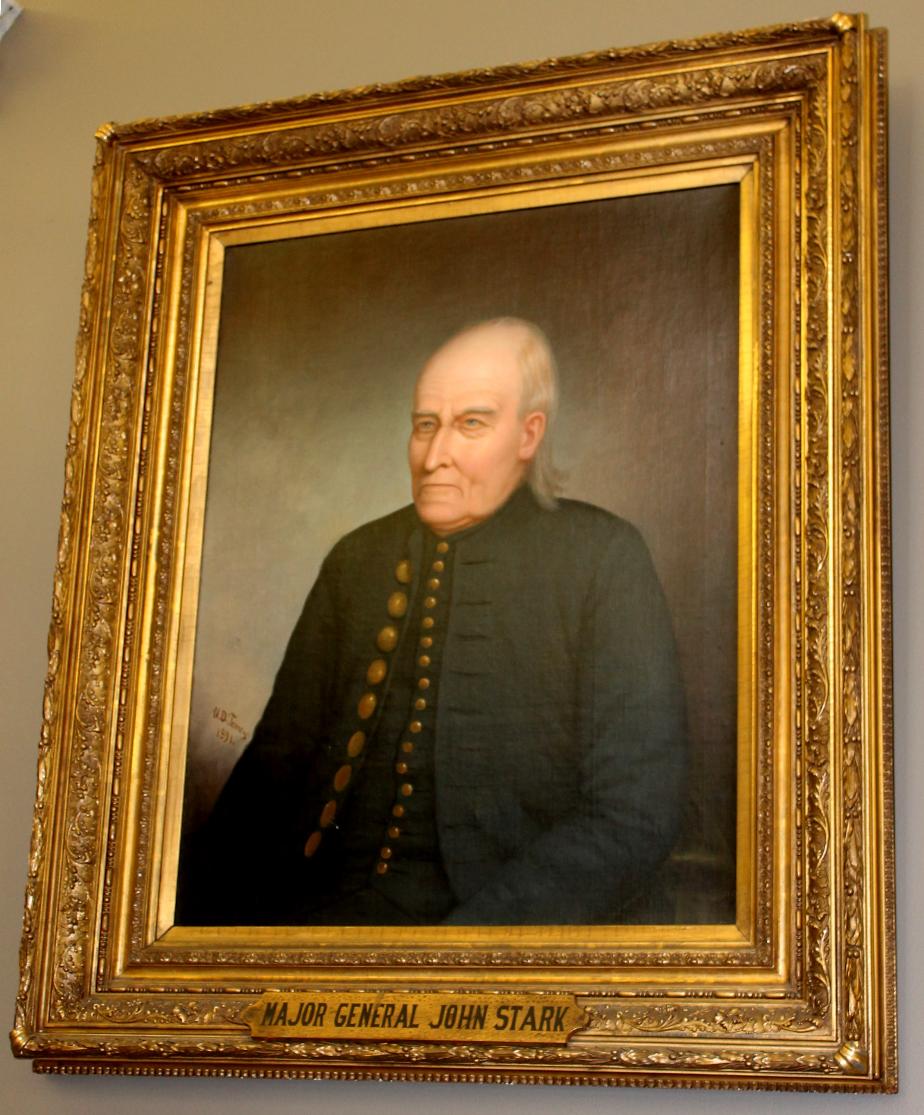 Governor Onslow Stearns : 1869 - 1871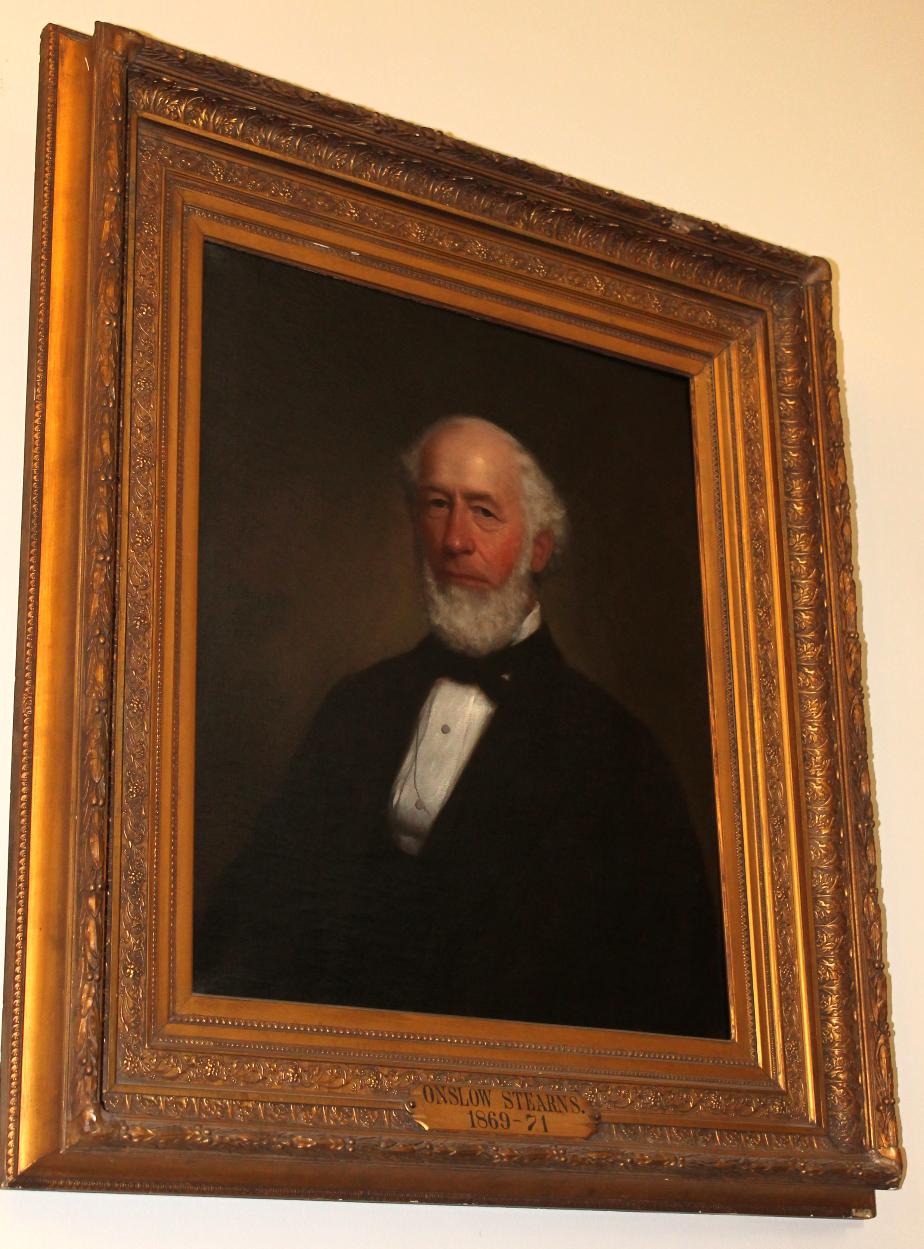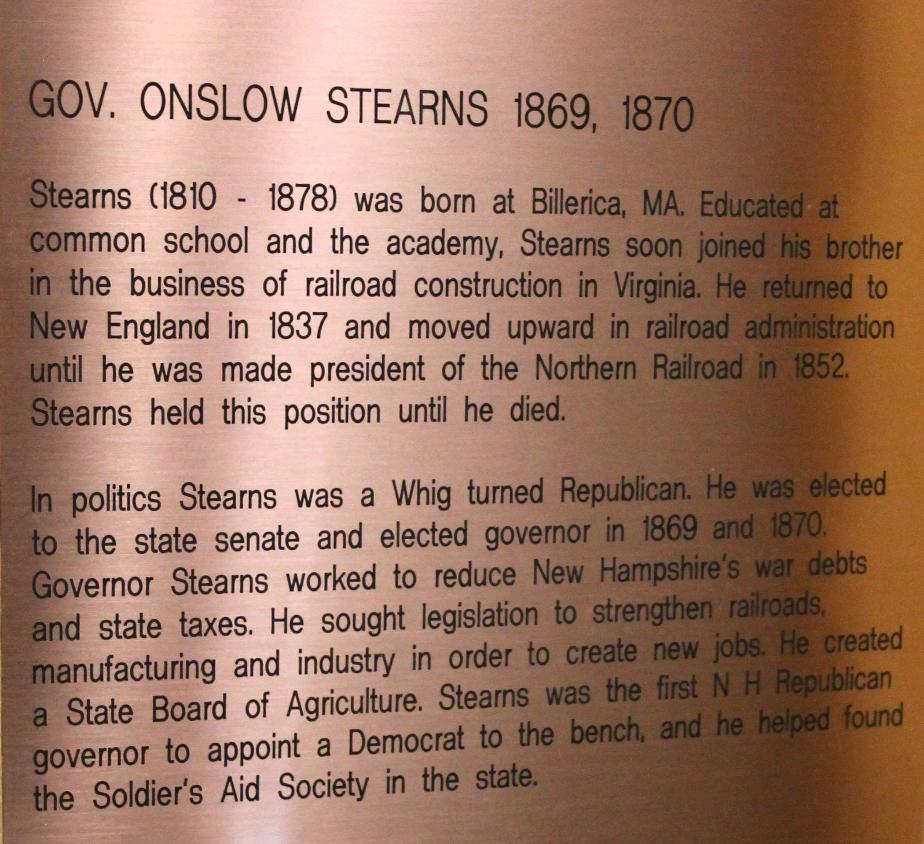 Governor John H Steele : 1844 - 1846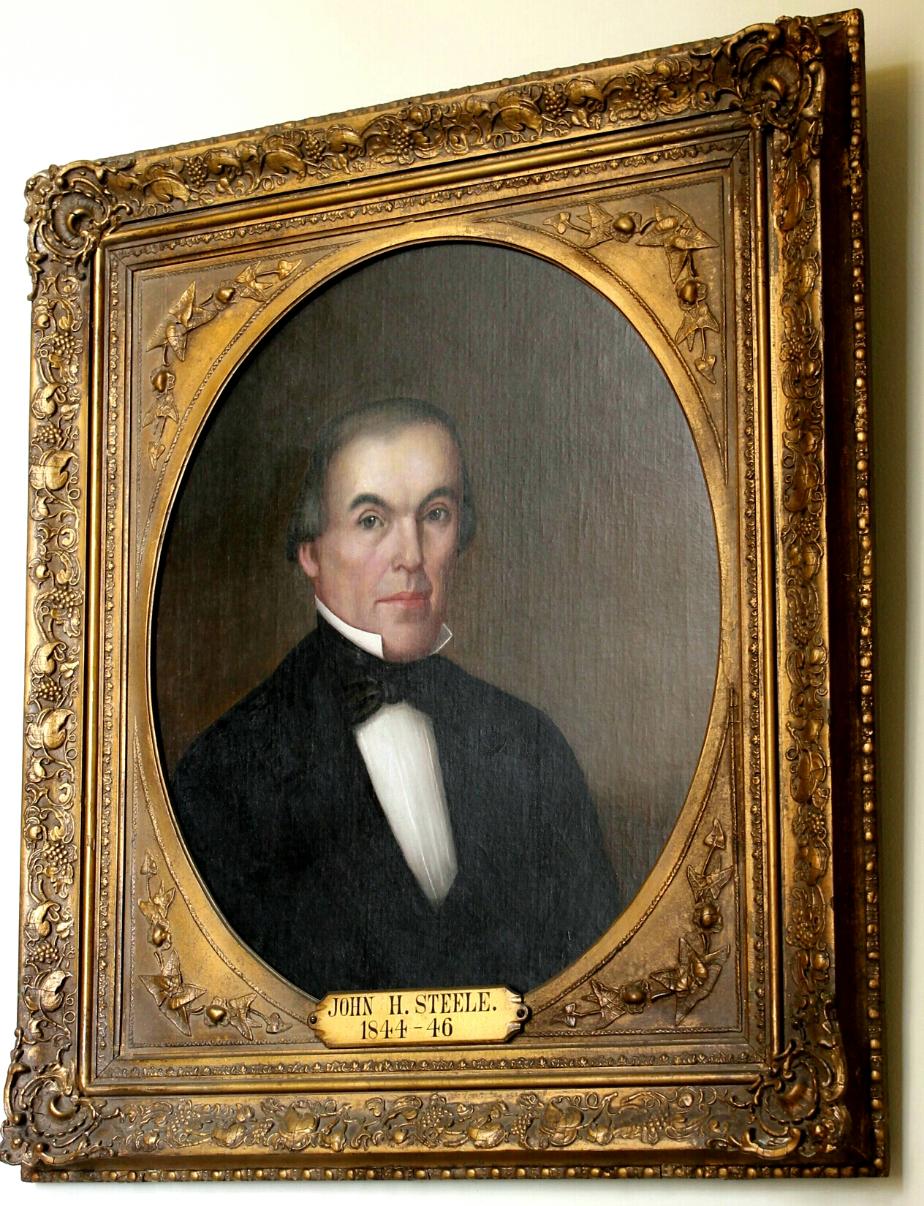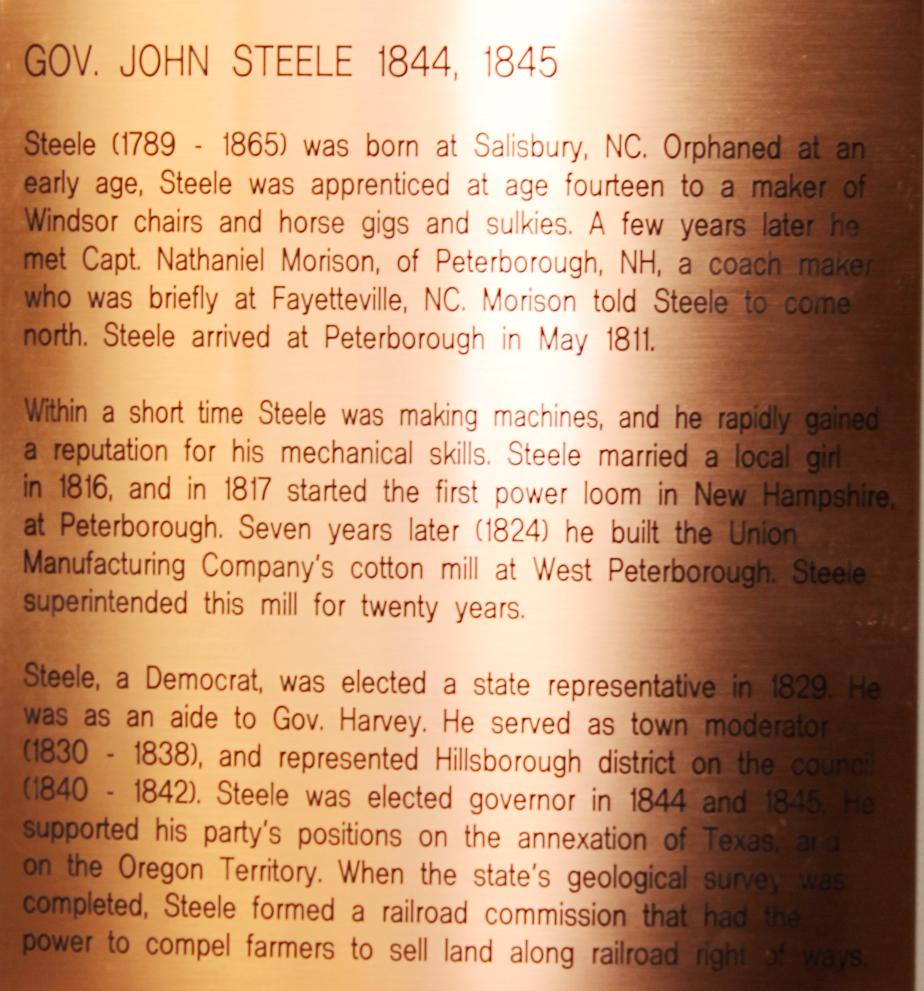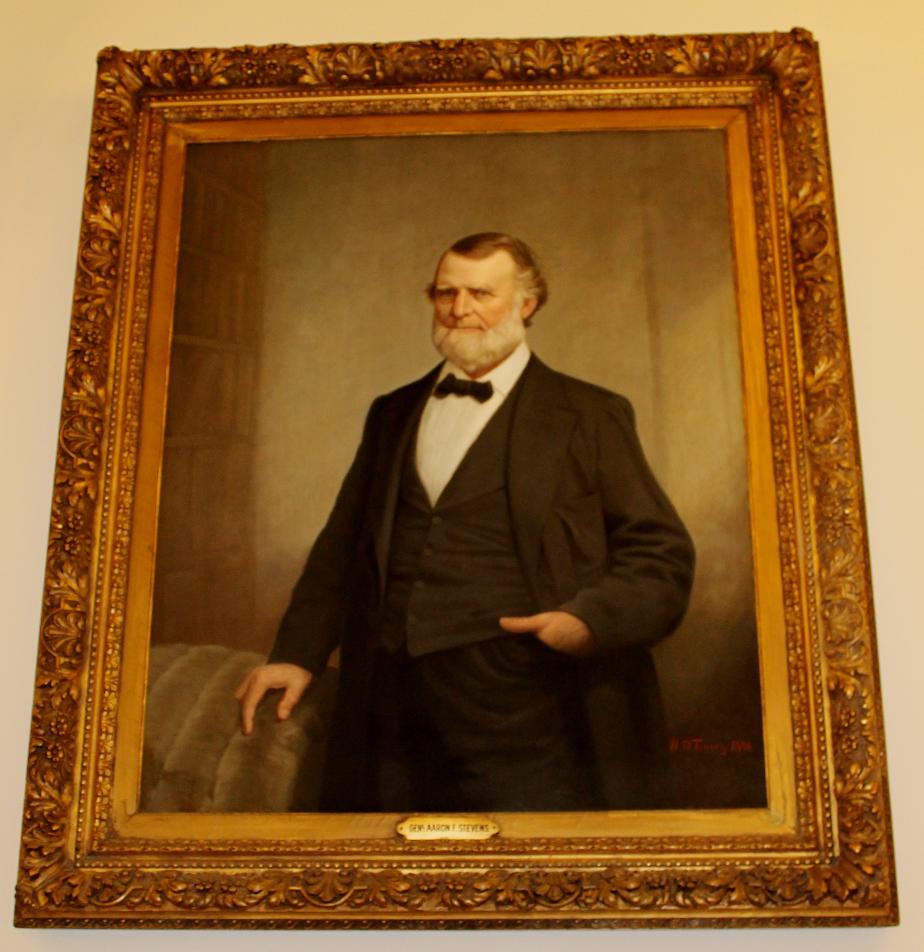 Ezkiel Straw : NH Governor 1872 - 1874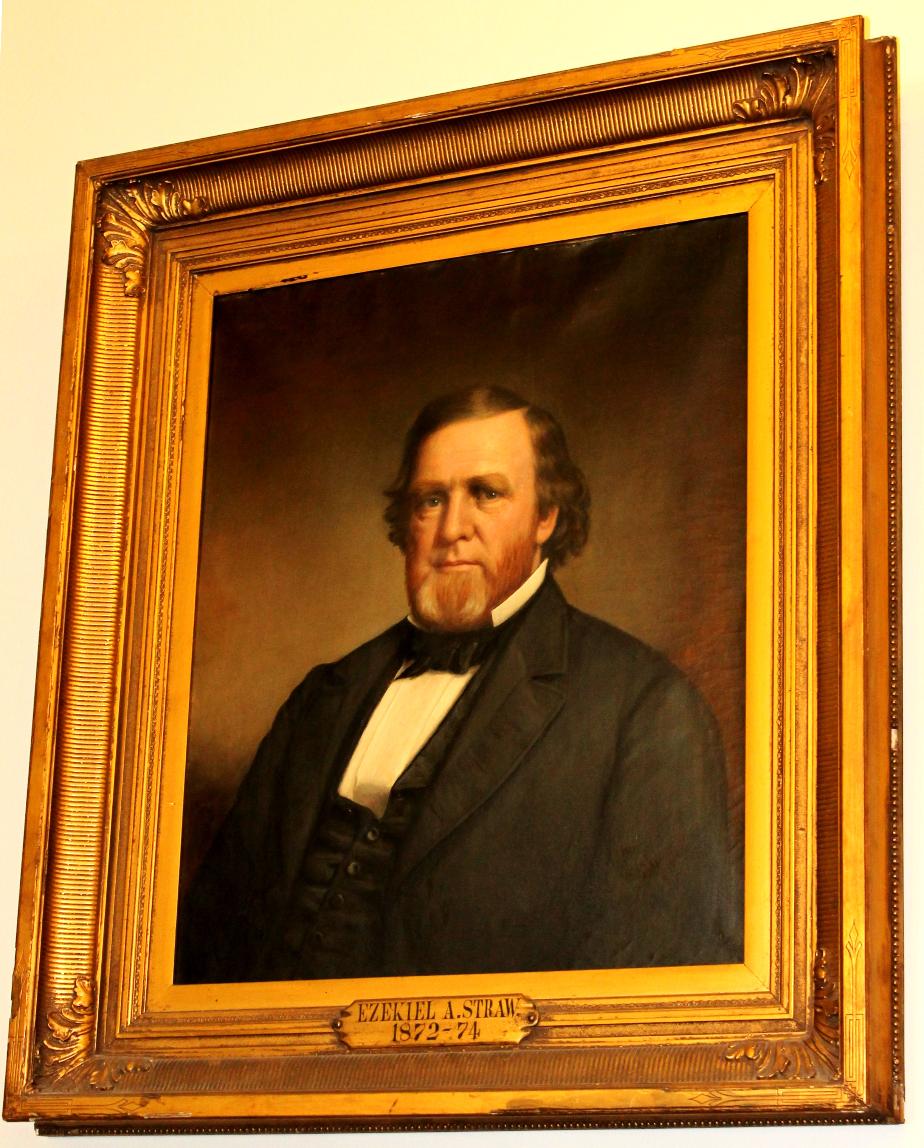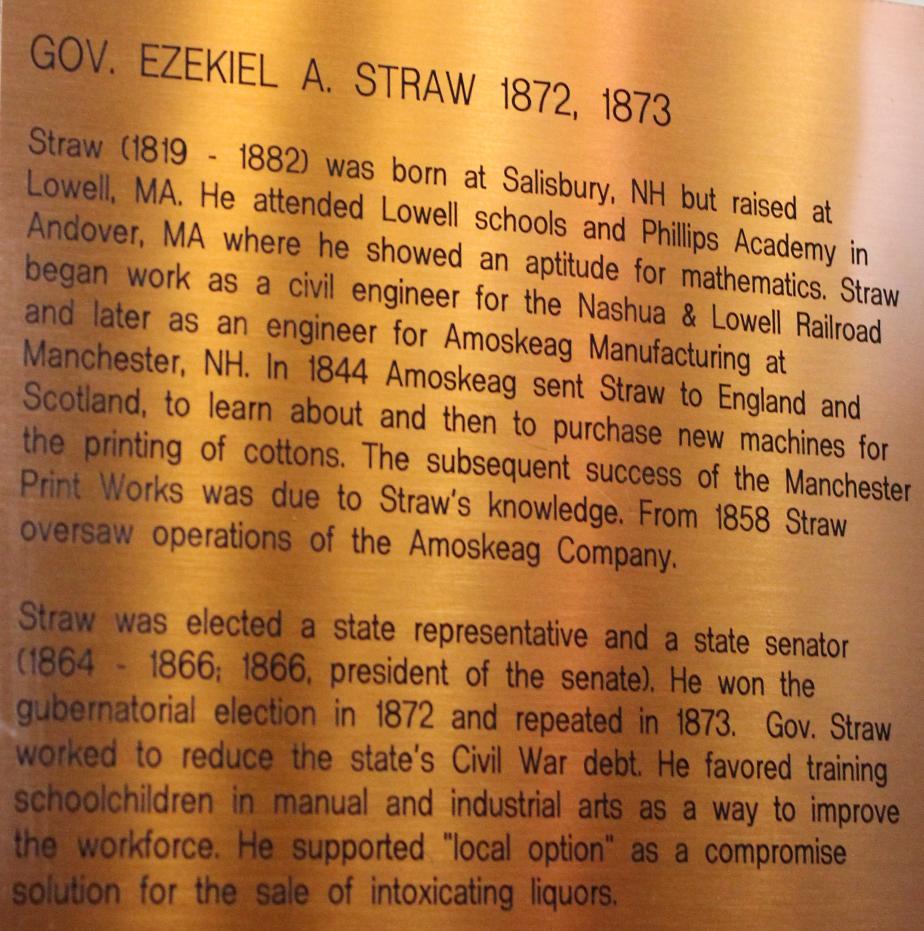 Cyrus Sulloway - US Congressman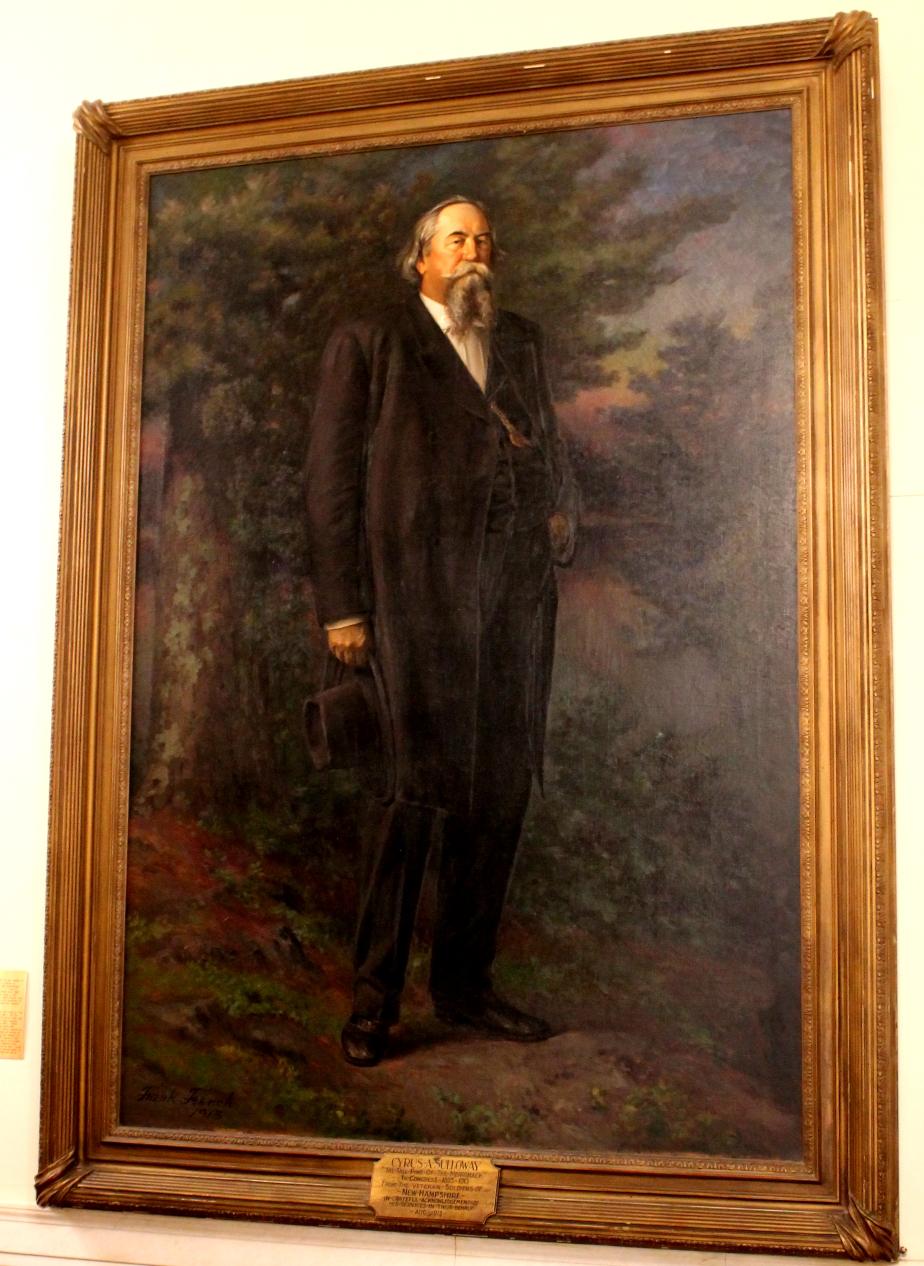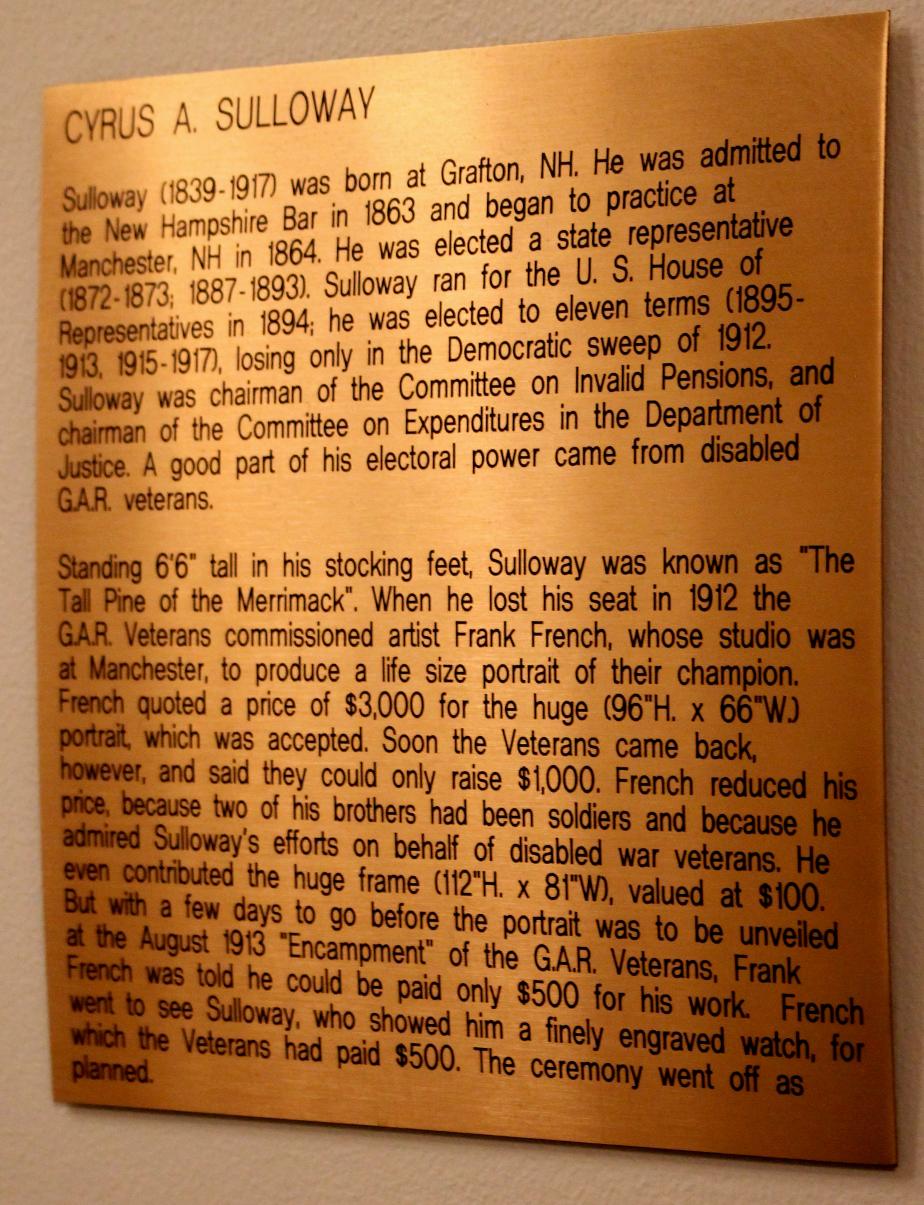 John H Sununu - NH Governor 1983 - 1989
John H. Sununu was born in Havana, Cuba. He graduated from the Massachusetts Institute of Technology. He received his bachelor's degree in 1961, a master's degree in 1962, and a Ph.D. in mechanical engineering in 1966. He was a mechanical engineering professor at Tufts University from 1966 to 1968 and associate dean of the College of Engineering until 1973. From 1963 until his election as governor, he served as president of JHS Engineering Company and Thermal Research Inc. He represented Salem in the New Hampshire State Legislature from 1973-1974. He became New Hampshire's 75th Chief Executive on January 6, 1983, and served three consecutive terms. Sununu served on the Advisory Board of the Technology and Policy Program at MIT from 1984-1989. On January 21, 1989, Governor Sununu was commissioned Chief of Staff to President George H. W. Bush, serving in the White House until March 1, 1992. He is a member of the National Academy of Engineers' Committee on Public Engineering Policy and has served as a member of the President's Council on Environmental Quality Advisory Committee. Sununu chaired the National Governors Association, the Coalition of Northeastern Governors, and the Republican Governors Association. From 1992 until 1998, he co-hosted CNN's nightly Crossfire program, a news/public affairs discussion program. He is president of JHS Associates, Ltd. and a partner in Trinity International Partners, a private financial firm. He is a member of the National Academy of Engineering.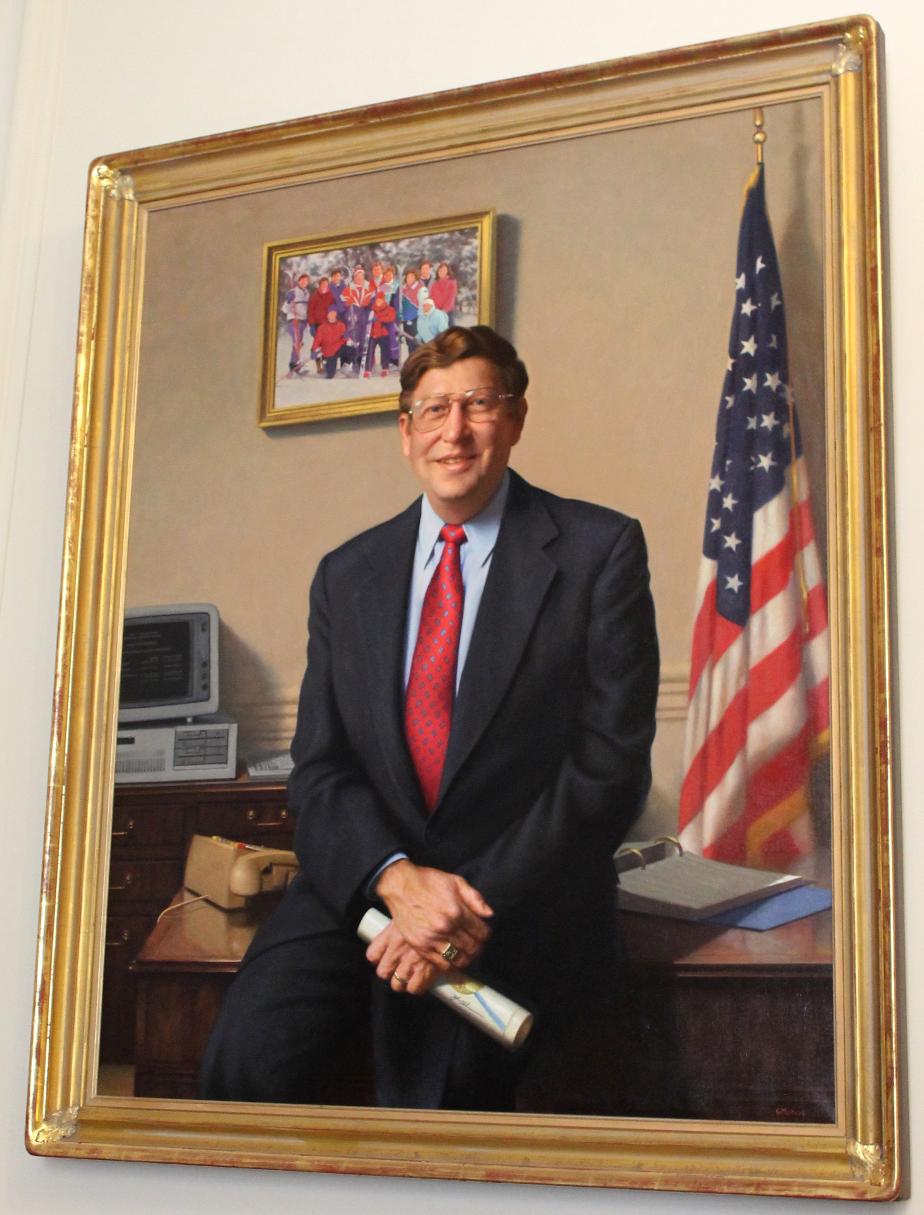 William Swart - NH State Senate President (1922 - 1912)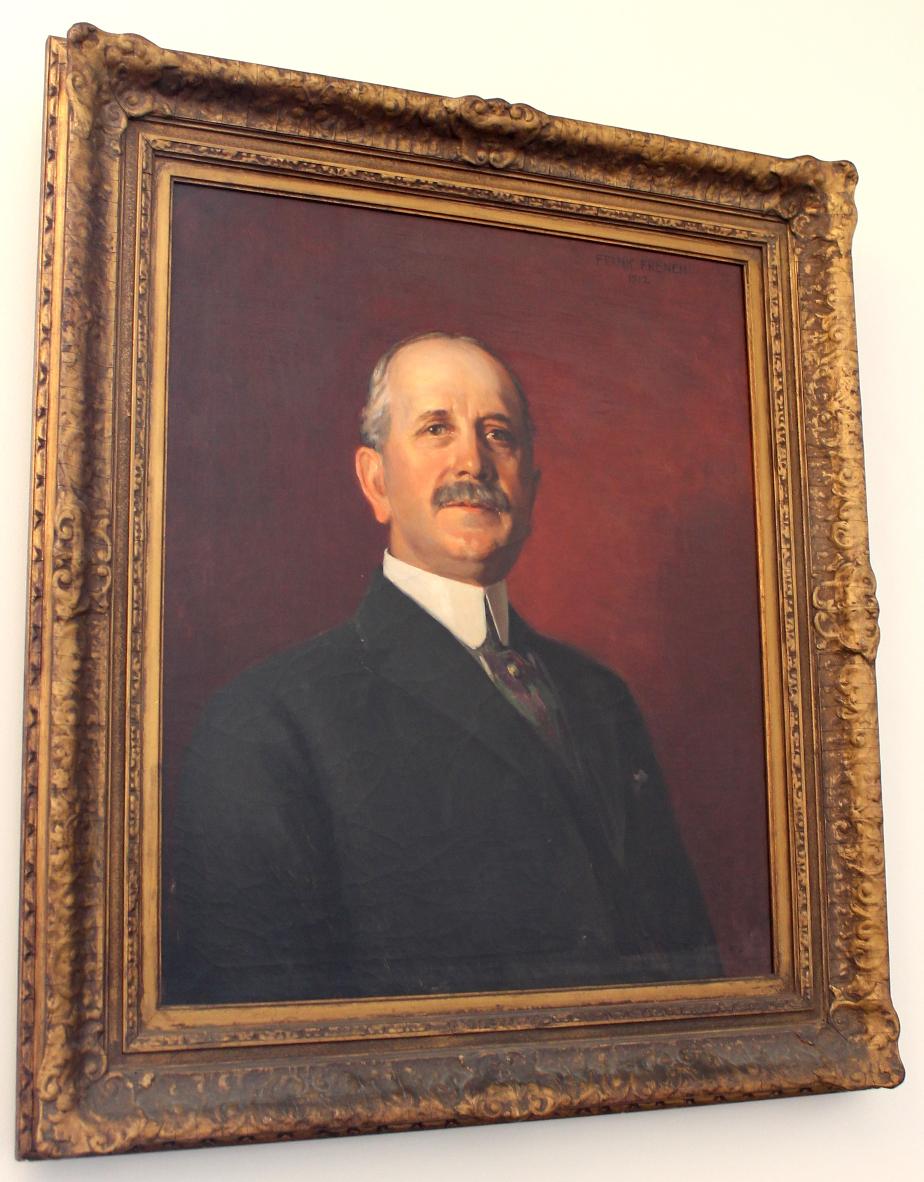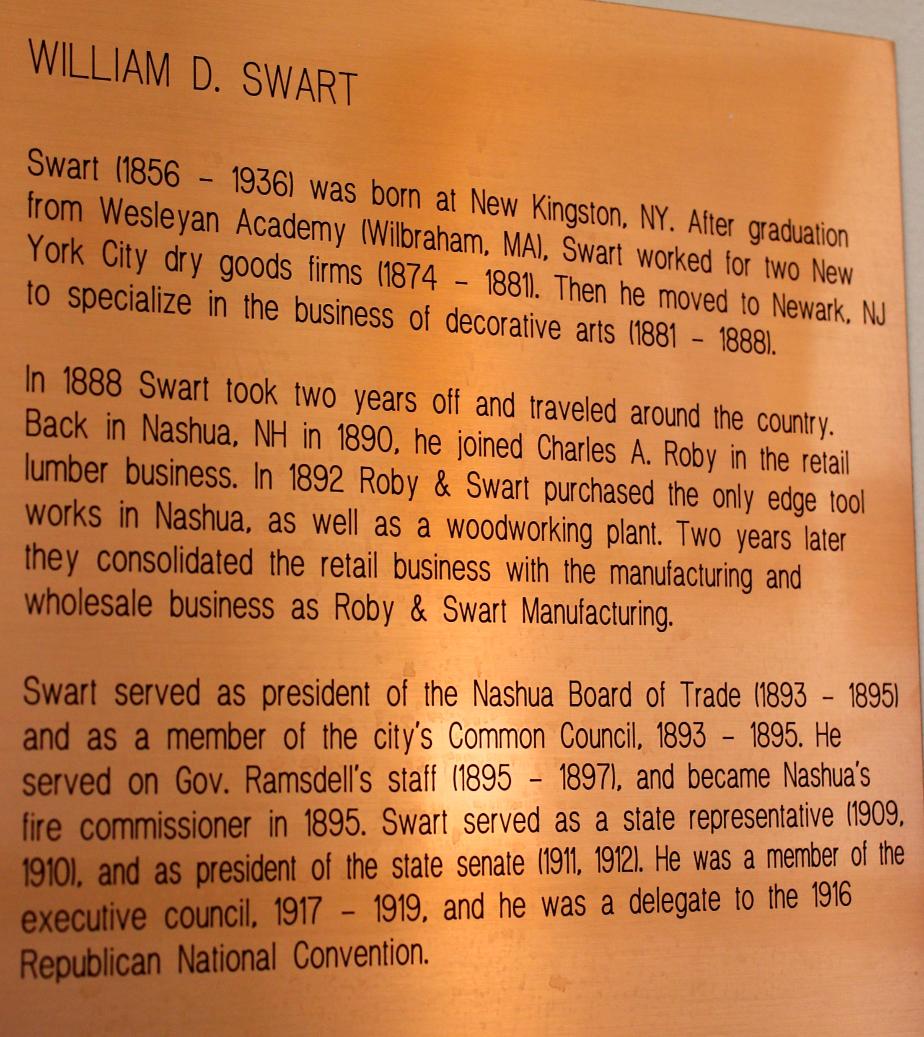 David A Taggart - NH State House President 1889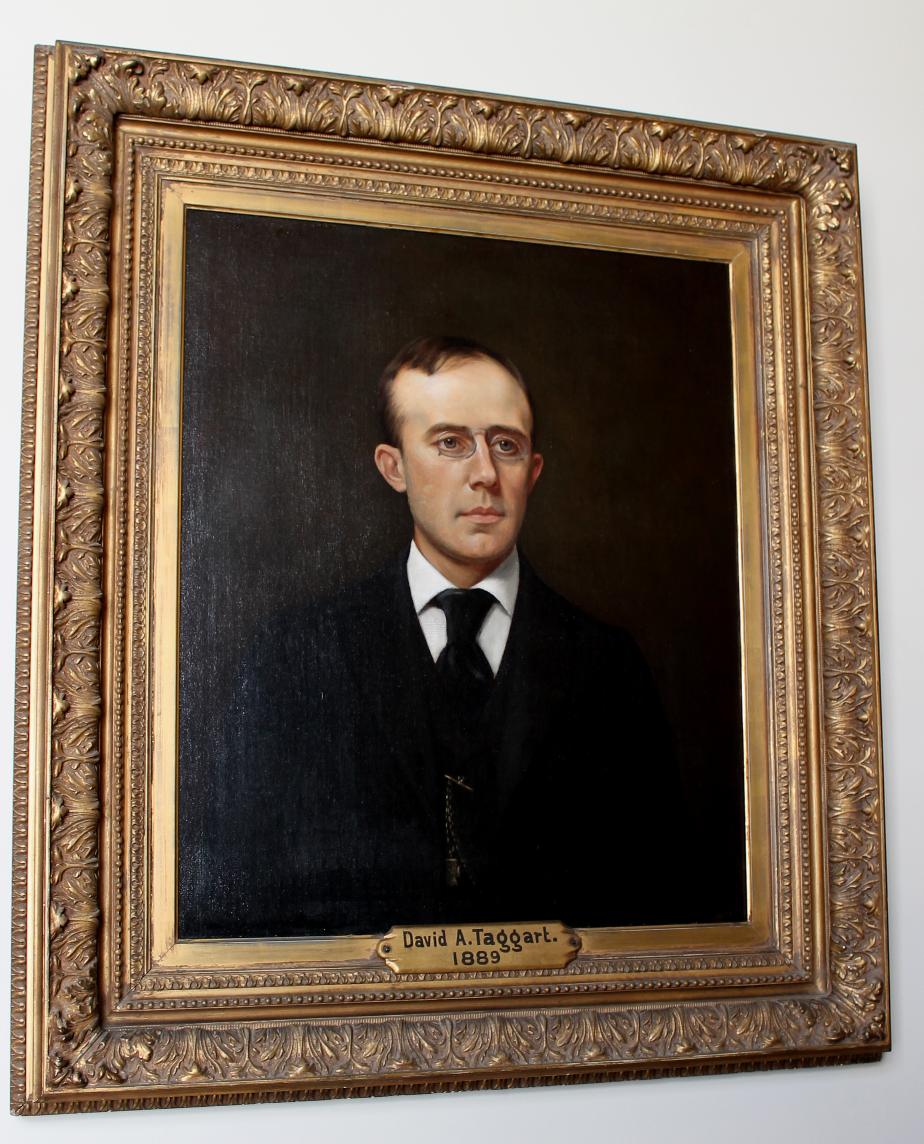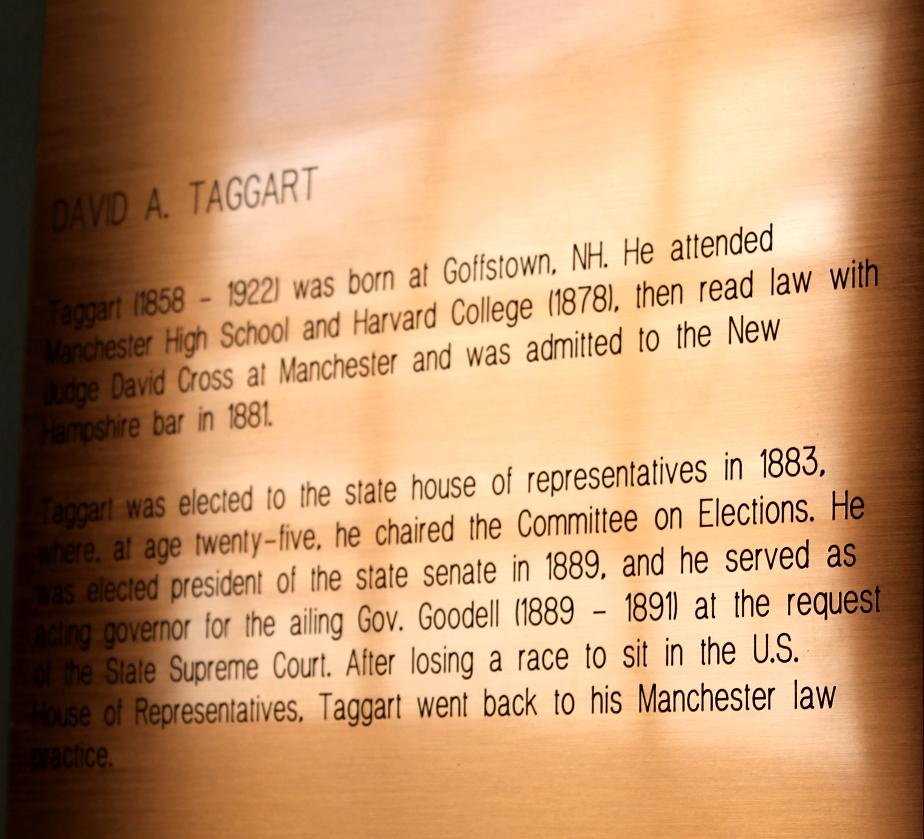 Adna Tenney (Hanover) - State House Portrait Painter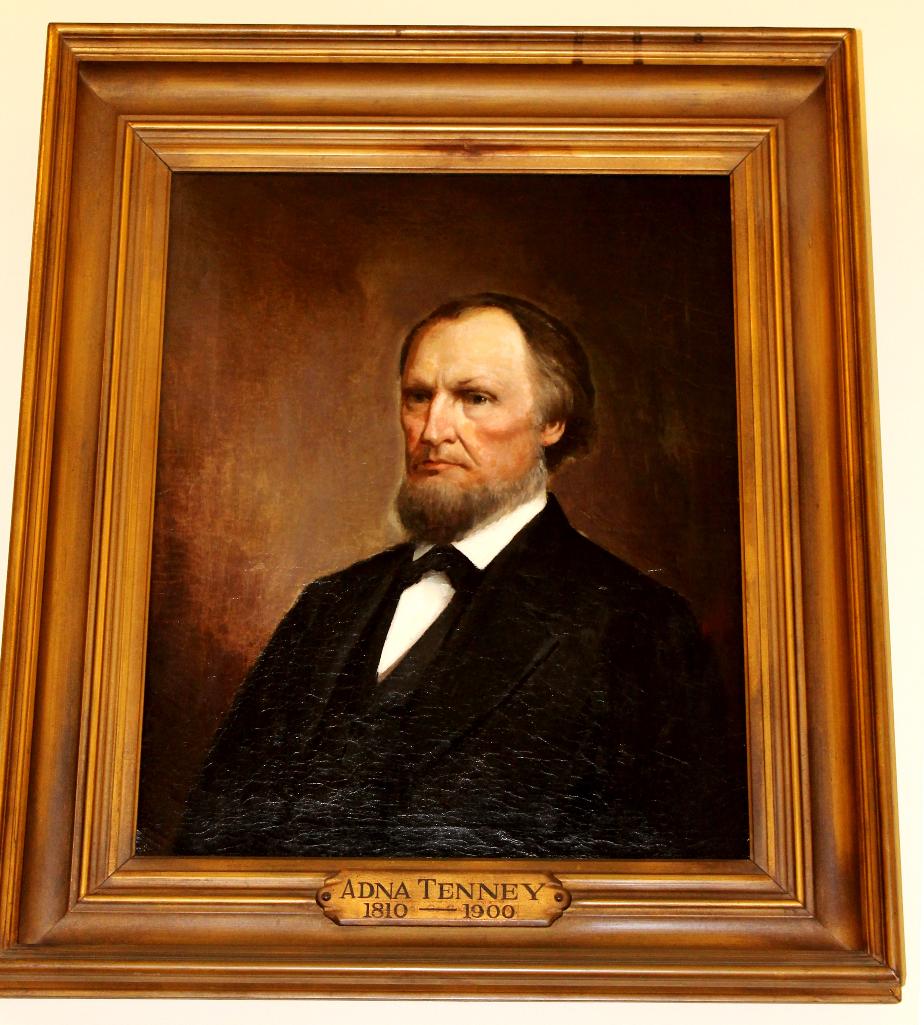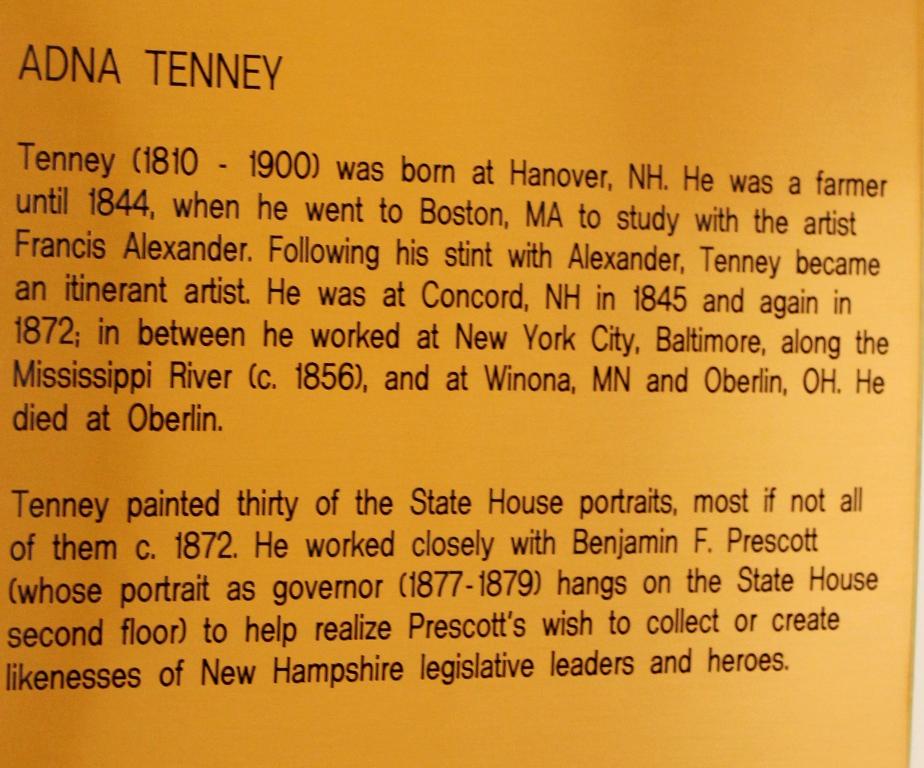 Brig. General John L. Thompson
Meldrim Thomson jR. - Governor from 1973 - 1979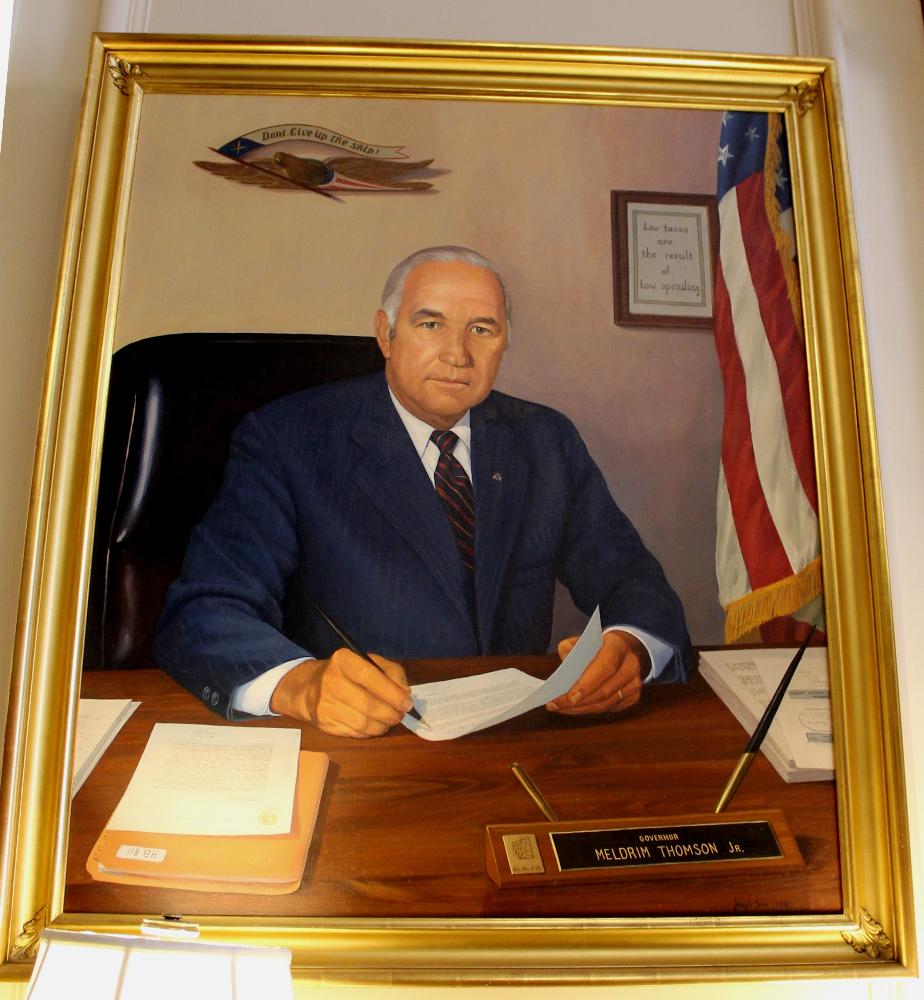 Meldrim Thomson JR. was born in Pittsburgh, Pennsylvania, on March 8, 1912. He attended the University of Miami, Washington and Jefferson College, Mercer University and the University of Georgia, receiving a LL.B. from the latter. Thomson started a legal textbook publishing firm on Long Island, New York. In search of quiet, he moved his family of six children to Orford, where he founded Equity Publishing Corp. As governor from 1973-1979, serving three two-year terms, he drew devoted support from ultraconservatives with positions that included suggesting nuclear weapons for the state National Guard. He once called Martin Luther King "a man of immoral character whose frequent association with leading agents of communism is well-established." But he also drew votes for his strong antitax stance -- to this day, the state has neither an income tax nor a sales tax -- and for his philosophy of independence from federal influence. Thomson is a former member and chairman of both the Stony Brook, Long Island; and Orford, New Hampshire, school boards. He was a member of the New Hampshire constitutional convention in 1964. Thomson also co-founded Taxfighters, Incorporated, and the Public School Association. Thomson has taught political science at the University of Georgia. Governor Thomson passed away from Parkinson's disease and heart problems on April 19, 2001.
Captain James S Thornton - Civil War Naval Officer
(USS Kearsarge)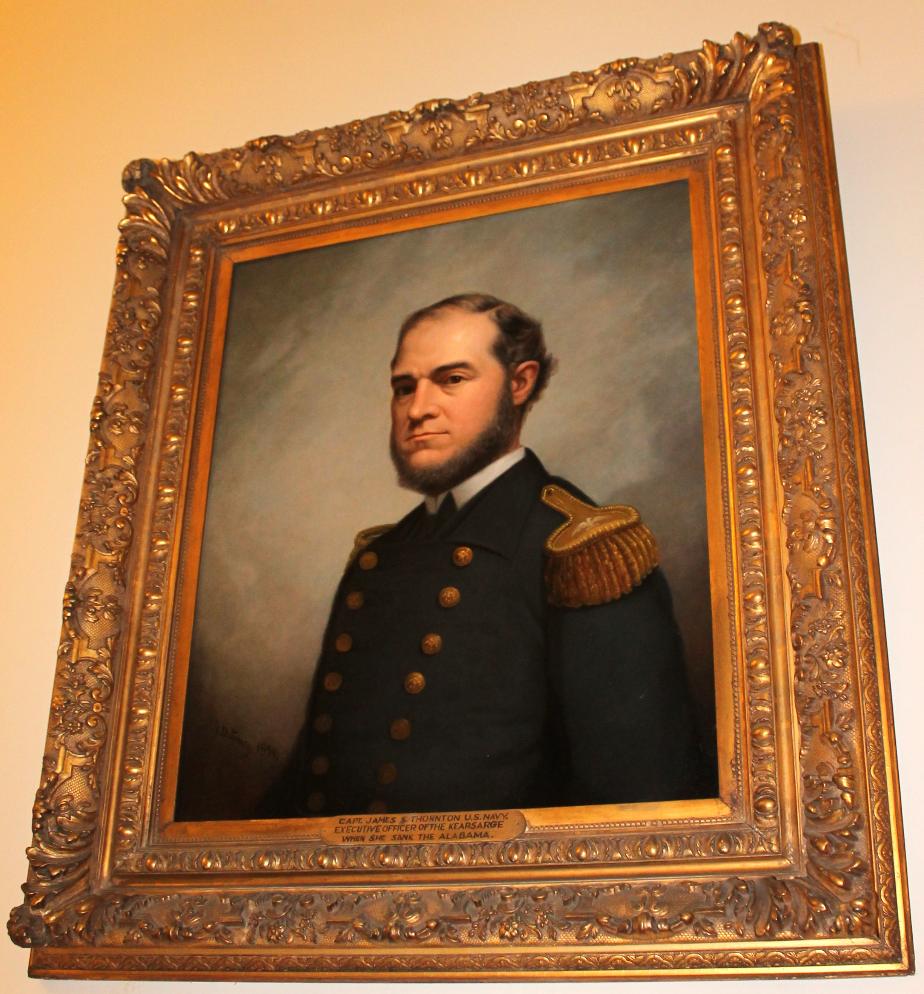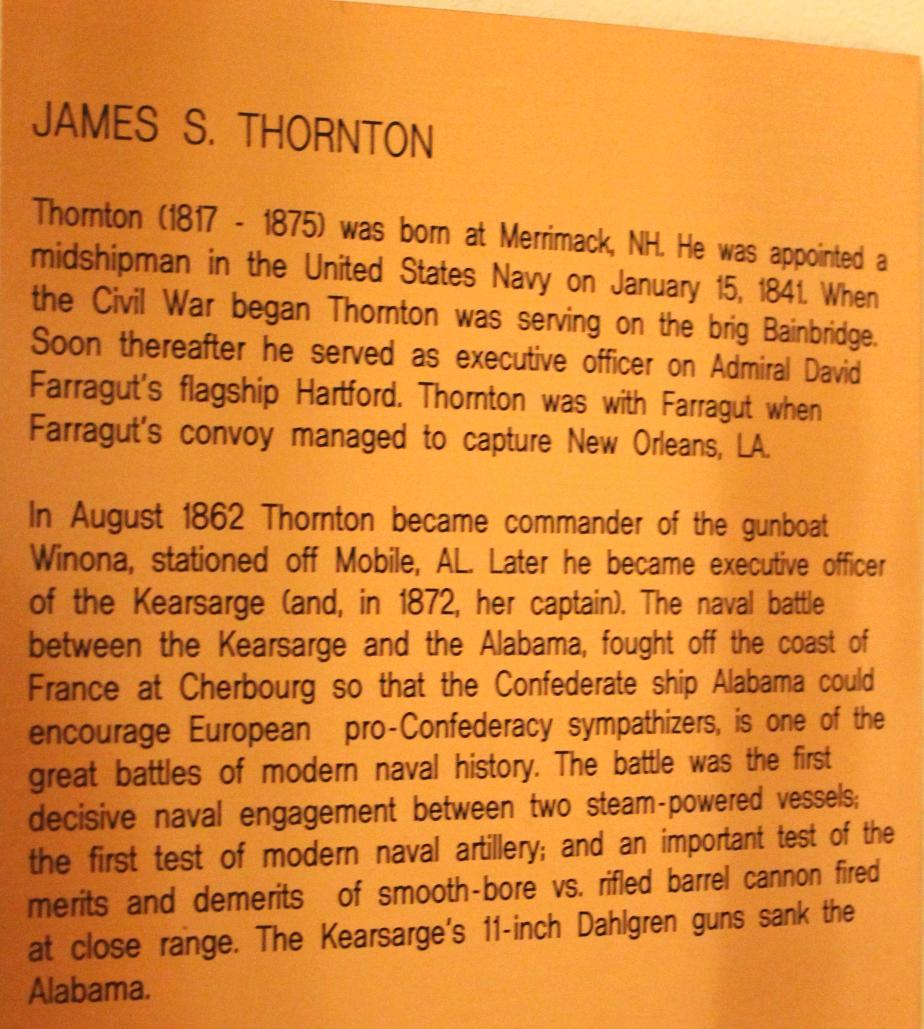 Matthew Thornton - Signer of Declaration of Independence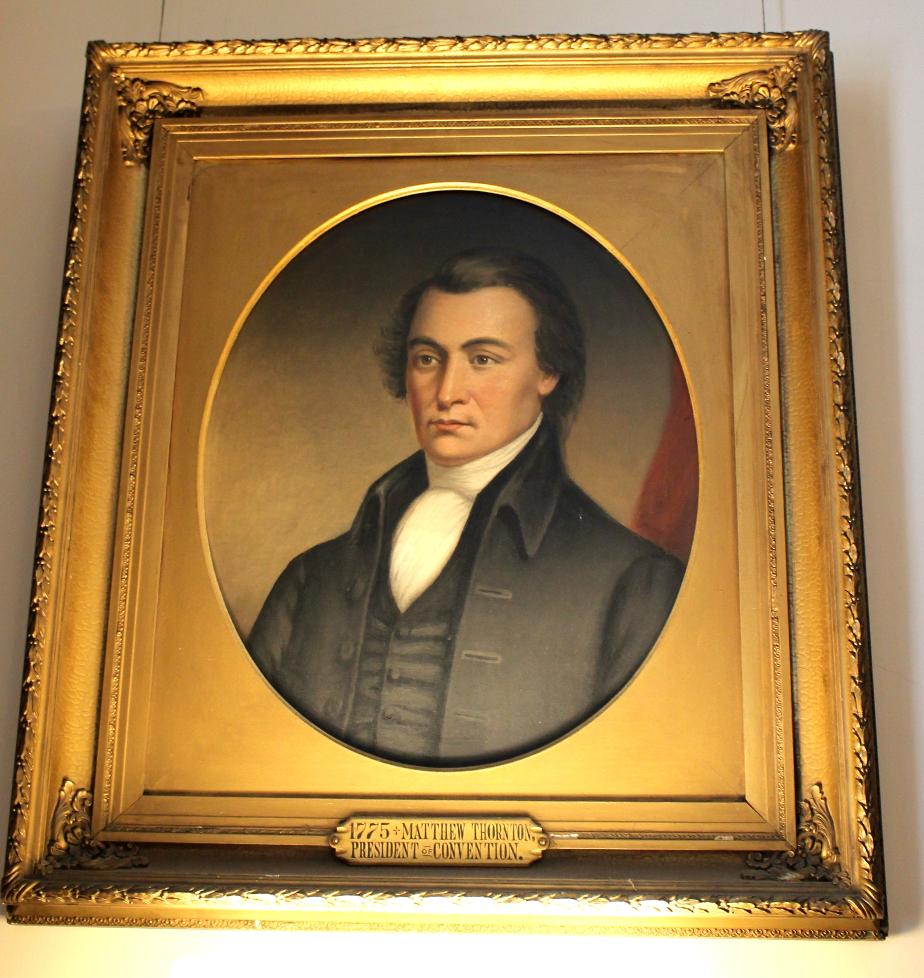 Governor Charles W Tobey 1929 - 1931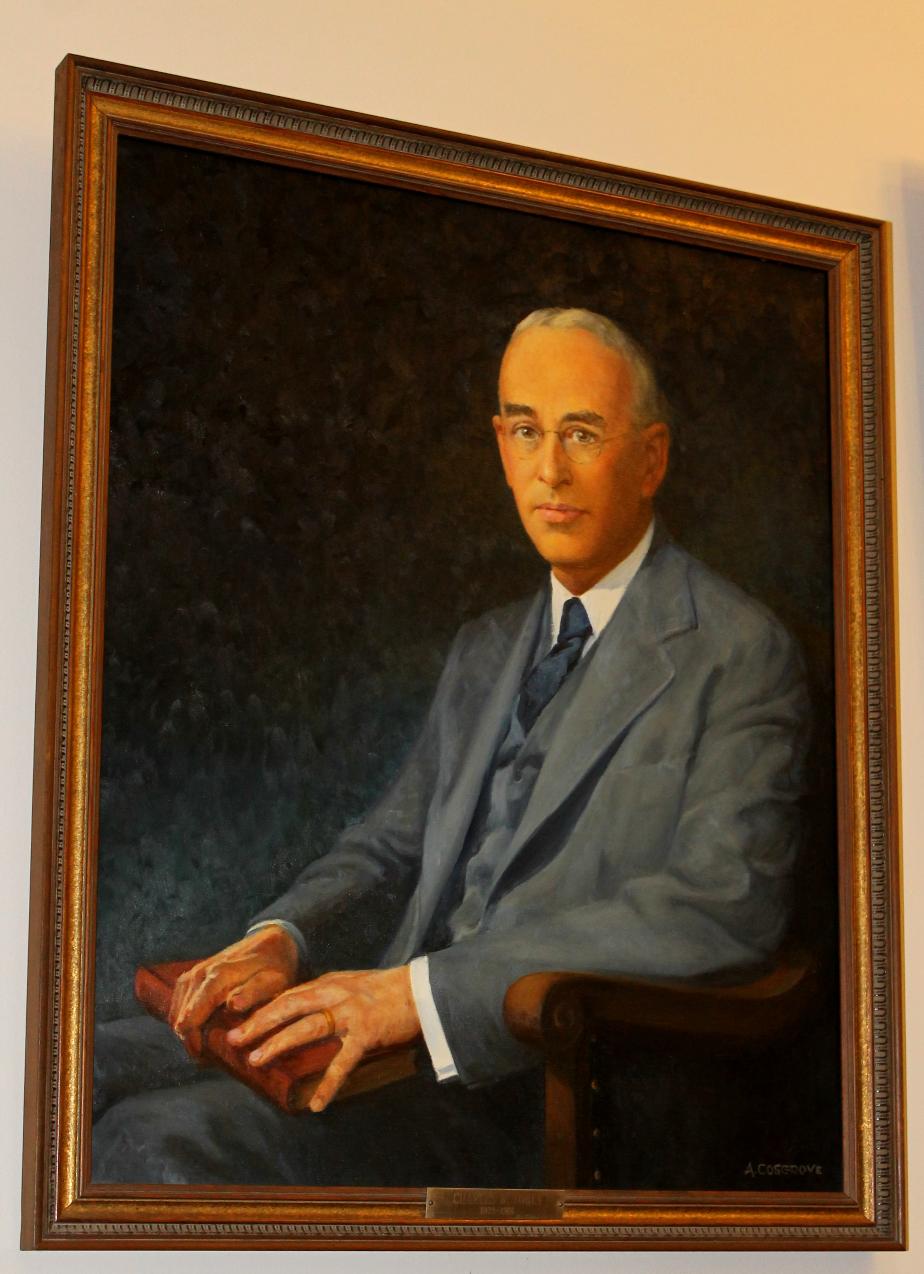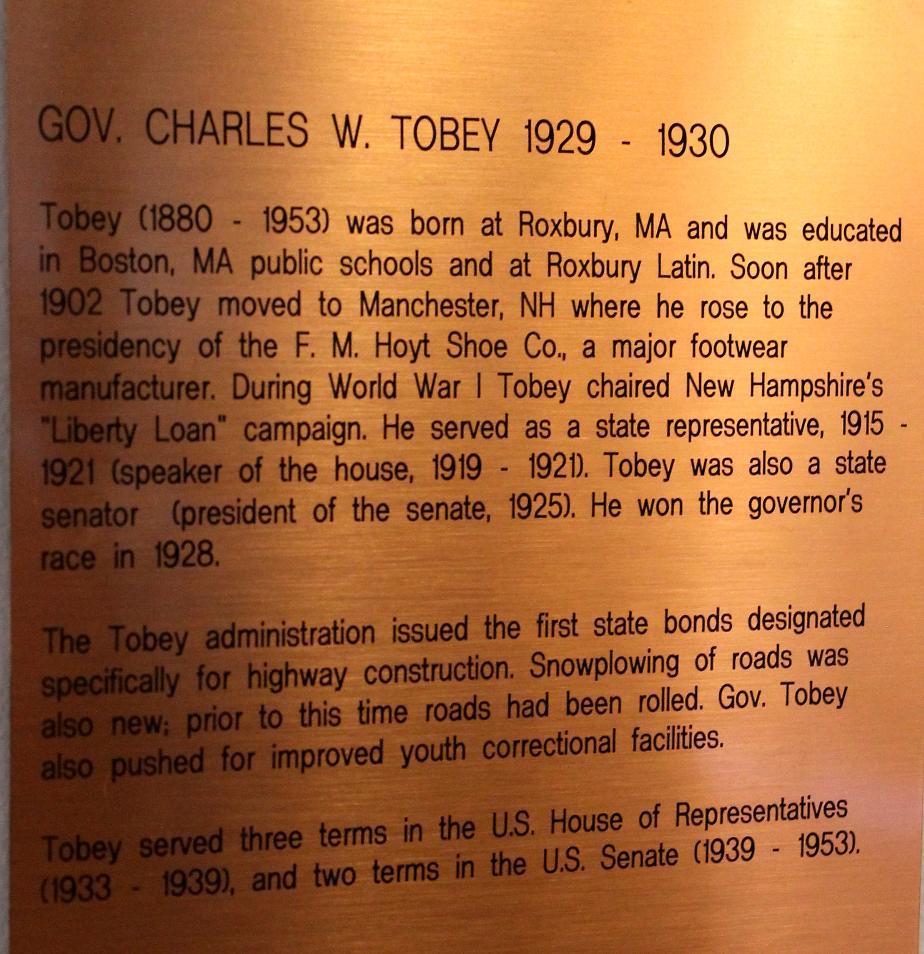 Colonel Francis Laban Town (Jefferson) - Civil War Surgeon and Assistant Surgeon-General of the US Army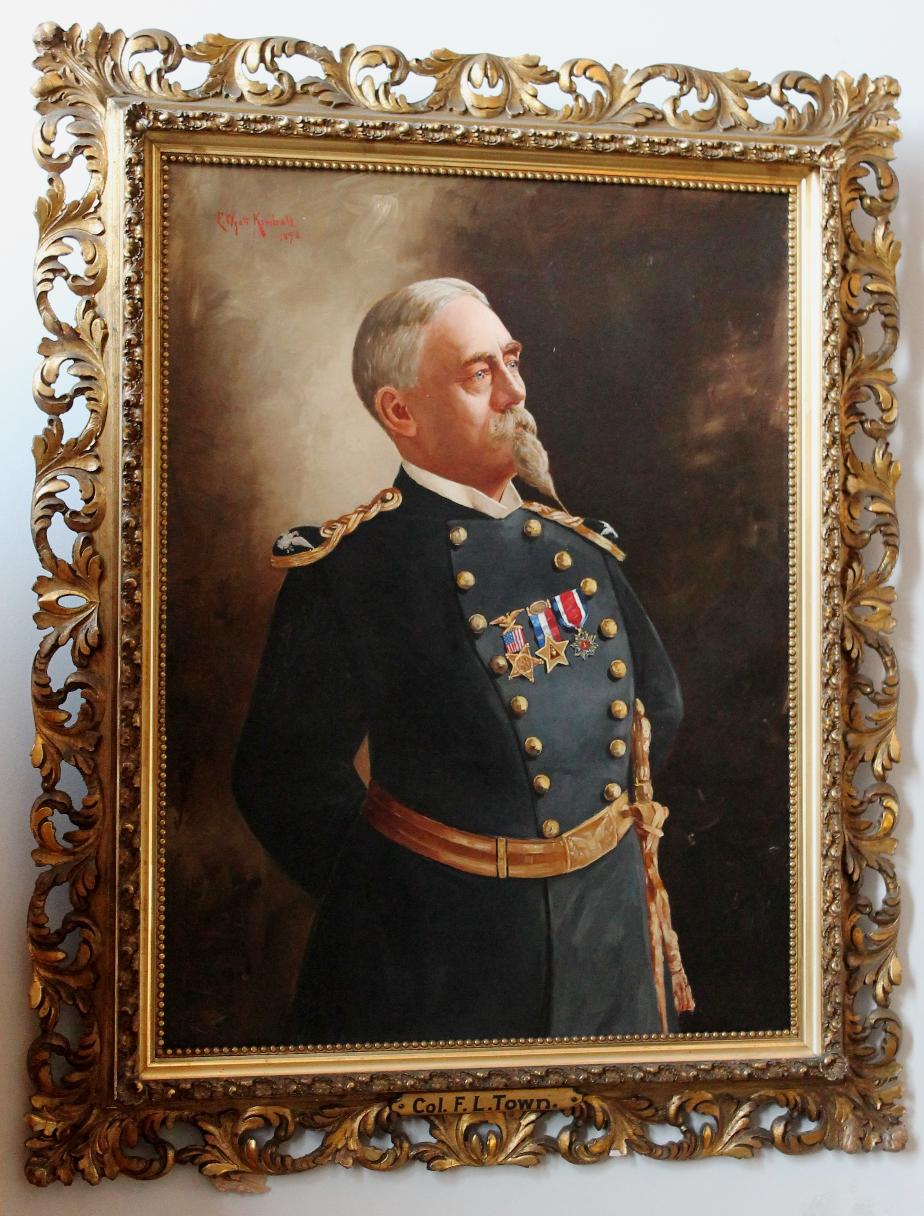 Thomas Logan Tullock (Portsmouth) Postmaster &
NH Secretary of State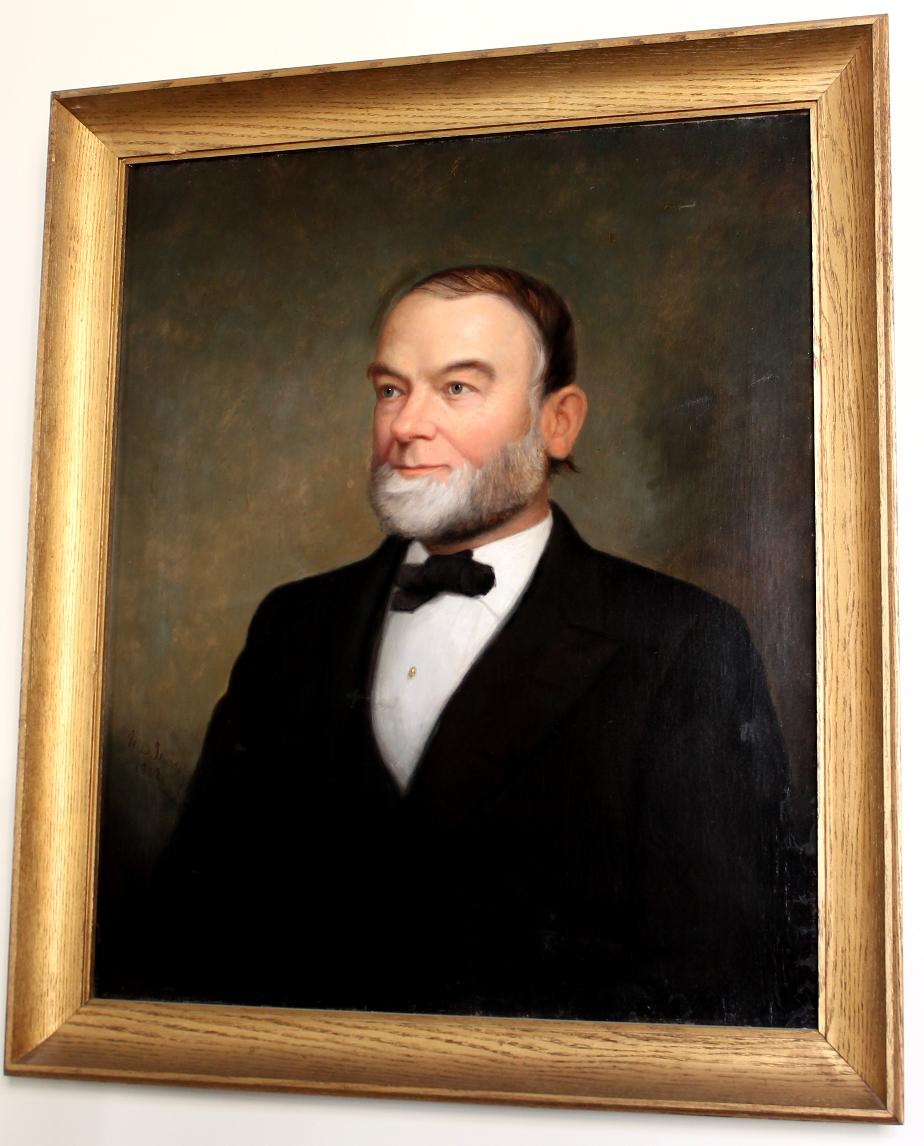 Governor Hiram Tuttle 1891 - 1892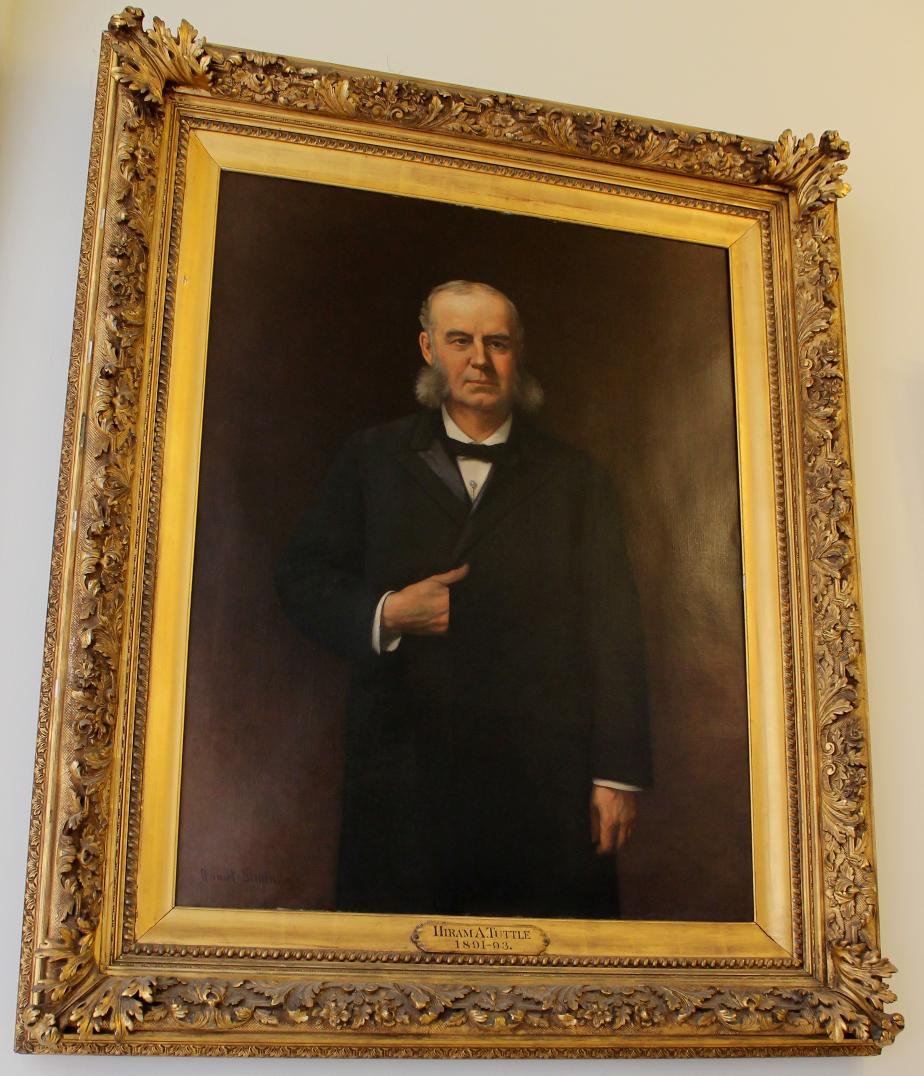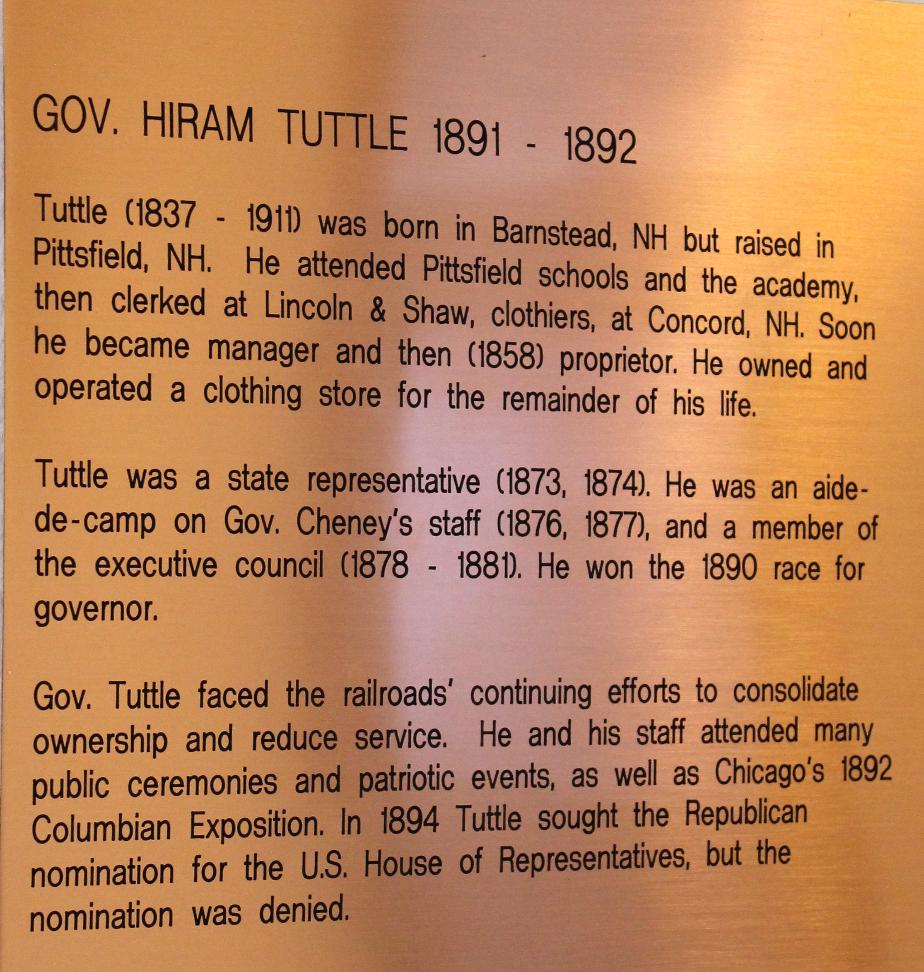 David A. Warde - NH Senate President (1873)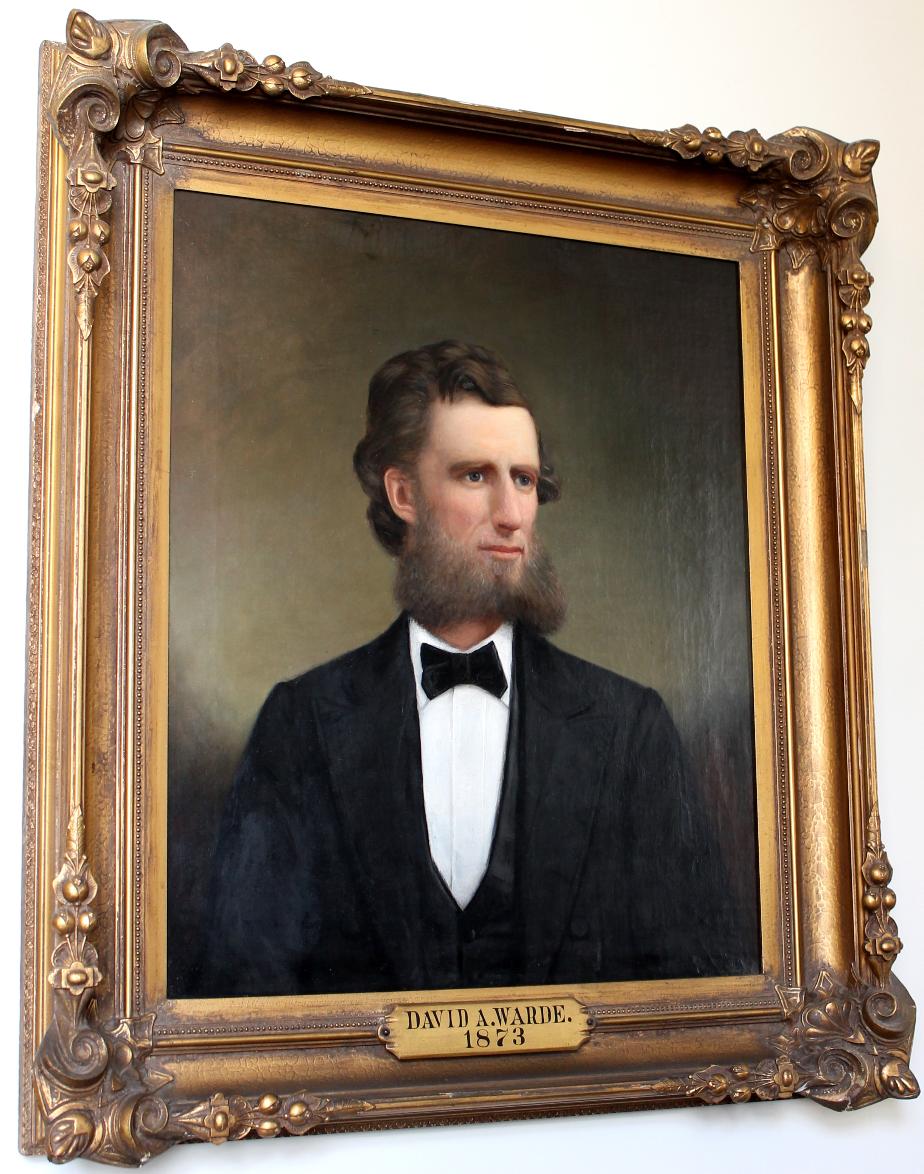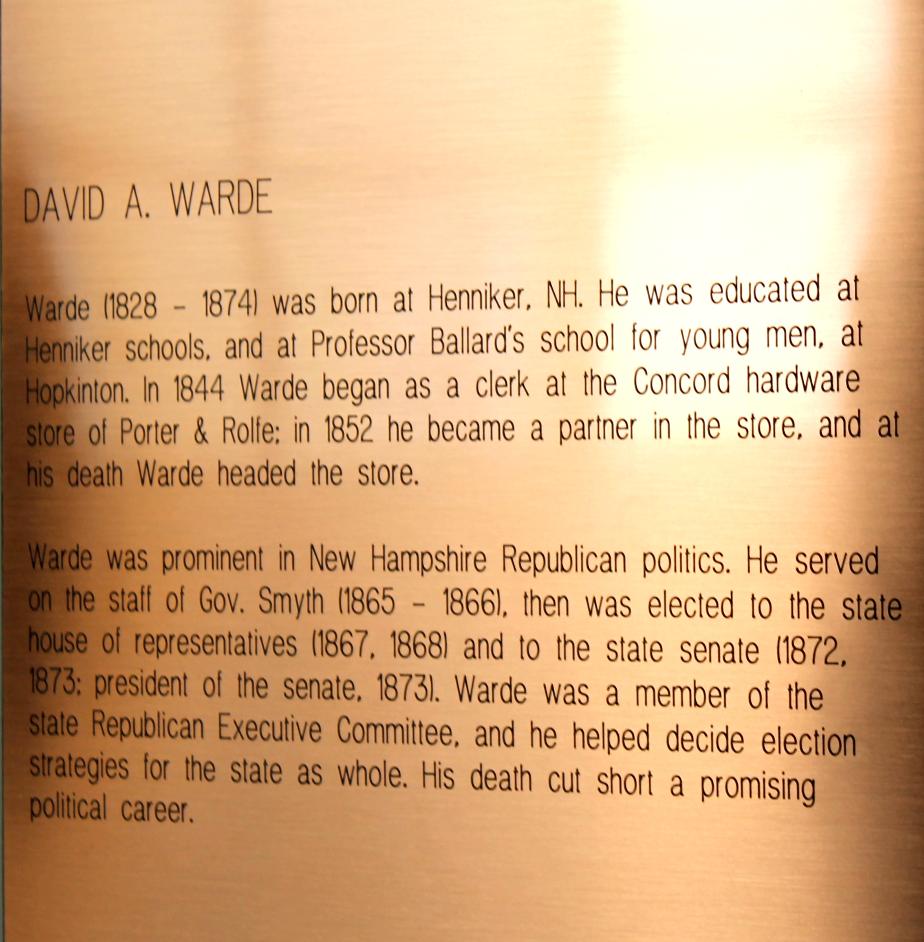 George Washington - NH State House Legislative Chamber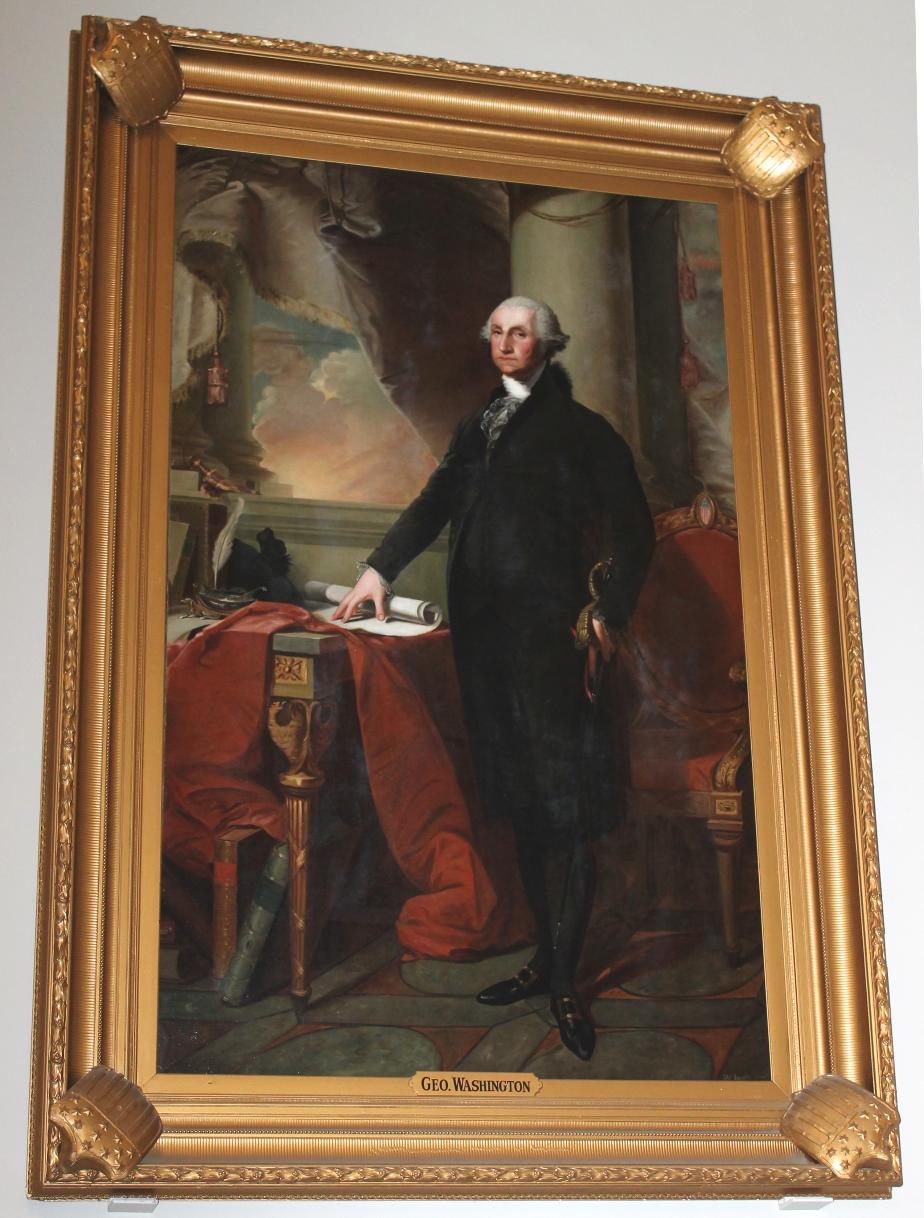 Daniel Webster - NH State House Legislative Chamber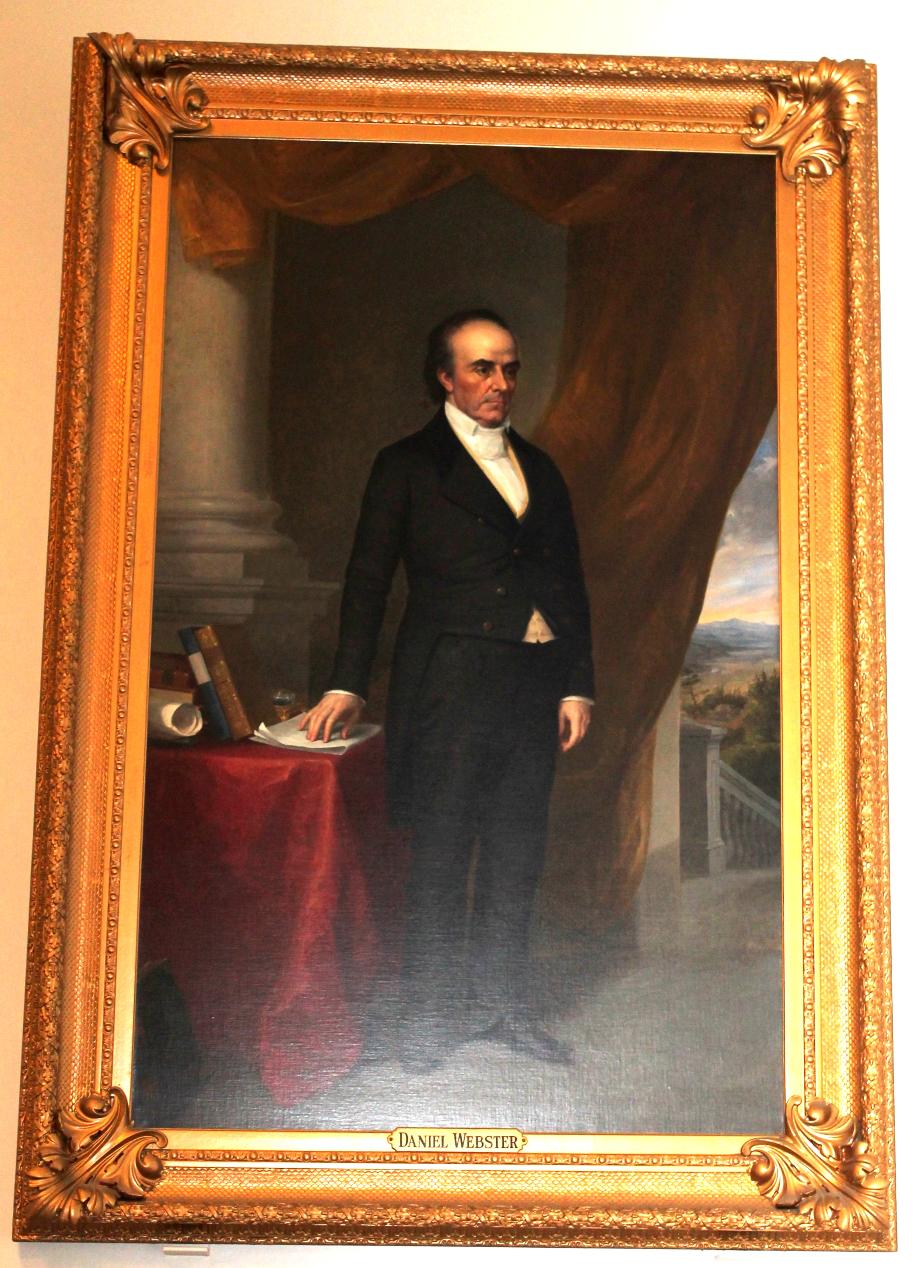 Daniel Webster - NH State Library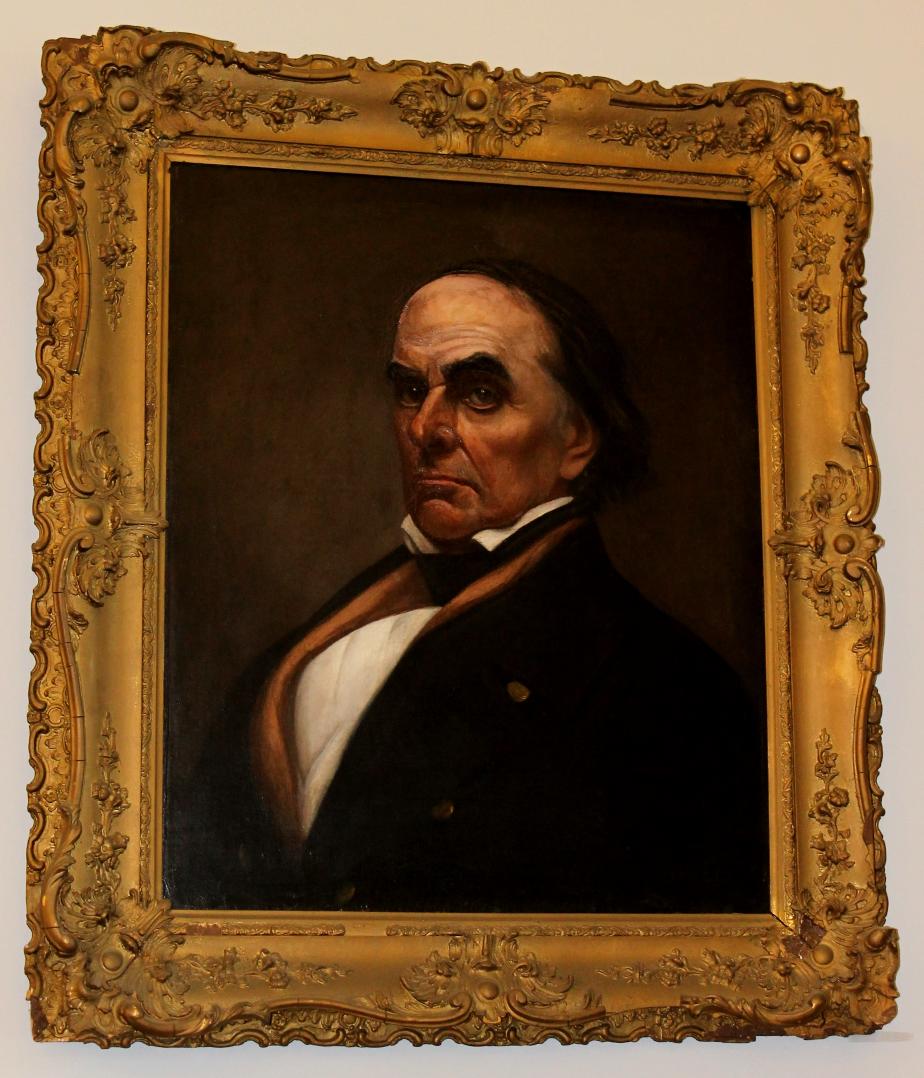 John Sullivan Wells (Durham) US Senator 1855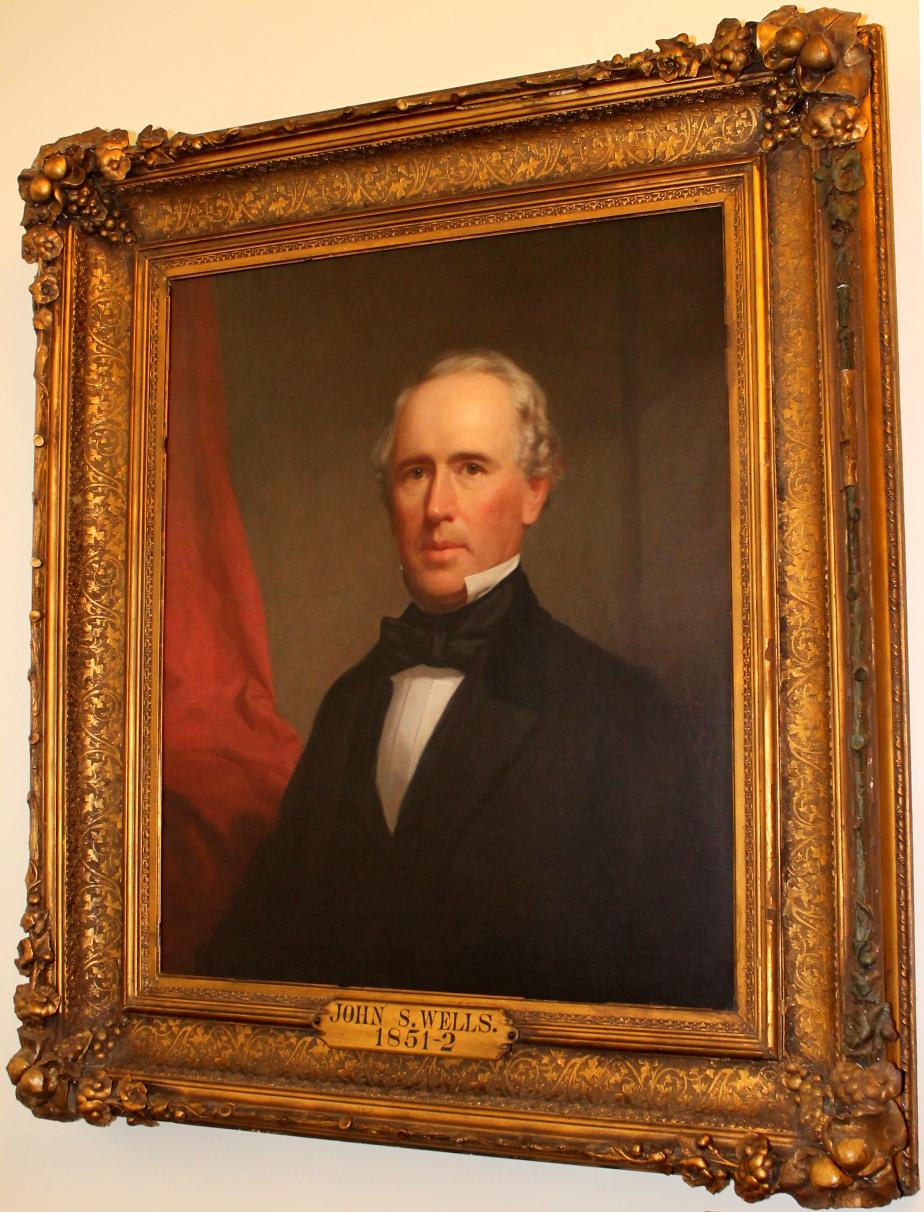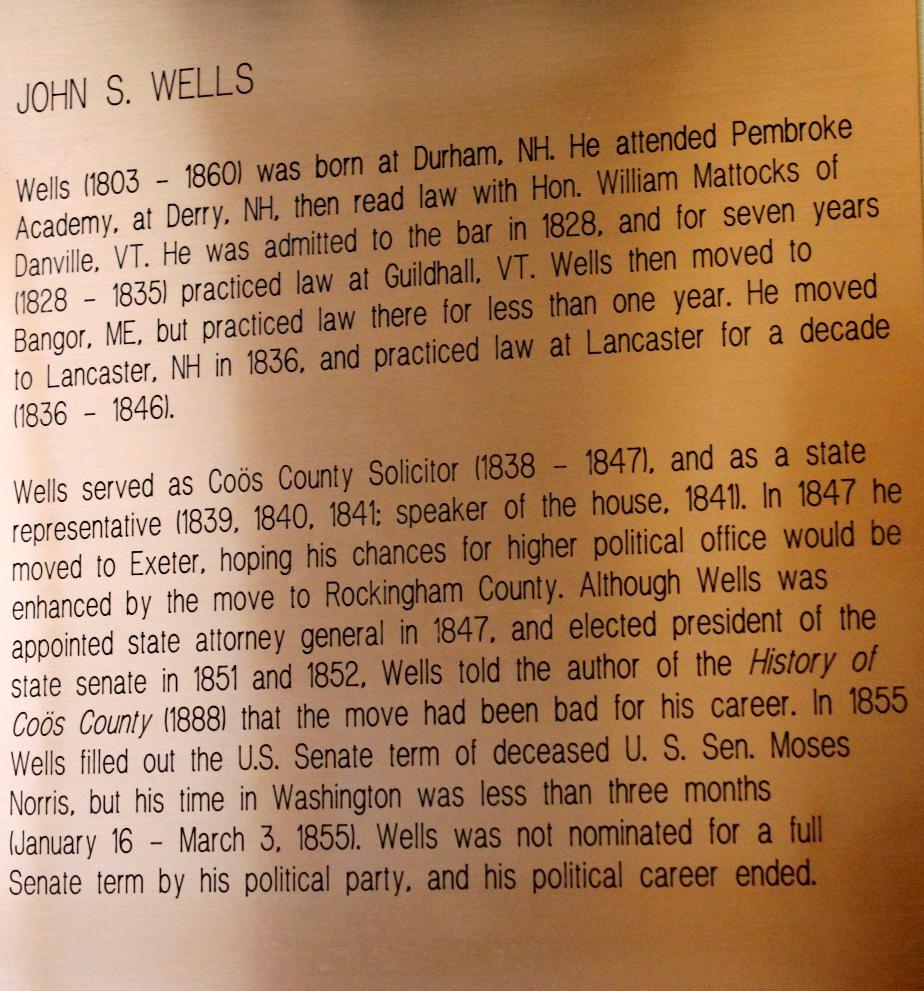 John Sullivan Wells, a Senator from New Hampshire; born in Durham, Strafford County, N.H., October 18, 1803; attended Pembroke (N.H.) Academy; studied law; admitted to the bar in 1828 and practiced in Guildhall, Vt., 1828-1835; moved to Lancaster, N.H., in 1836 and continued the practice of law until 1846; solicitor of Coos County 1838-1847; moved to Exeter, Rockingham County, N.H., and resumed the practice of law; member, State house of representatives 1839-1841, serving as speaker in 1841; attorney general of New Hampshire 1847; member and president of the State senate 1851-1852; appointed to the United States Senate to fill the vacancy caused by the death of Moses Norris and served from January 16 to March 3, 1855; died in Exeter, N.H., August 1, 1860; interment in Exeter Cemetery, Exeter, Rockingham County, N.H.
Benning Wentworth - NH State House Portrait
James Weston - Governor 1871-1872 & 1874-1875
James Westonwas born in Manchester, New Hampshire on August 27, 1827. His education was attained in academies at Manchester and Piscataquog, where he studied engineering. He went to work in the railroad industry, establishing a successful career an engineer. He first entered politics as mayor of Manchester, a position he won election to in 1861, 1867, 1869, 1870 and 1874. Weston next secured the 1871 Democratic gubernatorial nomination, and after a close popular election, the legislature named Weston the official governor. In 1872 and 1873 he lost his reelection bids, but was successful in winning reelection in 1874. During his two terms, an important railroad merger was authorized; and numerous Democratic appointments were made in the judiciary, as well as in state jobs that were previously held by the Republican party. After completing his term, Weston retired from political life. He continued to stay active, working in the banking, insurance and railroad industries. Governor James A. Weston passed away in Manchester on May 8, 1895.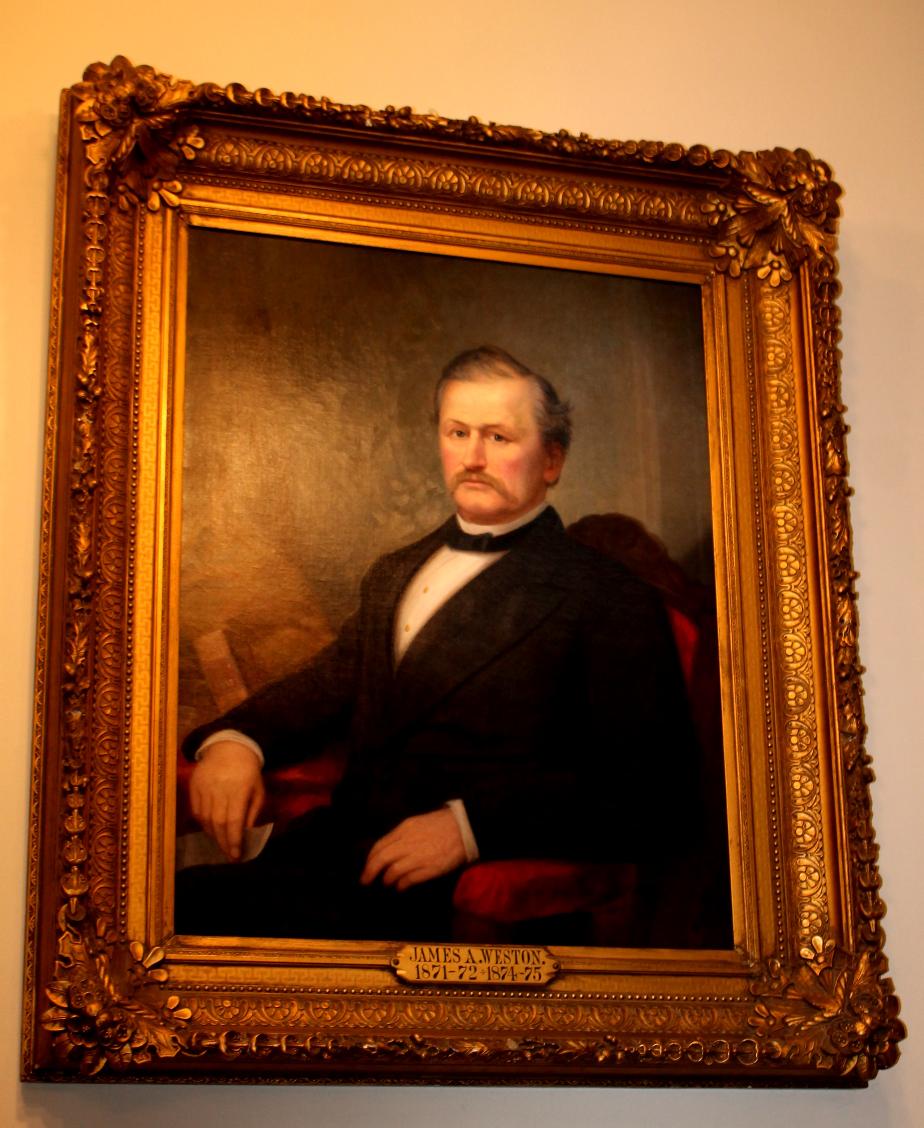 General William Whipple 1730 - 1785 Portsmouth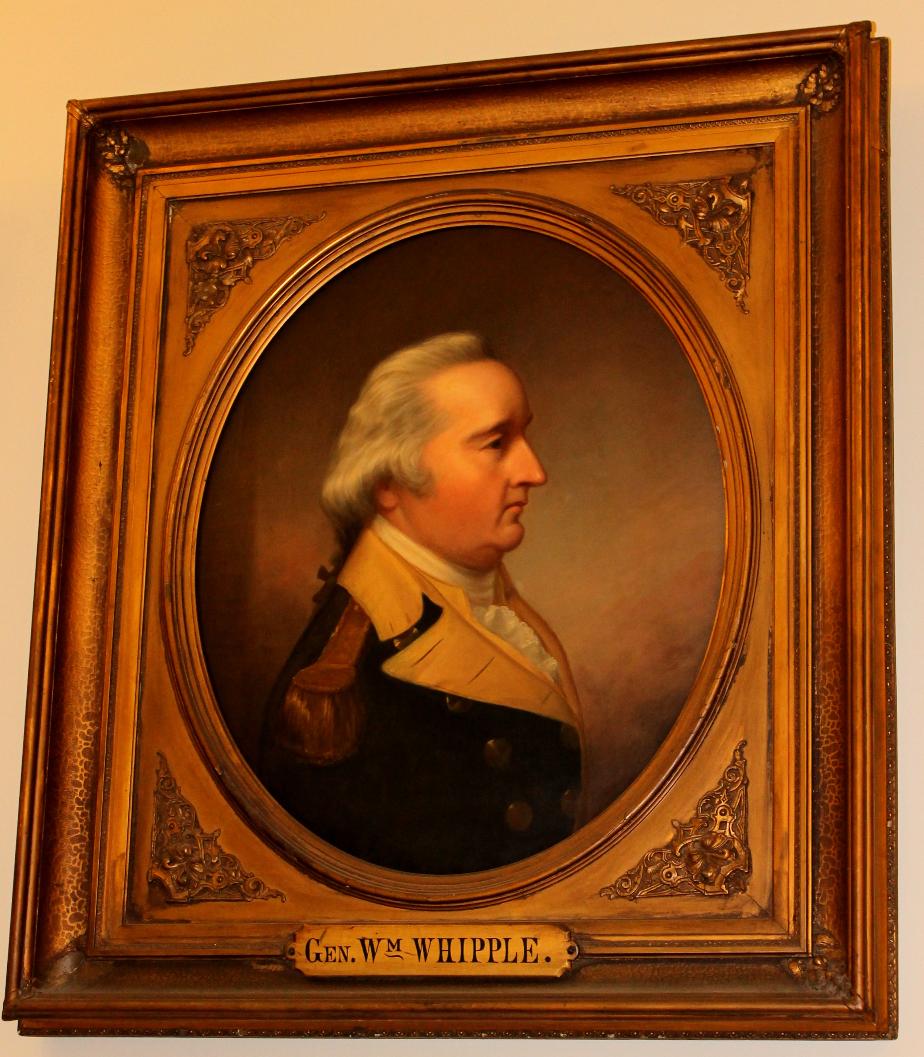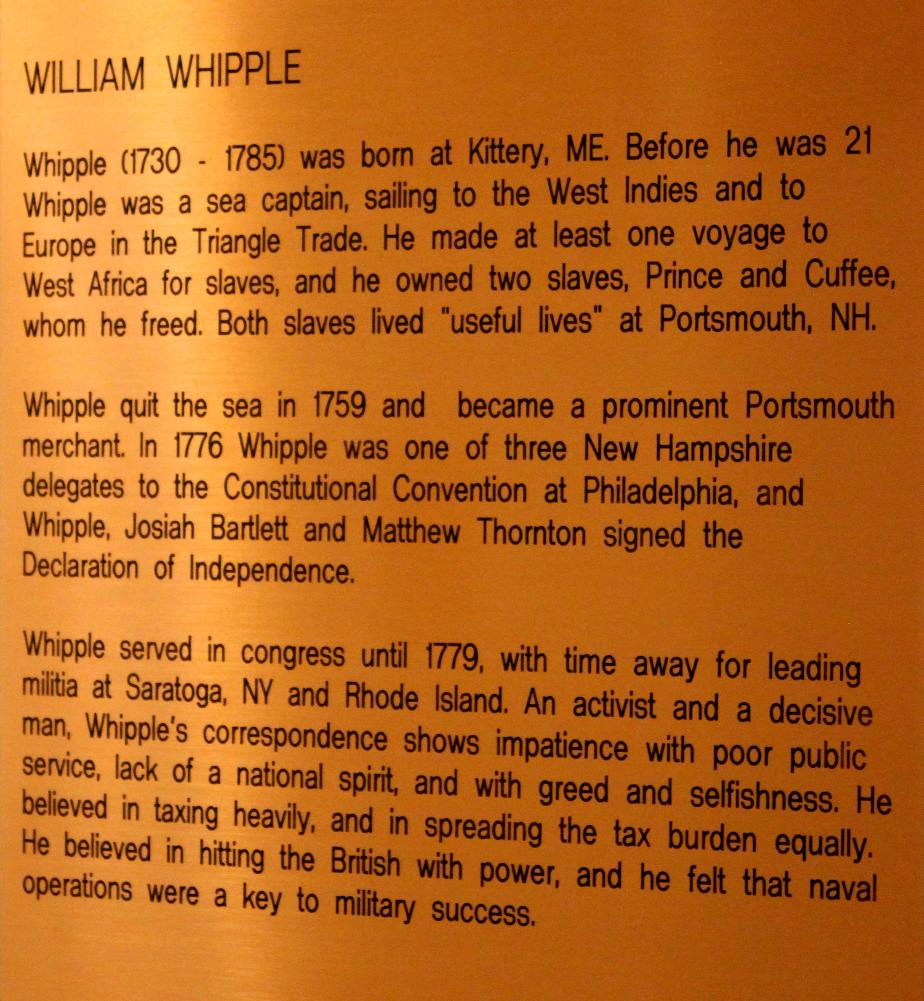 Governor Jared Williams 1847 - 1849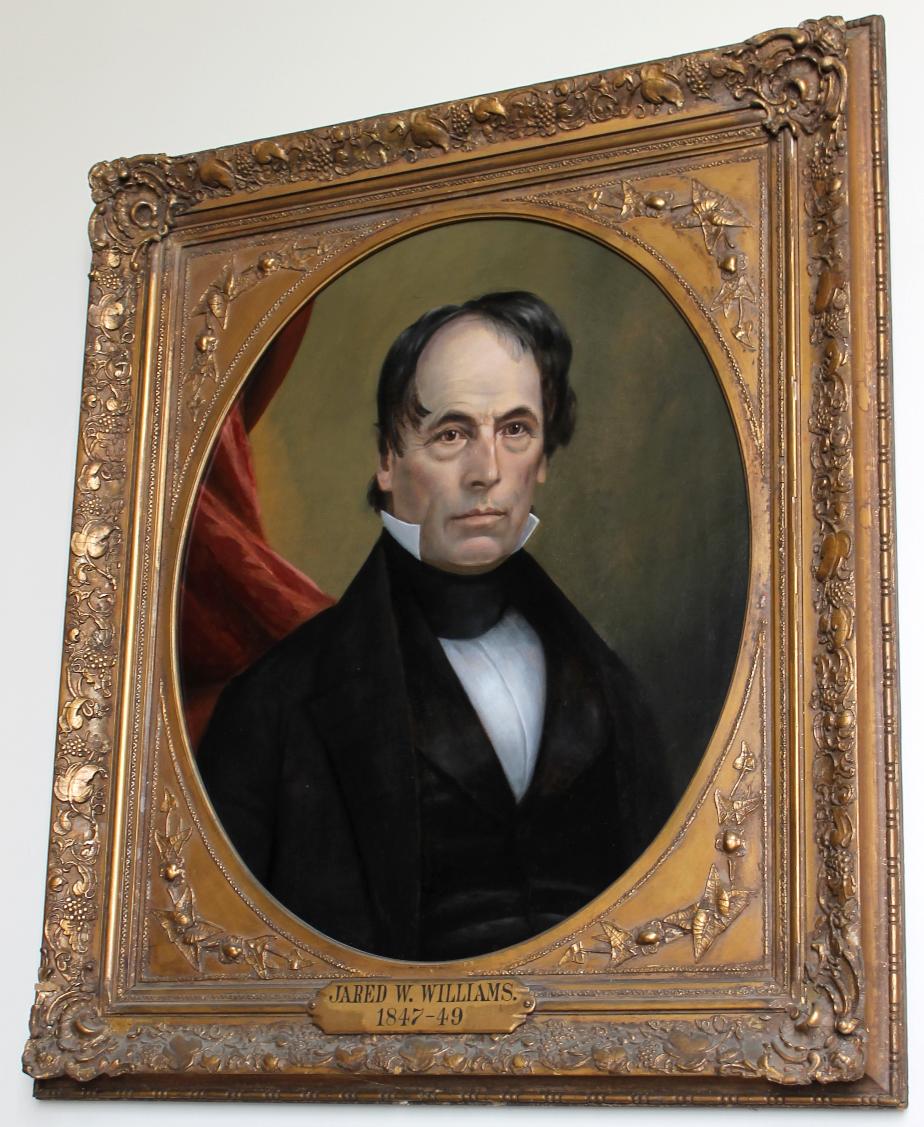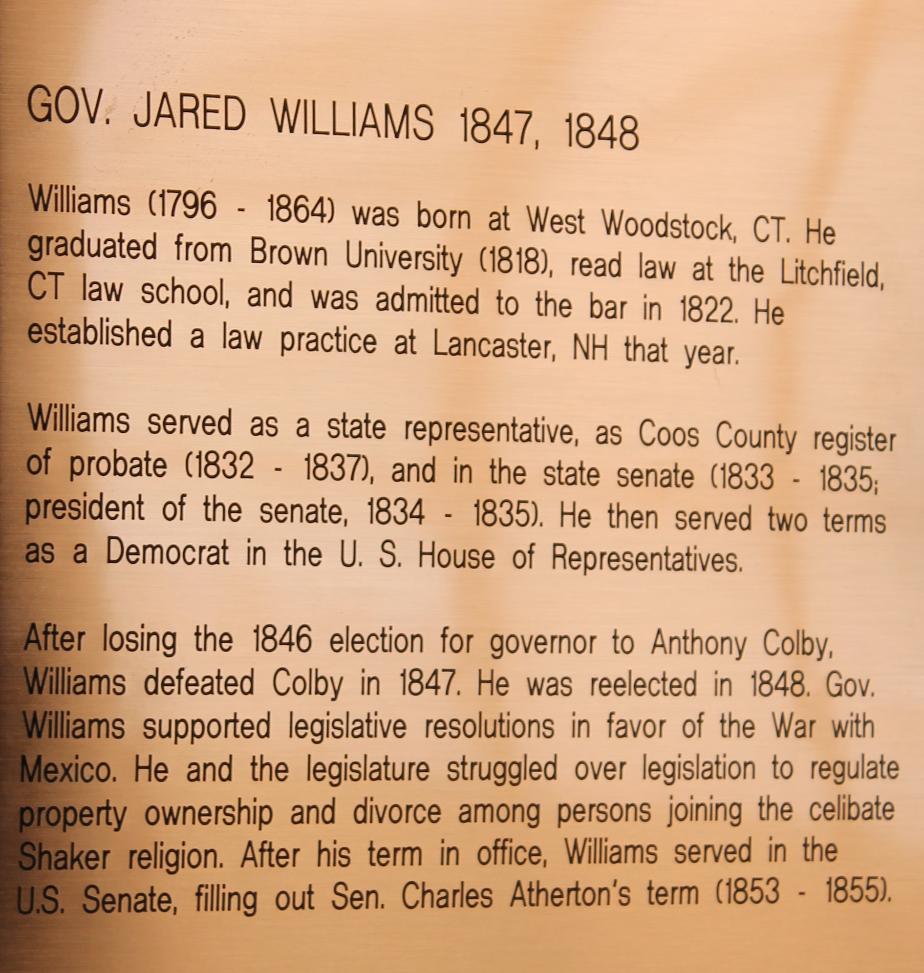 Governor John C. Winant 1925-1927 & 1931-1935